I took my photos for this Garden Bloggers' Bloom day on Thursday and even before I opened the backdoor to my garden I could see it was cold outside. A quick look at the thermometer revealed a measly minus 1 Celsius, but with the sharp breeze it felt more like minus 10. We have had a cold spell the last week, with minus degrees every night and not many above zero during the day. Britain is freezing in weather like this, with un-insulated houses and many people with only single pane windows or poorly made double glazing windows. I struggle to keep warm in my house despite central heating and I am dreading my heating bill.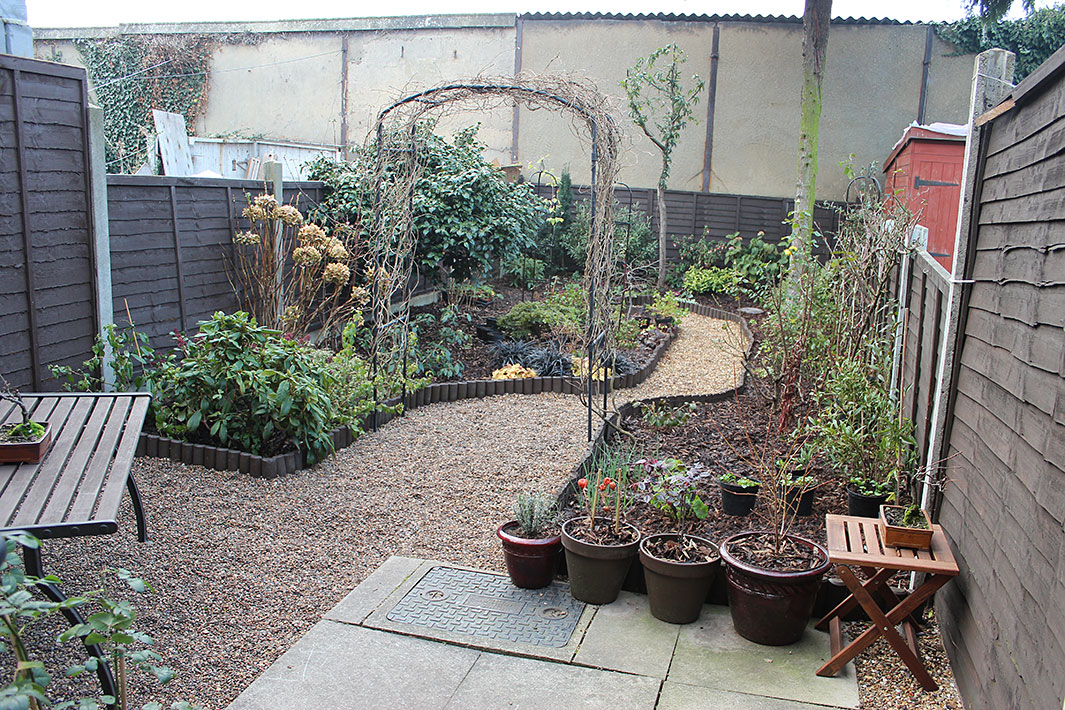 But I was determined to brave the cold weather and get my photos so out I went, with layers of clothes in search for this month's plants in flower. Here is my garden right now, still a lot of green here and there thanks to many evergreen plants, but also because some of my deciduous plants haven't shed their leaves yet. But flowers? In this garden?? I wrote in November that there were many flowers in my garden then, you just had to take a closer look. Well, today you will have to take a really close look, but flowers, oh yes, I've got flowers today too, despite a week of minus degrees and despite that the ground is frozen solid on the top layer! Let me give you a tour.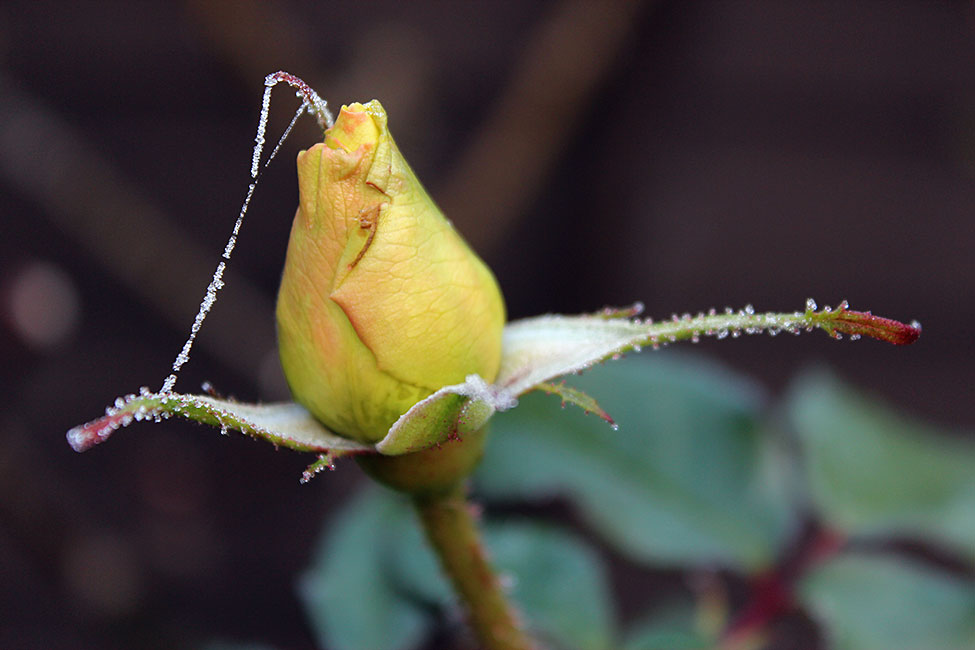 My roses flower all year round, this is 'Freedom'.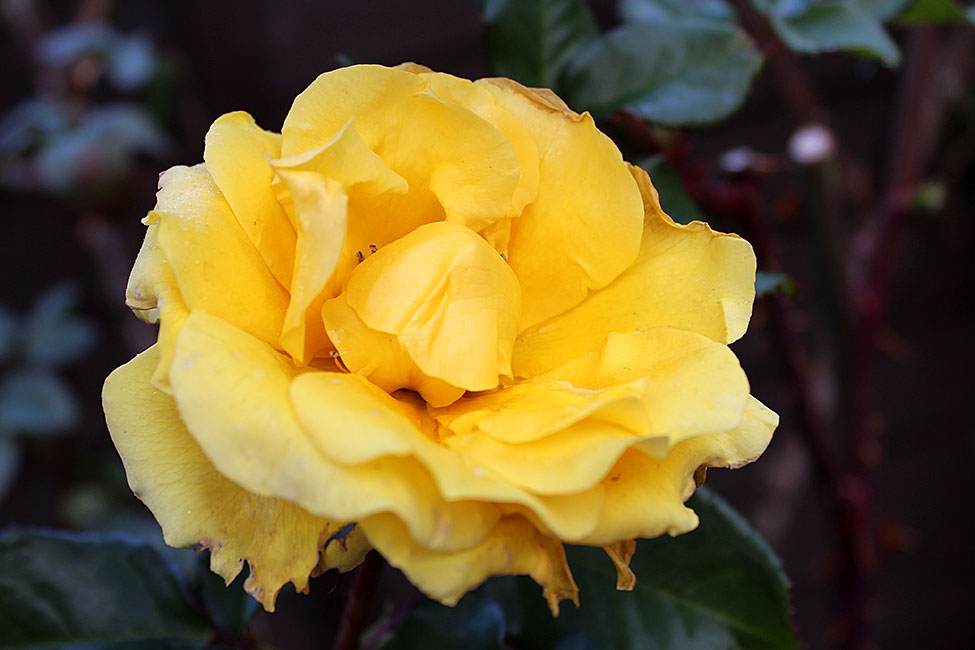 Another 'Freedom'.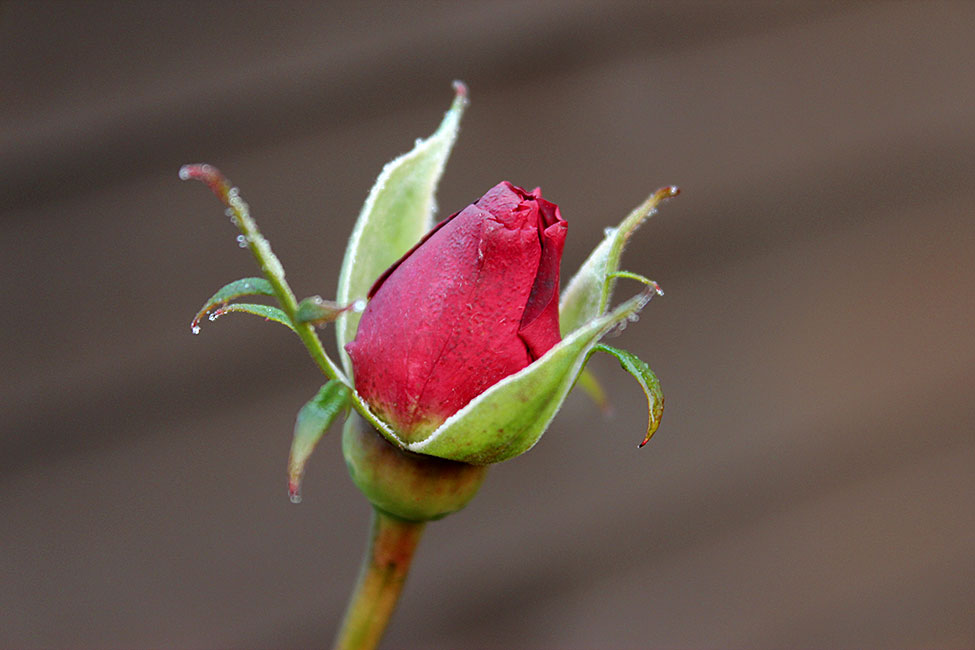 This is Rose 'Mildred Scheel'.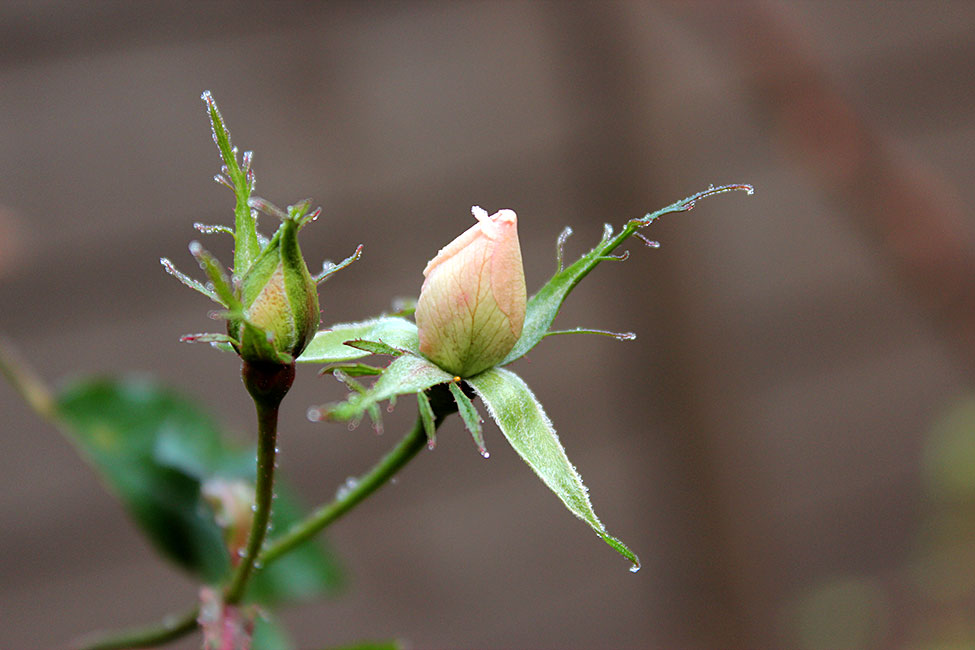 And this is a miniature rose in pink.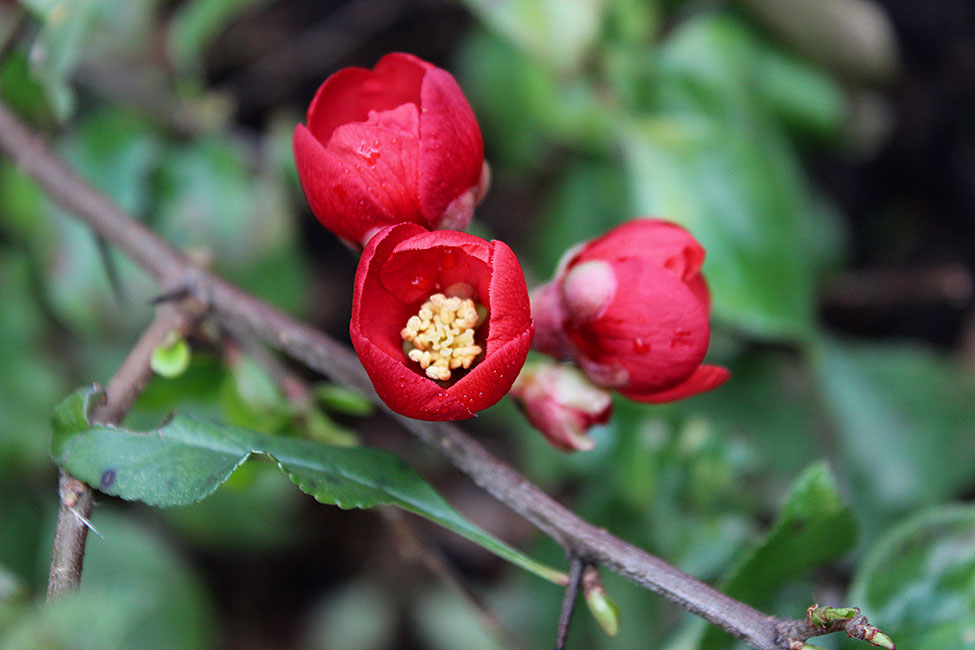 My Chaenomeles x superba 'Crimson and Gold' is flowering already, lots of more buds to come.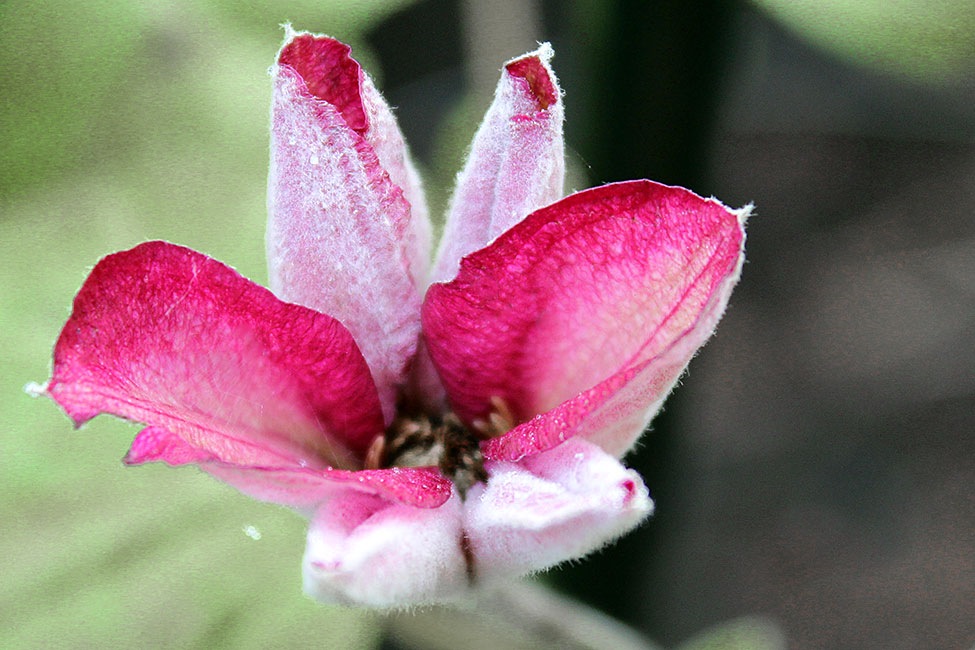 And this is Clematis 'Niobe', which has been a bit season-confused lately and started producing new buds very late this autumn!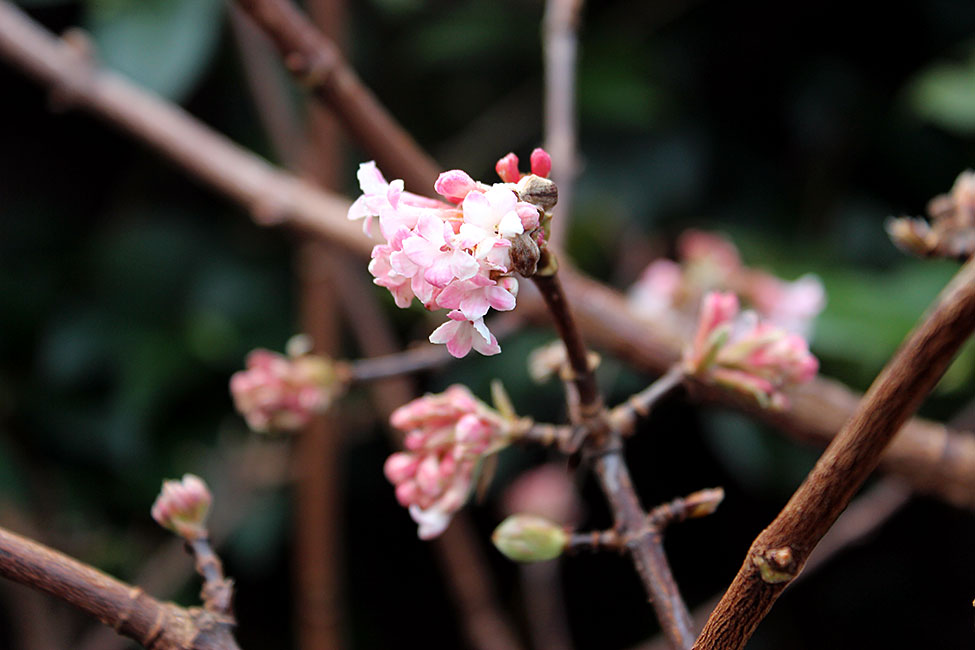 My Ferrari has started flowering too, OK, it's not called Ferrari, but I remember it as that, correct name is Viburnum Farreri.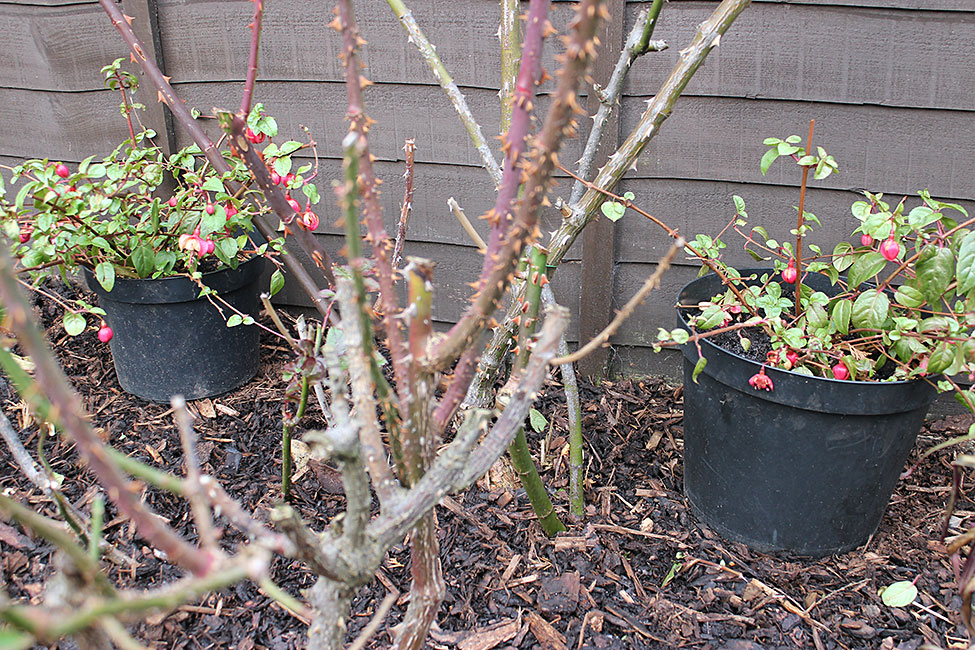 Some of my Fuchsias are still flowering their heart out, despite the cold weather. Here are two Fuchsia, 'Sir Matt Busby' in pots, still going strong.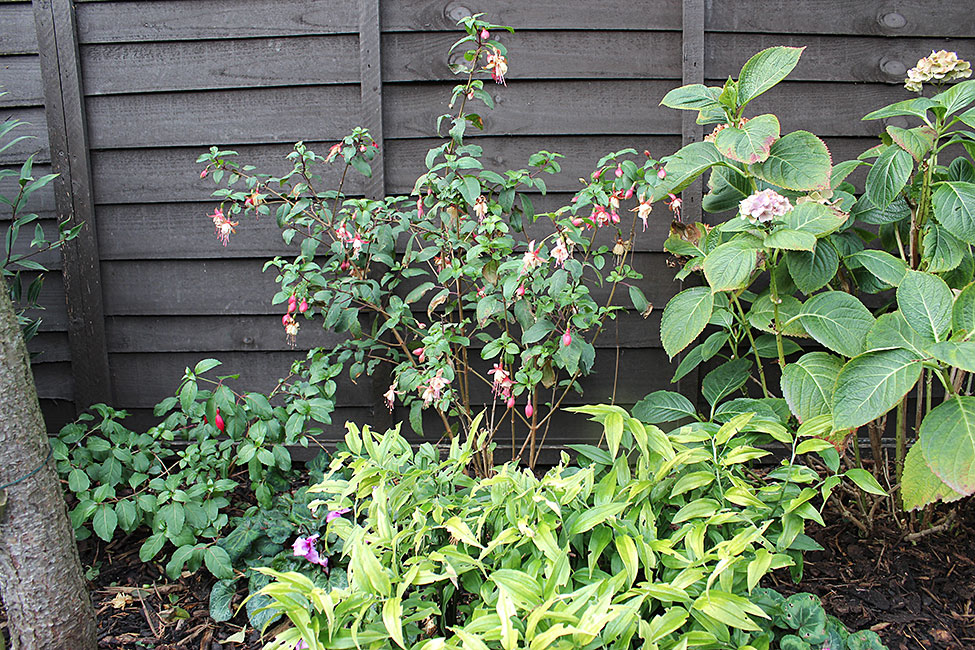 And here are Fuchsia 'Mrs Popple' and Fuchsia, red and white , both still in flower.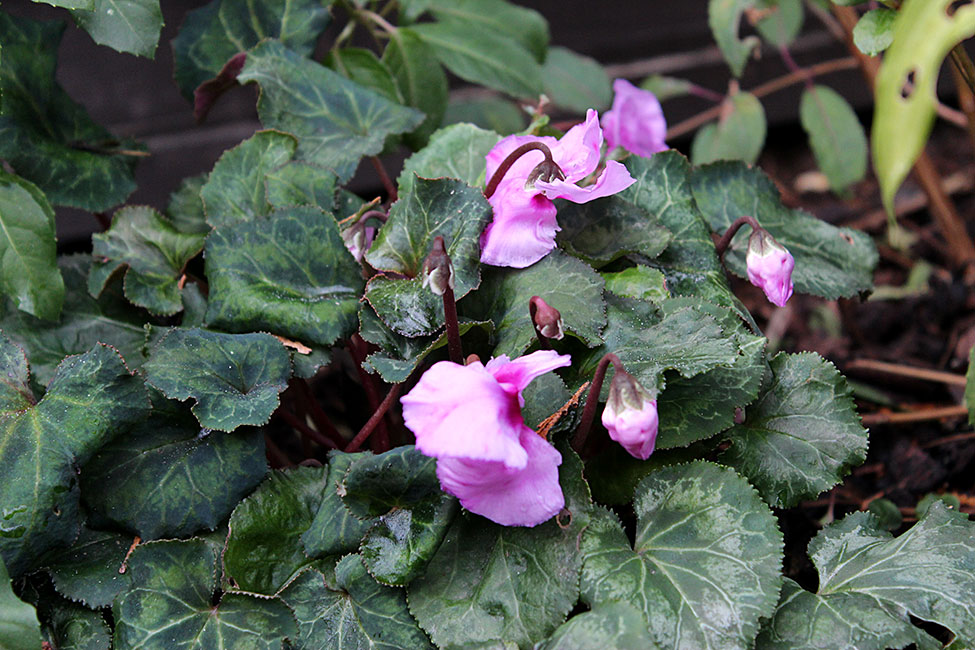 My cyclamens are at their best right now, I have quite a few so this pretty frilly one will have to represent them all.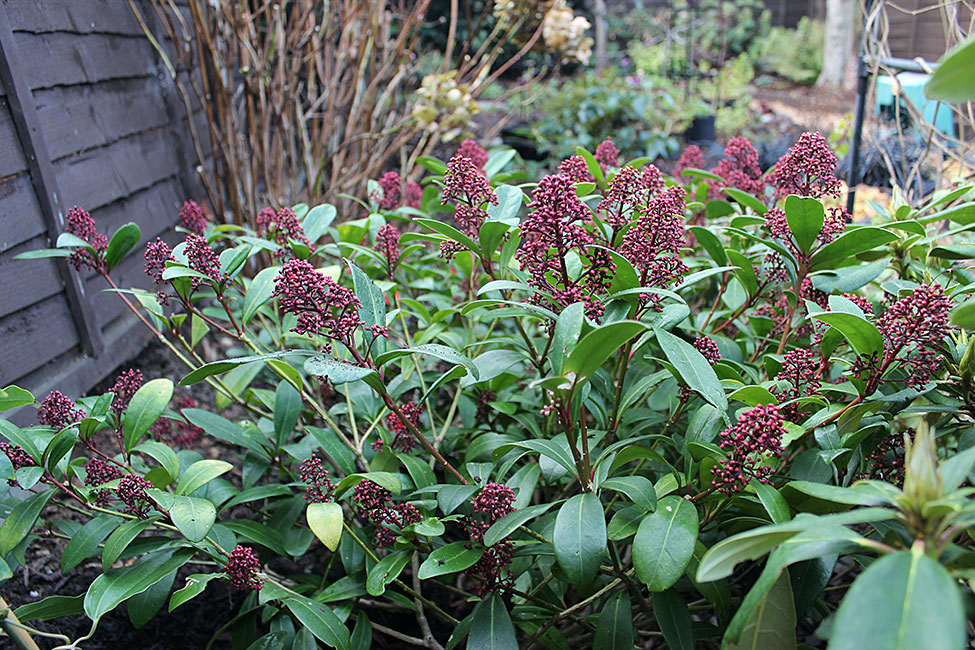 I have two Skimmia japonica 'Rubella', this is the oldest one, they look best before the flowers are opened, and the buds stay red like this for up to 6 months before finally revealing the white flowers.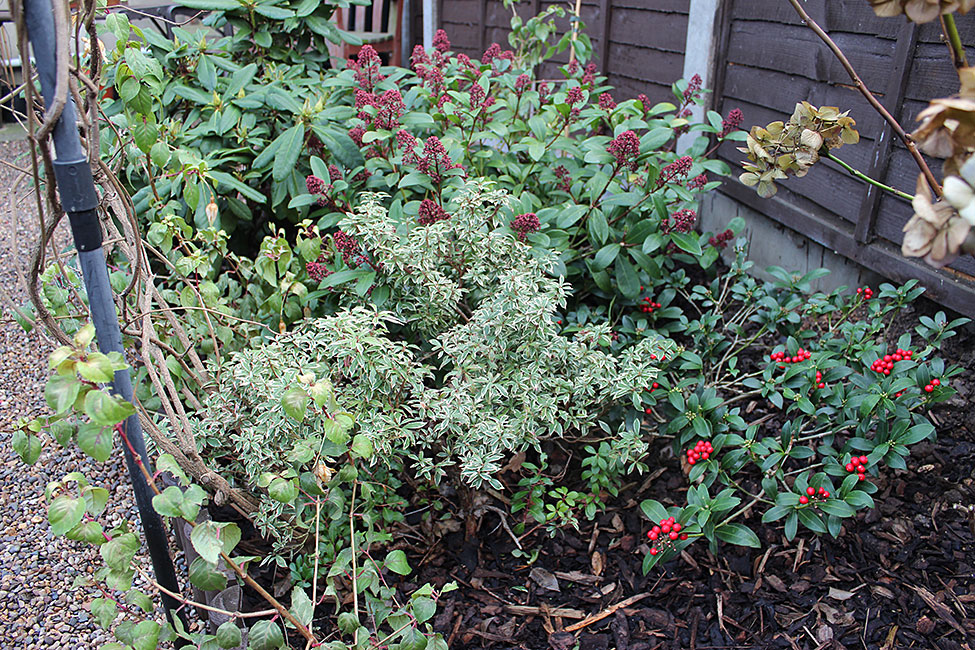 Here is a different type of skimmia, Skimmia japonica 'Bowle's Dwarf', with red berries in the foreground. For some reason the birds are not interested in the berries and leave them alone.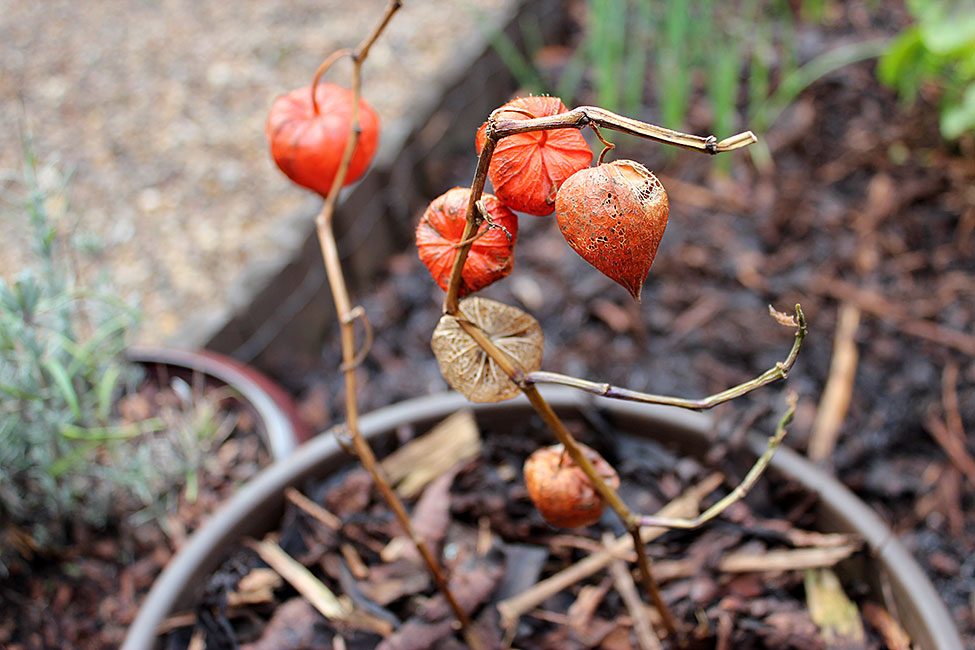 My experiment with Physalis Franchettii, Chinese Lantern is still ongoing, they haven't died down yet.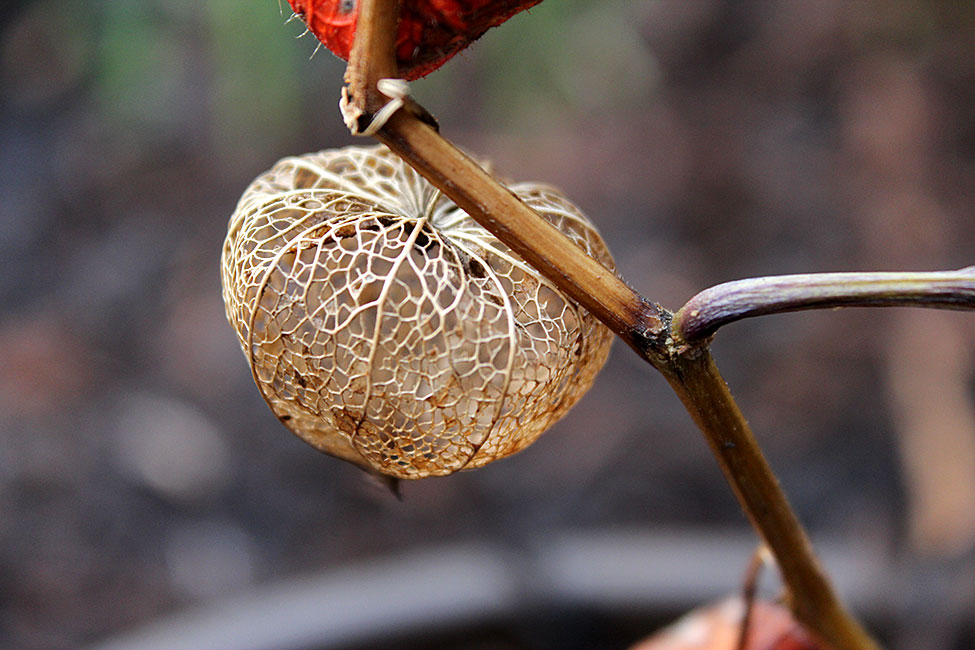 One of the lanterns has become completely see-through and you can see the seeds in the bottom of the pod.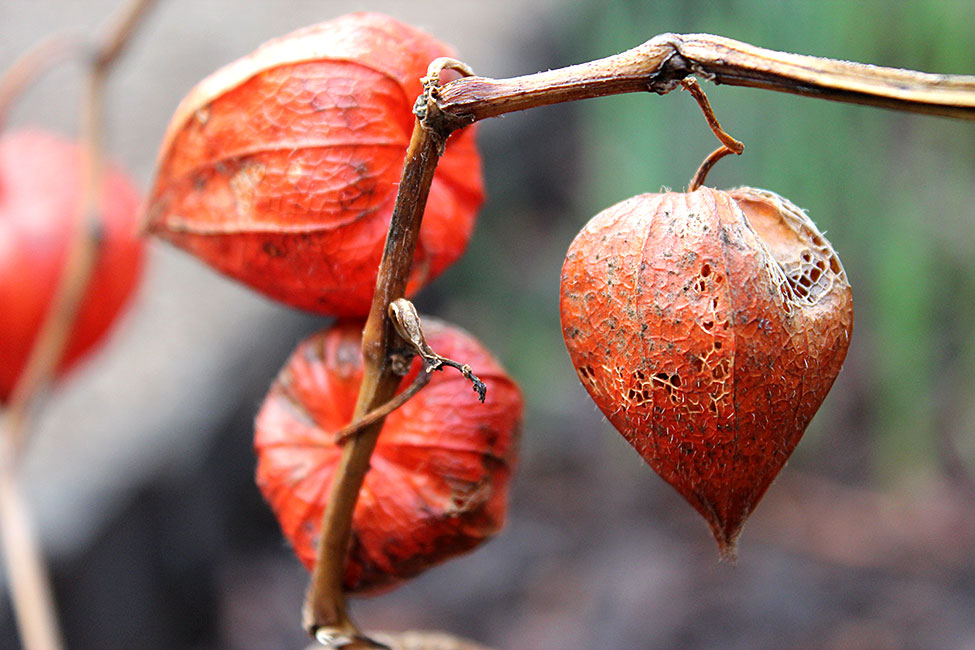 The process is still ongoing on the other lanterns, but I think they look great even at this stage.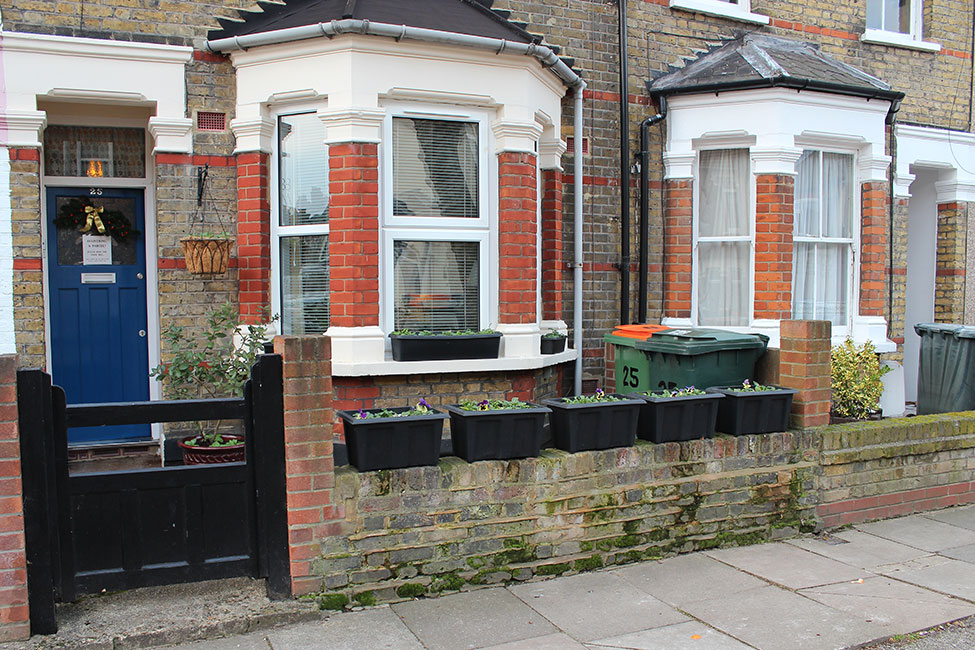 My front garden has got a face lift for the winter, with pansies and primroses bought as plug plants.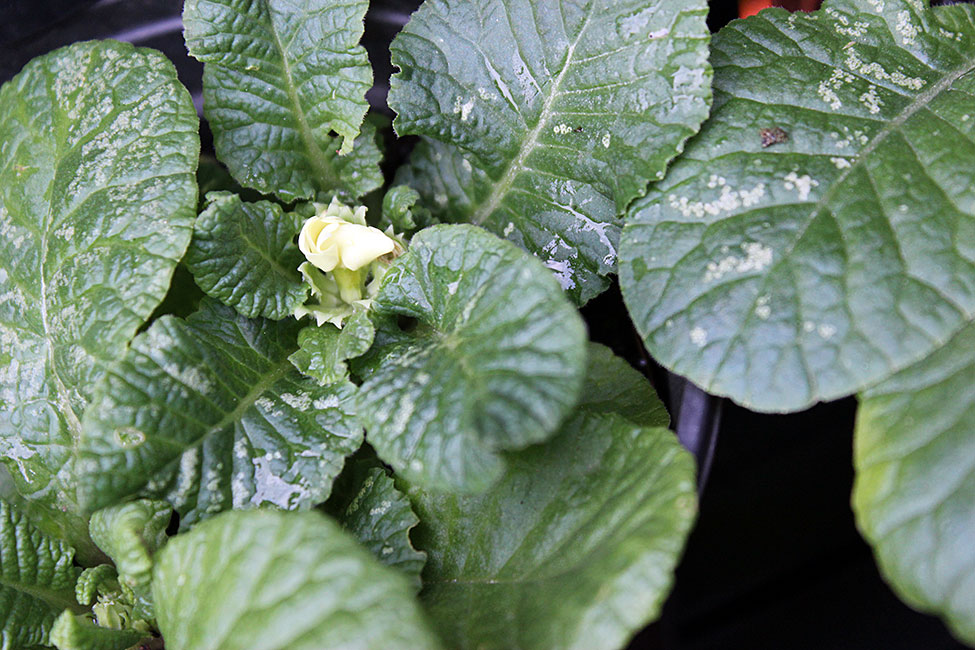 The primroses are finally starting to show some buds, seems like I will get flowers through the winter after all.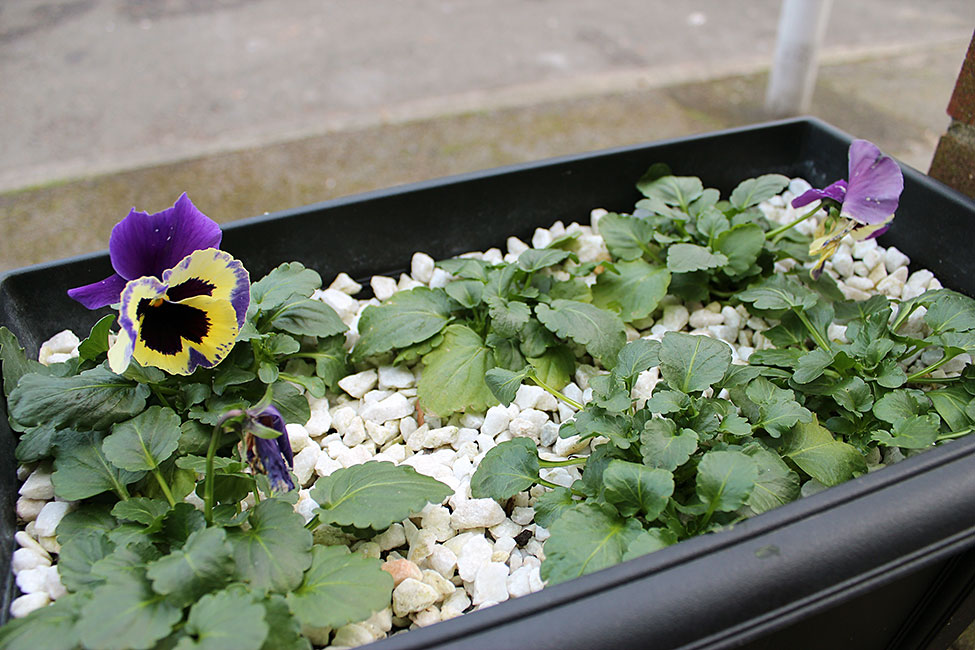 The pansies are already in flower and will continue until I rip them out to make space for my summer bedding sometime in April or May.
I have flowers every month of the year in my London garden, and what I have showed you today is only what is actually flowering. I also have Sarcococca confusa and Sarcococca hookeriana var. digyna in bud, soon to flower. My 6 hellebores are well on their way up with their new shoots. I have crocuses, daffodils, snowdrops, hyacinths, tulips and irises already above ground - on their way up, and my two rhododendrons, my camellia and my lilac have fat flower buds. All of these are flowers to come the next 2-3- months. Spring is a wonderful time, just need to get through the winter first! The cold spell is over for this time, today we are expecting 10 plus Celsius and rain but next cold spell is probably not far away. So that was what I have in flower in my London garden in the deepest of winter, if you head over to
Carol's May Dreams Gardens
you can see what other people around the world have in flower in their gardens right now.
As I am writing this post I have the BBC news on and the sad news from Newtown in Connecticut is streaming in. I don't think anyone can avoid getting affected by a tragedy like this, whether you live in America or Europe or anywhere else, and as a parent myself I can only express my sadness and sympathy with anyone directly or indirectly involved with this tragedy.