I haven't written a post in 10 days, between a stay in hospital, recuperating and taking care of my garden I simply haven't had the time or energy. But it's Garden Bloggers' Bloom day again so now is the time to show off what's in bloom, and the last two days I have been taking pictures of everything in flower. I have had a hard time selecting what to show you, I simply can't show you everything, it would be a too long post - some of the pictures will come the next couple of posts. But this post is quite long anyway so go and get your choice of brew and get seated, here is my middle of July garden. As always, please click on the photos to get the big version, it is so worth it!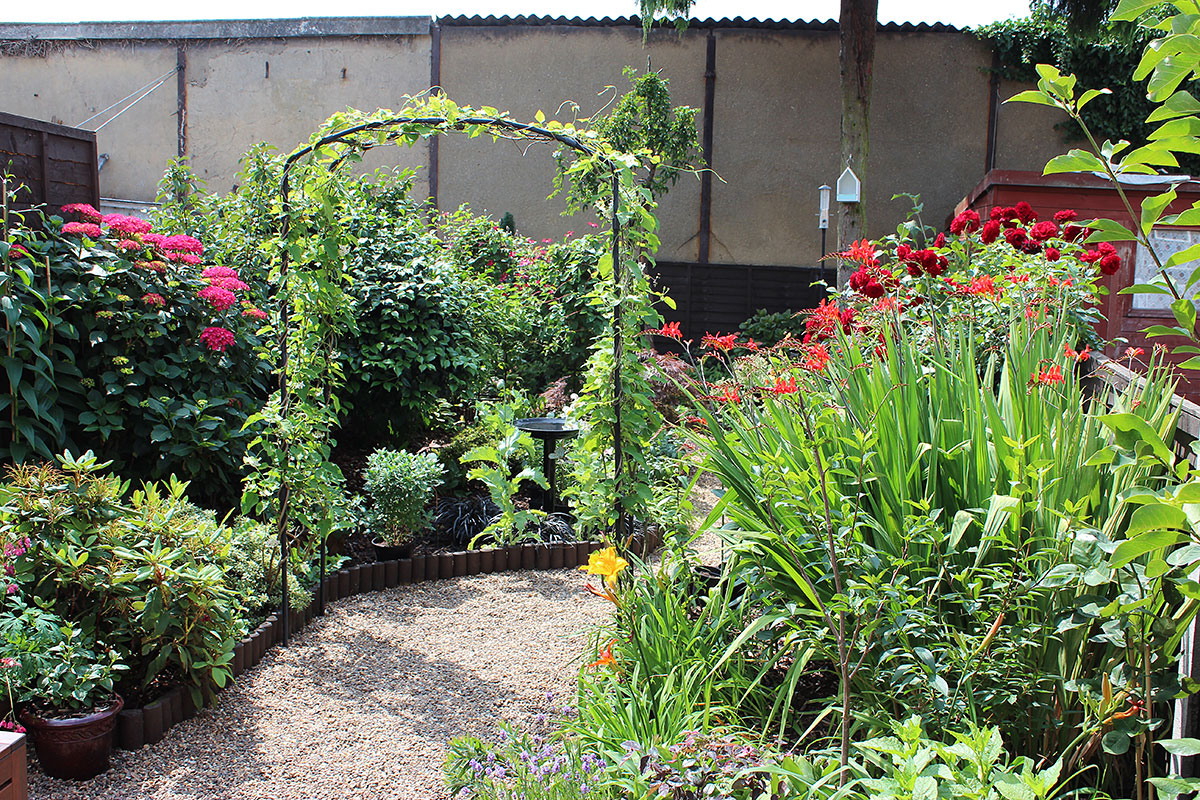 My tiny London garden is filling up, you can no longer see the end of the path from where I normally take my overview photo and the garden is getting more and more colourful. Give it another few weeks and the garden will take on a jungle like feel and it will be almost like walking around in an overfilled greenhouse with an open roof. It is at this time of year you really can see how many plants I have managed to squeeze into my beds, containers and pots. We have very nice summer weather in Britain these days, in fact, we have had it for weeks and it is set to last for another few weeks at least! I don't think we have had such a long spell of good summer weather since summer 2005 so it is about time, but with weather like this, last years' summer that rained away and this year's incredibly cold spring are all forgotten and forgiven :-)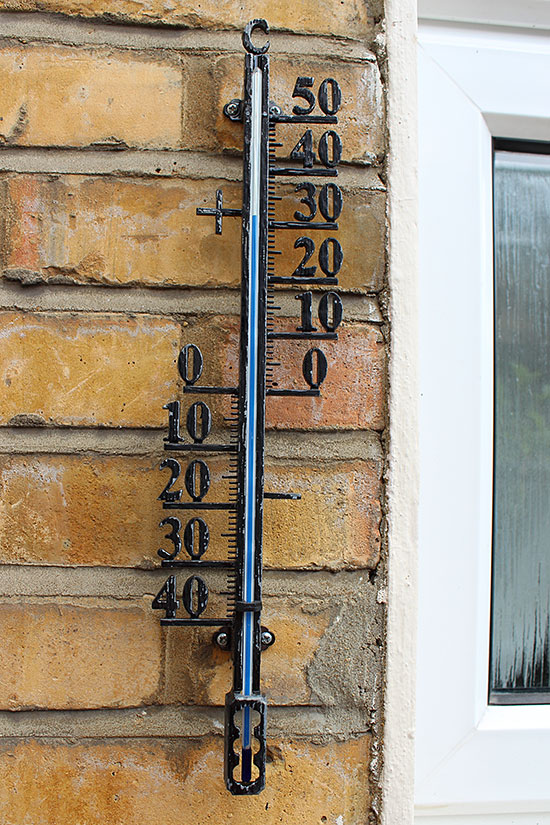 We have had exceptionally hot weather the last few days, this was Saturday when the thermometer crept up to 32 degrees Celsius (89.6 F). Last time I had a picture of my thermometer, many people commented on it, but I didn't show the whole of it so I thought I would put a photo of it today. I bought it on Amazon and it was quite cheap, but it looks like it is made of wrought iron.
Can you remember my photo from beginning of June from a post called 'Purples and blues'? It was taken in the same spot as this, with alliums and irises. The purples and blues are now all gone and it is the hot colours that have taken over this side of the garden.
The red roses 'Crimson cascade' are dominating the rose bed, I made a separate post about all my roses, so I won't show all of them again but you can see the post
MY ROSES
here
The Crocosmia crocosmiiflora 'Lucifer' has just started to flower, quite a spectacular sight, and although way too tall for the space I chose for them, I can't find a better place in my garden so they get to stay. On the package it said they would be around 90cm tall, but these mature crocosmias are around 170cm tall so I guess they didn't read the instructions!
Crocosmia crocosmiiflora 'Lucifer'
In front of the crocosmias I have 3 daylilies, 2 of them are these Hemerocallis 'Frans Hals'.
The third one is Hemerocallis 'Burning Daylight'. I have 3 more of 'Frans Hals' dotted around the garden, all divisions of the original plant I bought almost 10 years ago.
There are more hot colours next to the crocosmia, a rose in a container is flowering its heart out, this is 'Rob Roy'.
And a bit further down in the garden there's more hot colours, all my 8 dahlias survived the very cold winter and spring, despite that I don't lift them, the first 2 have started to flower, all the other are still in bud. This is Dahlia, 'Sunshine'.
Dahlia, 'Sunshine'
More hot colours? This is a newcomer to my garden from last autumn, Helenium 'Moerheim Beauty'.
Helenium 'Moerheim Beauty'.
Helenium 'Moerheim Beauty'.
My oriental lilies have finally started to flower, more than a month later than usual, only the Lilium regale so far, but the rest have fat buds so in this nice weather it won't be too long before they all flower. My total oriental lily collection is around 150 plants so far, but you can never have too many lilies so it will probably be more come next year :-)
I have around 90 Lilium regale, all offspring from 3 bulbs I got in 2004, plus around 30 seedlings. I also gave 30 Lilium regale to my neighbour's garden and 30 to a friend's garden, all from the same 3 bulbs. I let each stalk set seed on the last flower they produce and they will produce up to 30-40 seeds each. You can get up to 80% germination so it's easy to get lots of Lilium regale from seeds. The plants also divide themselves and will shoot up new plants next to the mother plant.
The scent of Lilium regale is absolutely heavenly! On an evening when the sun has been shining, the scent can be smelled all over my garden and standing next to them to take photos is almost overpowering.
Here are the seedlings from last year's seeds, all I do is to put the fresh seeds in pots and leave them to it. The pots stay outdoors all year, no stratification, no indoor germination, no fuzz at all. They need just water the first year and a bit of fertilizer in the summer the following years. They like a shady place and don't really need any sunshine at all.
These babies are 4 years old, some of them flowering this year, some didn't, by next year they will all flower and be much taller. Lilium regale come true from seed so if you have other lilies in your garden you won't get any mixed breeding results.
This is the shady side of my garden, with another group of Lilium regale. They usually take over when the first group is almost finished. In the middle of the picture are two obelisks with my clematis', completely entwined with each other as the obelisks are too short for them. They have built a bridge between them and the bridge is heavy with flowers.
They have even started to send branches into the camellia and build a second bridge here. I can no longer walk down here as I can't get passed!
The two clematis' are 'Niobe' and 'Gravetye Beauty', both sold as being 'red', but as you can see, neither of them are really red in colour.
Lots of 'Nobe' with a couple of 'Gravetye Beauty' in the middle.
Clematis texensis 'Gravetye Beauty'.
Next to the clematis' are two of my four hydrangeas, the one to the left is Hydrangea arborescens 'Annabelle' and I had to give it a support this year as last year it completely toppled over by the weight of the flower heads. The second hydrangea is new this year and just a baby, it is between Annabelle and the lilies in this pictures and doesn't even show. I will post some photos later if I get any flowers this year.
Hydrangea arborescens 'Annabelle'.
Here is my oldest hydrangea, it doesn't have a name as it was wrongly named 'Blue wave' by B&Q – which it definitely isn't. It got a severe pruning this February, but is already growing back to almost the same size as last year.
Hydrangea – pink, with no name.
The pink hydrangea on the left side and the red roses on the right side makes a bold colour clash, but I am so used to seeing them together that I don't really mind! In the middle is my pride and joy, my Dregea sinensis growing up the arch. I have written about this highly scented wine many times before, a plant I thoroughly recommend for anyone with space enough.
Standing under this arch now that the flowers are starting to come out is pretty amazing, they have a very sweet but nice scent and Dregea sinensis flowers until early October in my garden.
Dregea sinensis.
Some of my spring flowers are still going strong and still producing new flowers, this is Dicentra formosa 'Bacchanal'.
Dicentra spectabilis 'Alba'.
Dicentra spectabilis 'Valentine'.
I even have many of my Primula vulgaris still in flower dotted around the garden, despite the hot weather we have!
Some of my fuchsias have just started to flower, I have 26 fuchsias in total so I will make a separate post about them later on when they all are in flower. This is Fuchsia 'Taffeta Bow' and will have to represent them all for now.
And for a final photo, this was a lucky shot today, with the baby lily leaning over the bird table and creating a mirror image on the water.
This was the result of two hot days walking around in my garden taking pictures, I hope you enjoyed the tour! There were many photos that didn't make it into this post and they will come later on. If you want to see what other people around the world have flowering in their gardens right now, please visit Carol's blog at
May Dreams Gardens
. Until next time, take care.