Mid December in London – what words springs to your mind....perhaps drab, brown, rainy and cold? Not in my garden! I was out all Saturday photographing for Garden Bloggers' Bloom Day and with 13 degrees C (55F) and a bleak sunshine it was lovely albeit a bit windy. I struggled to keep the flowers still enough to take the pictures at times but hey, that's one of the challenges of gardening photography. Just when you have the right focus and perfect angle then whoosh!....comes another gust.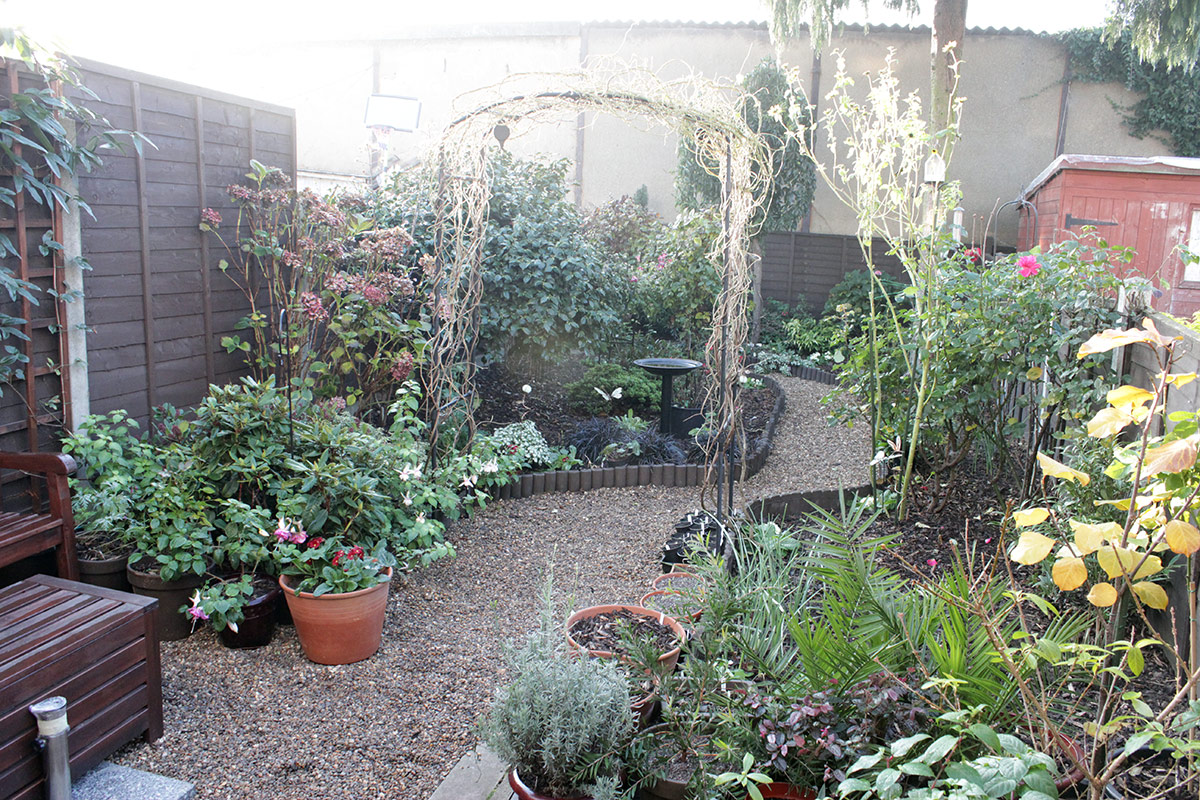 My garden still looks quite green from my usual long distance view, the most noticeable difference from last month is that the leaves on the arch has gone – with a bit of help from me. When the leaves on the Dregea sinensis start to fall off I simply pick them off instead of waiting for them to fall off and spread around the whole garden. Much easier than having to go around picking them up later on. There are dots of colours here and there from flowers but let me give you a guided tour and show you what's in flower right now.
The patio area is filled with pots, some in flower, some finished and some waiting for a bit of spring sunshine to get going. Although in the flower bed, right behind the terracotta pots, the irises have already become very tall, they are not going to flower until April or so. That whole bed will be filled with daffodils, irises, snowdrops, crocuses, alliums, hyacinths and crocosmias over the next few months.
The fuchsias are all still going strong, loving the weather we have now and with no frost so far and no frost forecasted for the next 2 weeks at least, they will just go on and on.
My lovely rose 'Rob Roy' is a bit tatty after last storm, but he kept his petals - a tough guy! By the way, Rob Roy or Robert Roy MacGregor was a famous Scottish folk hero and outlaw of the early 18th century, who is sometimes known as the Scottish Robin Hood.
Here is my lovely Loropetalum chinense, a very slow grower, which is good as I have nowhere else to grow it than here on the patio in a container so I hope it will do well in this container for a few more years.
I love these amazing flowers and the bronze/burgundy leaves.
How about lavender flowers in December? Well, mine is putting on new buds right now and it won't be long before these are fully out.
Turning to the left of the patio, I made this container last month with some red primroses split from an old clump I had, and I have planted them with a hellebore and a cyclamen, both grown from seeds harvested in 2012. It is so fun to see these plants finally put on growth although they are still young and won't flower for another year or two. I have no idea what colour their flowers will be, that's the beauty of growing flowers from seeds that don't come true, they can be become just something ordinary or something truly beautiful.
In the background you can see the enormous flowers of Fuchsia 'Bella Rosella'.
This must be one of the longest flowering plants I have in the garden, Dicentra formosa 'Bacchanal' – it is still flowering! I can see the new shoots already so it seems it will almost be a continuous flowering for this amazing plant.
Just behind it, the Skimmia japonica 'Rubella' has more than hundred flower spikes, this plant has never been pruned and at the age of 11 is now incredibly large. The dark pink flower buds last for almost 6 months until the buds open and reveal the white flowers around May, I like Skimmias best at this stage and they are a great addition in the garden in the winter.
Here is another Skimmia, a female plant with berries, look at that amazing colour! Its name is Skimmia japonica 'Bowle's Dwarf'.
Moving on from the Skimmias, along the path, more fuchsias are brightening up here on the left side, this is 'Annabel'.
The dainty flowers of 'Annabel' get a bit brown-edged when it rains, but still look beautiful.
Just behind 'Annabel' is one of my four hydrangeas, I don't cut off the flower heads on this one as I think they look nice as long as they keep looking like this. A prolonged period of frost might turn them to brown mush but we haven't had that yet.
Aster ageratoides 'Ashvi' is still flowering too, this is a newcomer to my garden and I don't really know what to expect from it, except that it can be a bit invasive so for now it is still growing in a pot, planted in the ground. I'll keep an eye on how fast it fills out the pot and I'll see if I will allow it to let loose in the garden!
Just behind the aster and next to the hydrangea stands a rather unassuming tall bush, covered in green leaves in the summer and not very interesting, but in the autumn it drops its leaves and in December it really comes into its full glory.
This is Viburnum 'Farreri' – with lots of small clusters of highly scented flowers which goes on flowering right into March when the leaves grow back.
Viburnum 'Farreri' flower with the new leaves already developing.
Stepping on to the path and looking back to the house, one of the main features this summer has been my sunflowers – and they are still here! Most of the branches broke in the bad storm we had in October but the remaining stem is still alive and still producing flowers – and incredibly tall, almost 3m.
Fortunately there are some flowers lower down so I can still get some pictures, the sunflower is called 'Vanilla Ice' and is an annual, it will turn to mush as soon as we get frost.
Next to the sunflower, another rose is still producing flowers, although this one has had a bit of beating in the wind - 'Mildred Scheel'.
And here is my only David Austin rose still in flower, 'Susan Williams-Ellis'.
And my trusty old pot rose never fails, it flowers non-stop.
In the large bed on the left there are plants in flower too, can you see the large black pot with the red flowers?
It is Chaenomeles 'Crimson and Gold' which started to flower a month ago and is still in full flower.
Behind it are two clematises, tangled together and growing up the large camellia. This is Clematis texensis 'Gravetye Beauty'.
Soon I will have to pull out the clematises as the camellia will start to flower any time from February to April depending on what kind of spring we get. But as you can see here, new clematis buds are side by side with camellia buds, I don't really have the heart to rip it out just yet!
And right under the clematis, in the darkest place of the garden are more fuchsias, they don't mind growing in complete shade, this is 'Sir Matt Busby'.
Turning to the bottom of my garden now, this part hasn't really changed at all since late summer, apart from that the Acer palmatum 'Garnet' in the foreground has lost its leaves, everything else is pretty much the same with many of the plants being evergreen. The pink hydrangea is not evergreen of course, but the leaves are still green and haven't started to fall.
It is even producing new flowers, although they are smaller than they were in the summer.
The cyclamens are in full flower.
And the Primula vulgaris dotted around are still flowering – for the 16th month in a row, they never stopped during the summer and have just gone on and on.
And more fuchsias of course, this is 'Mrs Popple', with these amazing colours that my camera struggles to show properly.
But my garden is in no doubt what month we are in, it might look like autumn in some ways but look here – the first hellebore flowers are on their way and there are lots more new shoots everywhere.
And the snowdrops are on their way up too, if this mild weather continues it won't be long before these beauties show their nodding flowers.
And speaking of spring bulbs sticking out of ground, my Iris reticulate 'Harmony' and 'Pixie' are well on their way too.
But back to plants in flower, here is my front garden, with lots of flowers.
The boxes on the window sills have all these magnificent Fuchsia 'Velvet Crush', still with lots of new buds.
'Velvet Crush' starts out a deep purple in colour and then turn more burgundy after a while, giving the impression of two different plants.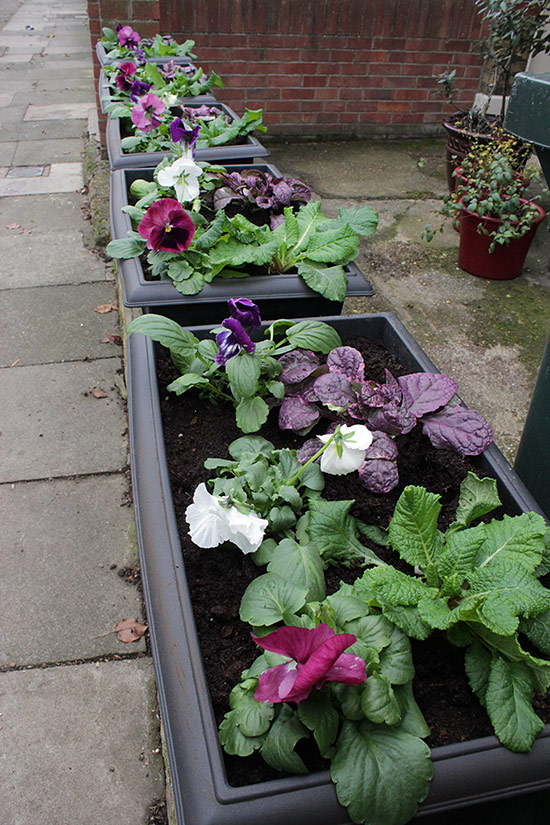 And here are the window boxes on the wall, this spring and summer I had 20 geraniums here and they stopped flowering in October. I have waited for them to die so I could get the winter bedding in but they are still alive so last week I finally made my online order for bedding plants and yesterday it was out with the old and in with the new. 6 of the healthiest geraniums were saved and placed in pots and are now in the back garden, I have no idea if they will survive but I don't think they will like coming inside the house so I better leave them outside. I just wanted some flowers in my window basket for the winter so here they are - Ajuga reptans 'Burgundy Glow', Primula vulgaris Belarina 'Amethyst Ice' and Pansy Matrix 'Purple and White', White primrose' and 'Pink Shades'. I have never planted winter bedding as late as middle of December but when the weather is good enough then why not!
Pansy Matrix 'Pink Shades'.
Pansy Matrix 'Purple and White'.
So there you have it, all the flowers in my December garden. Today is Garden Bloggers' Bloom Day, what's flowering in your garden? If you head over to
Carol at May Dreams Gardens
you can see what other people have in flower in their gardens right now - all over the world. Until next time, take care.