The news is repeating itself to such a degree that it makes us kind of numb – I don't think I can hear about any more storms and floods and yet, every day the news is filled with it and every week we are hit by more storms and floods somewhere in UK. Wednesday was dubbed 'Wild Wednesday' by the media and the winds reached hurricane force certain places on the west coast of England. Here in the calmer corner of South East England we are more worried about flooding and the saturated rivers, and where on earth all the water is supposed to go eventually. It all leads down to the Thames River, and that river goes straight through London. The Thames barrier is currently saving London from being flooded and since it was built in 1982, the Thames Barrier has been raised 150 times in order to prevent flooding in central London. This year's wet winter has required it to be closed 28 times since December the 6, accounting for 18.7 % of the total closures in its 32-year history. And the forecast today is for ANOTHER month of this weather.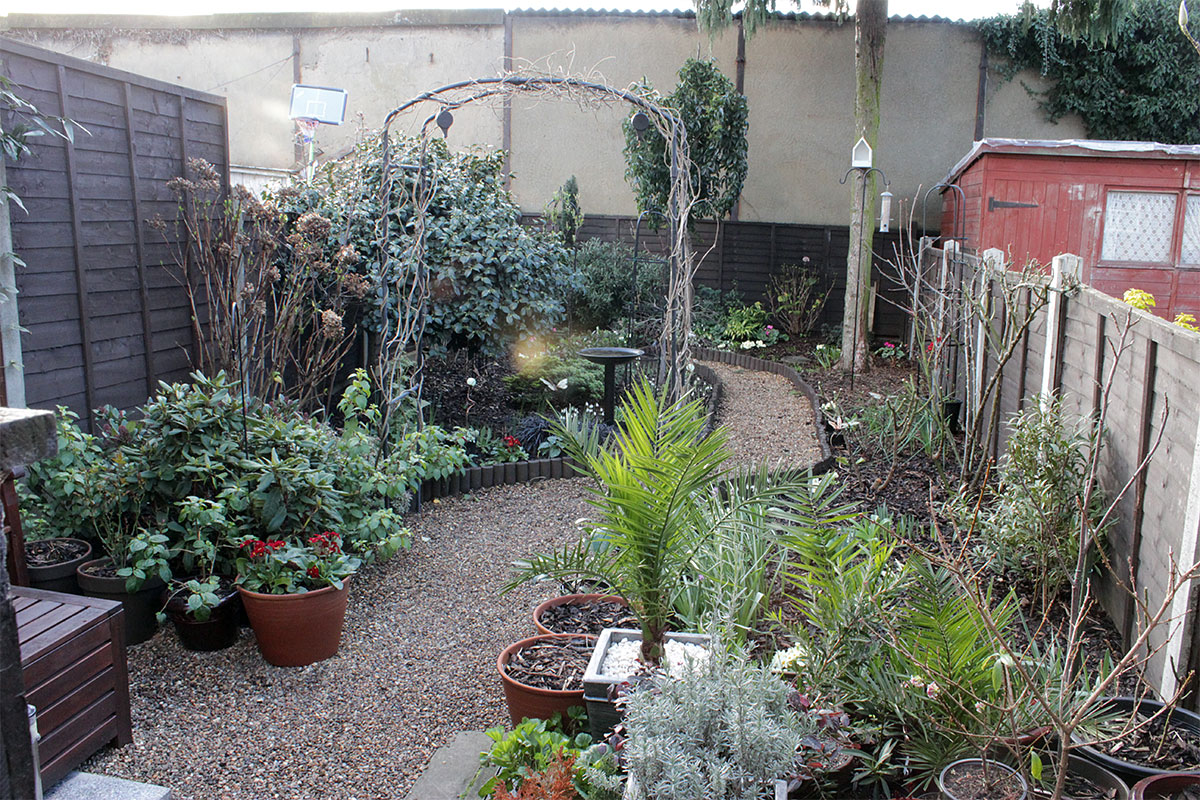 My garden has not been flooded, but it is incredibly saturated with water. I don't step into the flower beds anymore as my wellies just sink into the soil and leave a deep impression. As long as I keep to the gravel path I am OK. Every time I lift a container or one of my several hundred pots, water comes streaming out of the holes in the bottom. It has been like this since middle of December and I do worry that some of the plants and bulbs might simply rot, especially those that are in the pots. But everything above ground looks very healthy and green so perhaps things below ground is equally well. The only advantage with the kind of winter we have had so far is the very mild weather. No frost yet, apart from a few hours ONE night in January, not sure if I can count that as frost, it barely dipped below and by the time we got to lunchtime next day everything had thawed again. Not enough to make any damage to my tender plants.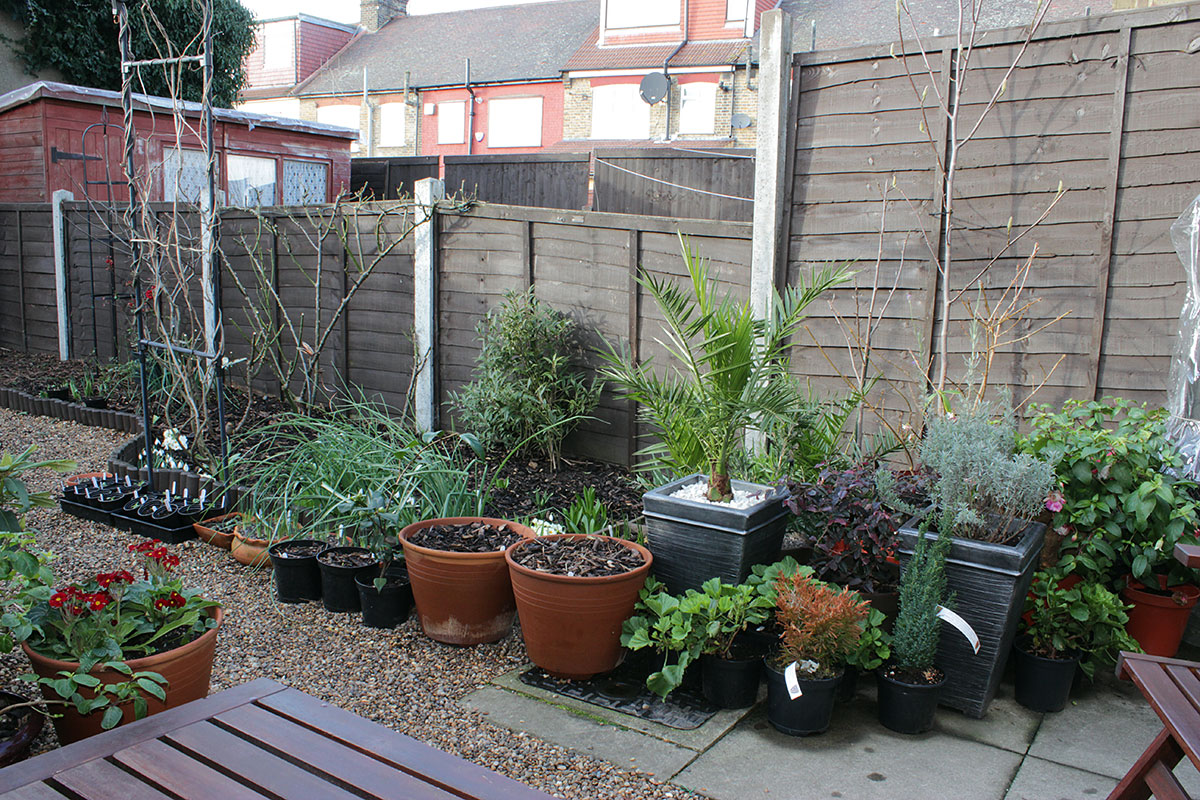 On my patio I have a mix of evergreens, tender plants and containers with spring bulbs. At the back my new magnolia which I am waiting with nail biting anticipation for the first ever flowers. It might be May before I see any flowers, depends if we ever get to see the sun again….
Some of the tender plants that has survived this mild winter were certainly not meant to still be green. I am amazed that the geraniums actually have not only survived but now are producing new fresh shoots. And the fuchsias? Well, I have written about them every 15th for ages, but here we go again....
....A bit easier if I lift the pot out and place it on the table perhaps, but here it is, still in flower, in the middle of February.
There is no sign of yellowing of the leaves and there are new flowers produced.
And new, fresh leaves popping out all over. I have never had a fuchsia that didn't shed the leaves in late winter, but by now they all should have been bare twigs - at this rate it seems all my fuchsias will be evergreen this year!
My nursery shelves are full to the brim, I need to plant some of this so I can make room for all the pots of seed I would like to sow soon!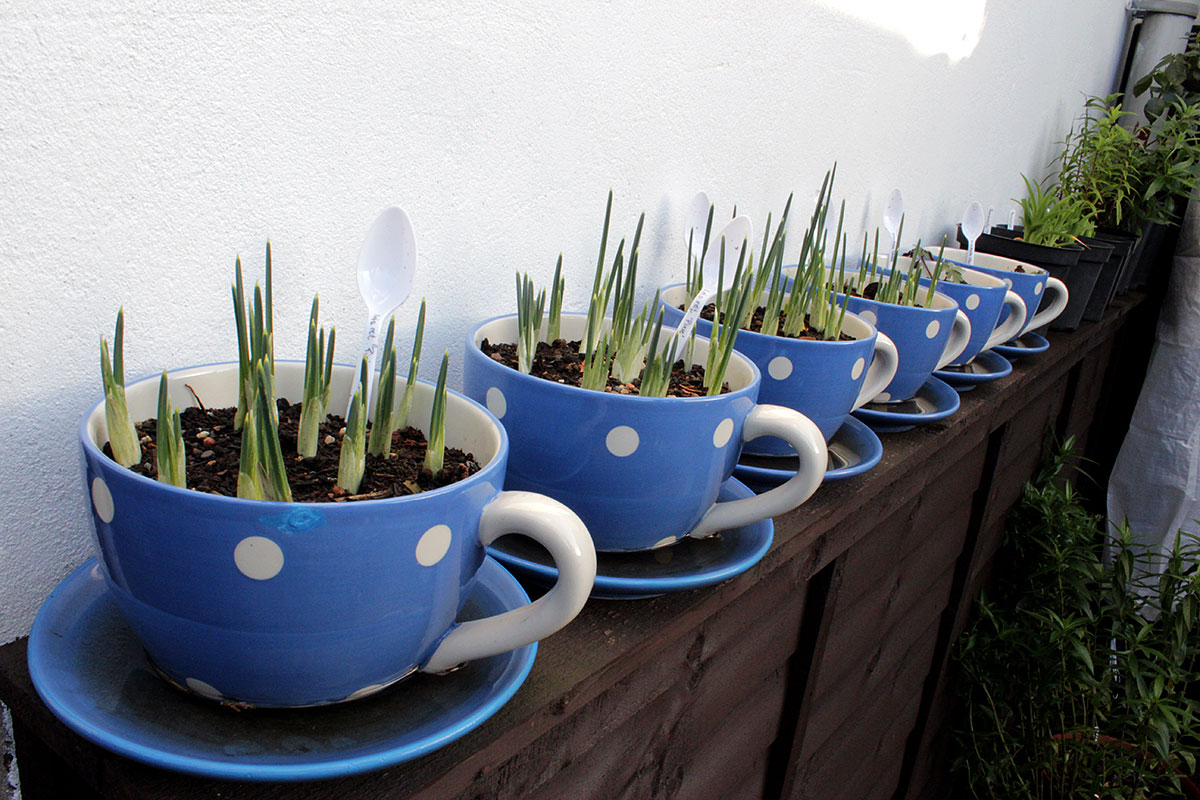 My giant teacups are getting fuller, but no sign of flowers of the Iris reticulata yet. I wish I had a place in full sun to keep them but alas, full sunshine is in short supply in my garden! These teacups have drainage holes in the cups so water can drain down to the saucer, but there is no hole in the saucer. The cups and saucers are attached to each other and cannot be taken apart. They were sold for outdoor use so I think this is an incredibly silly design, only suitable in a country where it never rains - where would that be? I keep pouring off the excess water off the saucers every time I go outside, but with the weather we have it means there is always water on the saucers. I think I will try to find someone who can drill a hole through all of the saucers, it is stoneware so should be possible to drill holes, just need to find someone willing to do it for me.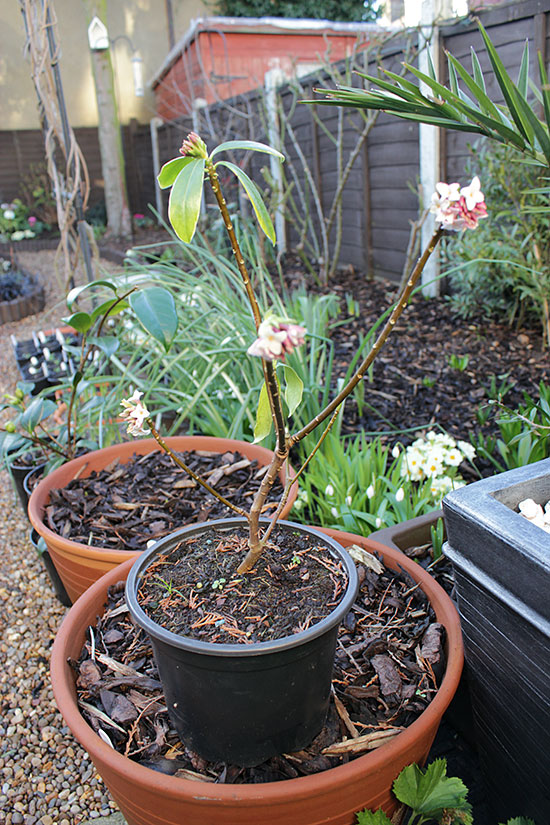 Last autumn I bought my first Daphne, here she is! OK, I admit it, she doesn't look that impressive, nearly all the leaves fell off for some reason despite her being evergreen, and although there are signs of them growing back again, at the moment she looks very bare.
But the flowers that are emerging are just heavenly! I wish you could smell this one, I can only describe it as a very sweet and fruity smell, but fresh at the same time, like a very expensive soap – or at least I wouldn't mind having a soap smelling like this!
Here is another one just emerging, the very first Anemone blanda is almost ready to pop, just a day or two more now and it will be properly open.
My lavender has been flowering all winter, in fact, it hasn't stopped since last spring!
On the other side, opposite the patio, in the shady bed are more fuchsias still lush and green. This is Annabelle and they stopped flowering a few weeks ago but instead of dropping all the leaves like they usually do at this time of year they are now shooting out new, fresh growth and new flower buds – all 4 of them. Seems like these will be evergreen this year too, unless we get a surprisingly cold spell.
Just next to this bed, right above my seating area is one of the newcomer to my garden, Clematis armandii 'Apple Blossom' . I bought it in December 2012 as a small pot plant and during the whole of last year all it did was growing and growing and growing and it didn't produce any flowers.
Now it is covered in these buds, must be several hundred of them and I can't wait to see it in flower for the first time. I was a bit afraid of putting this clematis here as it is a north facing wall, but it seems it gets more than enough light in this space. Not sure how long it will take from this size buds to open flowers since it is the first time, but time will tell!
One plant that is happily flowering away is my Chaenomeles 'Crimson and Gold', currently residing in a large pot.
I think this is the third flush of flowers I have this winter.
And there are more buds.
Speaking of buds, if I turn around and look downwards, the camellia is probably the most impressive'bud maker' at the moment.
The camellia started to make these buds already by the time it shed last year's flower, but now they are getting really big and there are many hundred of them - by the time we get to middle of March it will probably be in full flower.
Here is a very early starter, this is my Clematis 'Niobe', not really in flower yeat, but I just had to show how much growth it has put on, never seen it like this in February!
But it is down here at the bottom of my garden that things are happening right now. This is where I have my woodland garden with all sorts of spring flowers among some staple evergreens. All the tiny green stalks to the right are crocuses on their way up, it will be quite a sight when they are all up.
The first Rhododendron is in flower, this is 'Christmas Cheer', a bit of a misnomer as it doesn't flower for Christmas, but usually flowers in March here in UK.
The flowers start in this acid pink colour.
And open fully in this pale pink. Absolutely beautiful.
Here are some more eye popping colours, the cyclamens are in full flower.
One more, in a paler pink.
This white cyclamen has been flowering since long before Christmas.
The Sarcococcas are still in flower but it will only be a few more weeks and then it's all over.
I have 3 Sarcococcas, one Sarcococca confusa which was on the previous photo and two Sarcococca hookeriana var. digyna like this one. I'd love to have a few of the other types too, being evergreen they bring interest to the garden wherever you put them. They are so easy plants to deal with all year round and every winter they burst into these pumps of delightful perfume. Who can ask for more?!
Well, the only thing one could ask for would be non-stop flowering I suppose – like my Primula vulgaris! Most of them has been flowering since I got them in September 2012, without a break during last summer! I wonder if they will go on this summer too....
This primrose took a summer break like it should do, and started again last autumn, I love the dark red colour.
The first crocuses are out of the ground, not fully open yet, but at least you can see they will become blue.
Can't wait for them all to burst into flower, to me that's a great sign of spring.
Down here in the woodland corner there is a mix of all sorts of spring plants and some has even had to go into pots for now, waiting for a permanent place in the garden.
But the plants I most of all connect with February are snowdrops and hellebores and I have lots of them in flower right now. February is also my father's month, his birthday is the 29th February, which means he has only had a 'proper' birthday every 4th year. While preparing some photos and video shoots of hellebores for this month's Garden Bloggers' Bloom Day I received the phone call telling me that my father had suddenly and unexpectedly died at home in Spain, where my parents live. That was last Saturday, 8th February - 3 weeks before his 74th birthday.

I decided to make a movie of my hellebore and snowdrop photos and took as many snowdrop photos I could this week in between the rain – to make a movie for today. The music is a requiem I have been listening to for a while and feels strangely coincidentally appropriate right now. February with it's hellebores and snowdrops will forever remind me of my father.

Please change the setting to 720p if you have download speed for it, the photos are high enough quality to be viewed in full screen.
The music was Pie Jesu from Fauré Requiem D minor, op 48.
To see flowers from gardens all over the world, please visit the host of the Garden Bloggers' Bloom Day meme,
Carol at May Dreams Gardens
.
Until next time, take care.