It's middle of the month again and time to show you what's flowering in our gardens. It was a funny winter here in London, with no frost at all and just rain, rain and more rain - but although spring so far has had many nice days, the temperatures hasn't been that impressively high. Some plants are very early in my garden, others are taking their time and seem to not have been influenced at all by the mild winter we have had.
Let's start this tour in my front garden where the window baskets are at their best right now.
They are filled with 3 types of Viola wittrockiana (pansies), Ajuga reptans 'Burgundy Glow' and Primula vulgaris Belarina 'Amethyst Ice'. By the time we get to June I expect these baskets to look a bit tired and I will take out and keep what's possible to save and throw out the rest.
I have lots of plants around my bay window and most noticeable are the fuchsias, which are all in full flower! They have been flowering non-stop since last August and because of the frost free winter they didn't lose any leaves and simply just continued to flower. Normally they would lose all their leaves in January and be just bare twigs until the leaves come back in June and the flowers would arrive in late July or August.
I don't really know what's going to happen with all my fuchsias this year. Will they just go on flowering right through the summer and into the autumn? And what if we get another mild winter, could they flower until next summer??
This is Fuchsia 'Velvet Crush', one of my favourite fuchsias and I took many cuttings of it last autumn – incidentally the cuttings spent the winter outside, I never thought that would have been possible, but they did, and now the cuttings are flowering too – in April! Madness!
OK, let's move to the back garden and see what's in flower here. The beds are slowly filling up with green plants and in a few month's time this garden will be filled to the rafters with plants so you can barely see to the end. At the moment the garden is in a sort of transition period between the spring flowers and the early summer flower, and there are lots of plants that will burst into flower in the next few weeks.
On the shelf at my seating area I have the sun loving plants, my two new oleanders and 10 tender geraniums which have spent the winter outside here on the patio. After a hard prune and a sprinkling of slow release fertiliser I hope the geraniums will flower just as beautifully as they did last summer. The oleanders are new and haven't flowered yet, I hope they will this summer but being so small I think they might need another year.
Turning around to the patio, the containers here have all spent winter outside, I don't have a greenhouse or conservatory so nothing get's dug up or taken inside.
Most of the daffodils are long gone, but these late, miniature daffodils called Narcissus 'Hawera' are absolutely exquisite.
I grow them in two small containers and the flowers last for quite a long time.
But at the moment it is tulip time in my garden! This is a mix of tulips I got for free when ordering from an online nursery. I would probably not have put this garish mix together myself, but it was free…
On their own, some of them are rather pretty, like this pale pink one.
Or this dark pink one.
A more successful mix is probably this, which I bought from Sarah Raven, although I don't think I would have put orange and red together like this – but it was cheap. The orange are called 'Prinses Irene'.
The red one is 'Couleur Cardinal'.
And this is Tulipa 'Havran' , also from Sarah Raven.
On my patio the Loropetalum chinense is in flower again, this tiny bush is now 2 years old and still very small. I have heard that they grow to 6' tall and wide in no time, mine don't seem to have such ambitions! To the left of it is the bottlebrush, Callistemon rigidus, which also is 2 years old and it looks like it will flower for the first time this year – can't wait to see that!
Loropetalum chinense flower.
Behind the Loropetalum is the big pot with fuchsias which I have been showing over the winter, but just to show you how BIG it is, I moved the pot to the table and the plant filled the whole 40x80cm table and some more.
There are 3 fuchsia plants in this pot, 'Snowburner', 'Marcus Graham' and 'Deep Purple'. Here are lots of 'Deep Purple' almost open.
And this is 'Snowburner'.
And in contrast to these big-flowering fuchsias, here is one of my new ones, a miniature called Fuchsia encliandra 'Jimmy Cricket'. The flowers won't be any bigger than this although the plant itself will grow a bit, it is just a cutting still.
And if you thought Jimmy had small flowers, here is another miniature – with absolutely tiny flowers! This is Fuchsia 'Fuksie Foetsie' and right now, none of the flowers were open, but they don't get that much bigger than what you see here, they are ready to flower in matter of days. I am planning to use these two fuchsias to make Bonsai trees, but that's a project that will take a good few years so I'll come back when I have something to show. In the mean time it's nice to enjoy these unusually small flowers.
Here at the patio I also have my nursery shelves and they are so full I really don't know where to put everything at the moment.
Many of the plants here are ready to be planted out already, and look; my fuchsia cuttings that are already flowering!
My shelves are so full I have had to take use of the path too, there are pots and trays all the way down on the sunny side. When the spring bulbs are gone, many of these pots can go into the beds and fill in the gaps, but for now they just have to temporarily reside here on the gravel path. I had a count, just for fun today, of all the pots I have in the garden, from the largest container to the smallest cutting pot. I got to 346. That's not counting those in the front garden and the plants and seed trays I have indoors. OK, I admit it, I am a plantaholic!
By the seating area is one of the newcomer this year, Chaenomeles speciosa 'Moerloosei'. This is my second chaenomeles and I have wanted a pink for ages. I am going to grow it in this container and train it up the fence. I didn't expect any flowers this year but got a few after all. They are such a beautiful delicate pink colour.
Just imagine when the whole corner will be covered in flowers looking like this! Next year, possibly?
On the other side of my bench is one of last year's prolific bloomer. Dicentra formosa 'Bacchanal' flowered from late April last year to early January this year. And now it's flowering again and has lots of flower buds hidden in the lush foliage. I think perhaps it has outgrown the pot soon and need to be split this autumn, I could possibly get 3 plants out of this one big clump.
The flowers are just beautiful, and being such a prolific bloomer, I bought another Dicentra formosa last autumn, a white one. I hope it will prove to be just as good a performer, it grows in complete shade and is barely out of ground yet so time will tell.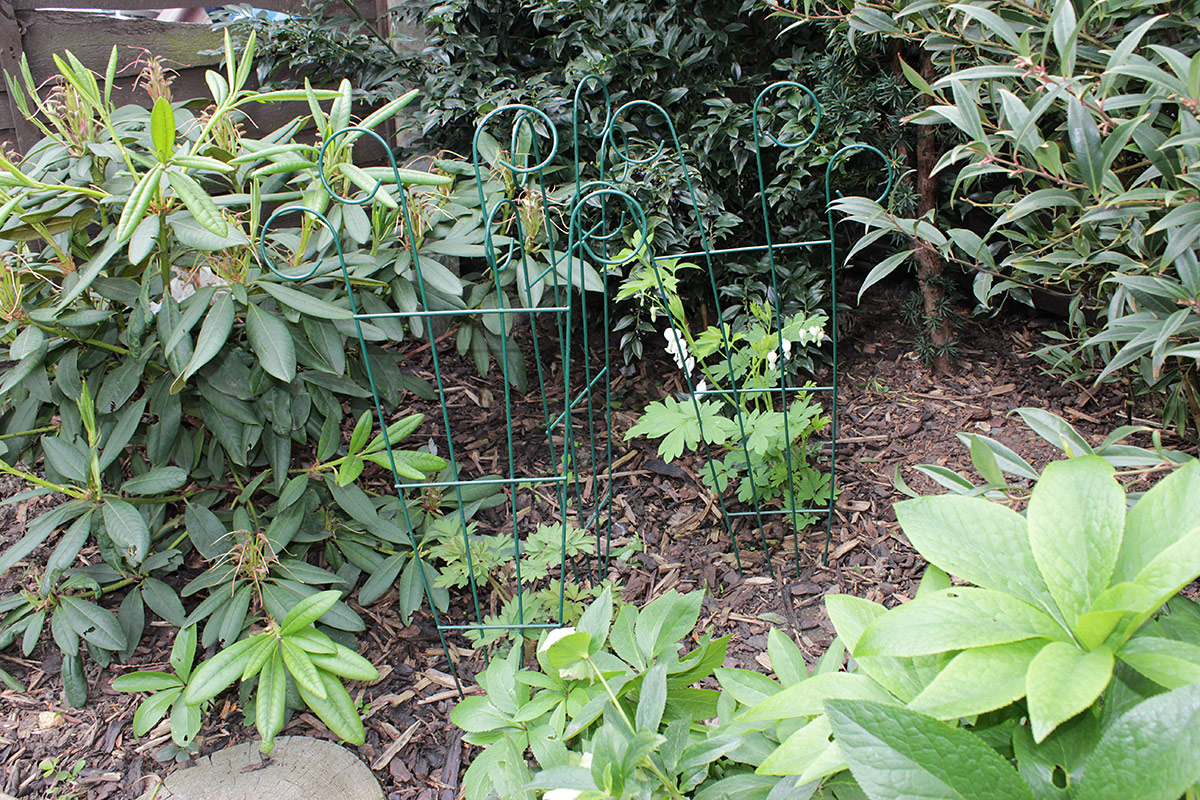 Not that I don't already have a white Dicentra....here are my two Dicentra spectabilis, a slightly different Dicentra and perhaps the one most people are used to seeing. These two are D. spectabilis 'Alba' (white) and D. spectabilis 'Valentine' (red). The reason I have them fenced in is to try to avoid the local cat, fox and squirrel population breaking off the branches, they have already managed to break off two new shoots on Valentine despite the fence so I had to go in and adjust it a bit. When the bushes get a bit bigger and wider I will support them with canes and hopefully they will survive the summer. They didn't last year, both of them were pretty amputated by end of August. Dicentras are soft and fragile bushes compared to the rest of the plants I have here, mostly evergreen plants, so no wonder they are the first ones to break when the wildlife have a run-around down here.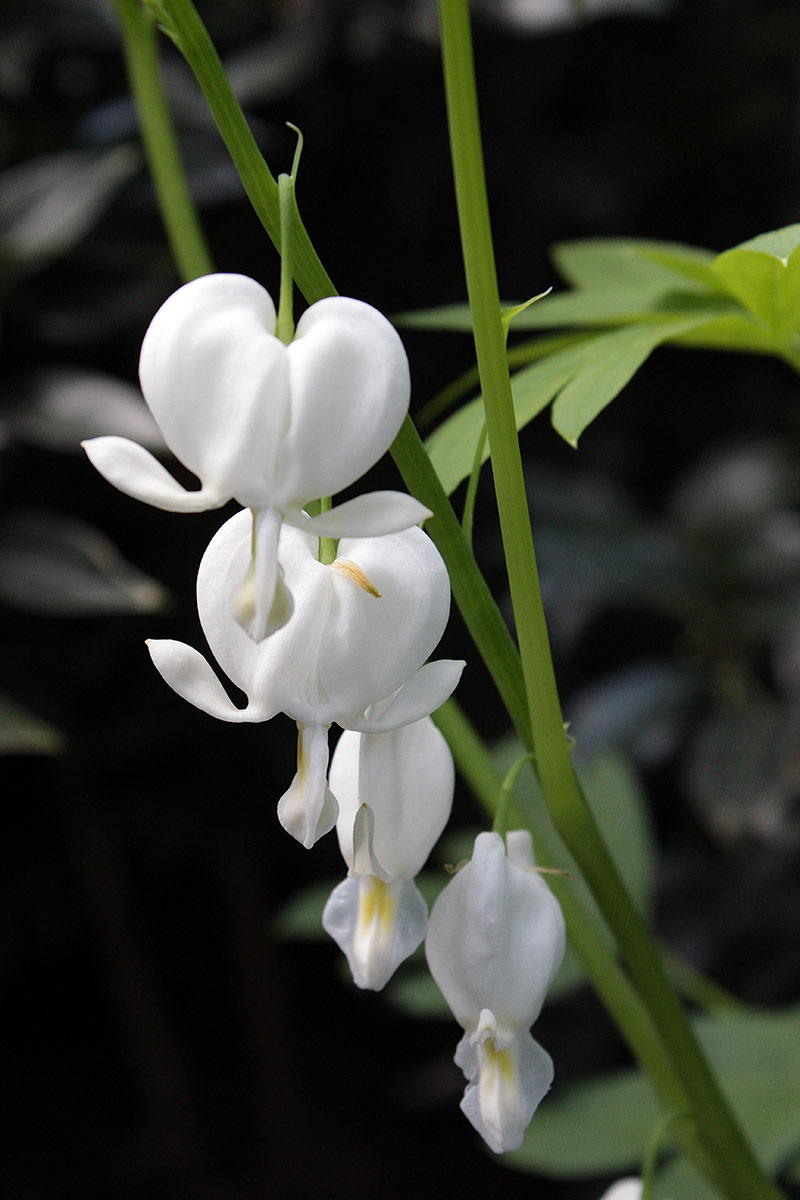 The pure white flowers on Dicentra spectabilis 'Alba' are beautiful - but just wait till Valentine get's his red flowers out, they are gorgeous!
OK, back to the seating area where I left, and here are more red flowers, most noticeable is the last flower on my baby camellia. It has flowered for a long time despite being absolutely tiny, can't wait to see how this camellia will be when it gets a bit older.
Camellia japonica 'Takanini' is soon going out in my front garden where it will be much happier during the summer, it will be too sunny and hot for it here on my patio. That's the advantage of growing camellias in containers - take them in to the garden during the winter when they flower and put them somewhere else when they are finished :-)
And speaking of camellias; my big camellia has been flowering for more than a month now and there are lots more to come yet. I inherited this huge camellia when I moved in here in November 2001 and I can't really take credit for this amazing display of flowers. I don't do anything with it – I don't ever water it and I don't fertilise it. I have pruned it a few times to keep it in shape, and I plan to do another pruning this year as it is many years since last time. But that's it all I have done, pruned it a couple of times the last 12 years.
I don't know what type it is, and I must have looked at many hundred camellias online to try to recognise any named variety, but so far I haven't found it.
Camellias are one of the few flowers in my garden I have so many of that I can cut and have in vases as many as I like – there is a seemingly never-ending supply!
I don't know how old it is, for all I know my camellia could have been planted in the 1950s, when the terraced houses around here got indoor toilets and gardens, which means it could be over 60 years old. Whatever age it is, it must like where it is growing, there is an incredible amount of flowers on the camellia every year, and the flowering usually takes 8-10 weeks from start to finish – even longer if we have really cold weather like last year. I am always very impatient for the camellia to start flowering in the spring, and can't wait to see the first flowers open up.
But at this time, almost halfway into the flowering I always think the same: what a mess!!
I leave the petals until it's all over and then I scoop up some of it, usually a whole plastic sack full, and the rest I rake in with some fresh bark chipping mulch and leave to rot.
Next to the camellia the hydrangea is getting tall and already budding.
It won't be long before these buds are popping out as enormous pink flowers.
Down at the bottom of my garden, many of the spring plants are gone a long time ago and I am left with crocus leaves, daffodil leaves and snowdrop leaves to die down. There are a few anemones left, but the squirrels have lunched on most of them.
The hellebores are past their best too, I just keep the flowers now to get the seeds and I could probably deadhead at least 50%. I really don't need that many hellebore babies!
But there are flower here too, this pretty red primrose has been flowering since last year together with 3 other exactly the same, spread around the garden. The white and the red cyclamens are still going strong and the plant to the right with the white tiny flowers is a Disporopsis pernyi – more about this one next month when the flowers are out properly.
Here is a newcomer in my garden, I got 3 of these Bergenia 'Winterglow', a bit of a misnomer since they don't flower until now.
But the flowers are absolutely lovely, pure magenta!
My Arisaema amurenses are flowering right now, I have no idea how many I have, they are difficult to count so I have a plan that I am going to count how many flowering size Arisaema amurense I have – once they all are out of the ground in a week or two. I guess it will be around 20 or so. But when it comes to babies I have no idea. 100? 200? It could even be more, from the tiniest to the almost ready to flower. They take many years from seed to flower, but I have just left them to it and started with just ONE plant – in 2004.
And the mice are doing well too! Have you seen the mouse plant on my blog before? If not, I have written a post especially about this amazing plant, Arisarum proboscideum,
and you can find it here.
Another unusual plant down here is one of the primulas I got from my plant swap with Angie last month, it is doing very well and if you want a primula a bit out of the ordinary, this one is worth looking into: Primula 'Mrs Marjorie Banks'.
The last of the Puschkinia Libanotica are still flowering, but one more week and I think they will all be gone.
One surprising thing that is flowering right now is my 10 year old Acer palmatum 'Garnet'. It has only flowered once before, a few years ago, and I think it needs a good summer the year before in order to flower.
The flowers are far from showy and spectacular, but since it doesn't happen very often I appreciate it more when it does. A couple of acer saplings as a result of this would be nice, thanks :-)
Another tree in my garden about to flower is my lilac. I must admit I have a special relationship with this lilac as I have raised it from a tiny cutting since 2004, although I eventually realised that this isn't a Syringa vulgaris, and that the flowers aren't actually scented – which came as a big blow to me, what's the point with a lilac if the flowers aren't scented?! But I didn't have the heart to throw out this cutting and kept growing it. It grows very slowly, this is all it has grown in just over 10 years and I can't wait for the crown to get above the fence, it will make it much easier with the roses I have on the fence.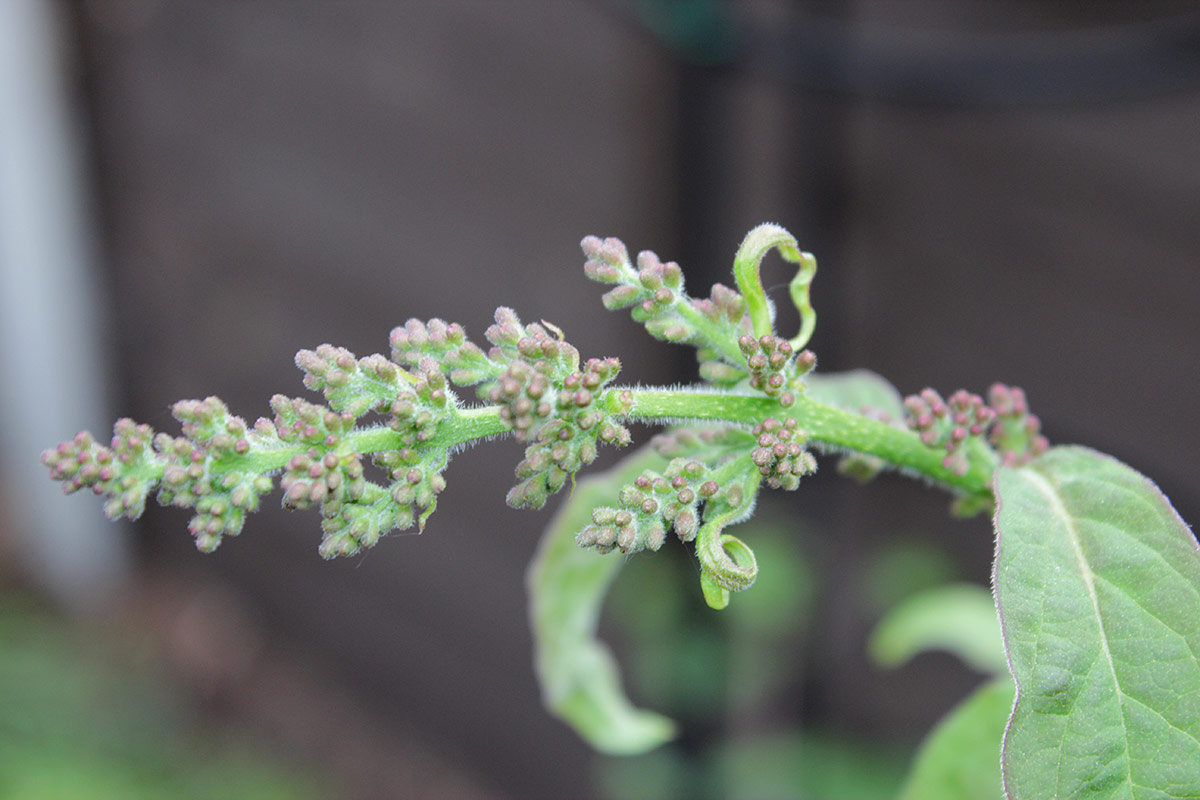 The flowers are very pretty, but too early for today's post, next month it will probably be all over so I will post when they flower. I am not completely sure what my lilac is called, but from photos online I am pretty sure I have found it, not your run of the mill lilac at all; it is probably a Syringa komarowii reflexa. A keeper for now.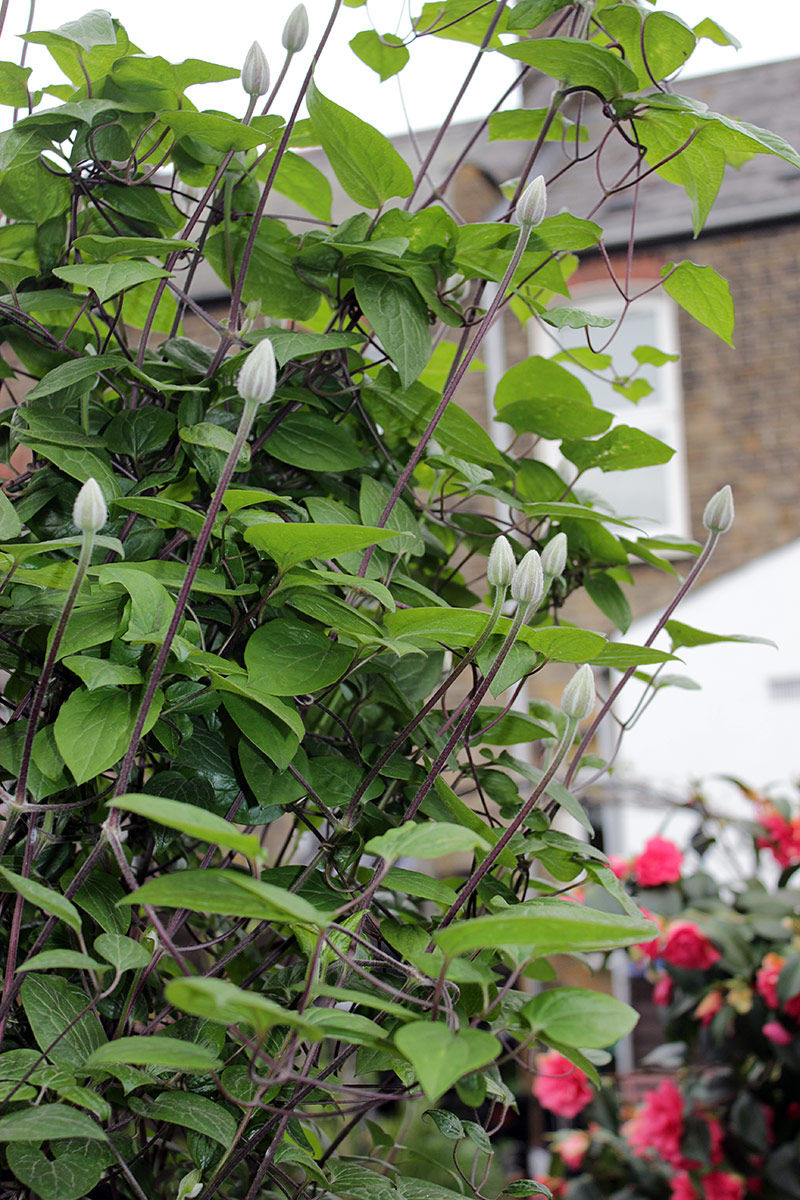 Oh, and speaking of flowering, my Clematis 'Niobe' is about to flower. No, I am not kidding, it is about to flower. No, it's not a joke, it is about to flower – in April! Oh my goodness, I get all giggly when I say it. It sounds even more silly than having fuchsias in flower in April or in February and March for that matter, all my fuchsias flowered all winter. But my Niobe is a clematis pruning group 3, it normally flowers from June and onwards. I have never had flower buds in April before. None of the clematis' went dormant because of the mild winter we had, so they started shooting new leaves earlier than I have ever seen before and the result is here. Flowers in April on a pruning group 3 clematis. Madness.
The same can't be said about my roses, they are taking their time and don't seem affected by the mild winter at all. I cut them down last week of January, a week earlier than I normally do, and they all have flower buds now but no flowers yet. I have had roses in April before, but it's a while since last time, by the time we get to middle of May there should be plenty of roses, providing we don't get any freak weather coming our way – you never know!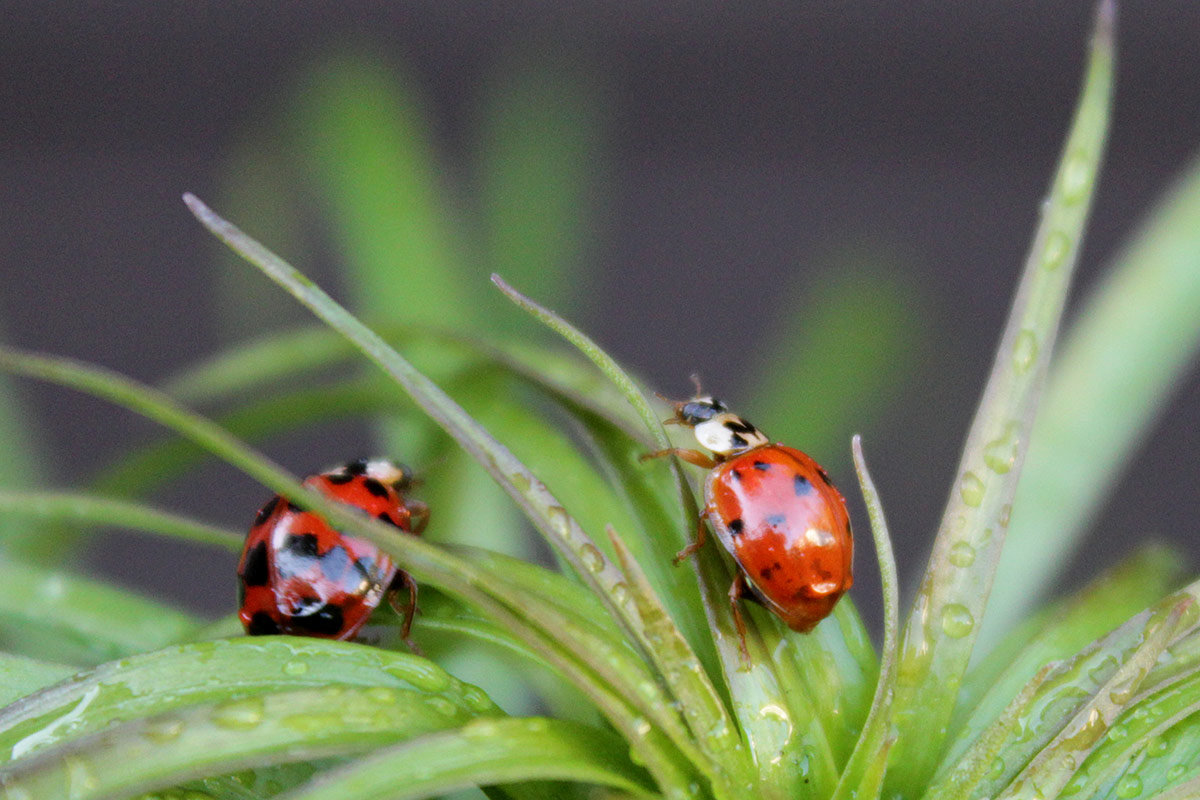 Speaking of freak, if you live here in Britain, have you seen the amount of greenflies there are at the moment?!! Probably as a consequence of our frost free winter, but luckily, the ladybirds have arrived too. These two are harlequin ladybirds and not one of our native ladybird, can't say I am that happy about having these foreign invaders immigrants here in my garden, but at the moment I am happy seeing anything that munches greenflies with the speed of light – besides, I am an immigrant myself, so I suppose I should give them a break....but at least I don't eat the natives, like the harlequin ladybirds do – they actually eat other ladybirds and the population is falling every year!
Anyway, that's the roundtrip for today, I have many more plants in flower but I just can't show you everything or you will be sitting here reading till tomorrow! It is Garden Bloggers' Bloom Day and if you visit
Carol at May Dreams Gardens
you can see what's flowering in gardens all around the world.
Let me just finish this post by reminding my UK readers about Green Plant Swap, the website where you can swap plants with other keen gardeners and plantaholics. You don't need to live next door to each other, you can send plants in the post or by courier.
Here you can visit my pages on the Green Plant Swap site
, to get an idea of what it's about and what you can do, and you can see most of the plants I have as I have been busy updating the plant list for my garden. Until next time, take care.