What a mad last couple of months I have had! When I was offered the bungalow back in February I realised it would take time to sort out everything and get a final approval for a swap, but I did of course not plan on dislocating my hip replacement in the middle of the whole process – neither did I think the house swap application would take such a long time as it actually did, and the nail-biting finish with a deadline approaching and a final yes from the council a day after the deadline was a bit more than I appreciated. But I am here, I have lived in my new house – and garden for almost 3 weeks – and I am hopefully NEVER going to move again!

I still have boxes to open and lots of things to do in the house, but the garden is pulling me outside whenever the weather is good enough so I am trying to divide my time and energy between the two, the main task for the garden up until now has been to re-arrange all the plants so that plants that need sun gets enough sun and plants that can do with less sun can be moved to shadier position. The garden has large areas of shade, mainly because it is so overgrown, once everything is cut down and pruned it will be a bit more spacious and have more sun, but will still have lots of shady areas. Good then that I come from a shady garden and many of my plants can cope with shade. I never did a final count of pots but I think I was very close to 700 by the time I was finished lifting and potting everything I took with me from my old garden. It's going to be a challenge to keep everything watered and alive over the summer while I decide what to do and where to put everything.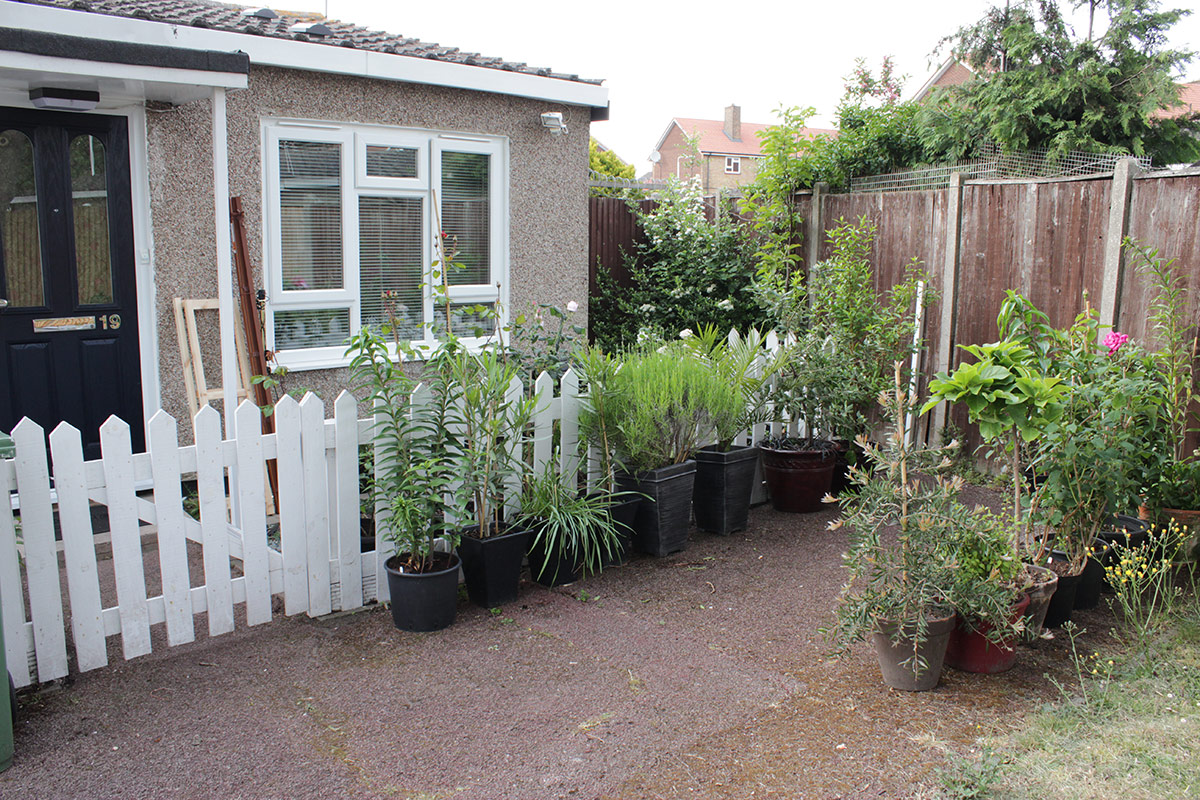 I have had to make use of the outside of my fence for now for some of my containers, I am on the end so I don't think anyone will mind, no-one has said anything and soon most of these will be in flower and look beautiful so perhaps I will make a permanent feature here on the outside.
I have started to clear out the weeds on the inside, I was initially planning to make this front garden a place for my roses, but it turns out the large trees make this a space with no proper sun, only a bit of dappled sun so I have had to rethink this. I think this will be a great space for all my fuchsias so I have started to fill it up with some of them.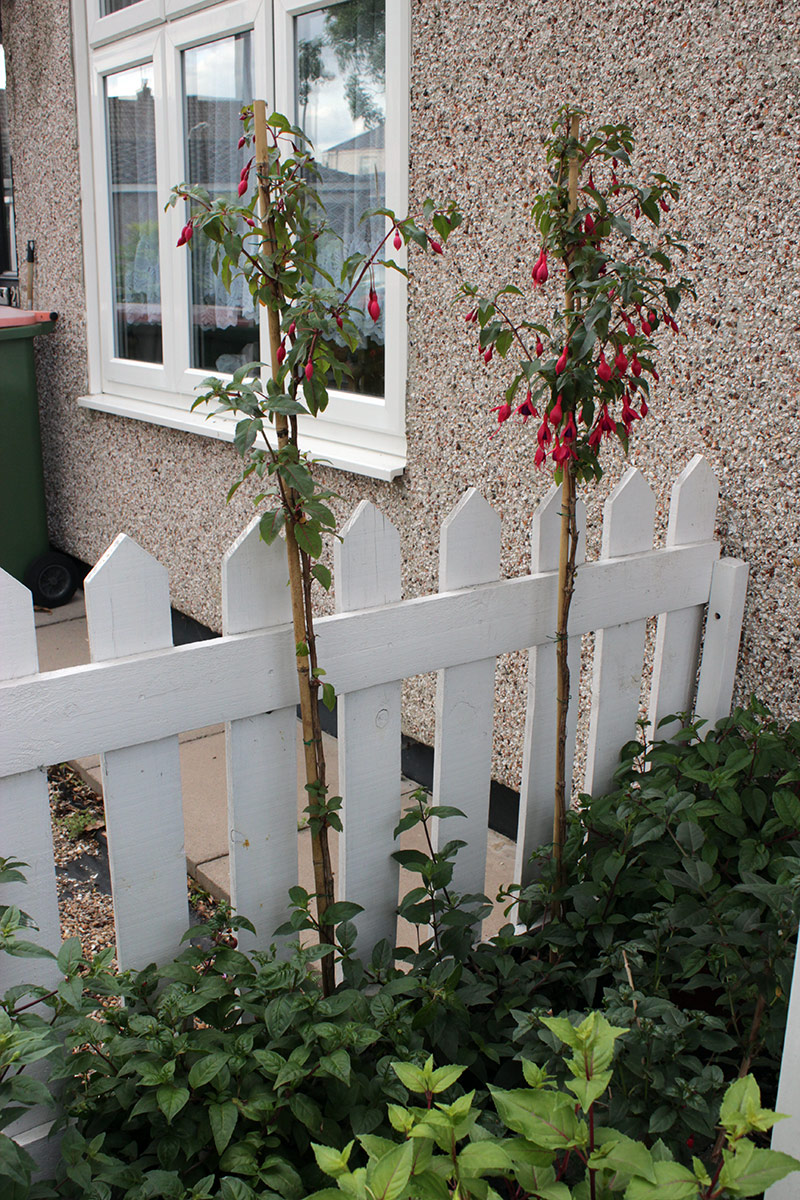 My first attempt to make fuchsia standards is still going well, the two fuchsias 'Mrs Popple were planted as tiny cuttings in November 2013 and I am glad I didn't listen to the advice that you can't grow standards outside in Britain. Turns out you can! Mine survived fine last winter despite being 1.3m tall and in small pots – they grew like mad last year, much taller than I thought they would. I wasn't supposed to top them until this summer but I had to do it in August last year or else I would have ended up with standards 2m tall! This year they will be allowed to just fatten up with branches on the top and I will give them bigger pots and some fertiliser and good compost – it's on my very long to do list....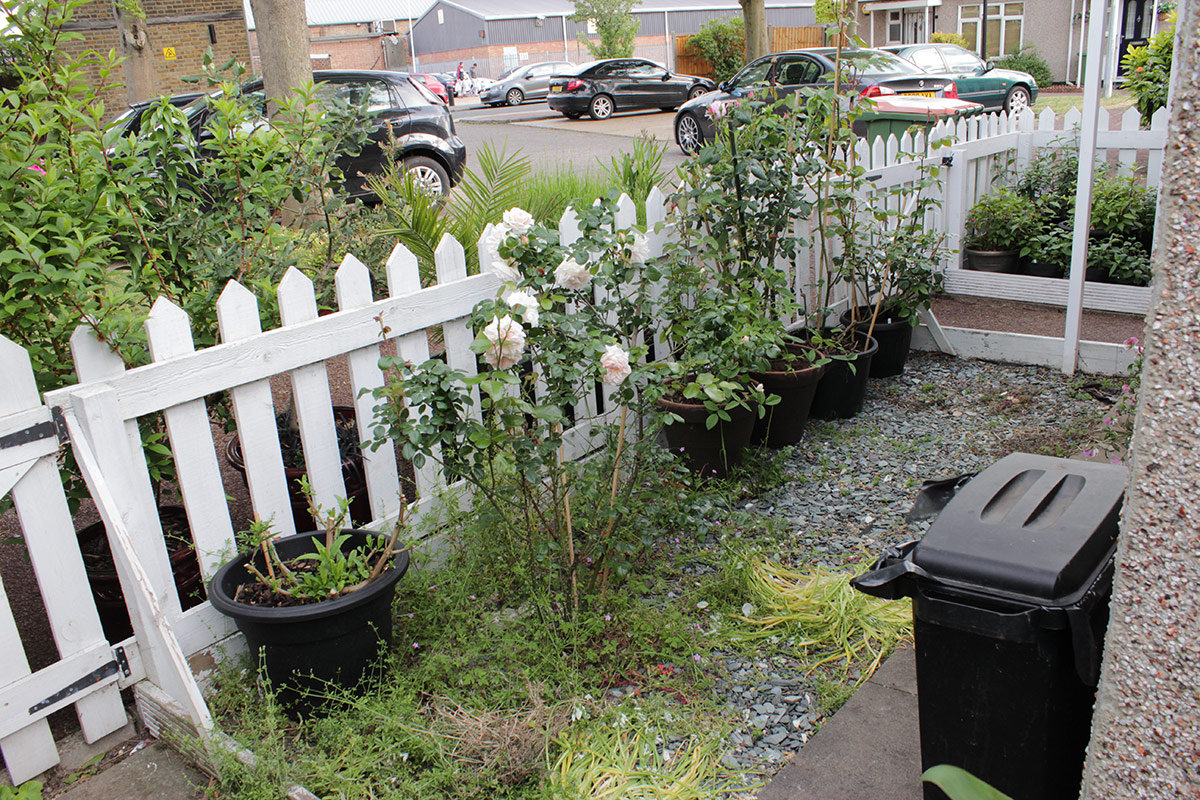 The rest of my front garden is still looking....well, there are weeds everywhere. I keep filling bag after bag and the council's composting service will be familiar with my new address in the weeks and months to come! Eventually I will have a composting bin myself, I have wanted to have one for ages but in my old garden there was no room for one – here there is, but I would have filled one in a week so for now I will send it off to the council.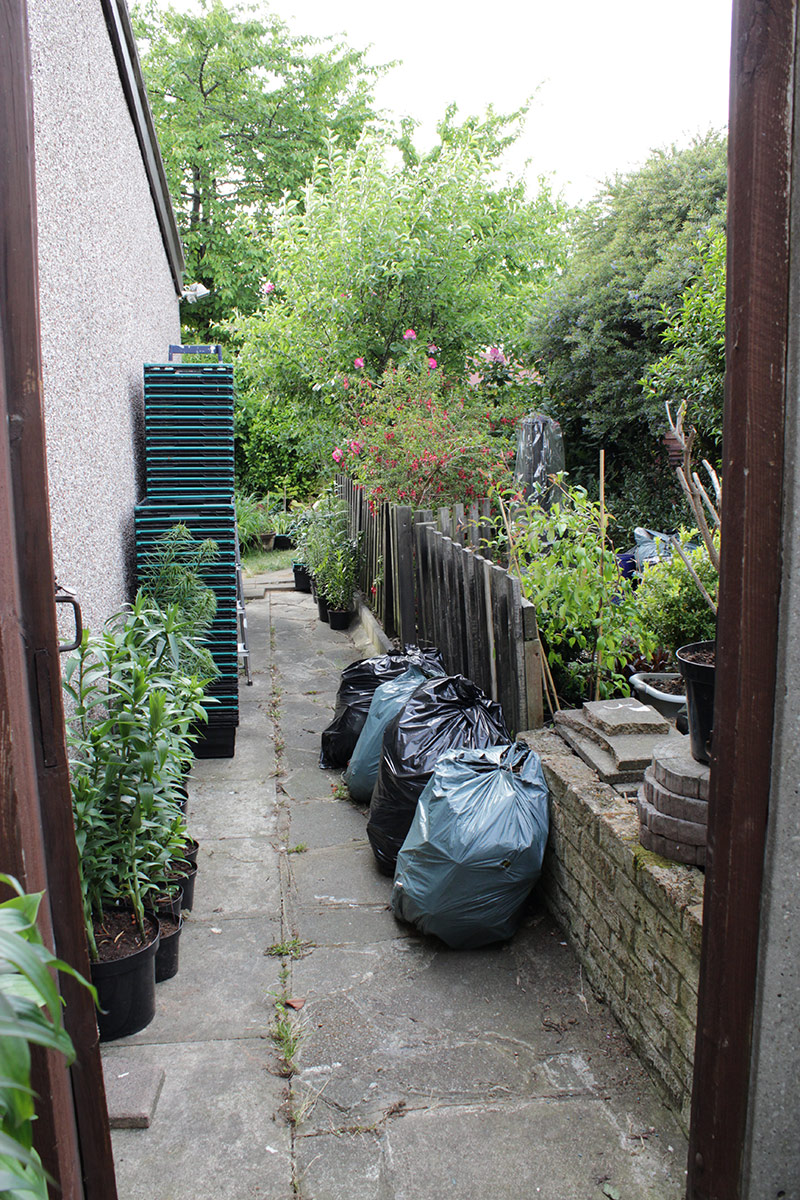 I have managed to empty a lot of the crates I used to transport all my plants, about a third of them so far, they are stacked here. When all are emptied out I will give them away on Freecycle, I am sure someone will pick them up pretty quickly. The bags are weeds, ready to go to composting. On the right side of the gate you can just about see one of the long-term projects of the garden. I have been told by the previous tenant that sometime in the past, this build-up area was used as a pond with water lilies. Having a pond has always been very high on my wish-list.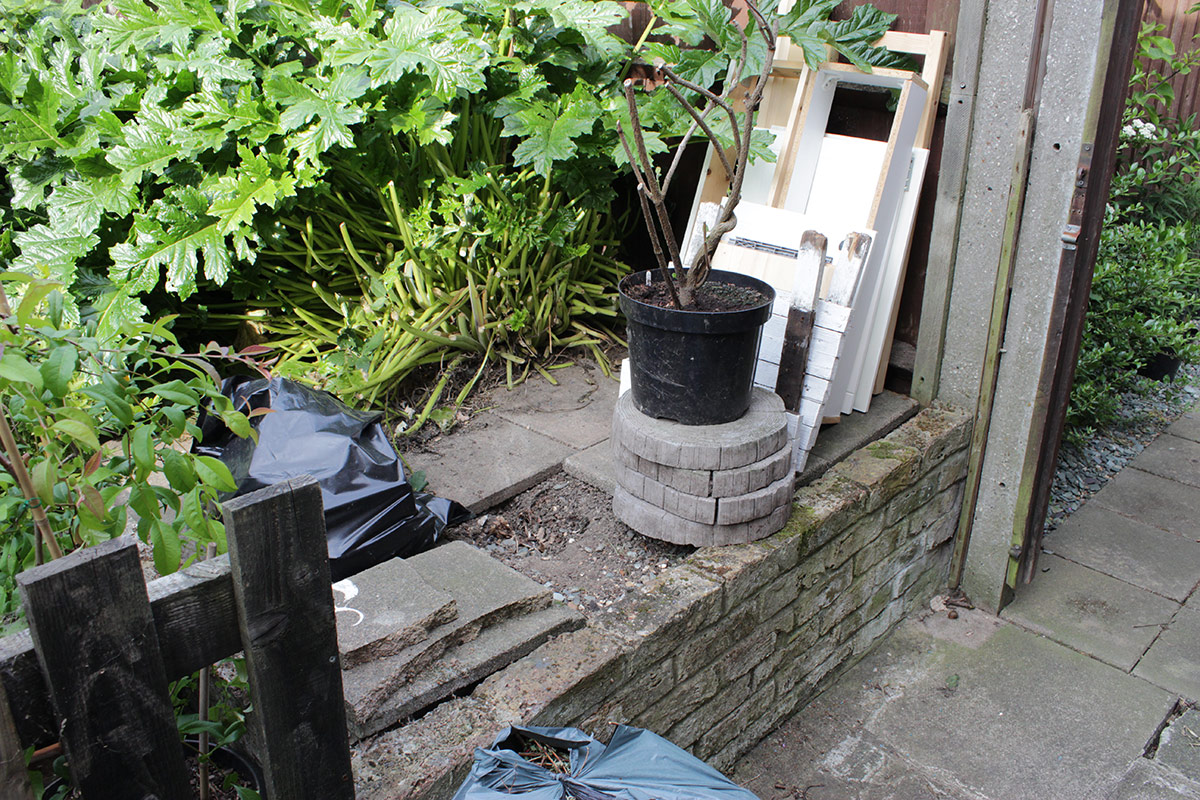 But after removing a third of a huge acanthus I realised that at some point the pond has been filled in with soil and paved over. Not sure why that has been done, but that's going to be a huge excavating project I will have to get someone else to do for me. I will either have to pay someone to do it or perhaps ask my son if he would like to do his work-out here instead of in the gym – he won't even have to pay a membership fee to train his muscles here :-)
I haven't made many decisions about the garden yet, for now I am just clearing weed and pruning, cutting down and removing things I am definitely not keeping. After everything is done I can then sit down and decide what I will have where. But some things I have already decided are definitely for keep. The lovely tree in the middle here is called Salix integra 'Hakuro Nishiki' - Pink Variegated Willow and I am glad I got to see it in the spring as later in the season the tips turn variegated green like the rest.
This tree is also called the flamingo tree, because of the striking pink blotches on the new shoots, and in the winter when the leaves are off, the stems are bright red. A definite keep.
The Salix integra is supposed to be a small lollipop tree, but this one has not been touch for many years – like the rest of the garden. It is supposed to be pruned in late winter but I will have to research further to find out if I can prune it all in one go or if I have to take it down in stages – I don't want it to die on me from being cut back to a third in size! This is the view from my back door, the choicya in the foreground is enormous, I don't particularly like the smell of the flowers and although it is an evergreen bush and therefore good for winter interest, it will definitely have to come down in size. I will try to prune it hard and see if it recovers and get new leaves, if not it's not a big loss if it has to go, I have lots of more interesting plants to put in this spot.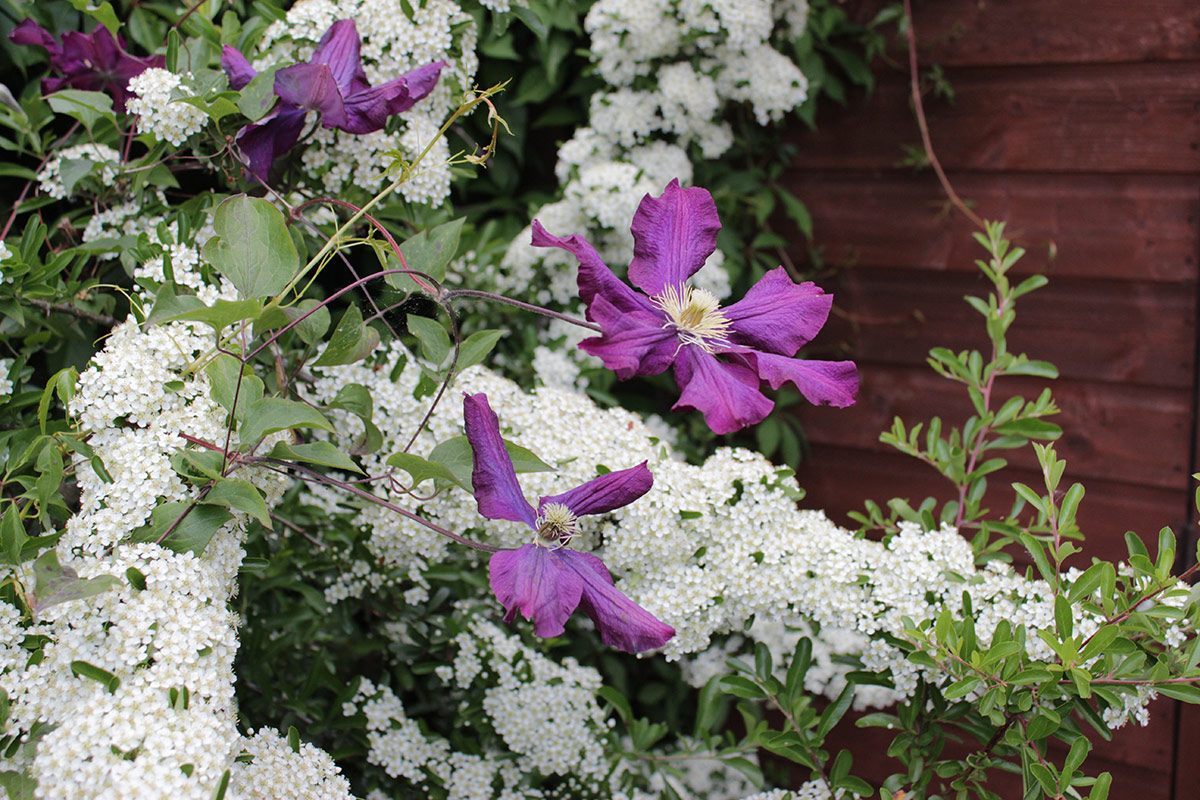 I found a lovely clematis next to my shed, it has probably not been cut down for possibly more than 10 years, makes me smile walking around here in my new garden and seeing all the plants that are doing remarkably well without having had any care or attention for years, when I put so much work and consideration with my plants in my previous garden. Many plants can obviously do well without any pruning, fertiliser or water! But next spring I will cut this one down anyway, just to tidy up and get rid of all the dead branches underneath it, I hope it is a clematis pruning group 3, I have no idea, it is definitely not an evergreen, but could be a number 2 for all I know.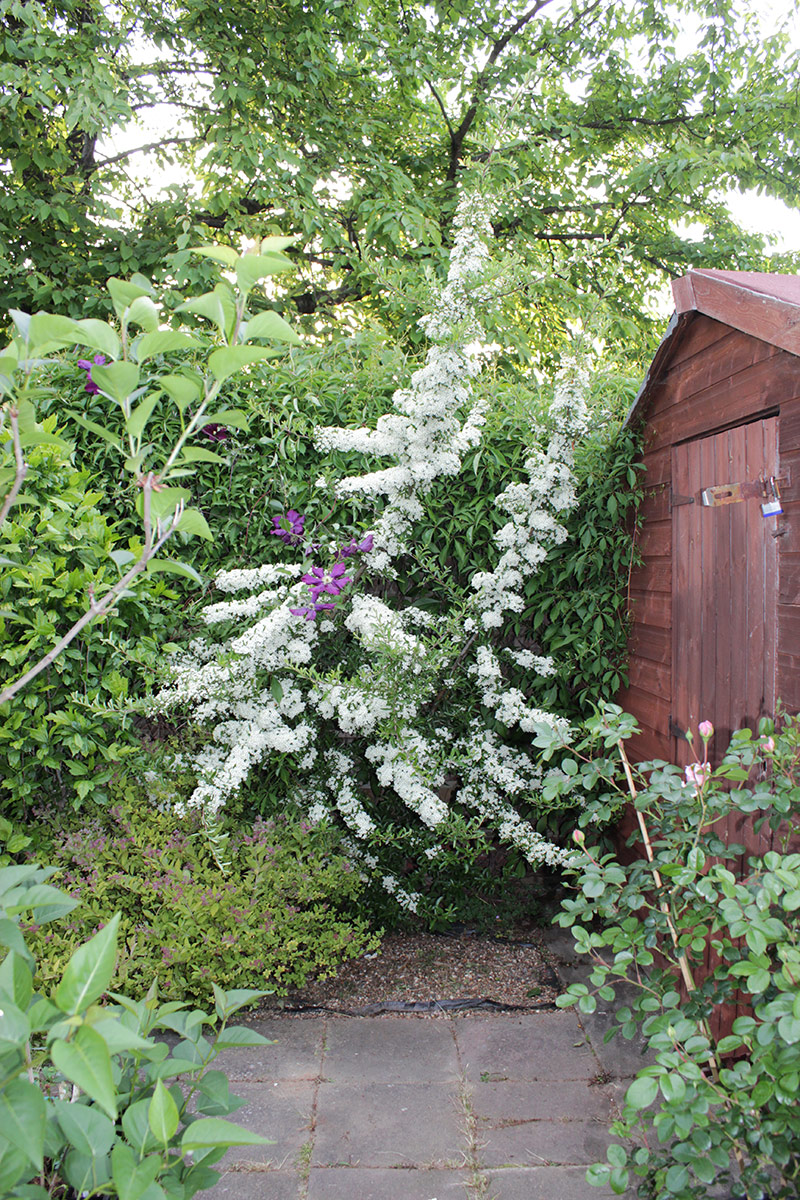 Did you notice the white flowers between the clematis in the previous photo? Do you know what it is? Here is a full photo of it, a monstrous plant with the deadliest, longest thorns I have ever seen!! And the smell of the flowers is really foul, like a mix of sickly sweet and cat wee. Sorry if that made you gag but that's what it smells like.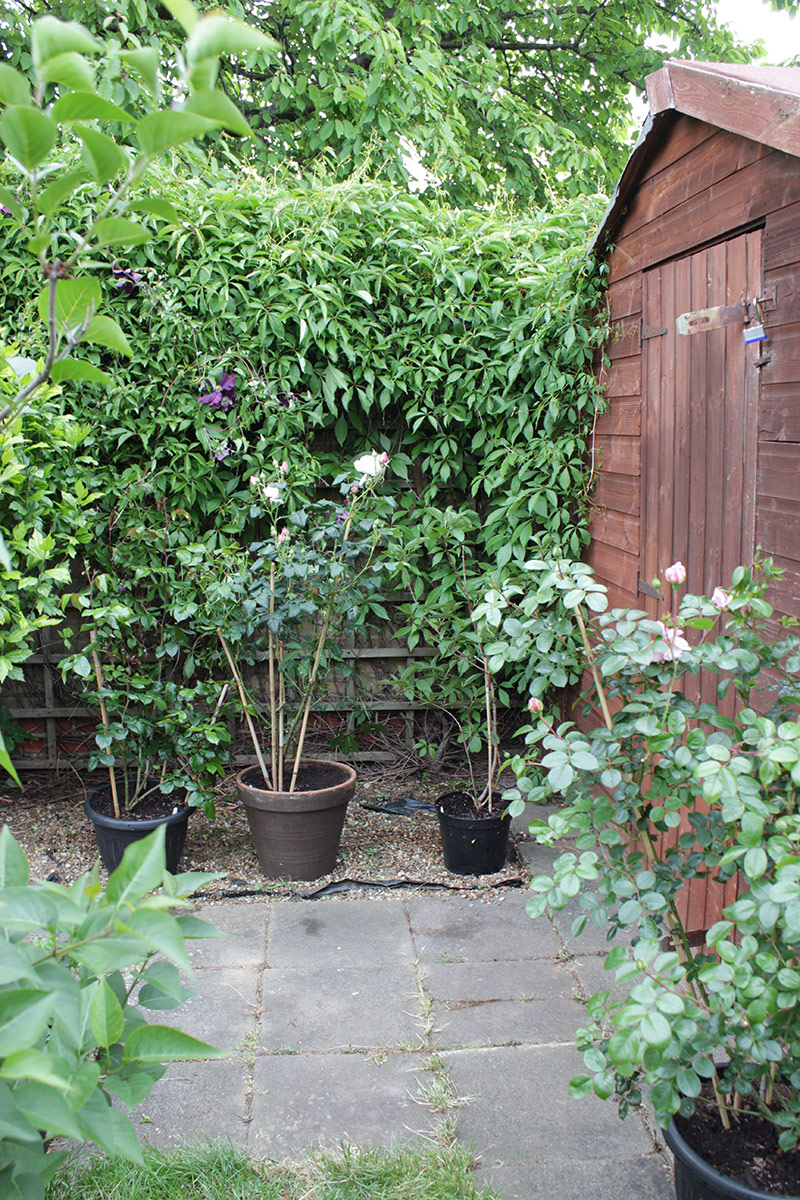 So I cut it down, the whole thing. But there are two more in the garden, which makes me wonder if this was actually planted or if it is a weed or self-seeded from a nearby garden. The other two will have to go too, but this one was the highest priority as it was right next to my shed and I had to pass the smell every time I went in and out of the shed. Good riddance! I still haven't dug up the roots - that's going to take some elbow grease. The soil in this garden is hard as rock, I don't think I could manage to dig up any of the plants I will have to take out, not at this time of year at least. Every time I stick a spade in the ground it feels like I just hit concrete, I can't believe all the trees and shrubs are happily growing in this. I really miss my crumbly, soft soil in my old garden, I spent years improving it with numerous bags of bark mulch. I will do the same here but it will take many years to achieve the same result. In the mean time I am not sure how I am going to manage to dig here, but I can see me having to wait until November or so for any major digging, if any at all.
Would you like to see my shed? Of course you would!
Come inside, it's ample space :-) A shed was another thing very high on my wish-list, and what a size I got. This is the main shed, there is a smaller tool shed around the side of this. In here I have put some old furniture and a desk, and the shelves on the right side were here already. The roof is a bit leaky and will need a repair soon and I would like to get some vinyl to put on the floor to make it easier to keep clean, but this shed is going to be a very well utilised space and well worth moving house for!
I have made a movie of my new garden, it will give you a better sense of what's where and will be a nice reference for all the changes that I will make in the year to come. Look out for the apple tree with the roses, those roses are a definite keep as well, but have probably not been pruned for many years so they actually grow inside the apple tree and so far up that I can only reach the furthest down to cut.
Also, look out for the cat from next door, he is super friendly and my cat is already accepting him visiting. The day I filmed was their second meeting, not bad encounter for two cats that are strangers. I have installed a cat flap with a chip reader, I have never had that before but I am glad I splashed out on a cat door like that. I don't think my cat would have been just as friendly if the cat next door had walked inside my house. The neighbour cat is obviously used to a cat flap, but doesn't understand why he can't get in. But he gives the cat flap a good go at times :-)

My movies are absolutely best viewed in HD, full screen, you can tinker with the settings at the bottom right corner :-)
The music was 'Symphonie Fantastique - A Ball' by Hector Berlioz.
And finally, a photo of those roses from the apple tree again, aren't they lovely? I wish I knew what they are called, any suggestions?
I am sorry I didn't manage to make the round to everyone after my last post here, I really try to visit everyone who leaves a comment but it has just been so much to do and time and health has not enabled me to do all the things I would have liked to. I will try to make up for it after this post :-)
Until next time, take care.