The air in my garden is heavy with the scent of lilies wherever I turn, finally the rest of my lilies are in flower! It's been a long wait; my Asiatic lilies flowered in beginning of July and most of my Lilium regales were finished flowering by mid July. But now the rest of the oriental lilies are finally catching up.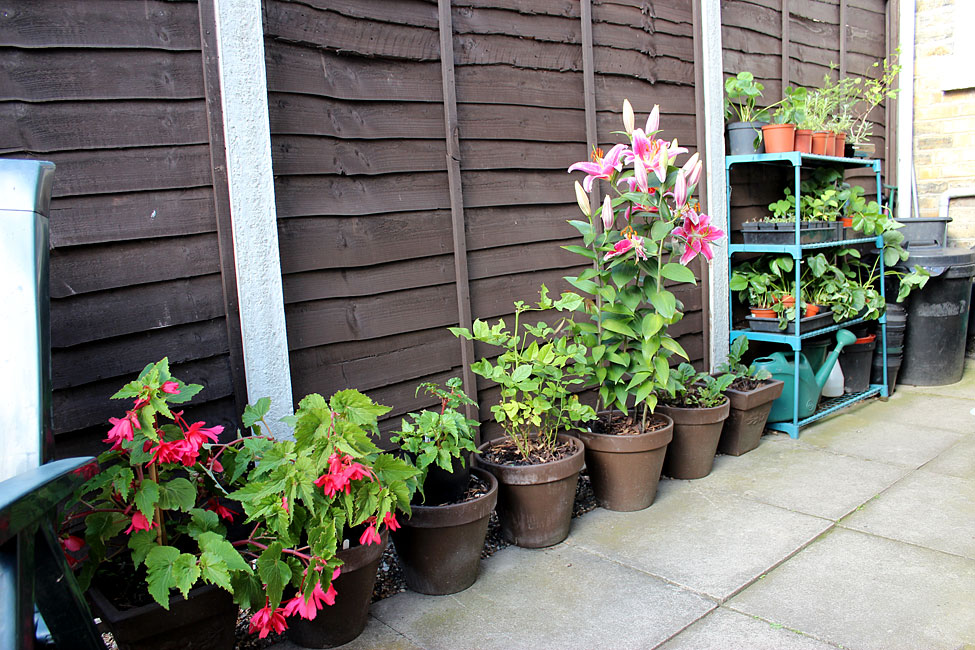 Here is a photo of a part of my garden I rarely photograph, the narrow corridor along the house from my backdoor. There is only sun here from late afternoon so the plants in this space need to tolerate shade – perfect for the begonias and the lilies I have here. The tub of Stargazer lilies has grown quite tall and I think I might have too many bulbs in this tub, but it makes a lovely display seeing them all together like this. Stargazer is perhaps one of my favourite oriental lilies, next after Lilium regale and the scent is absolutely gorgeous.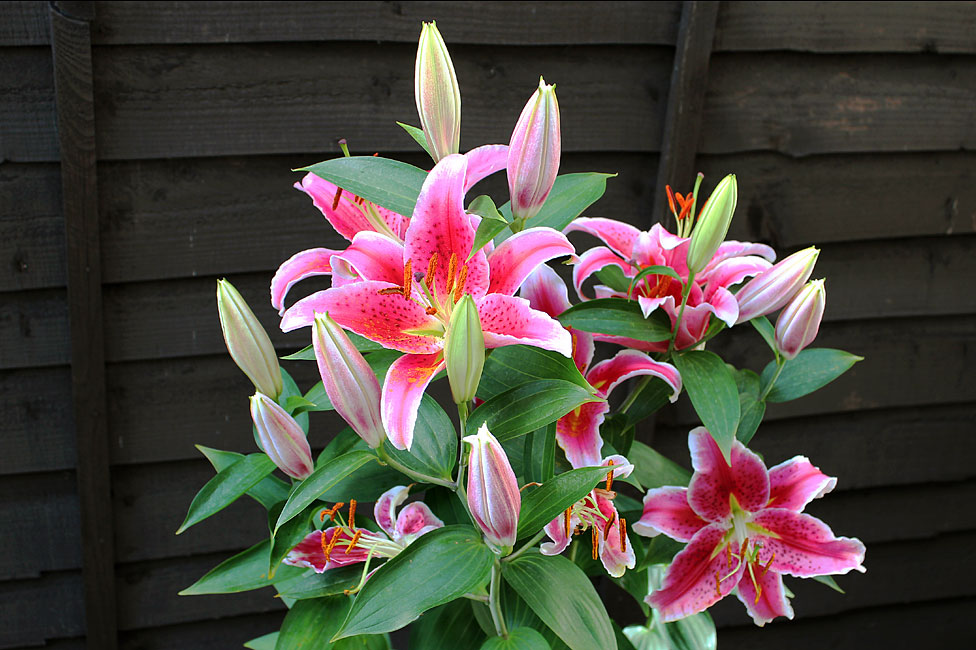 A bouquet of Stargazer lilies.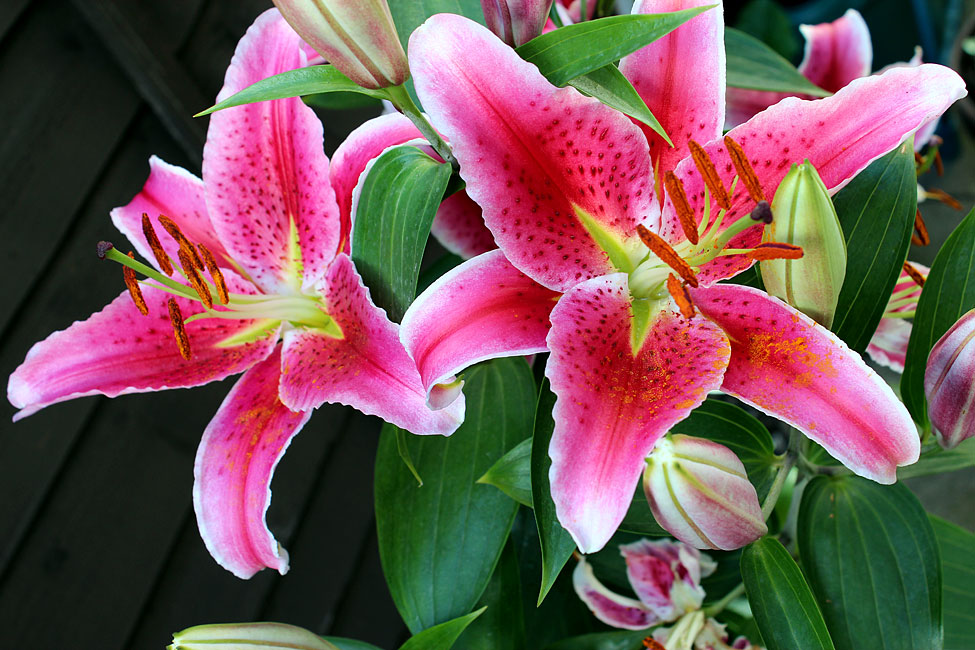 Stargazer lilies close-up.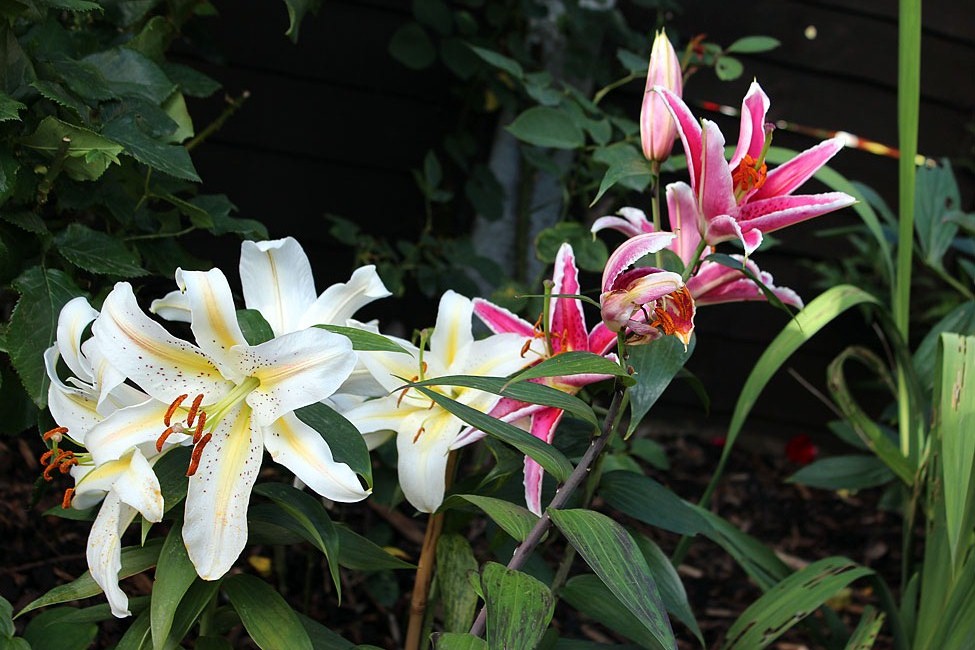 I got a free-bee of 8 mixed oriental lilies last year when making a plant order, here are some of them. I don't know if they have any particular name, they were only called 'Oriental lilies, mixed' on the label.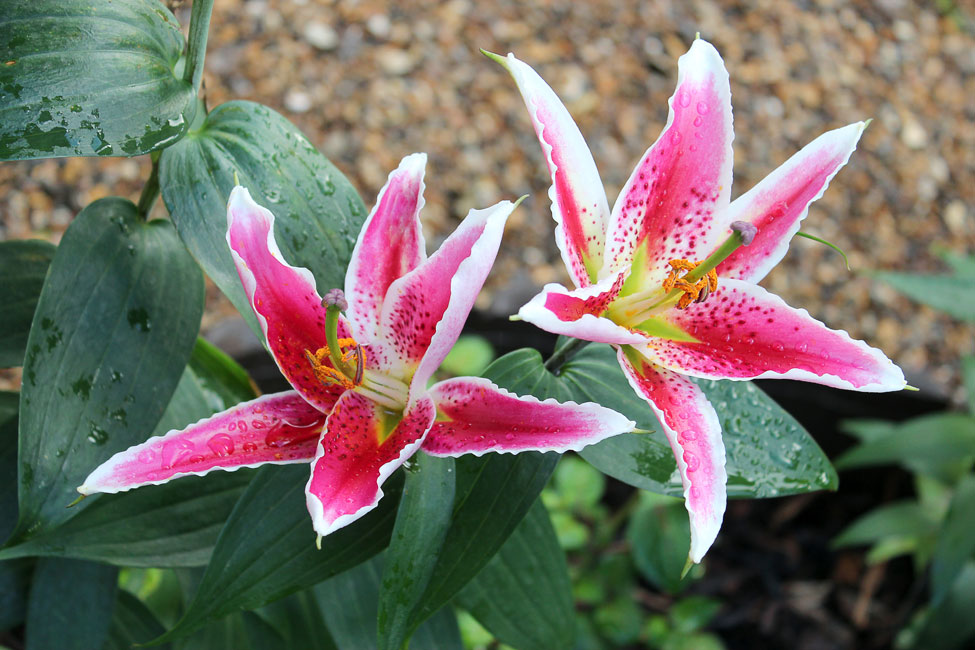 Oriental lilies, mixed.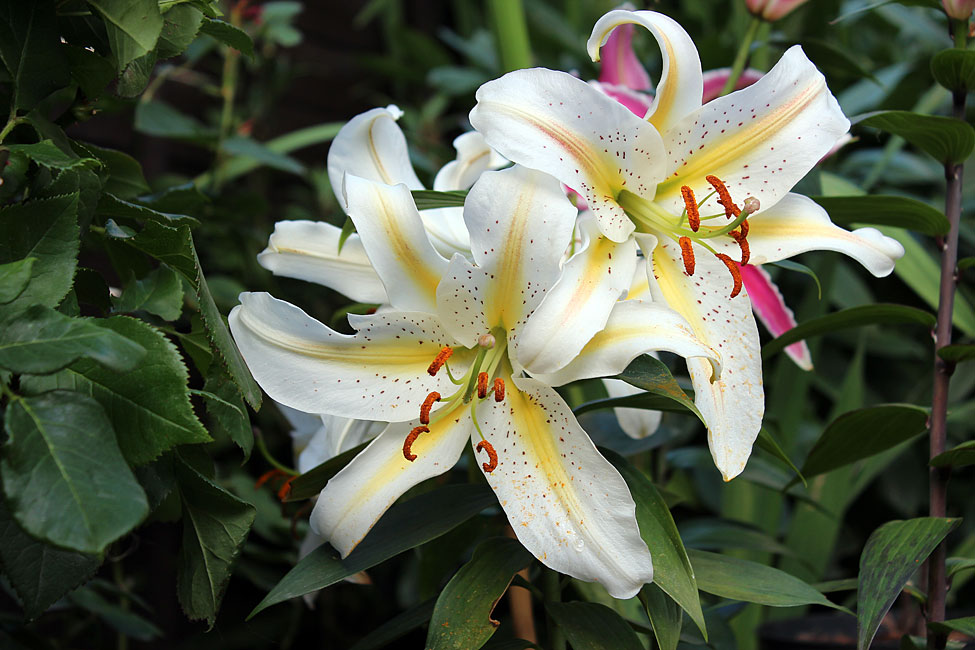 More from the same mix.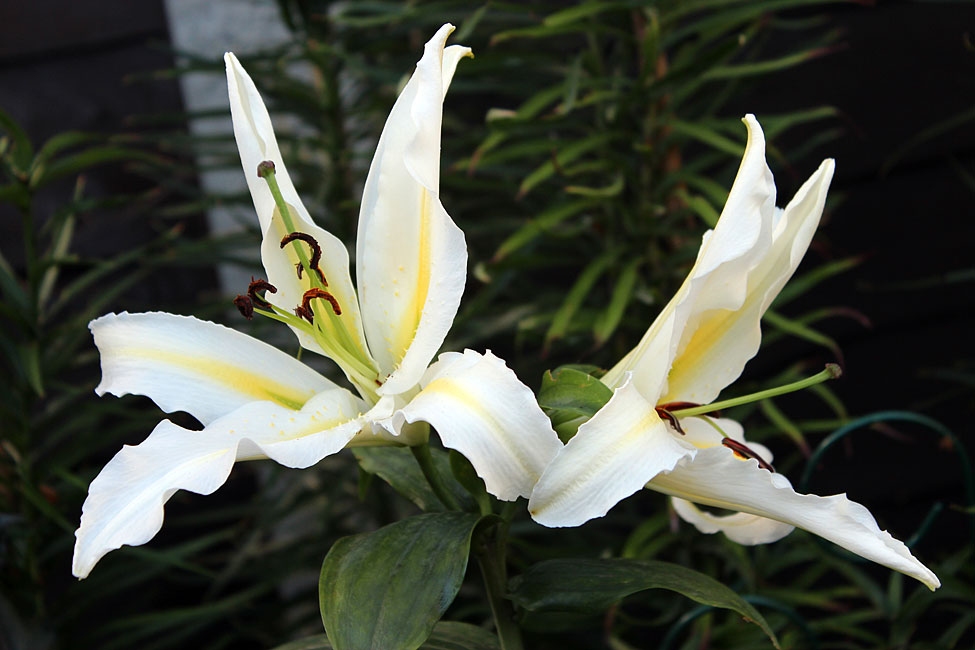 And more from the same mix.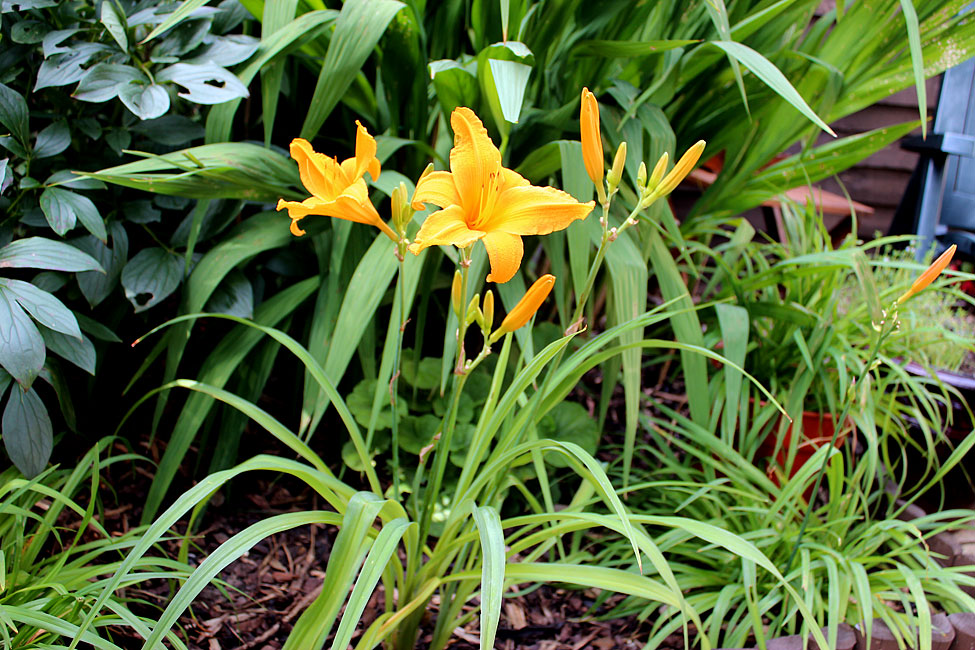 My daylilies have been flowering for a while, in the middle here is Hemerocallis 'Burning Daylight', new of this year, and a rising star in my garden, on each side and behind are Hemerocallis 'Frans Hals'. I have 6 'Frans Hals' in total, but they have not done so well this year, with sparse amount of flowers. I think I need to blame the lack of sunshine for the shortness of flowers as they have done very well in previous years. The 6 plants I now have actually started out as just one plant which I have kept dividing and dividing, 3 plants have ended up in my neighbour's garden and 3 at a friend's house, 6 are still here – all from that single small plant I bought years ago! I hope next summer will bring more sunshine so they all are back to their usual masses of flowers :-)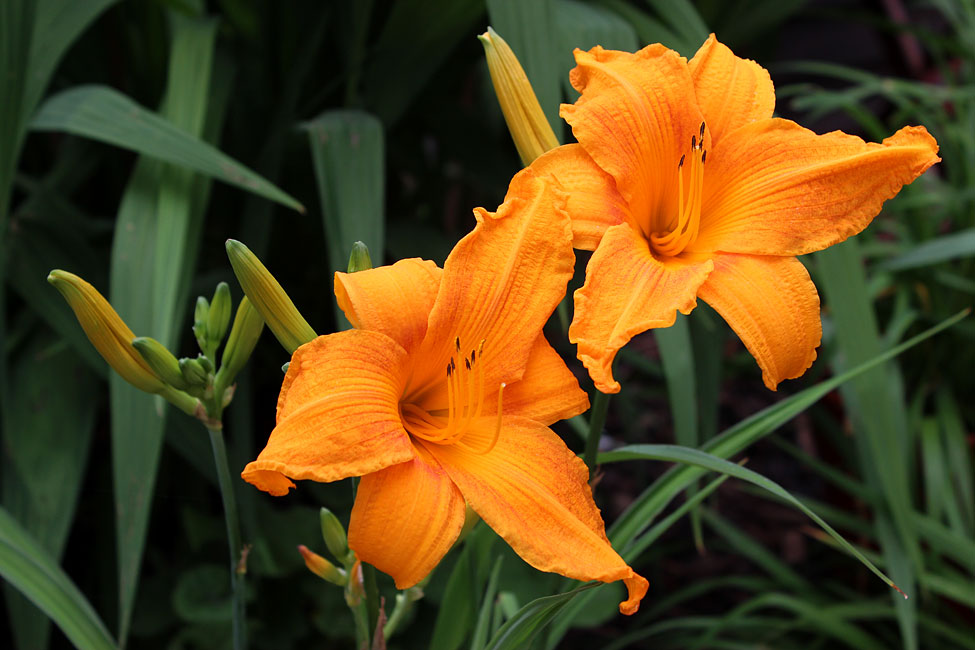 Hemerocallis 'Burning Daylight'
Hemerocallis 'Burning Daylight'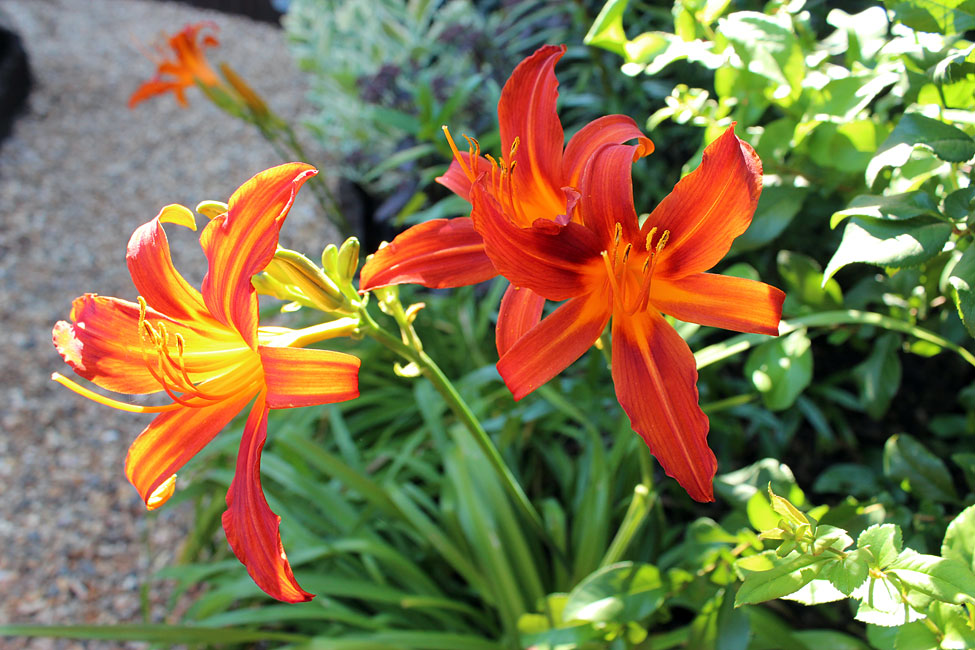 Hemerocallis 'Frans Hals'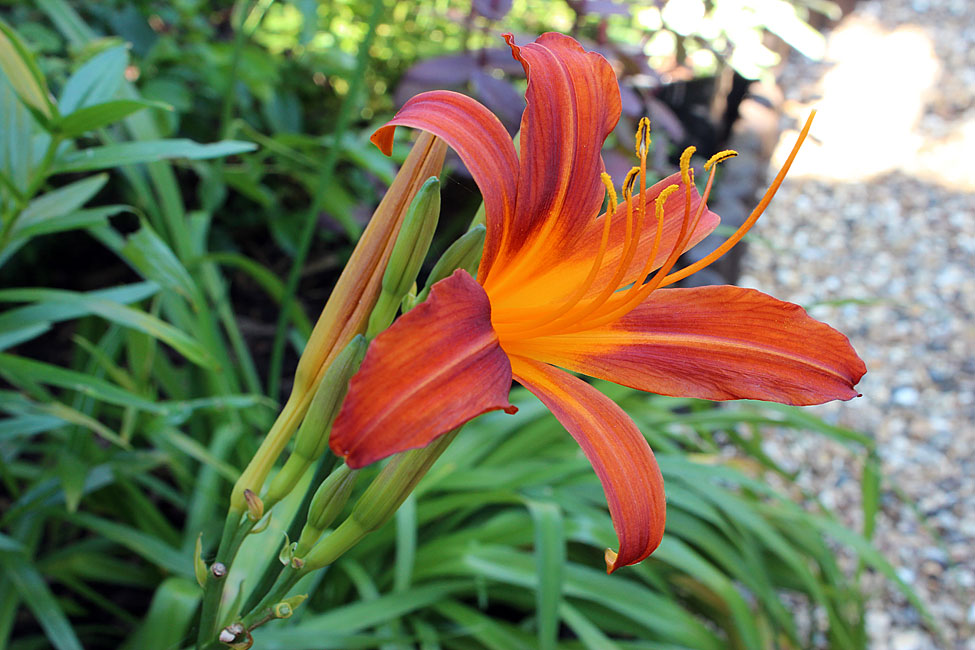 Hemerocallis 'Frans Hals'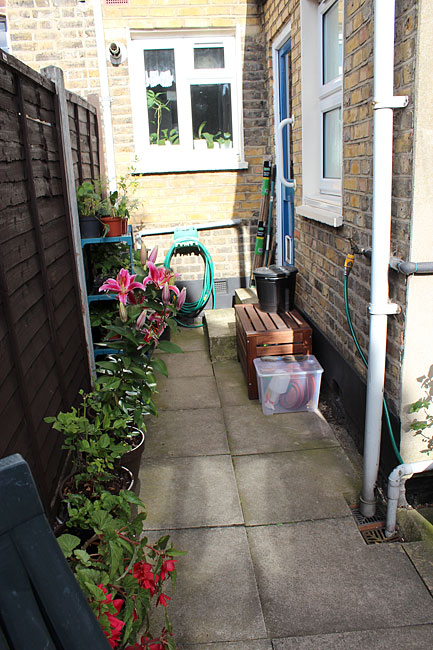 Last month I wrote a post about one of the 'rooms' in my garden, and I also posted a little movie from my garden which you can
SEE HERE
if you missed it. Some of the people commenting wondered where I stored pots and tools and things in my tiny garden so I thought I would show some photos today of the area I usually don't photograph. You have already seen some of it on the first photo with the lilies and the begonias, but here is the whole corridor, leading from my backdoor. Here I have my 'nursery shelves' with young plants and seedlings, my compost bin which the council very kindly come and collect for free whenever I send them and email and let them know it's time for a new collection, and all my pots and tools stored in the large wooden box and in the plastic container. The black bin on top of the box is for recycling tins, I don't keep them in the house between collection days as they are a bit smelly, but having it outdoors, next to the backdoor is very handy. And my spare compost is stored behind my garden bench around the corner, out of sight. It just has to be neat and tidy in a small garden :-)
I am still waiting for my 3 Lily Miss Feya to flower, they are Goliath Lillies, new of this year and supposed to grow up to 2.5m tall when fully mature. That will take a few years though, this year they are only about 1.5m tall. Can't wait to see them in flower, they will be very dark pink with spots – maybe they will flower in time for Garden Blogger Blooms Day if we could just get some more days with sunshine. It has been a lovely day today, and although we will get some showers this week-end we are promised better weather next week. Fingers crossed! See you next time, until then, take care.