I am writing this GBBD post from my bed, sorry if you have wondered why I haven't posted for the last 10 days, but I have been in hospital for a week. I managed to dislocate my hip whilst working in my garden on Monday the 6th August and today is the first day I am looking at my blog again. I know this is going to sound unbelievable, I can hardly believe it myself and I have had a hard time explaining this to all the doctors I have seen over the week I was in hospital, but I was standing in one of my flower beds, cutting off spent roses on my new David Austin rose Wildeve, when some of the petals fell to the ground. I bent down to pick the petals up and then my hip popped out; the hip replacement I got 14 months ago. That's all I did. No fall or any force applied. I knew straight away what had happened, I felt it pop out, I heard it pop out and one second later I got an excruciating pain in my hip and groin and although I have experienced really bad pain in the past with 7 prolapsed disks in my back and neck and numerous surgeries to my spine, hip and stomach – this was pain like nothing I have experienced before.
I always bring my phone with my out in the garden, but it was on the table at my seating area and I was at the bottom of my (very small) garden. I screamed for help, but no one heard me, I tried to crawl to the phone but couldn't even move an inch, my garden could just as well have been a mile long that day, I just could not get to my phone. I just had to continue screaming for help and finally my next door neighbours heard me and came outside. They called for an ambulance and were a great help to me, but the ambulance crew had a tough job getting me out of the flower bed I was lying in, they had to call for another ambulance crew so that they were 4 people that could lift me. At some point they were discussing getting a helicopter to lift me out, but there had been a road accident somewhere so it would have taken a long time before the helicopter would have been available and it had started to rain, I was getting cold and the 4 of them decided to do it quick and brutal instead. It was brutal. And painful. They had to cut down my lovely rose to the ground and also cut off a large part of my mature Acer Palmatum in order to get me out, as that's where I was lying. Right in the 'room'
I WAS WRITING ABOUT
only a few weeks ago. I have been out in the garden for the first time today since the incident, hobbling out on crutches I just had to get down there to have a look at the damages. I haven't got a photo for you, but if you look at the overview photo on the post I wrote about this room, the second photo on the post, I can describe to you what it looks like now – pretty empty. The rose is gone, cut off at ground level. The astilbe is pretty much gone or trampled down and half of the beautiful Acer Palmatum has been chopped off, I almost cried when I saw that, although I do understand why it was necessary – but it took 10 years to grow to that size! Two of the hellebores are also pretty much trampled down so the bed is just an open space now. Most of it will grow back, including the rose I hope, but the Acer will not. I will have to trim it into some sort of shape and try to rescue what is left, although trimming the Acer is not exactly top of my priority list yet, I have been banned from doing any gardening for at least 8 weeks until my hip is a bit more stable! It's going to be hard to watch my garden without being able to do any work, but I am not allowed to sit on my gardening stool as it is too low and the risk of dislocating again is very high, even after the first 8 weeks. I have been told that I will have to make permanent changes to a lot of things in the future, including how I work in the garden. No more bending down for me – ever.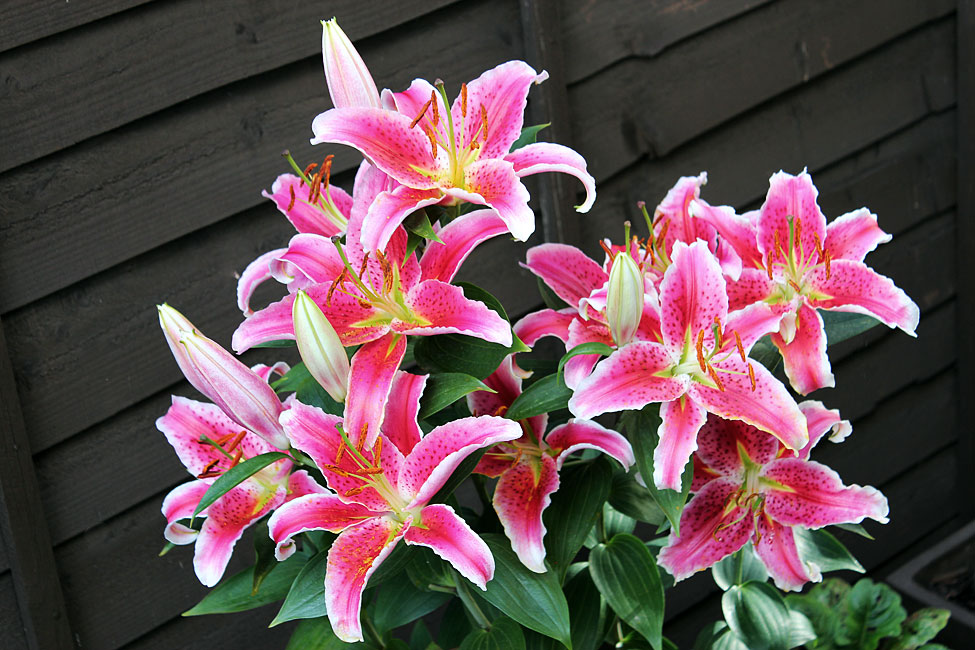 I haven't got any recent photos for this Garden Bloggers' Blooms Day post, but I thought I would post the photos I took on Monday the 6th, just an hour before everything turned so horribly wrong. These are the last photos I got on my camera and from my very short walk in the garden today I could see that these flowers are still here, although not looking as great as 10 days ago. The first photo was of my Stargazer lilies, which I have posted photos of before, but this photo is of the whole bunch in full flower.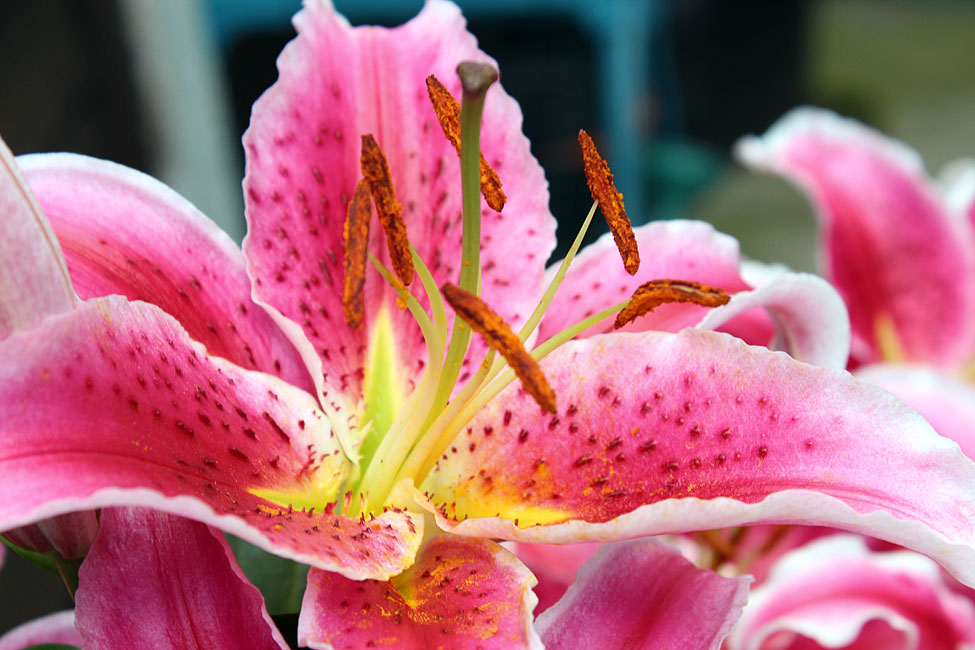 Stargazer lilies close-up.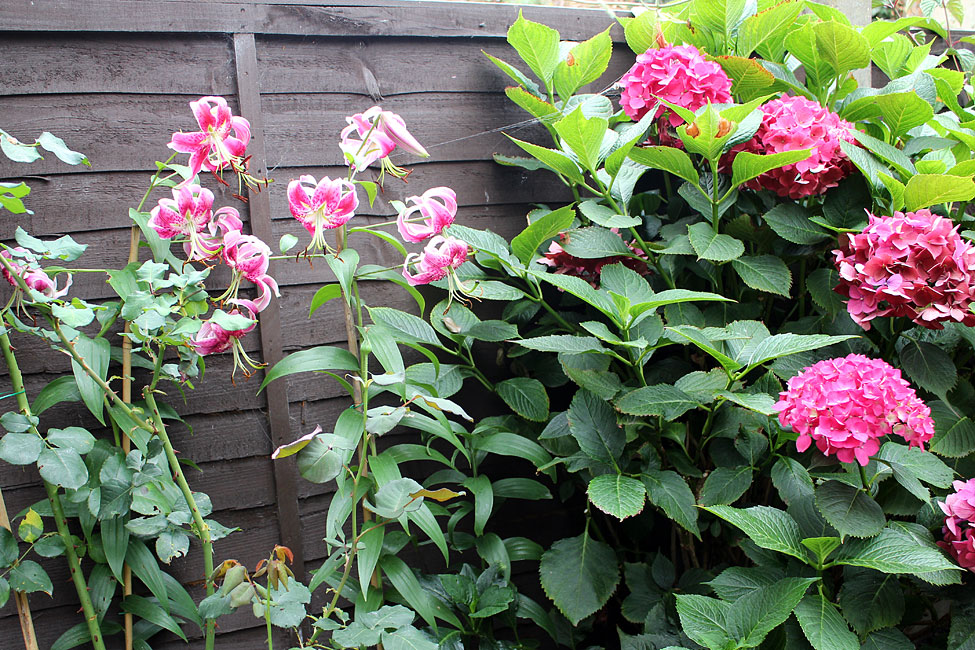 And here are the last of my lilies to come into flower, my Goliath lilies. I bought these in February and they are not very impressive in size yet, but give them another year or two and they will be up to 2.5m tall with as many as 40 flowers on each stem. I love the colour of them, and they look great next to the hydrangea which has a deep pink colour this year. These Goliath lilies are called Miss Feya.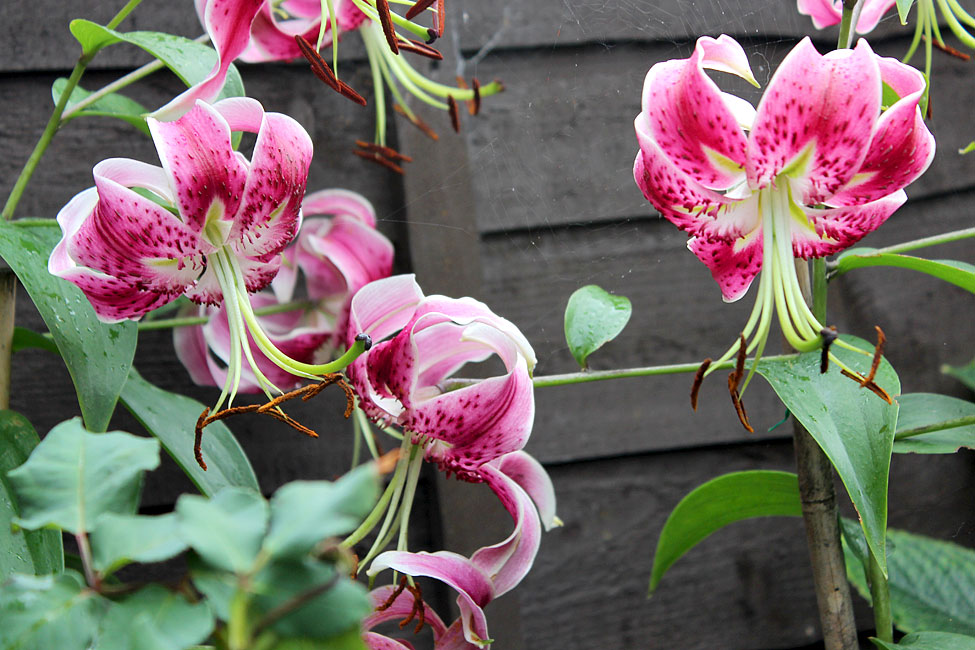 Lily Miss Feya close-up
My garden is filled with flowers right now, but I just can't manage to get any photos taken, I can just about hobble around on two crutches out to the seating area, but that's it. I have no hands available to take photos when I have to lean properly on both crutches, so more photos will have to wait for a while. But I can tell you that the Dahlia 'Striped Vulcan' is looking spectacular, all my sedums are coming into flowers and the Echinacea Purpurea has finally started flowering. All my begonias are in full flower, so are the roses – they are doing their second flush now and are looking really pretty. Sorry, this isn't really the same as posting photos, I would have loved to show you all this!
Before I finish this post I do have one more photo for you, taken a few days before I was sent off to hospital. Can you remember my summer flowering hellebore? I wrote about it last summer,
SEE THE POST HERE
. The hellebore is flowering again this summer, and started emerging late May. The photo is about 2 weeks old and when I saw the hellebore today it had even more flowers than on this photo.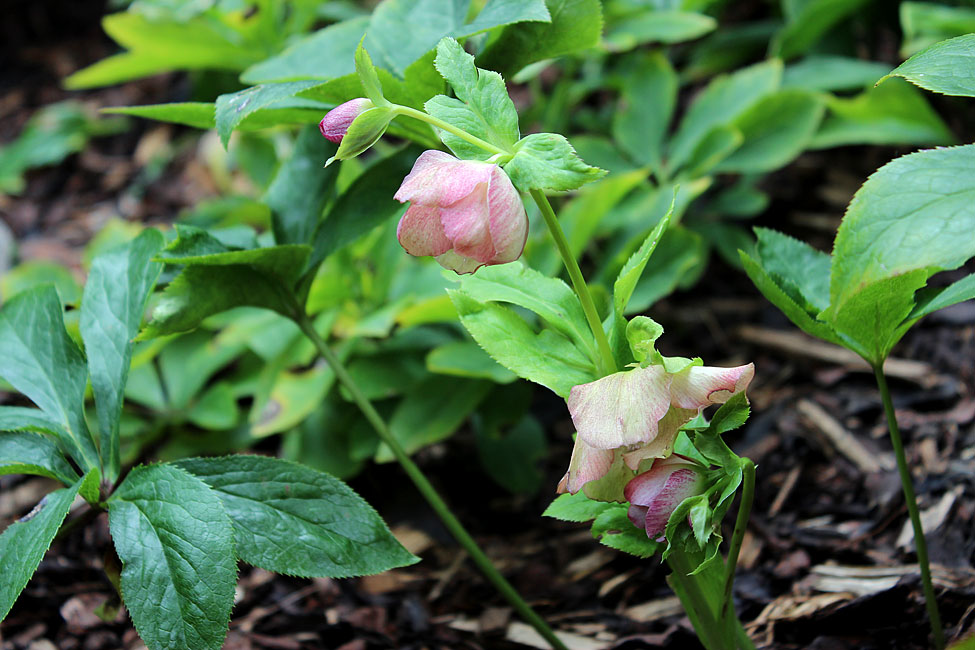 Summer flowering hellebore
I have often wondered about my summer flowering hellebore, and thought that this clump probably had two plants, one that flowers in the winter with maroon flowers and one that flowers in the summer with pink flowers. A couple of weeks ago I decided to send off an email to one of the companies I buy plants from online to ask if they had ever heard about summer flowering hellebores and explained that I got my hellebores from Broadview Gardens National Collection of Hellebores in 2004. I got a reply from them and here is what Lewis Normand at Coblands answered:
Dear Helene,
I taught at Hadlow College and the University of Greenwich in Garden Design and Horticulture for ten years and know the Hellebore collection very well. From what you have described and knowing that propagation of H. x hybridus (what was H. orientalis) at Hadlow is from seed, I think it probable that you have two different seedlings growing as one plant. Summer is uncommon for any 'colourful' hellebore, but perhaps a mixture of competition from the main plant and a predisposition for later flowering is leading your summer hellebore to do its thing that bit later then we'd expect.
Looks good though and great to have an extension to the season.
Have any of you readers got a summer flowering hellebore? I would love to hear about it if you do. I do wonder how 'uncommon' my hellebore really is :-)
That was it for my rather unusual GBBD post, I will write again when I can, but it might be a while till next time, in the mean time you could have a look at
Carol's blog
, she is hosting the GBBD and there you can find blogs from all over the world and see what's in flower right now. Until next time, take care.