Over the last 2 years I have visited and become friends with many bloggers around the world, and many of them take photos of birds in their gardens and surroundings. I must admit I don't know much about birds – very little in fact. But I have often admired the wonderful photos of feeding birds in other people's gardens and wished I could take similar photos. So, one of my plans for 2013 was to do something about that.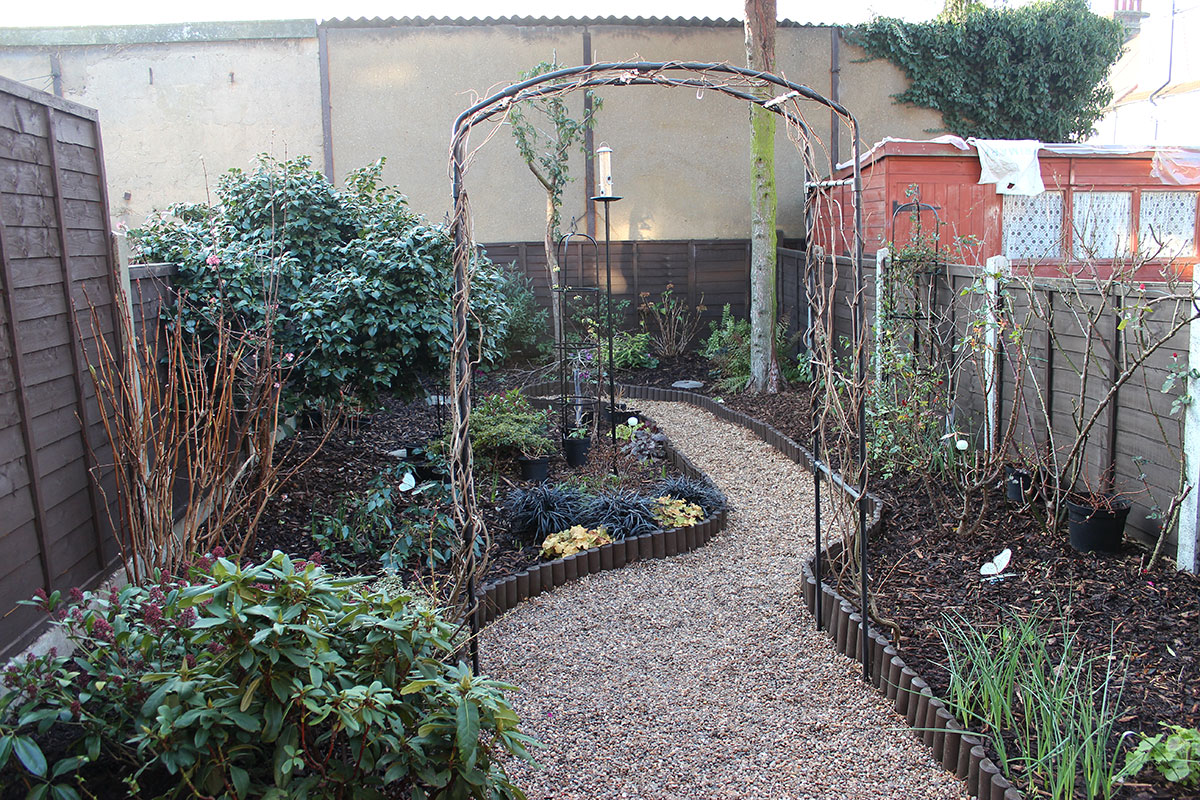 First of all, my garden is small, even in English standard – as for inner London standard...still small I'm afraid! Compared to the garden I had in the last house I lived in before moving from Norway, my garden is the size of one of my many flowerbeds. And I look with envy to many of my American blogger friend's gardens, where you could put the whole of my garden in a corner of theirs and hardly notice it. The size of the garden is significant when it comes to what kind of birdfeeder I should choose in order to attract birds to my garden. I went for a straight pole with a feeder on top, simple and not very intrusive and doesn't take much space. On the 3rd of January the pole was installed in my garden and filled with yummy seeds. Now I just have to wait for the birds to come flying, I know they are there, I can hear them twittering in the distance.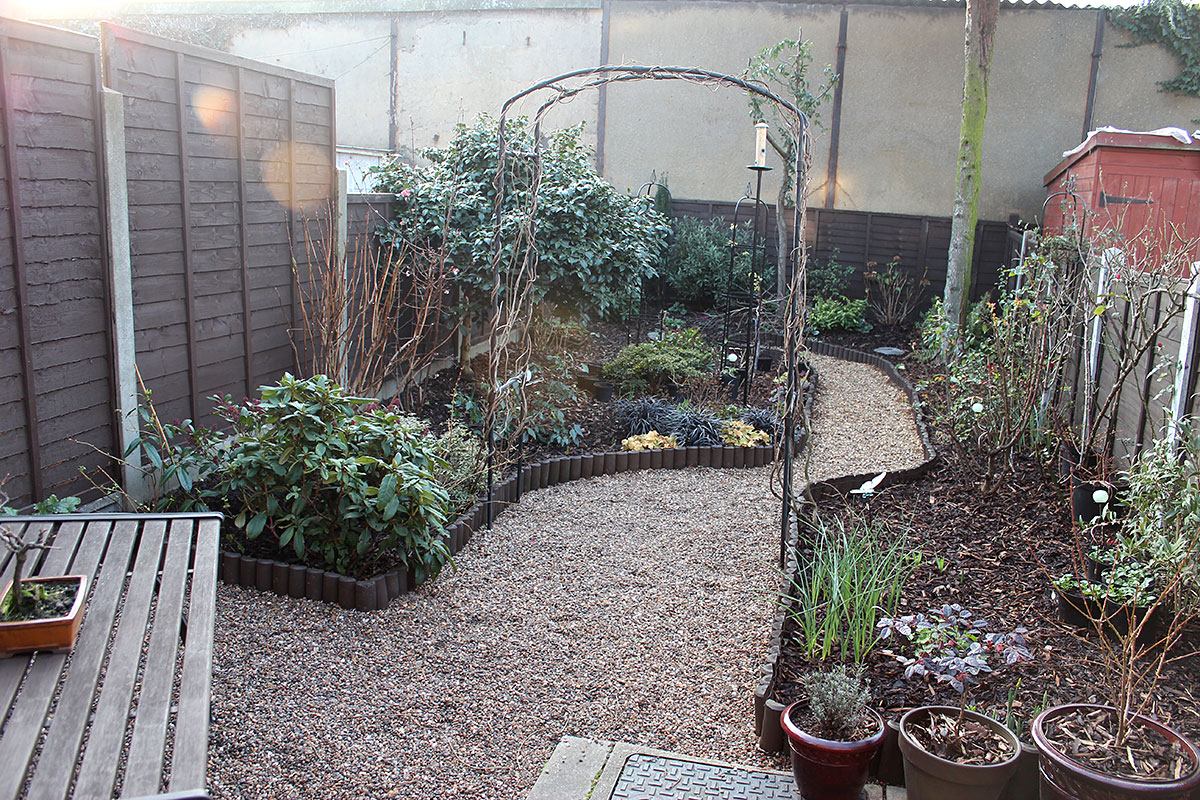 I placed the bird feeder right in the middle of my garden, so I can be able to see all the birds from my seating area which you can see a bit of here to the left. I can just imagine the birds perching on the fence ready to hop onto the feeder, or sitting in my large camellia, to the left, which I think some of them do. Having the feeder right in the middle of the garden seemed like the ideal place and it was also important for me that I would be able to refill the feeder easily without having to climb into the flower beds. It said in the instructions for the feeder that it should be placed at least 3 meter from any fence, structure, tree or tall bush so that squirrels can't jump over to the feeder and steal the food. But how on earth am I supposed to get the feeder 3 meter from any structure when the total width of my garden is 3.5 meter?! My birdfeeder hasn't been visited by any squirrels yet, I kind of envisaged having to shoo away squirrels on a daily basis, but that hasn't happened, not when we had such a mild period and not this week during the cold snap we have now. But the birds haven't turned up either, not a single bird.
The birdfeeder I chose is a 4 hole feeder with perching sticks and a seed tray under. The food hasn't been touched at all and I still haven't had to find out how to refill the feeder....where are the birds?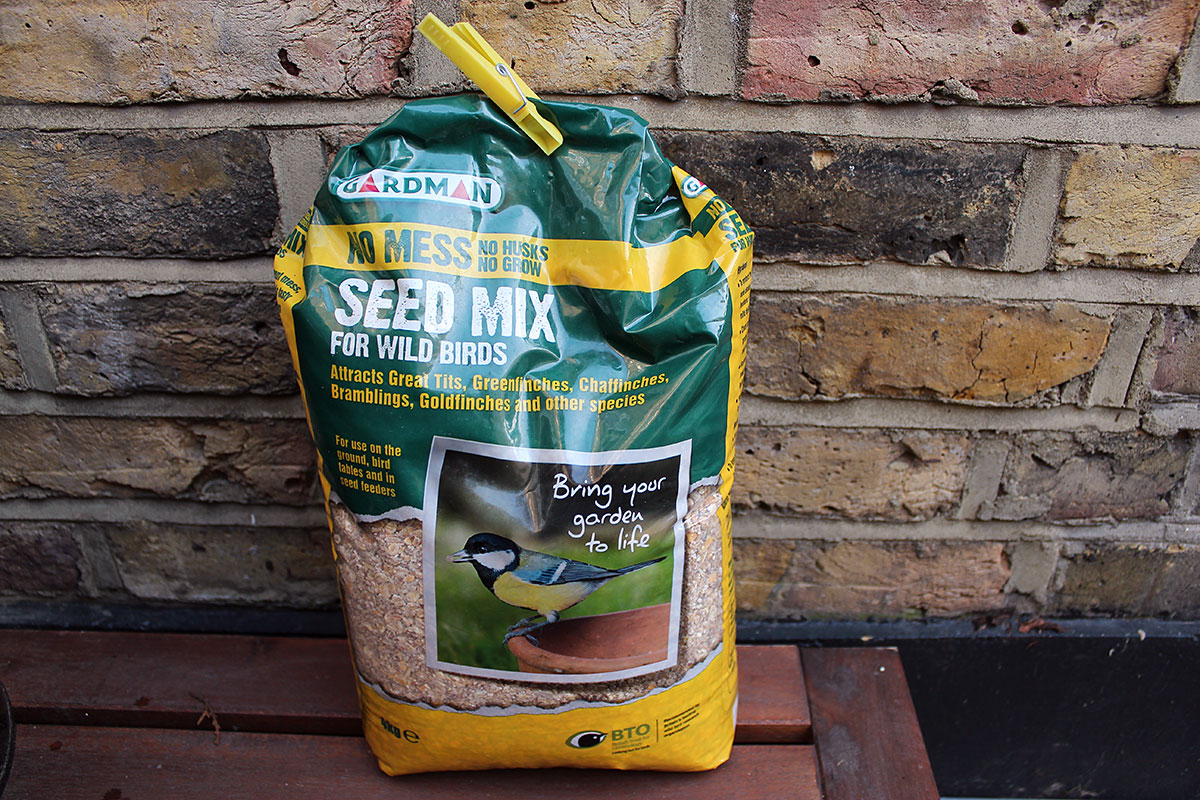 I very optimistically ordered 4 kg birdseeds, after reading reviews on the Internet. I read about people who bought bird feeders in the winter and had birds in their garden the following day – going through 1kg of birdfeed per week. This feed seems very good as the husks are taken away so any seeds that fall on the ground can't germinate. Great, I wouldn't want to have a ring of plants around the birdfeeder to pull out, as this is what the birdfeed contains: Ingredients - Sunflower seed, wheat, maize, oats, peanut bites and soya oil. Yum, sounds like a good breakfast to me! I had a taste of it actually, nice enough, except the maize bits were a bit hard for my teeth, but the rest would have suited me fine if I ran out of porridge oat! Am I going to end up eating this myself, or will the birds turn up?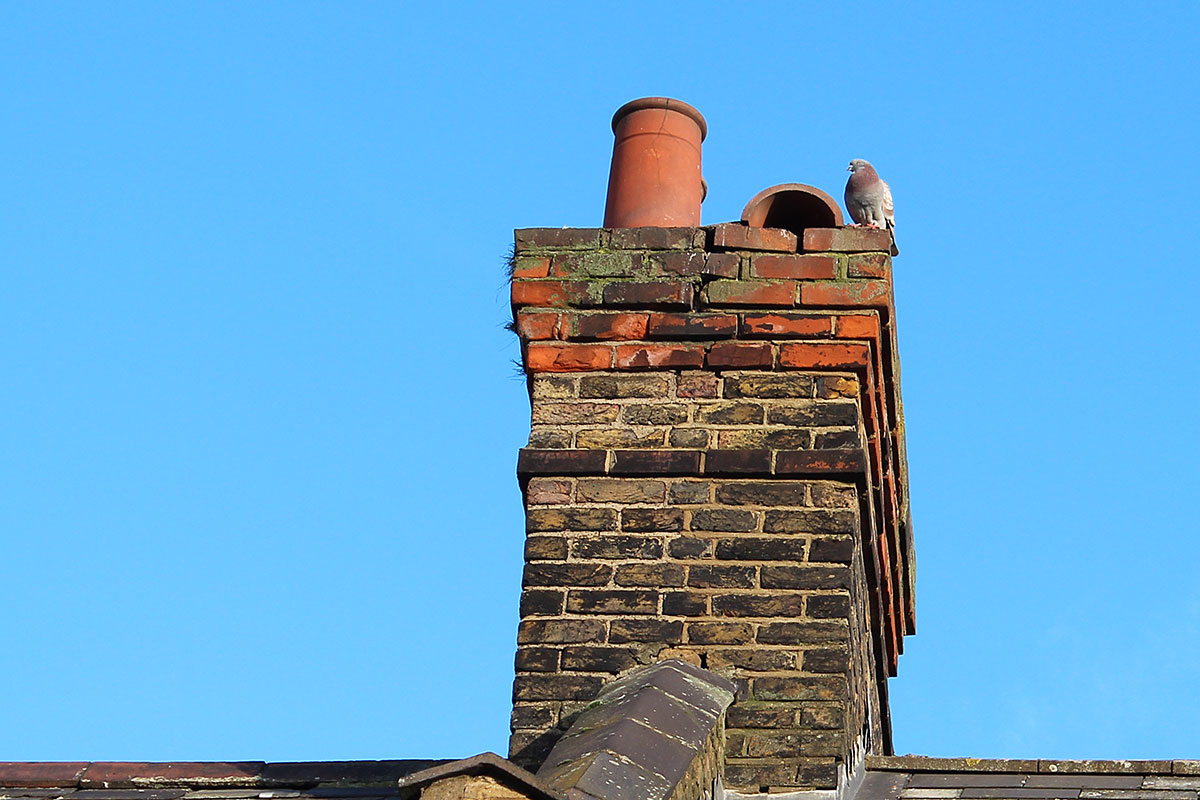 Could there possibly be something that scares the smaller birds away from my small garden? The pigeons for example? I have pigeons on my roof all year round, this chimney pipe seems to be the ideal hiding place for pigeons and there is always a family living here. Not sure if the same family continue to live here year after year, but there is always some living here and a lot of noise when they have chicks. A bit early for chicks in January, but can they deter smaller birds from feeding all the way down in the garden? I had actually imagined the pigeons trying to get to the bird food, as some of it has been out on the seed tray, but it's still there, they can't have eaten much if any at all.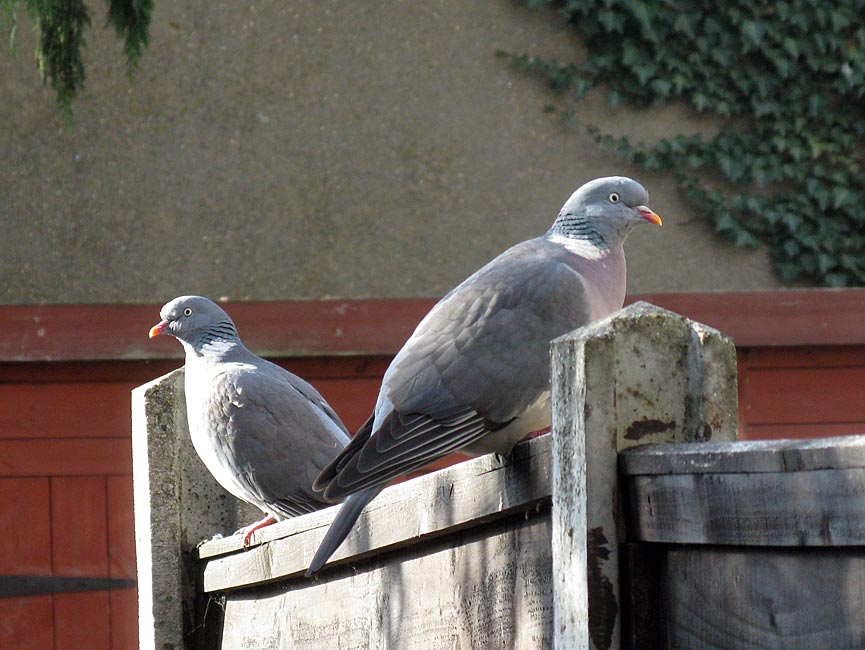 This photo is from last summer. The pigeons perch on my fence from time to time, but most of the time they sit on the roof and fly high up in the air. Are the pigeons scaring away the smaller birds? I have had the feeder for 2 weeks, not a single bird have been eating anything yet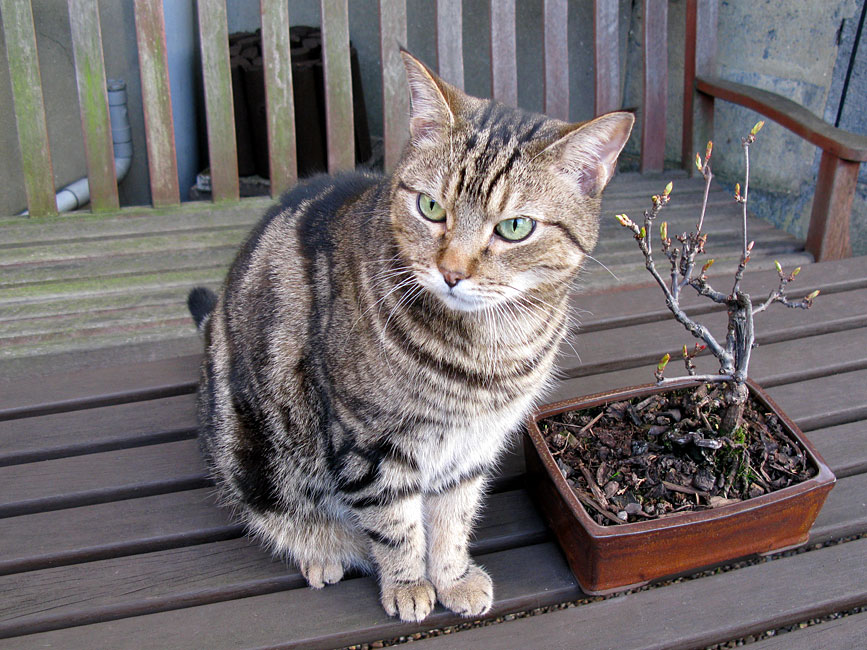 Could there be anything else scaring the birds away? My cat? The fact that I have a cat means there isn't many other cats in my garden, they keep away mostly as they know they are trespassing on a cats territory, so my cat has his garden to himself.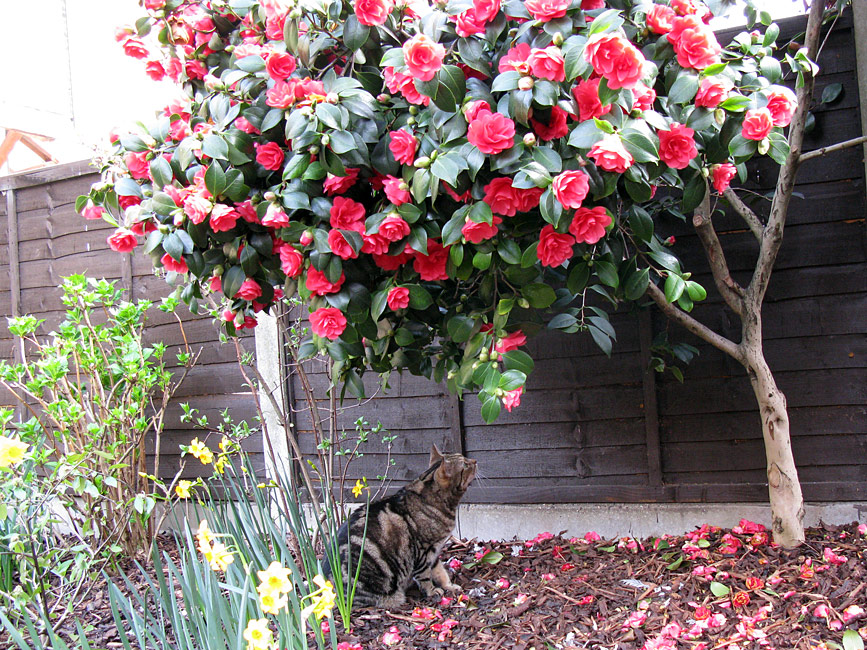 Here he is last March under the big camellia I talked about, probably listening to a bird sitting inside, but I have never caught him with a bird, or chasing any birds. The biggest he has ever caught are the small garden mice he sometime finds.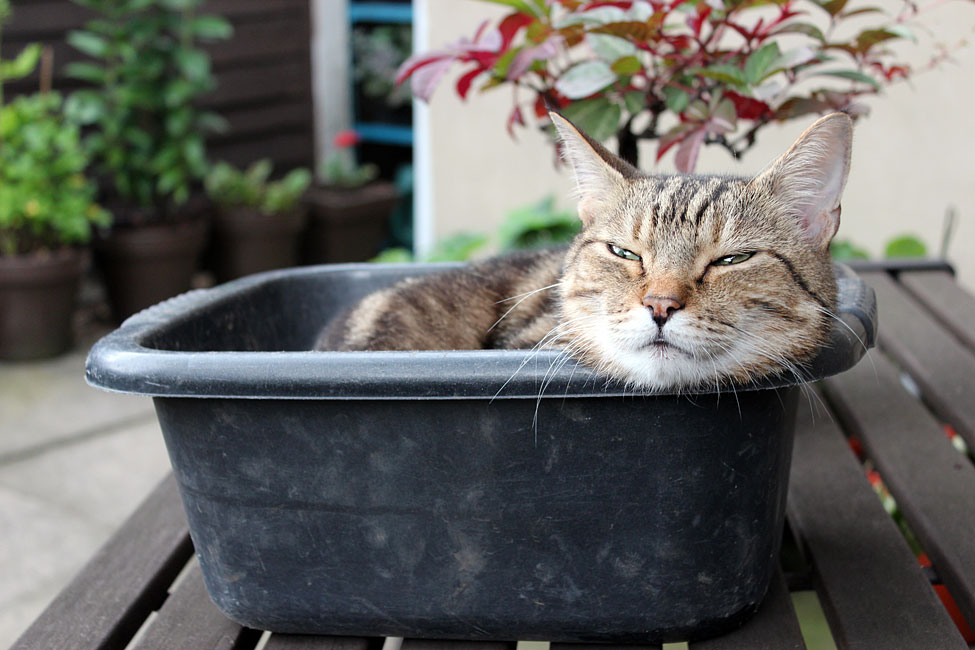 Most of the time when he is outside in the garden he looks like this, hogging my rubbish tray – his favourite place to sleep. Is my cat preventing the birds from coming into my garden to eat?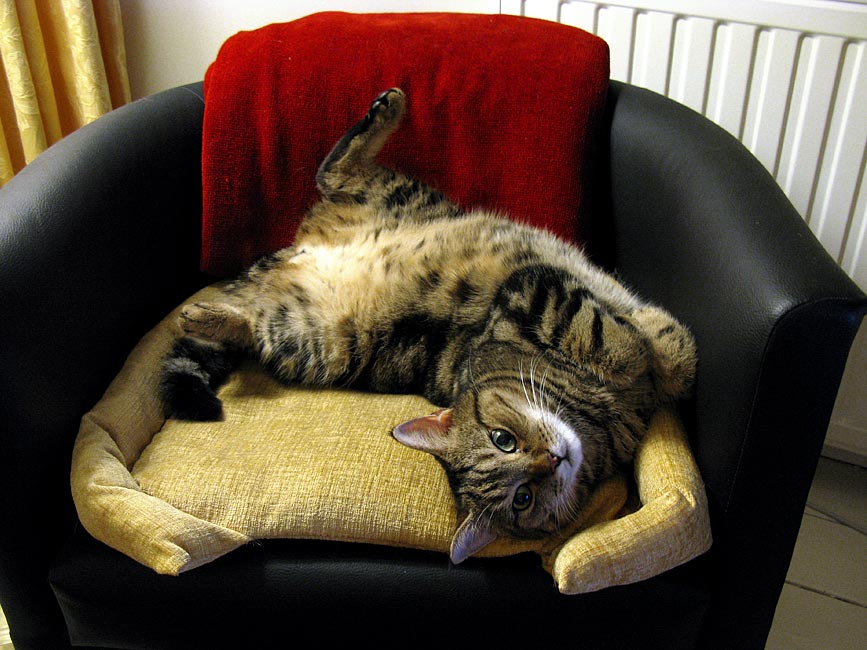 To be honest, it has been so cold the last 6-7 days that neither my cat nor I have been outside much. My cat goes out to go to the toilet and comes back in straight away. Most of the time he spends relaxing in his favourite chair next to the radiator. Is he scaring the birds away??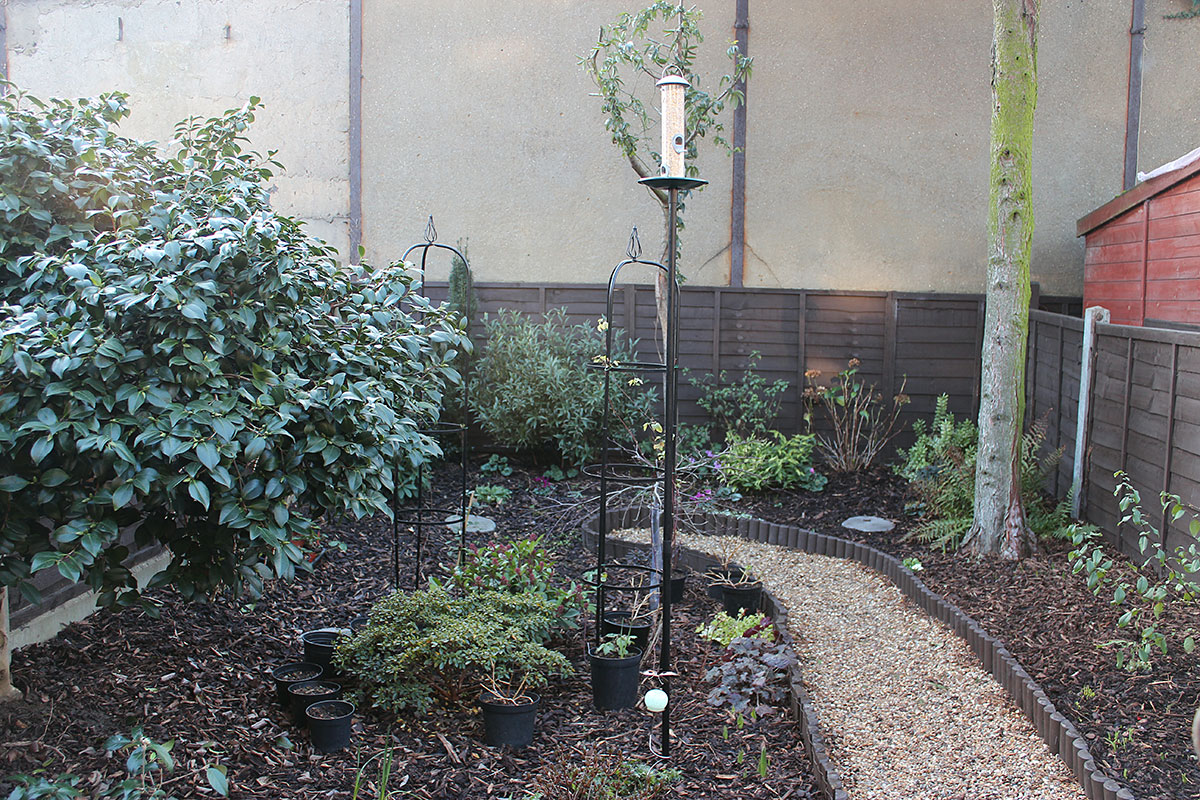 So, is this just a matter of wait and see, or should the feed pole be placed somewhere else? It could go on the other side, close to the tall conifer, where it would also get some shelter from above by the canopy. I didn't put it there because that would be even easier for squirrels to jump onto the pole, but having no experience in this – do squirrel eat oat, wheat and bits of sweet corn? I thought they were more interested in nuts and coconuts and larger bits of food. I certainly have lots of squirrels in my garden, they are a pest at times even if they are cute and fun to look at.
Now I hope some of you blogger friends with bird experience can step in and give me some good advice. Here in the UK we have lots of birds during the winter, but don't ask me what, I am not good with names, and I don't recognise them from pictures. I know the sound of some of them, and I hope to photograph some of them – that was the whole point with the bird feeder. I hope I will have lots of birds in my garden soon, perhaps with a bit of help. Until next time, take care.