Ok, a funny title for a post in January, I admit that but, there is a reason behind it! Hoover Boo at
Piece of Eden
is making a series of posts about all the roses in his (or her? not sure if it is a man or perhaps a woman) garden, he's got so many that after 5 posts he has only got to the letter K. I thought this was an excellent idea and would like to present the roses in my garden too. I usually read what the producers have said before purchasing a rose, but I don't always agree with the information, once I have the rose in my own garden. Does the rose actually smell strongly or just faintly? Is it actually red as they said? Or is it more pink or purple? By getting information from people who grow the roses themselves I think we perhaps get more reliable information.
I used to have 11 roses in my garden, after a clear up just before Christmas I now have 9 but I will present the 2 that went in the compost bin too. In my tiny garden I have to be very selective when it comes to roses, I can't have a huge towering rose filling half of my sunny bed! Instead I have gone for smaller roses and even some that tolerate a bit of shade. When I was selecting photos for this post I realised it was almost impossible to choose just one photo for each rose, as they often look different in the summer and winter, and as all roses, very different in the stages from bud to fully sprung. I therefore decided to make these photo collages of each rose, to show the difference in each. It was a tough choice which photos to choose for some of them anyway! (Please click on each collage to get a much better view.)

My first rose is the oldest one, and it was here when I moved in to my house 11 years ago. I think it was a very old rose even back then, but since it still produced some flowers I let it stay. It is a pink hybrid tea with no scent, but I don't know what its name is. It used to flower all year round and produced paler flowers in the winter. This is one of the roses I have removed.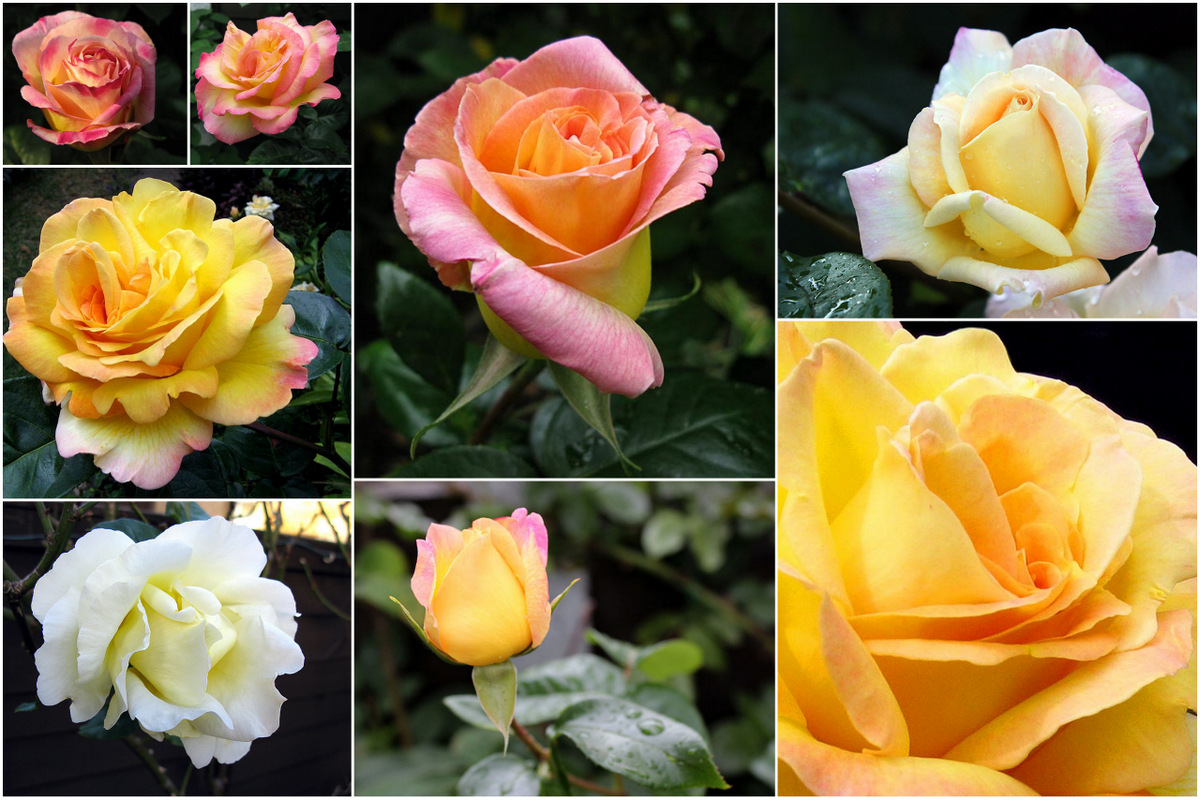 This is Peace, also a rose that was here when I moved in so it could be quite old, but with its distinctive colours it was easy to recognise. It has no detectable scent and is prone to mildew and was not producing many roses at the time, but I loved the flowers I got so much so I let it stay all these years even if it probably was overdue removing way back when I moved in. The flowers start off in a orange-pink colour and open warm yellow. This rose would also produce flowers all year round and in the winter the flowers would be very pale, almost white and so different from the summer you would be forgiven for thinking it was from a different rosebush! This rose was also removed last December but I wouldn't mind having it again, if I could get hold of it.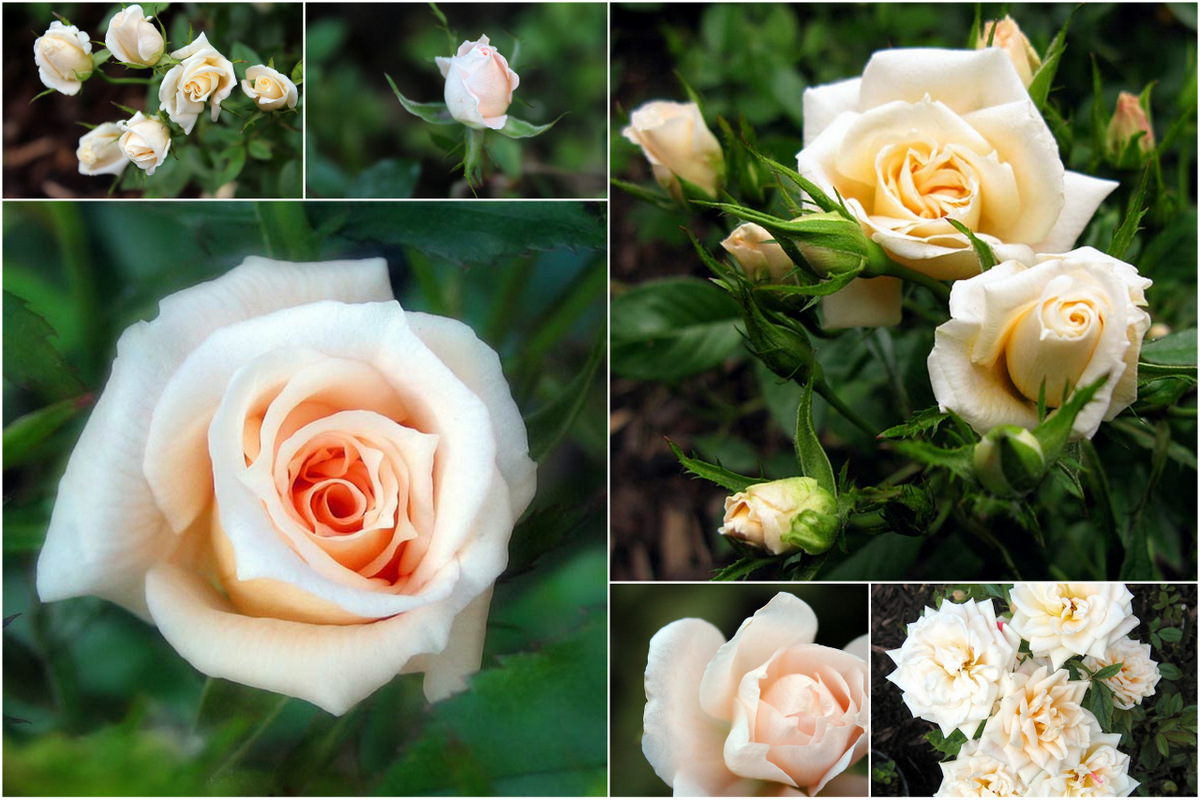 This is the third of the roses that was in my garden when I moved in, 11 years ago. It is a miniature rose, or a pot rose that has been planted out in a bed. It is an absolute star in the garden! It produces masses of tiny creamy-peach flowers without any scent. The aphids are not that interested in this rose and it hasn't had any other diseases, so all in all a very nice rose, even though it is only 1' tall.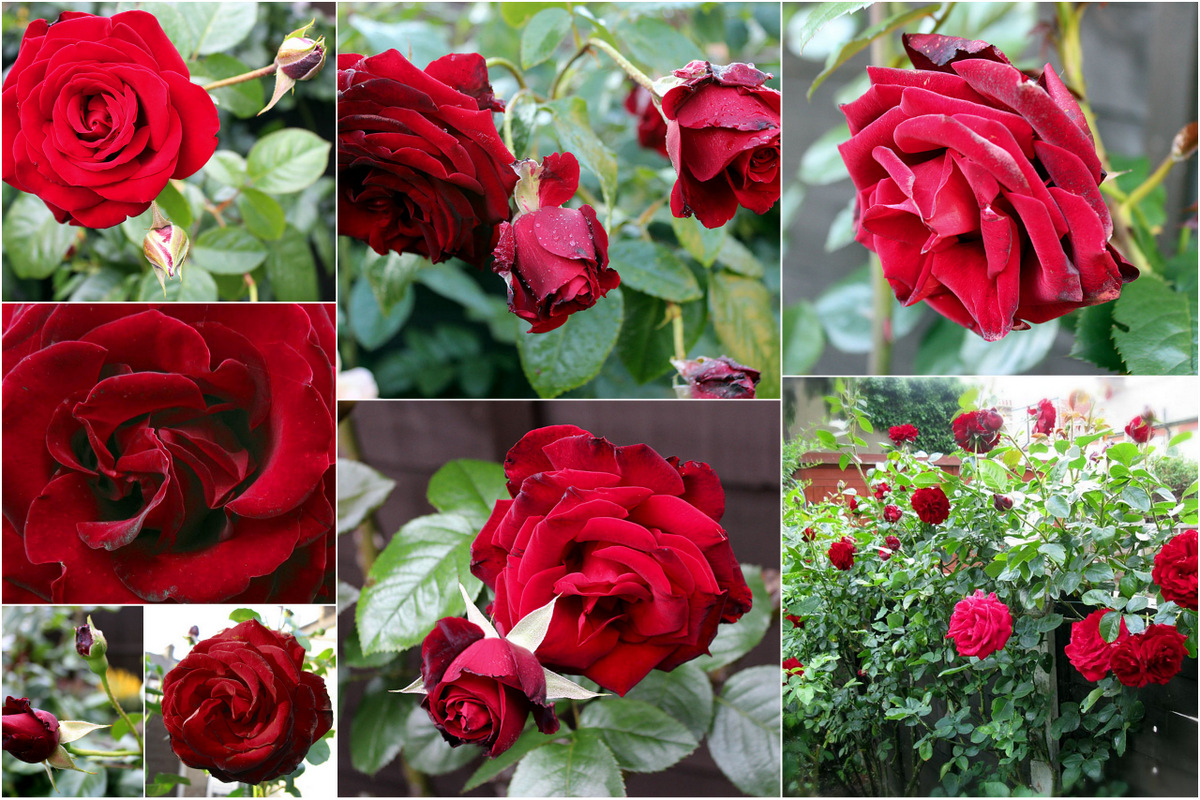 This is the first rose I bought myself, nearly 10 years ago, Crimson cascade, a climber, and I have it trained up against a 5' fence, which probably is not ideal but the rose has resigned to this being all the space it gets and produces masses of flowers in the spring with a second flush in June/July. The rest of the year it produces some roses here and there but not the same amount as in the top season. I cut down all my roses in February and Crimson cascade is usually the first of my roses to flower again in the spring. It has a lovely dark red colour, a proper red colour with no hint of pink or purple, with a velvety feel. I have to spray for black spot, but it still gets attacked, not sure how to get on top of that, but I am trying! The roses stay on for a very long time and when they go off they often don't just drop all the petals everywhere, instead the petals just stay and dry a bit, making it easier to pick off the petals without getting them all over the garden. Crimson cascade has no detectable scent unfortunately, although it is said to be a fragrant rose, if it had a scent it would make it the perfect rose in my garden.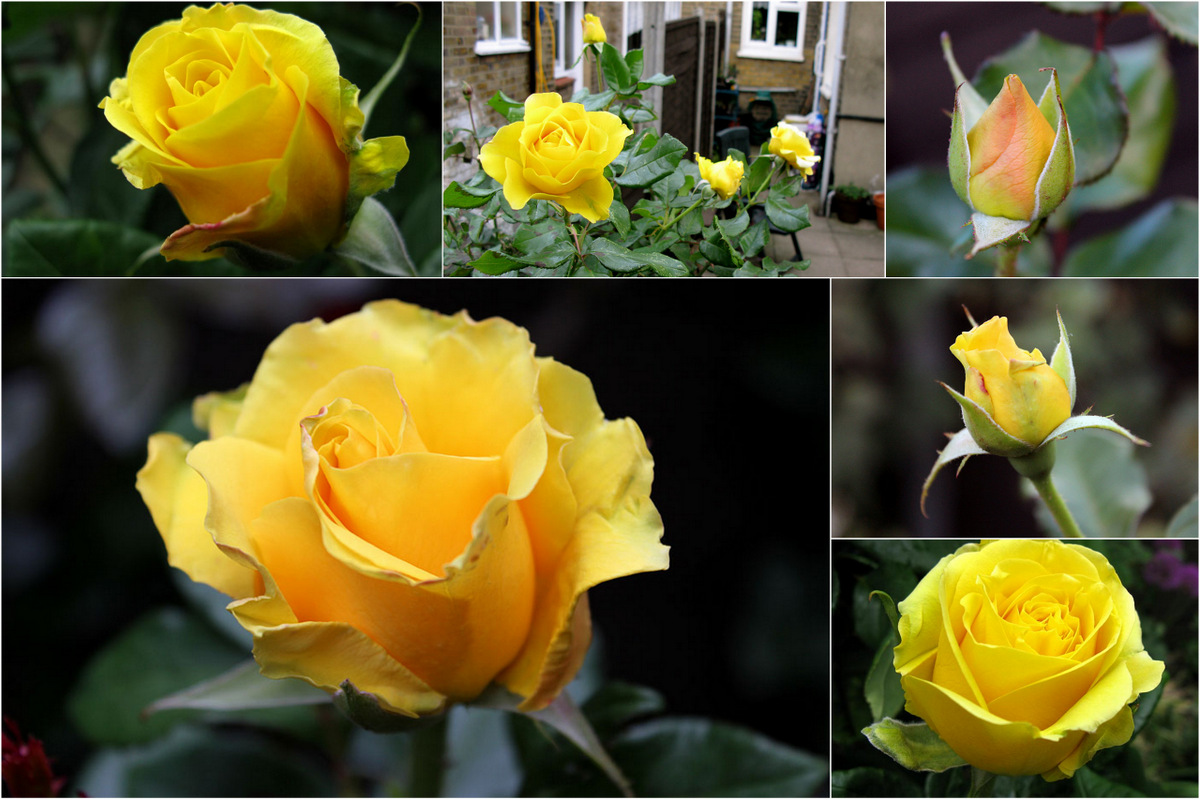 This was the second rose I bought, 8 years ago, Freedom, and I thought it was a very good companion to the rose I already had called Peace! It is a lovely rose, with strong upright stems and flowers with the brightest yellow you can imagine. This rose is also prone to black spot, despite spraying. It flowers all year round in my garden, only interrupted by being cut down in February. No detectable scent unfortunately.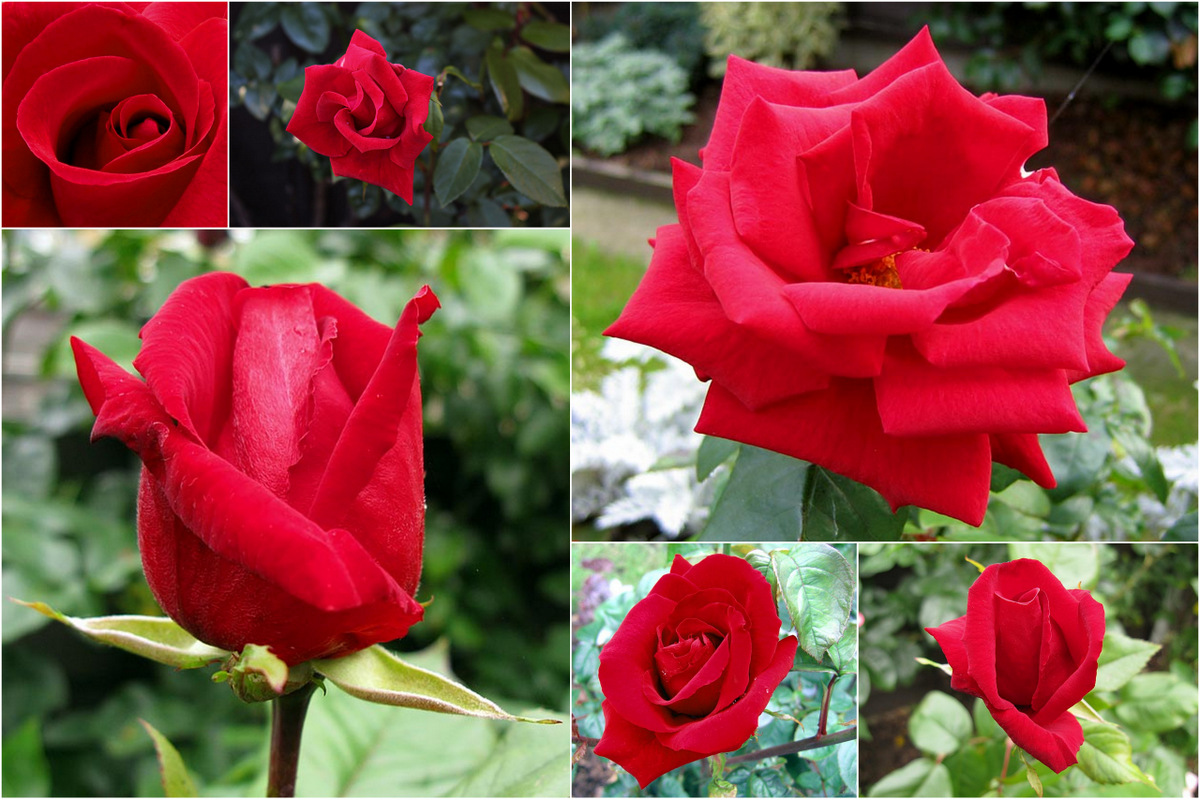 This has turned out to be a rather tricky rose in my garden. This is Rob Roy, supposed to flower profusely, but after 8 years I am rather fed up with his measly production! I usually have only one or two roses at the time, often none. It is supposed to be a 3' tall rose but in my garden it is less than 2' and more like two twigs with some leaves on. Those two twigs are healthy enough, but just not living up to expectations! This year I will dig it up and put it in a pot in a more favourable position to see if it will recover, if not I think this will be another rose for the compost bin.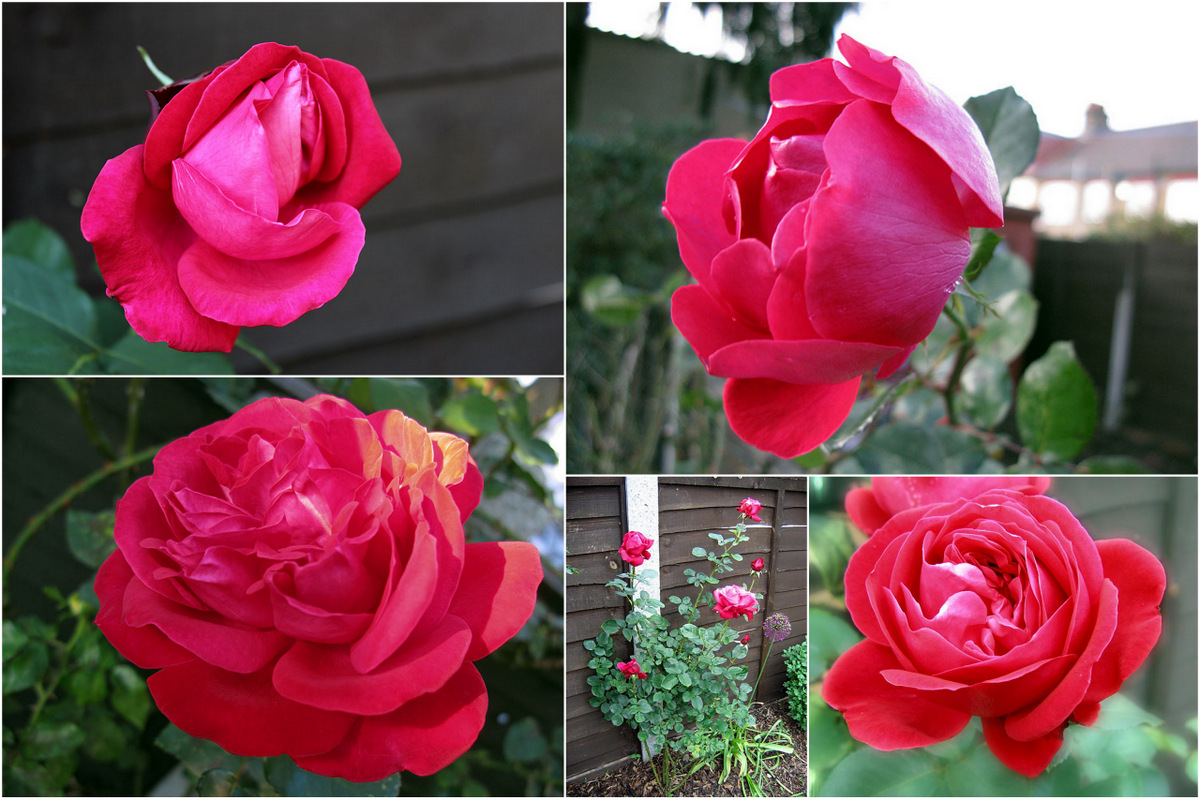 And this is another rose that hasn't really lived up to expectations, but that might be more my fault. This is Mildred Scheel and I think she is placed too close to Crimson cascade, and that might be why she just isn't growing into the big rose bush she is supposed to. I have had her for 6 years and the flowers are lovely, although without scent. If I had somewhere else to put her I would, it's just that my sunny border is very small and very full!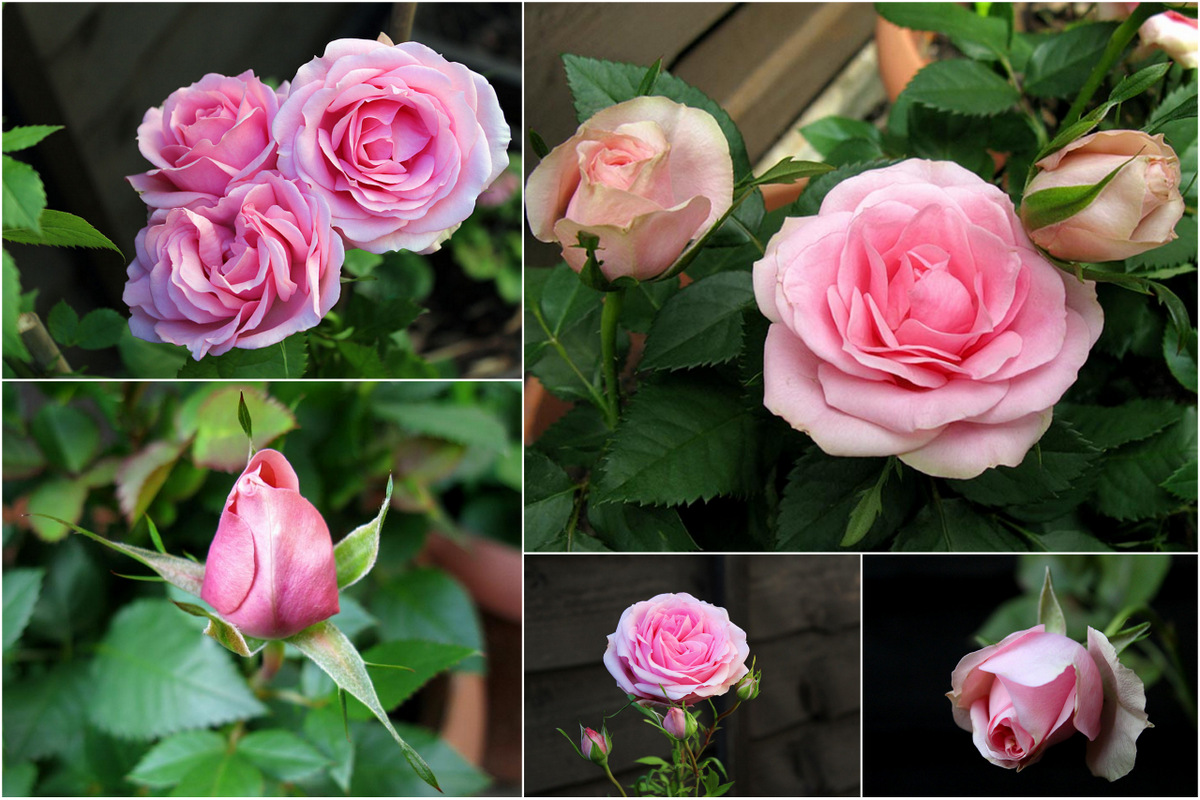 Here is a rose that is doing surprisingly well in my garden, it is a another miniature rose or pot rose. I bought it for £1 in Tesco many years ago and I think that must have been the best investment I have done in terms of roses! Even though it is a pot rose, it actually grows quite tall in the container it is growing, last year it grew to 2' tall, hardly a pot rose! I prune my pot roses in February, just as I do with the rest of the roses and they get the same type of fertilizer. This pot rose produces roses all year round and have especially lovely flowers in colder periods, when they get a tinge of salmon.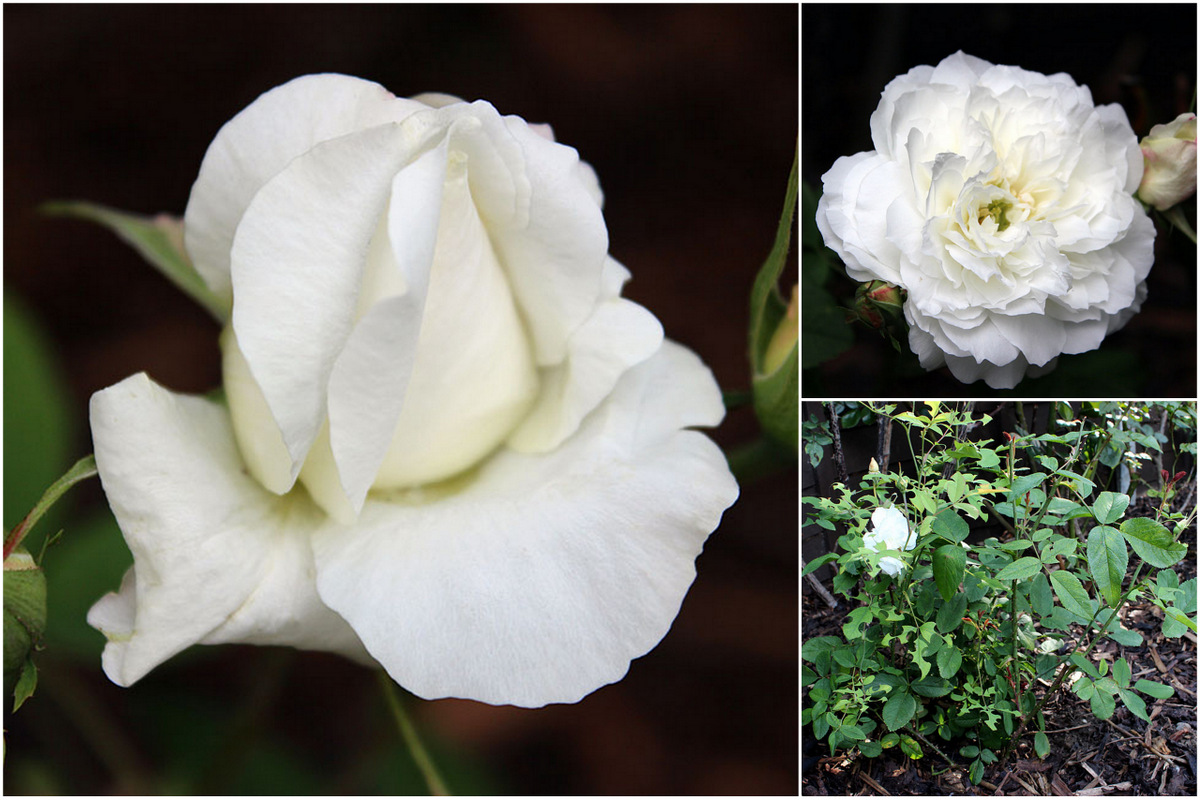 After buying rose after rose without any scent I finally decided to get some scented roses. Last year I bought 3 David Austin roses and here is one of them, Susan Williams-Ellis. They will all take some time to get established, but they all flowered last year. Susan Williams-Ellis is said to have strongly scented flowers, the highest scent number a rose can have (10), but I could not detect any scent on the roses I got from her last year. A bit surprising, as I have a good sense of smell, I would not have missed that if there was a scent. The flowers are absolutely gorgeous, pure white from start to finish, something that is rather unusual. It is a bit too early to say anything else about this rose, I hope it will live up to expectations!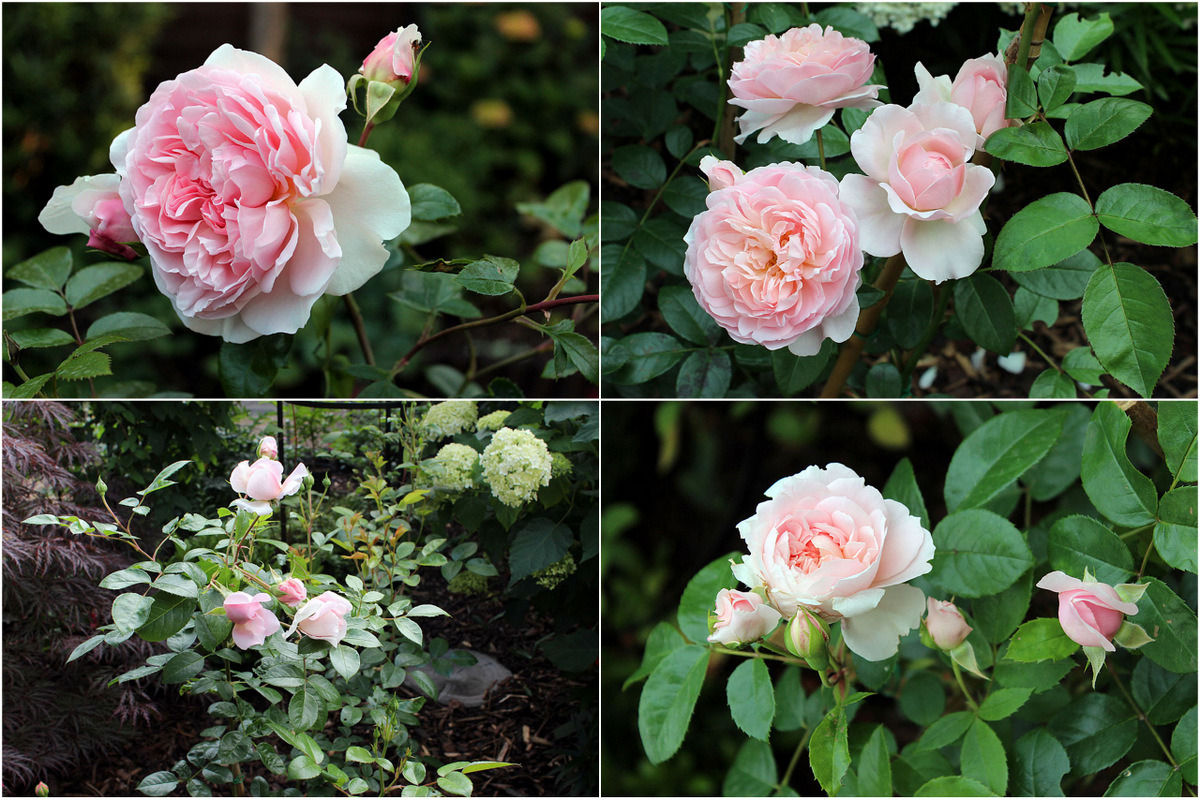 Here is the second David Austin rose I bought, Wildeve, and it has lovely flowers, but it is not as scented as I expected from description. It also has the annoying habit of looking absolutely gorgeous one minute and once you turn your back to it, two or three roses have gone off and dropped all their petals on the ground in a huge pile. Most of my other roses go off quite slowly, I can leave flowers that look OK but not brilliant, knowing they will still hang tomorrow and can be safely snipped off then. With Wildeve that's not possible, it goes from perfect to a pile of petals on the ground in a matter of minutes. But I love the flowers, the soft pink old rose style so different from all my other roses are absolutely gorgeous. This rose is planted in a semi-shade position, apparently that's perfectly OK, it is a bit too soon to say how it will perform but I will no doubt write more about this one in the coming year.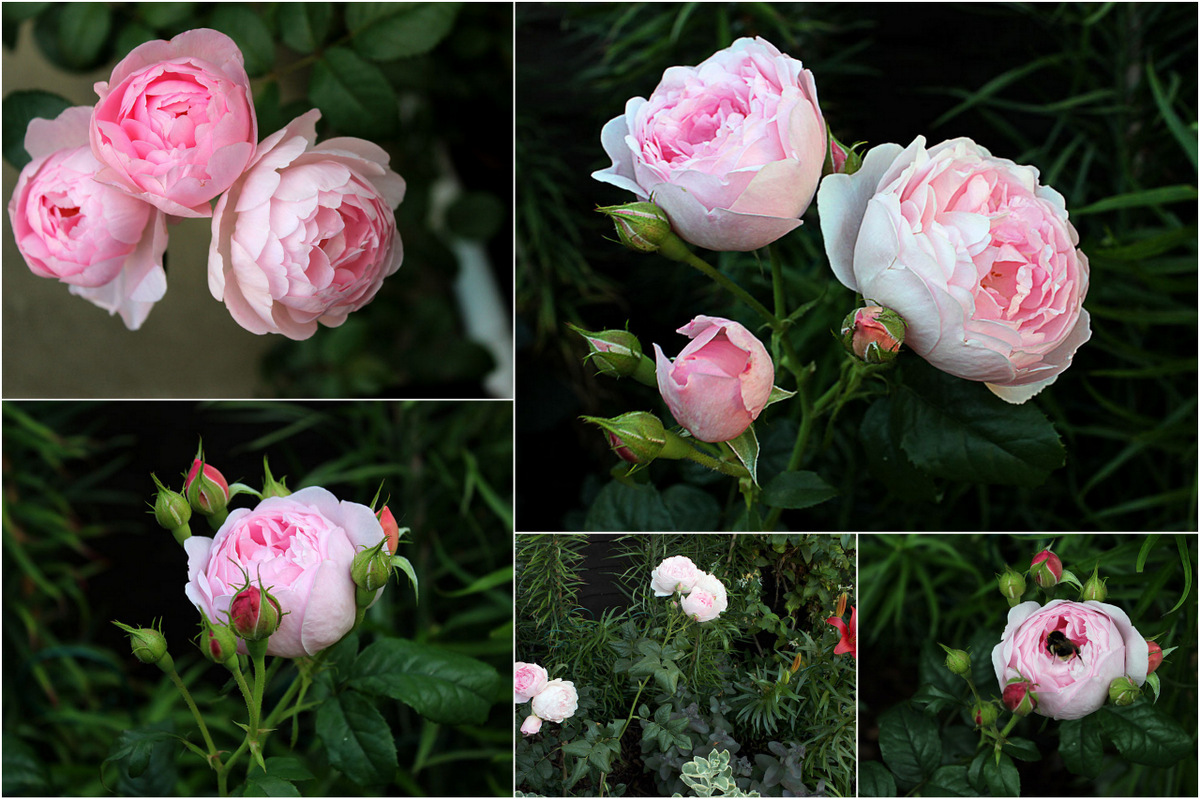 And here is the third of my David Austin roses I bought a year ago, Scepter'd Isle. And this rose has lived up to all my expectations and more! It is strongly scented with an absolutely exquisite smell, the pink cupped roses stay cupped throughout and stay on for a very long time. I am also usually able to predict when it goes off so I can deadhead it in time. I first planted this rose in the ground but I then moved it to a large container so I could have it at my seating area because the scent is so heavenly. I hope it will thrive in the container, it is described as a small rose suitable for a container. I think my readers will hear more about Scepter'd Isle, at the moment it is my absolute favourite rose in my garden :-)
That was all my roses, not exactly a huge collection, but I am planning to buy a few more, if I can manage to find a place to squeeze them in. I have even thought about taking some other plants out so I can put more roses in, I just don't know what to sacrifice! There are so many lovely roses I would like to have, and if I had designed my garden from scratch I would have made it different, more suitable for roses, lots of roses. My garden has evolved over the years and I am not finished yet, who knows what it will look like next year? Until next time, take care.