It's already gone a whole month since last time I wrote about my tree, my lovely Magnolia soulangeana 'Heaven Scent', so now it's about time for another update.
My tree grows in a large container on the sunny part of my patio, right at the back against the fence. It is quite young still and I hope to keep it in the container for at least another 5 years or so – until the crown is so tall that I can walk under it and planting the magnolia in one of the flowerbeds in my tiny garden won't be a problem.
My garden is west facing with a tall, 4m wall at the end. That creates semi-shade or shade in most of the garden except a small part of one of the flower beds and this part of the patio area. There are many plants to fight for this sunny spot, and some plants have to come and go on a rotation system!
Right now this spot is packed with plants and I actually have TWO magnolias here. Can you spot them both?
Let me take the smallest one out onto the path, a bit easier to see it now. This is my second magnolia, Magnolia soulangeana 'Red Lucky' which I bought at the same time as 'Heaven Scent' late last winter. I bought it because the nursery where I saw it, advertised that this is a dwarf, great for containers and that mature height would be 150cm (60") and width 90cm (36"). How silly I was believing that....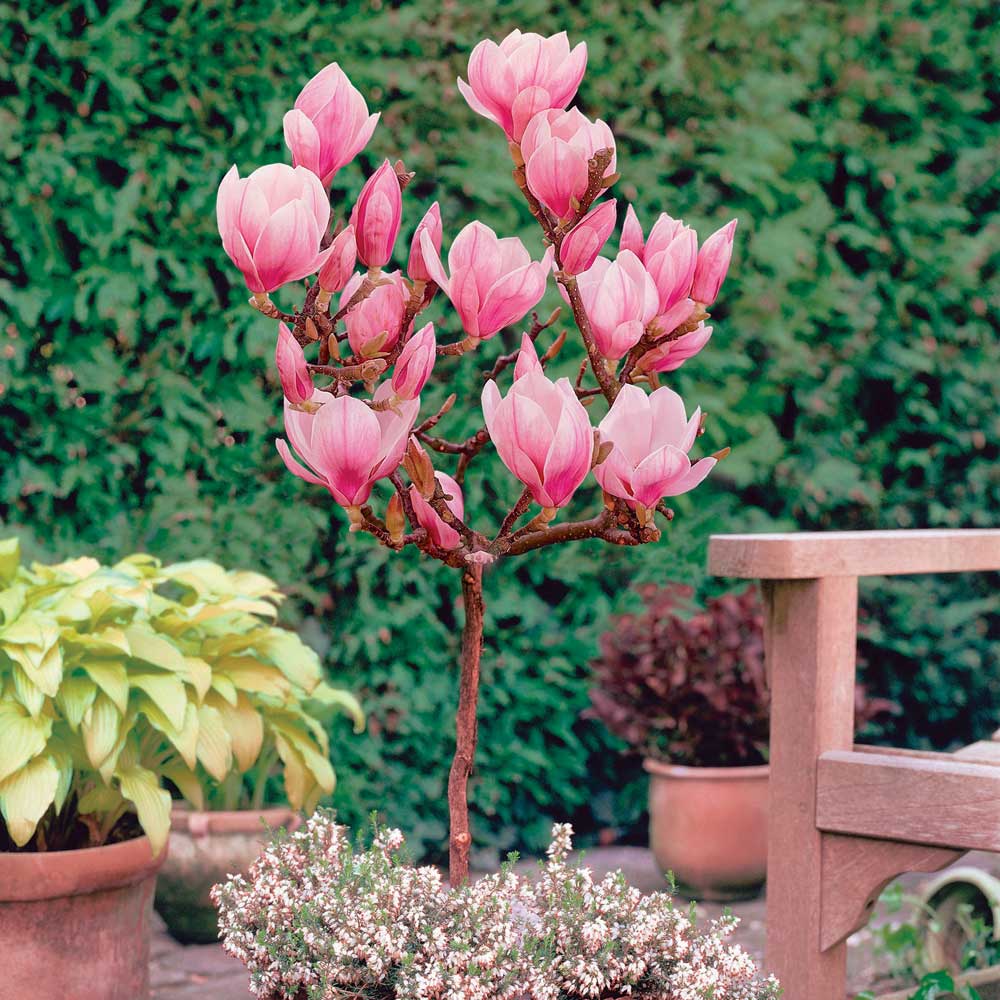 But I must admit I was also drawn in by the beautiful photo of the magnolia on their website (which I have borrowed here) – obviously a rather mature specimen as it is flowering prolifically and I guess it has been pruned to shape over several years. Doesn't it look spectacular? If it only was true and not Photoshopped....Well, I have looked up Magnolia soulangeana 'Red Lucky' and final height and width is....6m (almost 20 ft). I wrote to the nursery for an explanation, and asked how and when I should prune my magnolia to obtain what they showed in their photo. After 3 attempts I have given up, they have still not answered my question. After a year in the pot growing on my patio, 'Red Lucky' is 160cm tall (5'3"). I really haven't got room for two full size magnolias, even though they both are single stemmed, so sooner or later I will have to be brave enough to get my secateurs out and do some chopping – hoping I can reduce it at least somewhat. But not this year I think.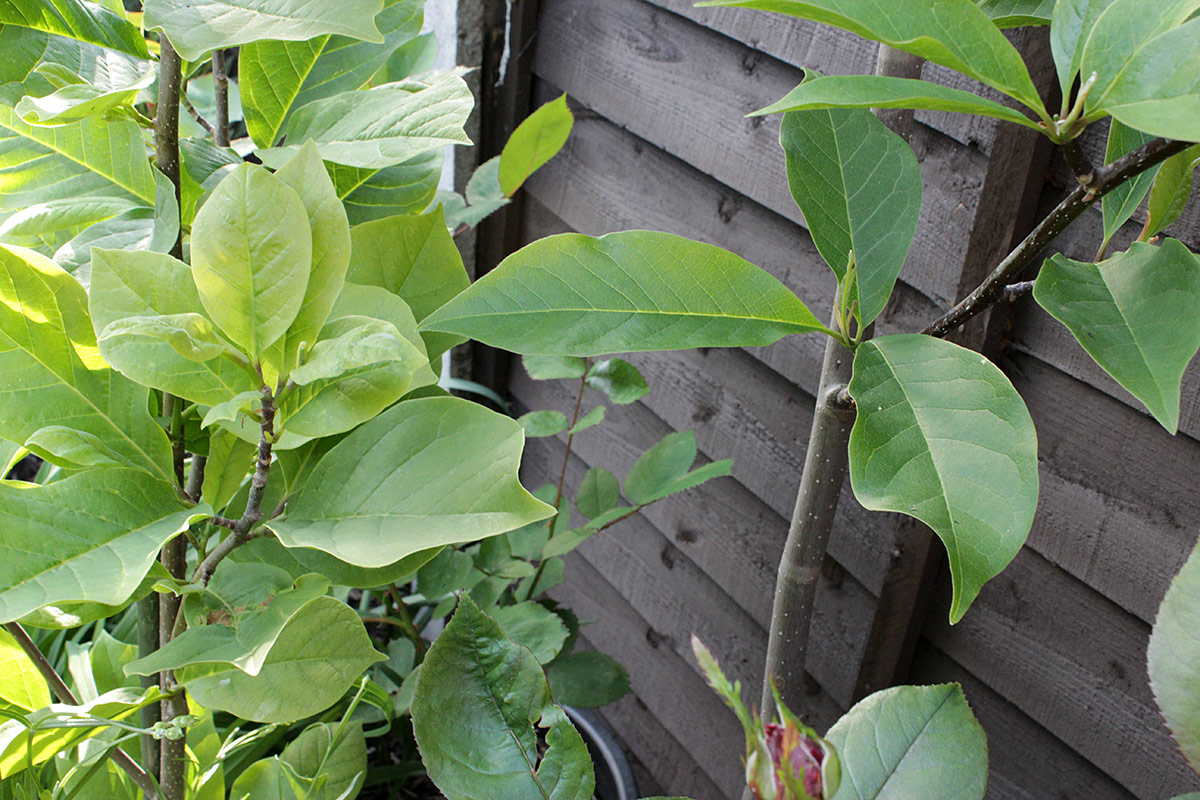 Here are the two magnolias together and you can see that 'Red Lucky' to the left has smaller, lighter green leaves than 'Heaven Scent' to the right.
'Red Lucky' has never flowered, it is a very young magnolia, but 'Heaven Scent' flowered beautifully last month and left me with these amazing fruit cones. They look a bit like lots of greenflies stacked closely together on a distance, and I must admit I have more than once sighed and though Ugh! Are they on the magnolia too! – before realising it's not actually greenflies, it's just how the cones look like. OK, well I am due new glasses, but you must admit, they do look a bit like the greenflies that frequently stack on the new shoots of roses! (The aphids are terrible right now here in southern England, payback for the frost-free winter we have had!)
Speaking of roses, on either side of the 'Heaven Scent' I am growing roses. This is 'Rob Roy' and like most of the roses in my garden this one has buds ready to open – just waiting for a week of nice warm, sunny weather.
The plants surrounding the two magnolias are a mix of plants, but with a distinctive Mediterranean feel. Here are Callistemon rigidus, Phoenix canariensis, Lavandula angustifolia 'Munstead' and Nerium oleander. But there are also a huge container grown Hemerocallis 'Sammy Russel', an even bigger container with trailing fuchsias and a newcomer to the garden; some Zantedeschia aethiopica I hope will flower this summer.
The fuchsias will take a walk-about soon, as this area will be too hot for them during the summer so it will be better to spend the summer and autumn at the bottom of the garden where all the spring bulbs now have gone.
All these plants surrounding the two magnolias are not there just to fill up the patio, they serve a purpose too; to protect the roots of the magnolias from 'cooking' in the hot summer. All these big plants in containers in front of the magnolias will take up the heat and provide shade for the roots so they keep cool and moist. I had no problem keeping my magnolias well hydrated last summer, and that was one of the best summers I have experienced in the 15 years I have been in London. As the magnolias grow and fill the containers I hope my plan will work and that they will continue to be happy here.
And before I end today I just have to show you my Clematis 'Niobe', it has got nothing to do with magnolias or 'tree following' at all, but I just want to show you how lovely it looks right now.
It has been flowering since 28th April, and I have never had flowers in early May before, certainly not in April. The other two pruning group 3 clematis' in my garden are right behind with flowers ready to pop pretty soon. My next post will be GBBD on the 15th May so I will have lots more flowers to show you then.
I am linking today's post with
Lucy at Loose and Leafy
who's hosting the 'Tree following' meme. If you head over to her blog you can see a lot of other trees of all sorts and shapes. Until next time, take care.