It's the last day of November, I made my movie yesterday, and just like last month we had an absolutely glorious end to the month. It was more like a nice spring day, with 14 degrees C and nice sunshine. It has rained a lot this month, but November is the rainy month of the year in my area so that's just normal. I have had no frost in my garden so far, actually nowhere near frost, not even at night, and even though we are expecting some colder nights next week it will not get low enough to hit frost.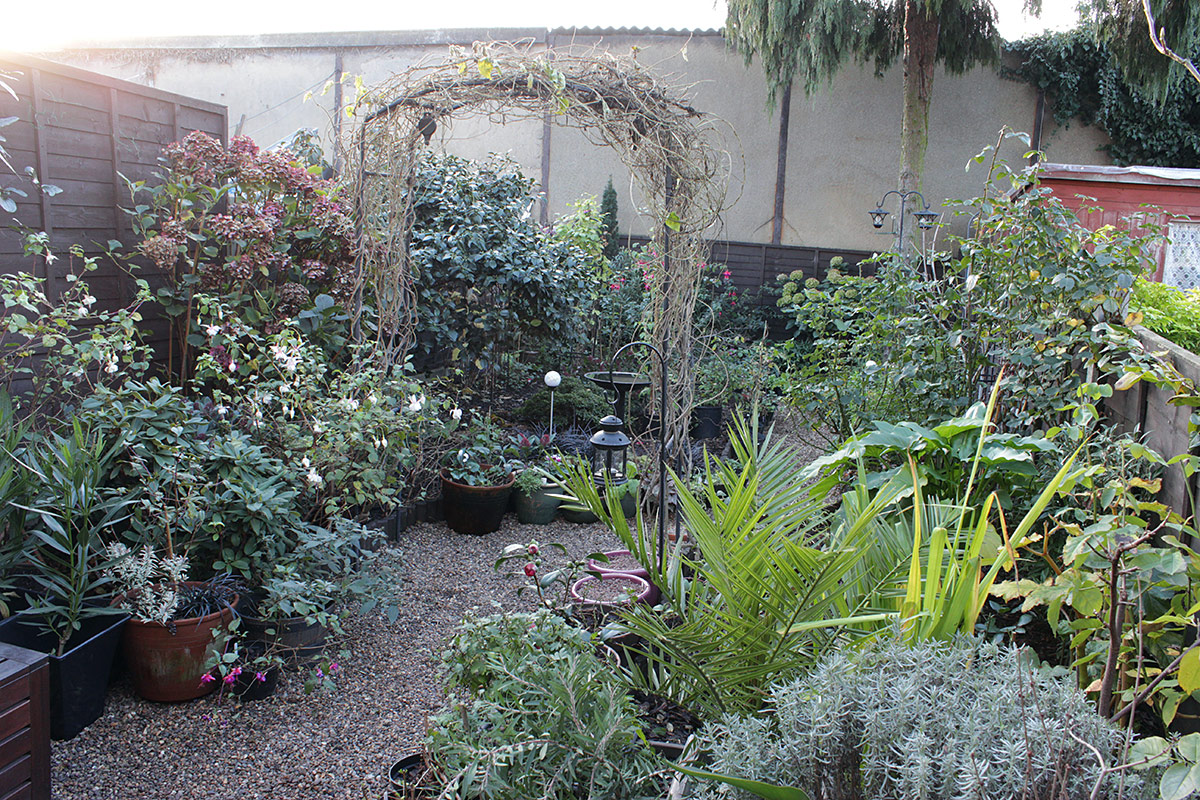 My garden is slowly turning wintery, which in my garden means less plants and more open spaces –it is still very green and full of flowers, but some of the flowers are different than rest of the year. I still have some pots and containers to get out of the flower beds and on to the path, I need to speed up this work as the spring bulbs are emerging everywhere. I don't just lift the pots out, I clean up the pots, remove old leaves, do a bit of pruning if necessary and clear the spot where it stood – so a bit of work for every pot I move, that's why it is a slow process.
My thermometer Saturday afternoon, not bad for last week-end of November :-)
And look! The first hellebore flower has arrived! It doesn't feel that long since I cut off the last hellebore flowers from last winter, I leave some of them to seed over the summer and I think it was early August when the last one had seeded and I could remove them. I need to cut off the old hellebore leaves, another job to do!
I still got Alstroemeria 'Dandy Candy' in full flower and there are new buds forming.
The colours and patterns are amazing.
Most of my fuchsias are still in flower, those that looked too tired I cut down last month and expected them to be dormant until next spring – but they are already producing new leaves. This one is Fuchsia bacillaris 'Cottinghamii', a miniature with lots of tiny flowers about 15mm long.
A bud from Fuchsia 'Perpetual Falls'.
And a flower from one of my many cyclamens.
November has been very busy for me with so much to do, I have not got as much done in the garden as I wanted to do, and whenever I had planned to do some gardening it seems to have been pouring with rain. And it gets dark so early! For a night person like me who'd rather sleep most of the day and work all night it's hard to fit gardening in daylight in. It's fine for most of the year, as I can have a good few hours in the garden in the late afternoon and evening and work until it gets dark, but these days it gets dark at 4:15. Oh well, only 3 weeks until it turns and the evenings get longer :-)
I have made a video for you this month too, I took just over 30 minutes of video footage Saturday and I think I have been very good to manage to edit it down to 3 minutes and 55 seconds! It was hard to leave out all the bits I wanted to show you, there is nothing from my front garden today and I also left out the clip that shows my chillies are still growing outside – still producing new chillies! This is my first year growing them so I don't have any experience, but I didn't know you could grow chillies outside in the winter. But look out for the pots of emerging crocuses and irises in the middle of the movie, it certainly feels like spring in my garden.
My videos are best viewed in HD in full screen (buttons in the bottom right corner), change to 720p or 1080p, depending on your download speed or else it will get too fuzzy. Here's 3 minutes and 55 seconds of my November Garden, accompanied by some nice music from the movie Schindler's List.
If you click on the 'I' icon on the top right of the movie you can subscribe to my YouTube Channel and get notified when I post new videos.
That was the tour for end of November, thanks to
Helen at The Patient Gardener's Weblog
for hosting the meme End of Month View, if you head over to her blog you will find many more End of Month Views.
That's it for today, I am off to pull the Christmas decoration out of the cupboard under the stairs. It's first Sunday in advent today and I always put up some of the decoration this day, like a wreath on the door, an advent star in my kitchen window and an electric advent candle bridge. As a Norwegian, I didn't used to put up the actual Christmas tree until the 23rd December, but after having lived in Britain for 15 years I have slowly got used to the British tradition which is to put up your tree too on the first Sunday in advent. As most people here have artificial trees anyway it doesn't matter how long you have it up for, I never had an artificial tree before I came to London so waiting until close to Christmas was a point before. I enjoy the Christmas decoration and the extra lights around the house so I guess I'll get everything out this evening.
Until next time, take care.