Winter is well and truly over here in London and we have had spring for a good while now. Last year everything was incredibly early, this year most things are just about normal – if such things exist. Perhaps I should use the word average instead, as every of the 16 winters I have been in London seem to have been different. The first year I was here we had an amazing summer just like last summer and a mild winter just like last year's winter. I foolishly thought that this was how the climate was in London. How wrong I was. But even though it varies, the two really cold winters I have experienced here were nothing compared to what I was used to from Norway and I really appreciate what I am able to grow here and the early spring we get.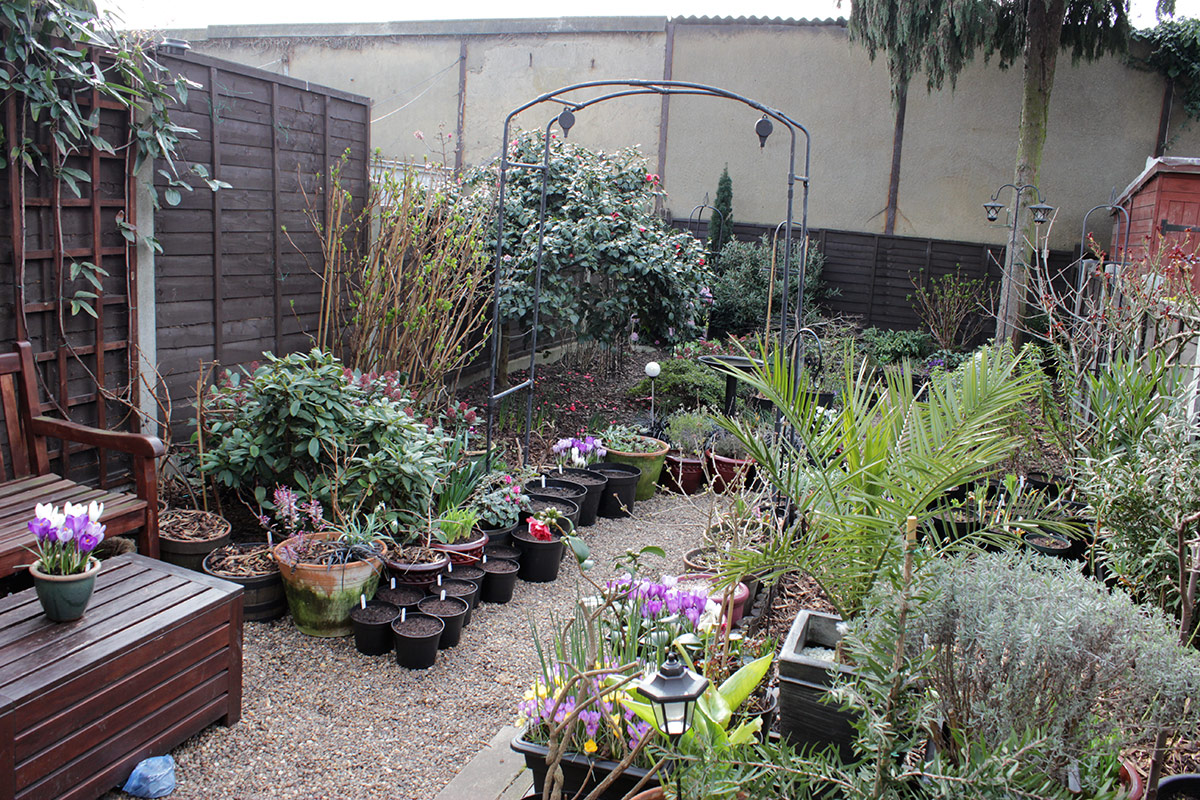 My garden has been bursting with crocuses for a few weeks, I keep planting them every year, the squirrels keep eating them – fortunately they are easy to plant and quite cheap to replace. This time I have opted for planting more in containers with heaps of bark mulch on top as a trial, and it seems like they have been left more in peace. I have heard that squirrels are very lazy animals and moving lots of bark mulch seems like too much of an effort so they have gone for the crocuses in the ground where the mulch layer is thinner. A lesson for the future me thinks :-)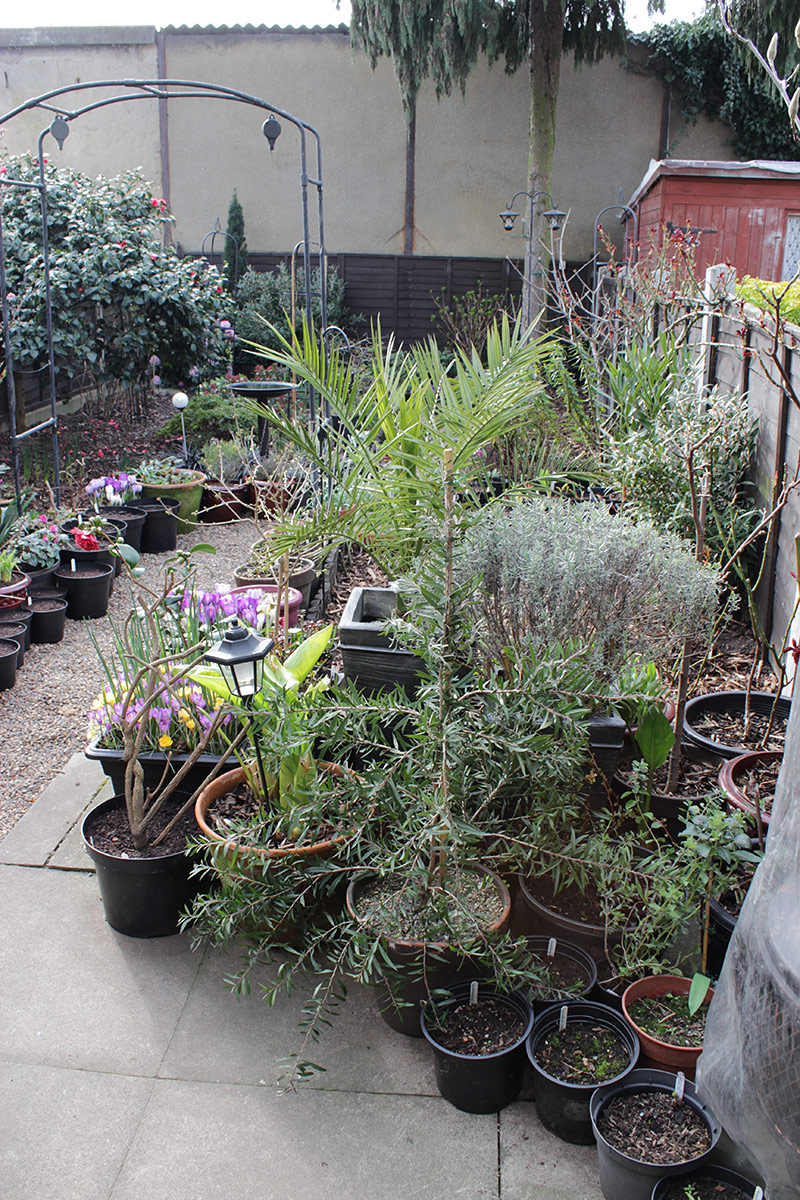 Last year I kept saying here on my blog that I had too many plants in pots and containers and that I wanted to get rid of some so it would be easier to take care of them over the summer. There has been a reason for all these pots....I just haven't shared it here but I am now about to drop a bombshell: I am going to move house and leave my garden!

I have been thinking about it for a few years, and actively searching since last October. I am looking for a house without stairs so it will be easier for me to manage. Since I live in Social Housing I will not be entitled to more than one bedroom anymore, so in the process of moving I will have to downsize from my current 2-bedroom to a 1-bedroom house. That's going to be hard - with the size of British houses, where the living room usually is no larger than the average size bedroom I don't really know where I am going to put everything. I use the second bedroom in my current house as a combined guestroom, music room, computer room and office. Plus this is where I store everything I don't use daily, and this is where I dry my clothes as I don't have a tumble dryer. Downsizing is going to be a challenge yes, and I will no longer be able to have family and friends visiting to stay over.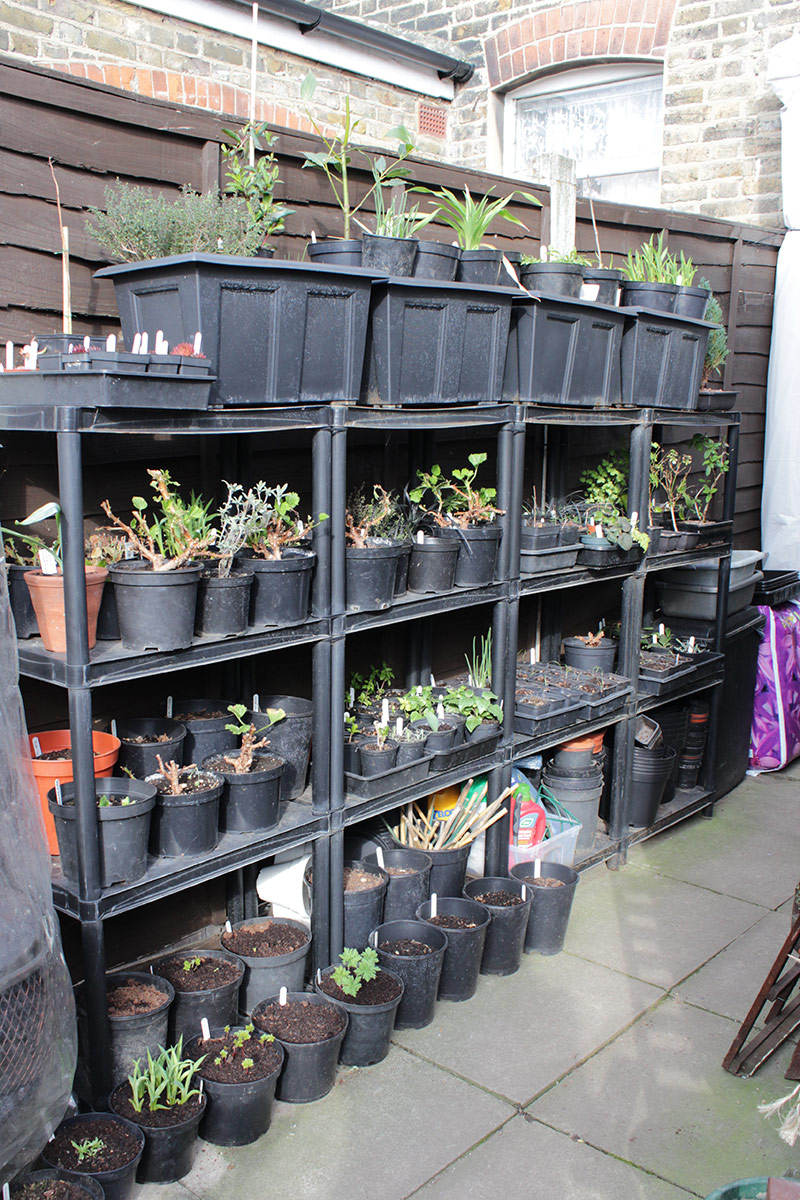 And I have finally found a place I might move to! Things are not finalised yet and there are many things to sort out before I can sign on the dotted line, but at least I have got as far as finding a suitable place. It is a 1-bed bungalow, small inside, but with a slightly more spacious garden – perfect size for me. As a result of my plans for moving I have kept a lot of plants in pots that could have gone out in the flowerbeds so they will be easier to take with me. I have also taken cuttings from some of the plants I have that can't be moved. But I still intend to dig up as much as possible to take with me!
My garden is going to look more and more like a nursery or garden centre during the spring, I have had a count today and so far, counting every pot and container, from the smallest cutting pot to the largest container I have 427 pots. And I have not started digging up anything yet.
But now to the flowers in my garden. Crocuses! They bring a smile to my face every time I go outside. The bumblebees are busy collecting nectar and I often see them just lounging inside the crocus cups. Who wouldn't want to doze inside a nicely scented crocus :-)
More crocuses, and the first few Anemone blanda are flowering too, I had a mix of them but over the years they seem to revert to blue.
I planted two containers with one layer of daffodils in the bottom and crocuses on top. The container to the right has much earlier daffodils so they emerged at the same time as the crocuses – a lesson to learn for the future. The container to the left looks better. Camellia 'Takanini' in the middle is still flowering, one or two flowers at the time – this is the 5th month it is flowering and I am really amazed how this little twig can just keep on like this.
The grand lady in the garden, the huge camellia has started flowering too, she got a severe prune late last spring and looks nice and tidy now. Next GBBD she will be absolutely covered in flowers. Sadly I won't be able to take this one with me when I move so the new tenant will be inheriting her. Bottom right photo is of Takanini, still with lots of buds.
Down at the bottom of my garden the rhododendron is in full flower and the hellebores have been flowering since January.
Rhododendron 'Christmas Cheer' is a bit of a misnomer as normal flowering time is late February or March, depending on conditions. The trilliums are just days from flowering and the hyacinths I dug up earlier this year are still in pots, flowering but with rather tatty leaves from being dug up.
The hellebores are definitely coming with me to my new house, I will leave some babies – there are certainly many enough to spare, but the main plants will be dug up. I don't look forward to that job, they have very deep roots.
I just love the diversity of the hellebores, so many different colours and patterns – and so many I still don't have. With more space I could find room for many more. Yeah!
The first daffodils are flowering too, these have a lovely scent – unfortunately mislabelled by the nursery so I am not sure what they are. Scilla Siberica 'Bright Blue' to the left.
The snowdrops are coming to an end and look rather miserable now. I leave the flowers on in case they set seed, but I assume most multiply by bulb division so perhaps it is not that necessary. What do you do, do you deadhead your snowdrops? The black pots on the shelf are all daylilies, all are developing leaves now and will be in flower in 3 months' time.
The biggest pot to take with me will be my 3m tall magnolia, in my new garden I will certainly manage to find a space for it in the ground. It flowered beautifully already first week of March last year, this year it is slightly later. The photo to the right is one of my fuchsias with new leaves, finally! I have missed seeing fuchsias for months, but since cutting them all down they have taken their time developing new leaves.
Just before going inside today I noticed one of the magnolia flowers had cracked open, it means flowering has started after all! I remember from last year that this process was painfully slow, taking about 8-10 days from the first crack to fully open flower, but I suppose it will depend on how warm the weather will be the next week too.
The hydrangeas are sprouting like mad, these bright green leaves are so lovely. Chaenomeles 'Crimson and Gold' is in full flower and Viburnum 'Farreri' is almost finished flowering.
And now to some indoor flowers. I bought a Dendrobium nobile in December 2013, it had one tall spike and was covered in lovely white flowers, and after reading about how to get it to re-flower I thought 'this is going to be tricky, if not impossible'. It requires both a severe temperature drop and stop in water for 2-3 months during mid-winter, when it is too cold outside and too warm inside my house. Fortunately the Dendrobium didn't care too much about the temperature drop and settled for just no water for 3 months. That was rather scary, to not water a green, healthy plant for 3 months – it kind of felt so wrong! But look at it now, the flowers are so beautiful and I got TWO new spikes.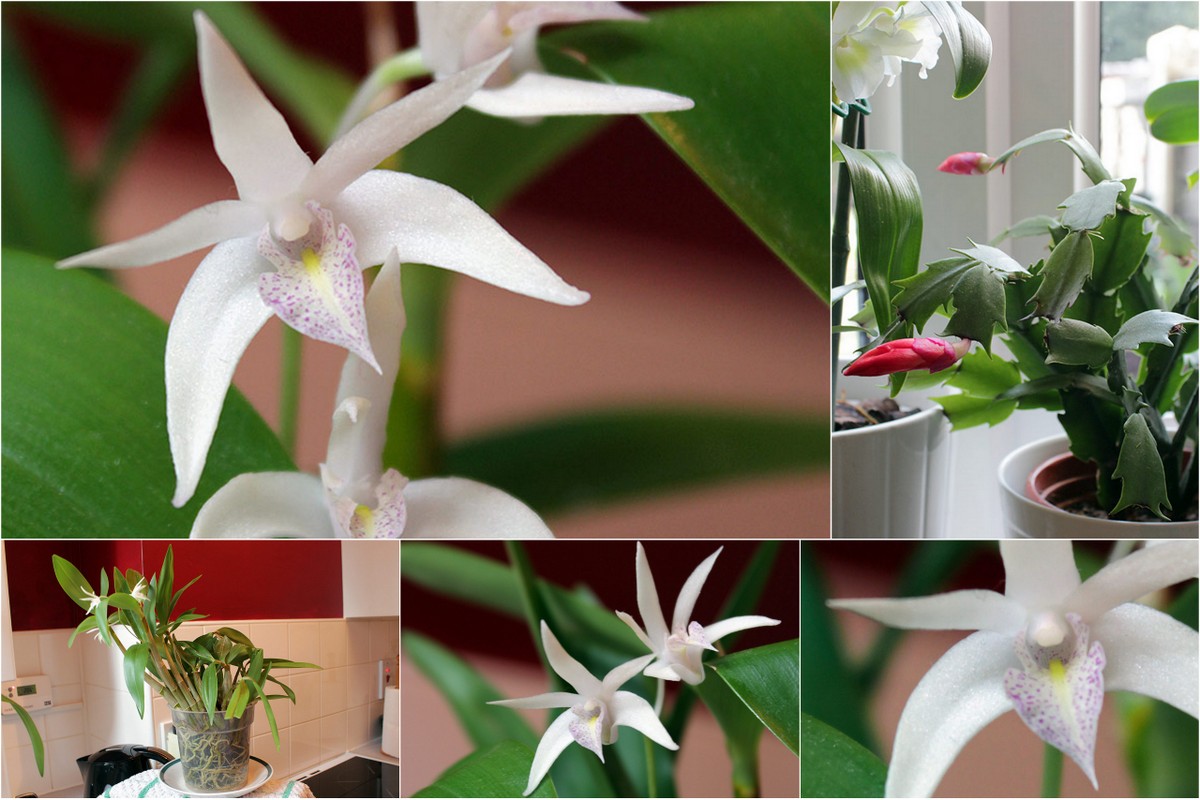 And in my bathroom there's been another miracle, this is my Dendrobium kingianum, keikis or babies from the mother plant I bought in spring 2004. The mother plant died many years ago, but the keikis have been in this pot for 7-8 years and never flowered. I have had buds produced a few times but they have dried up before they have developed into anything. But this time I actually got 3 flowers and I so wish you could smell the scent of them! I keep this orchid in my bathroom on the window sill, and if the bathroom door is left open the scent will fill both the bathroom and the kitchen – from 3 tiny flowers :-) And if that's not enough, my Christmas cactus decided to start flowering again too, it flowered beautifully in November and December, and now it is starting all over again.
And now, a quick look in my front garden where my window boxes are full with flowers. The colour scheme this time was supposed to be pink and cream, I was hoping I didn't get too many yellow primroses in the mix but as it turned out there are quite a lot of yellow. I might replace them with some pink as the yellow stick out as a sore thumb.
Finally, my boots, also planted with daffodils in the bottom and crocuses at the top. The daffodils are on their way up, but a late variety so hasn't disturbed the look of the crocuses. When they are all finished flowering I will scoop out the crocuses and plant something else on top here.
That was the end of the roundtrip for March 2015, I hope you have enjoyed the tour. I will hopefully be very busy with moving soon, all going well with the house I have found. If not I will have to continue searching. Suitable bungalows in my area are difficult to find so I hope this doesn't fall through at the last minute. I must admit the thought of moving is rather daunting, both packing up and moving, and getting settled a new place. I know exactly how much work it is, the house I am currently living in is the 23rd house I have lived in, counting from birth. I am rather experienced in packing up a house, even though I have lived here for over 13 years, the longest I have ever lived in one house - so I know what the next 6 months or so will be like. But I will keep you all posted about what's happening :-)
In the meantime, please visit our host,
Carol at May Dreams Garden
for many more March gardens around the world. Until next time, take care.