Yesterday the weather threw at us just about anything you can think of apart from snow and hail - just like the weather in August and September has been really. Taking photos was a real challenge, it started out just fine after the morning showers, but as the day went on, the wind increased and I finally had to give up any more close-ups - so some of the photos were taken today in a much less windy and more sunny garden. But tomorrow it will be back to more severe rain and more wind. Autumn has really started!
The garden in bleak sunshine after the morning rain had disappeared yesterday. I have started to remove the grass, not as difficult as I had feared since those who put it down made such a bad job at it!
At some point in the past the whole garden was paved, then someone removed some of the slabs and poured an inch of soil down and scattered grass seeds. I am sitting on my garden stool or just on the ground and simply lifting that inch of grass off, down to the bed of sand under it. Only when there are roots entangled in the grass is it a bit tricky to remove.
I am laying out the paving slabs as I remove grass, just to get a feel of where I want path and where I want beds – I still think there are too many slabs and not enough space for plants so I need to ponder a bit more about the layout. It has to be practical to move around even in the summer when the flowerbeds are filled to the rim, but there is no point having lots of bare slabs where no one will walk when I can fill the space with more plants! I want to get the hard landscaping right the first time around so I am taking my time with this.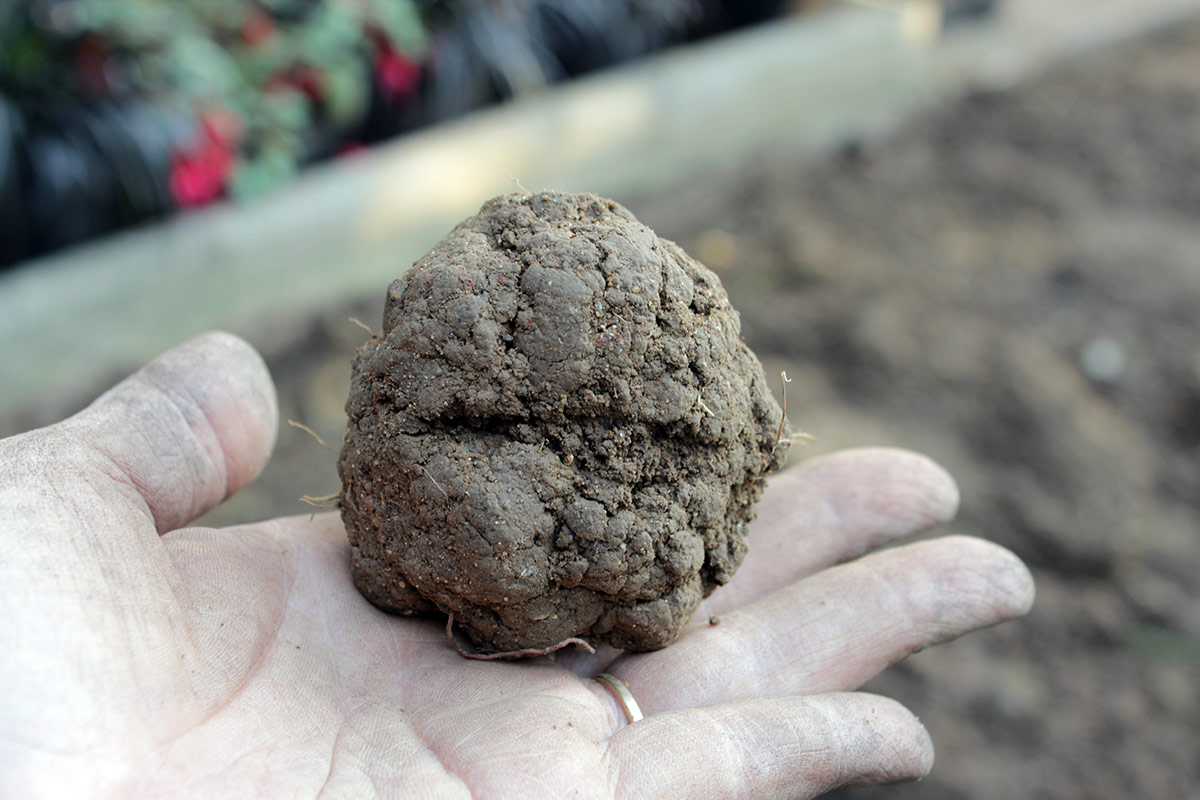 Remember I was complaining about how hard my soil was when I moved in, in May? It was like hitting concrete every time I was trying to dig! I have often heard that you should try to roll a ball of soil to see how high content of clay you have and I tried this several times in my previous garden but I could never make a proper ball of that nice, crumbly soil I had. Here though I have no problem making a ball, in fact – if I had access to a potter's wheel I think I could almost make a half decent plant pot out of this!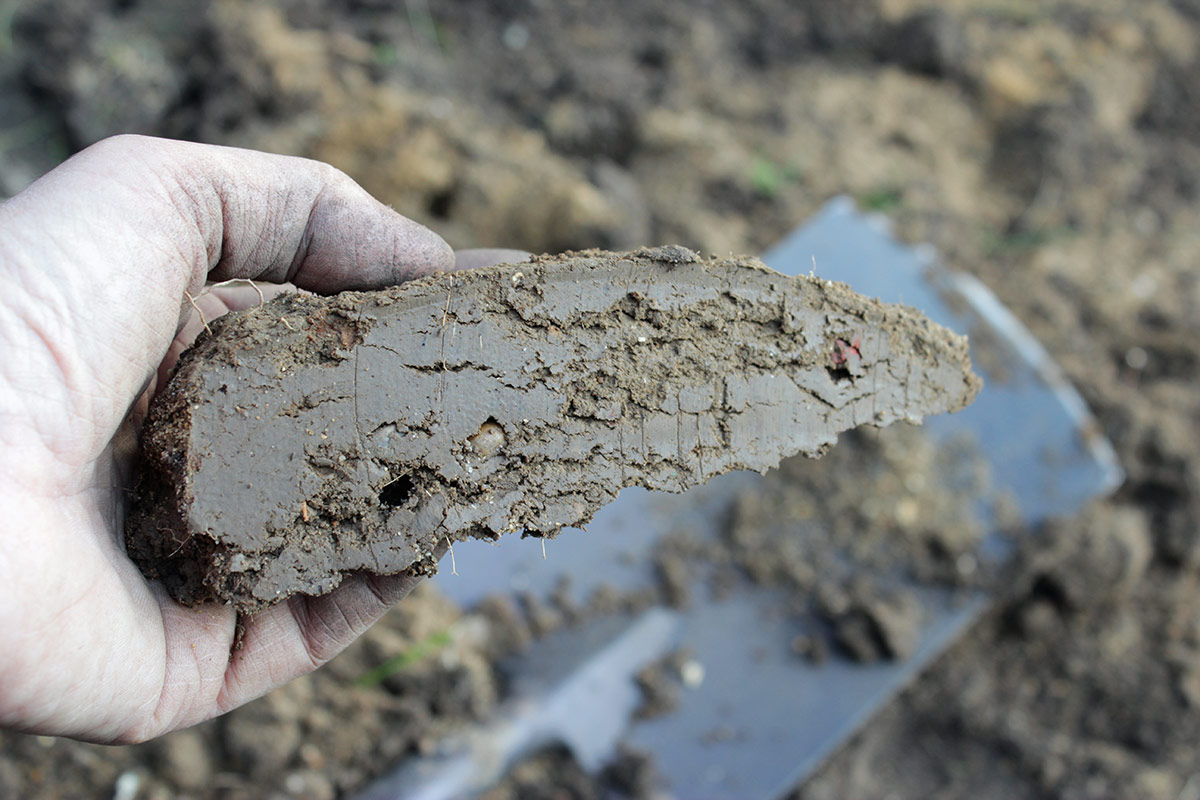 Every time I stick the spade in the ground, a bit deeper than the first inch or so, this is what sticks to the spade – big lumps of almost pure London clay. It's good for all my roses, they will love the clay soil, and so will a lot of the other of my plants. The high pH will not be so welcome for my acid loving plants though so I am spreading pine bark in all the beds here like I did in my previous garden, over time it will help to both lower the pH and make the soil looser and less troubled by the clay. It will take years though. Patience, patience.
For now I am just happy I am able to get my spade in, it was almost impossible back in May and June! The garden just needed some rain, and in August we had some very welcome days of rain and we have had some in September too, making it possible to get a spade through the surface.
Phew, for a while I thought I would have to get help in for the planting when that time comes, this garden should have come with a poster: 'Just Add Water' – but as long as the soil is topped up it's actually fine :-) (Photo 'borrowed' via Google)
All the work in the garden and continued removal of shrubs and grass ends up here, I must be a top contributor to the Council's Green Waste Programme by now and they come and pick it up whenever I ask. I wonder if I can get some free compost back as a reward if I ask nicely??
In my temporary kitchen garden all the cherry tomatoes are gone, it has been a dismal summer for tomatoes as the second half has been so cold , but I have eaten tomatoes every day for nearly 2 months and not bought a single one so I suppose it could have been worse. I had a lot more tomatoes last year though. What are left are the peppers and I don't think I will repeat that experiment next year.
I bought 3 plants for £5.75 back in early spring. One plant died in June, not sure why but after flowering it simply just died. The other two are fine, one is planted in a large pot, the other in a deep window box, but apart from that they have had the exact same conditions and treatment. This is the one in the large pot, still in flower with some tiny peppers developed. I don't think any of these will develop into anything edible before it gets too cold.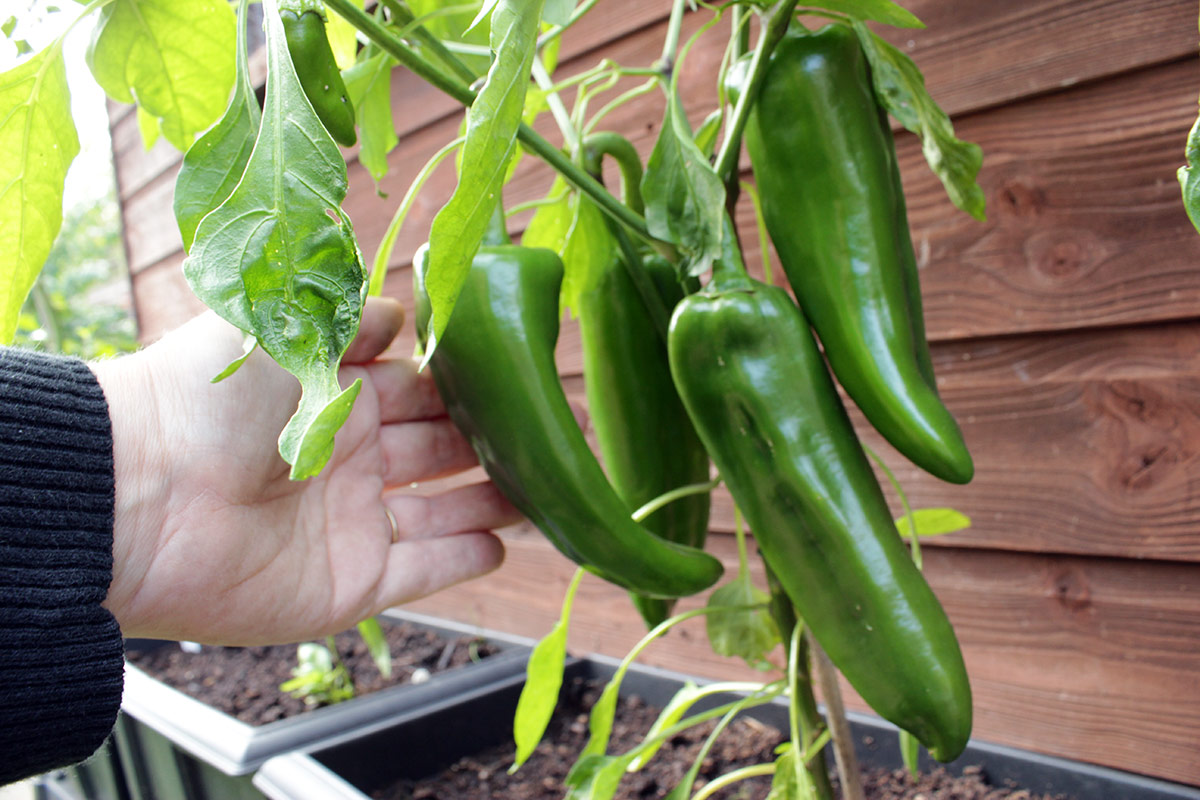 But this is a bit more promising, I have 4 green peppers the size they are supposed to be, but they are not ripe yet. They will turn red, orange or yellow, I am not sure which this is as I had a mix of the 3. I have fed them since arrival early May and made sure they got as much sun as possible and that nothing was nibbling them. Considering I can buy 2 red, pointed peppers the same size as these in Tesco for £1.50 I don't think I will be doing this again! But I hope they will ripen so at least I get to eat these 4, after having taken care of them for over 4 months already – expensive peppers!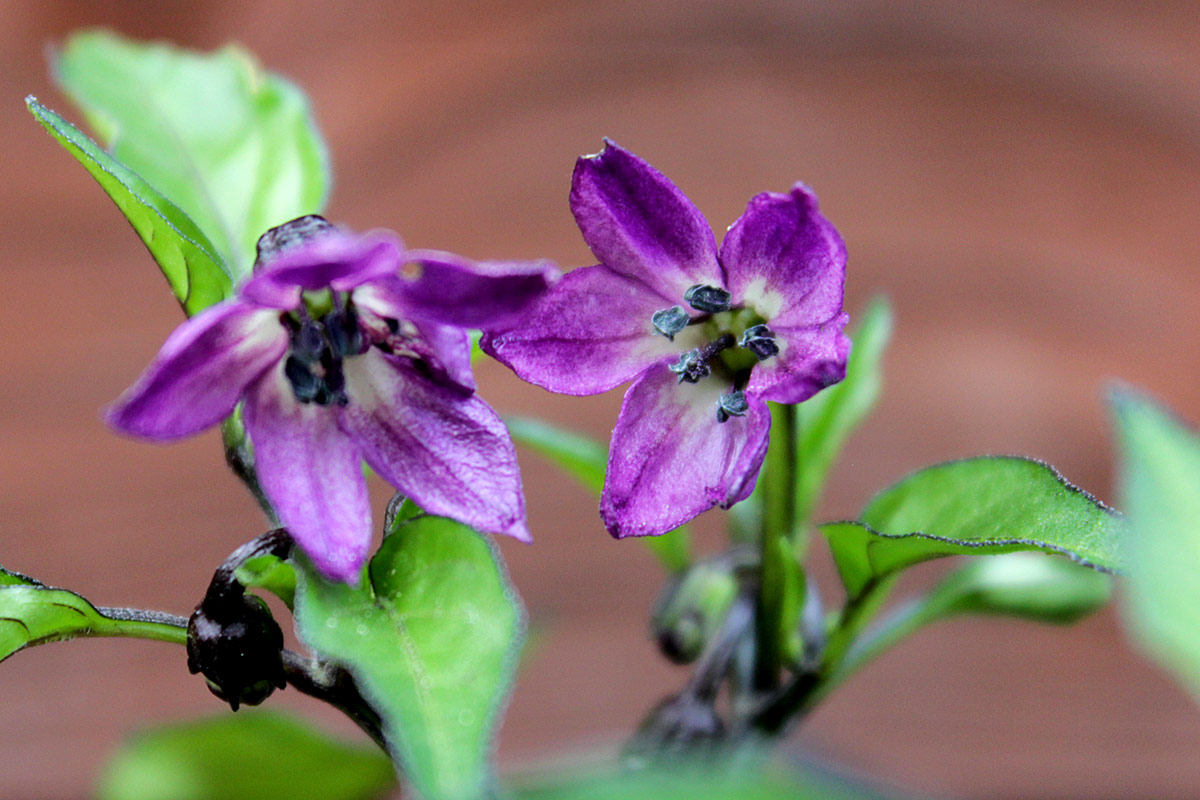 As for flowers in the kitchen garden, yes I do have some beautiful ones – can you guess what they are? Basil! This is Lime Basil, way too strong flavoured for my liking so I won't have it again, but I was just testing it out, I grow basil mainly as a companion to my tomatoes as that means no pests on the tomatoes, but I would like to find a basil I can eat fresh as well, even the Genovese Basil Plant I bought tastes a LOT stronger than the ones in supermarkets, even though it supposedly is the same.
Let's move to some more familiar flowers, here's the miniature rose 'Abigail' which is rather promising. It was new last autumn so still in infancy, it will be interesting to see what it will look like in a few years time.
'Ingrid Bergman' is an amazing rose, just waiting to get a space in the ground.
And here is my favourite rose, 'Scepter d'Isle'.
I am not sure if I have ever showed my miniature buddleia? I have had it for a few years, but it flowers VERY late, and I am usually showing off sunflowers and dahlias at this time of year so this one gets shoved in the background. Being an evergreen (in my garden at least) it's nice to have all year interest, but it really takes its time when it comes to flowering. It's a nice size though, in my container it is only about 60cm tall and wide, container included, in the ground under ideal conditions it can be up to 1m tall and wide.
Buddleia 'Blue Chip' is meant to flower all summer, but mine never flowers until late August or September, but then it can go on until long after Christmas. For a small garden this is a much more manageable buddleia than the huge monsters we normally see.
Another plant I am not sure if I have showed before is Bacopa Abunda 'Colossal White', I have them in a large window box and they just keep on flowering.
There are so many plants in flower right now I am not sure what to show you....primulas? I have LOTS, here are a few. Most of them are a result of me splitting up older plants and potting on and even though I keep giving away plants every time I get a chance I still have lots and lots.
I thought I would make a new count of plants now that summer is over, as I still haven't planted a single plant yet in my new garden and the fight to keep them alive is certainly not over yet just because it rains a bit more. So I counted all the Primulas, and I have 28. Then I counted all the cyclamens – 21 and the Hellebores, 34 including 1st and 2nd year seedlings. Then I just HAD to count ALL my pots as I had no idea really how many I had left, just that I had lost a lot since moving in here in May. I counted all pots and containers including the seedlings and cuttings and got 572 pots. When I moved I had almost 700 so that means I have lost almost 130. But I have given away probably around 20, and I lost quite a few hellebores and fuchsias to a sudden attack of vine weevils, but I managed to stop that with nematodes. Oh, and I lost 2 trays of 1st year Lilium regale seedlings, I took my eyes off them for a little while and they just dried up in the heat of June. That was 50 pots. It has been hard to have so many plants in pots and water them all by hand. Ideally I would have liked to stick my finger in each pot before I watered it to see if it needed water or not, but that's not really practical! Can you just imagine bending down and sticking your finger into 700 pots every evening?? As a result, some plants got too much water and some didn't get enough. Drowning plants is just as bad for them as letting them get too dry.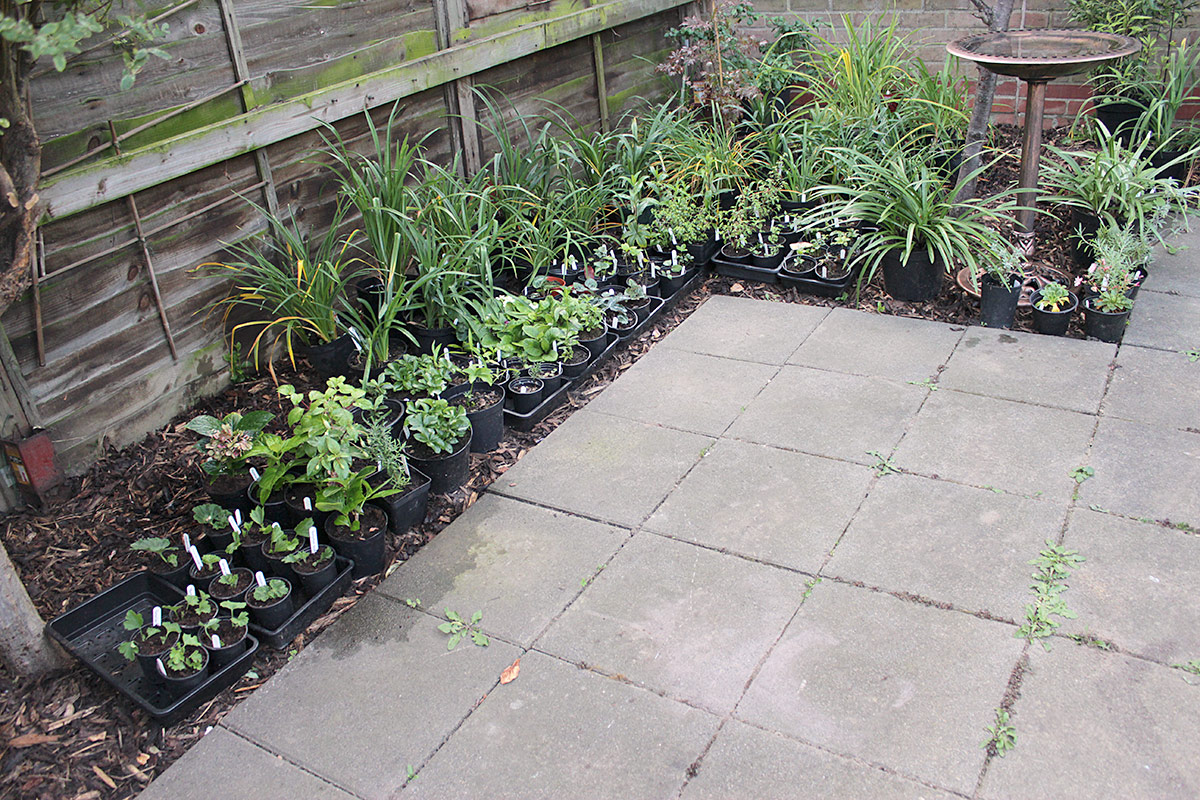 I have always made cuttings, seedlings and divisions, I am not sure WHY I keep doing it because I usually end up giving the plants away, but it is so satisfying to see that I am able to propagate so many different types of plants so I just have to have a go at it!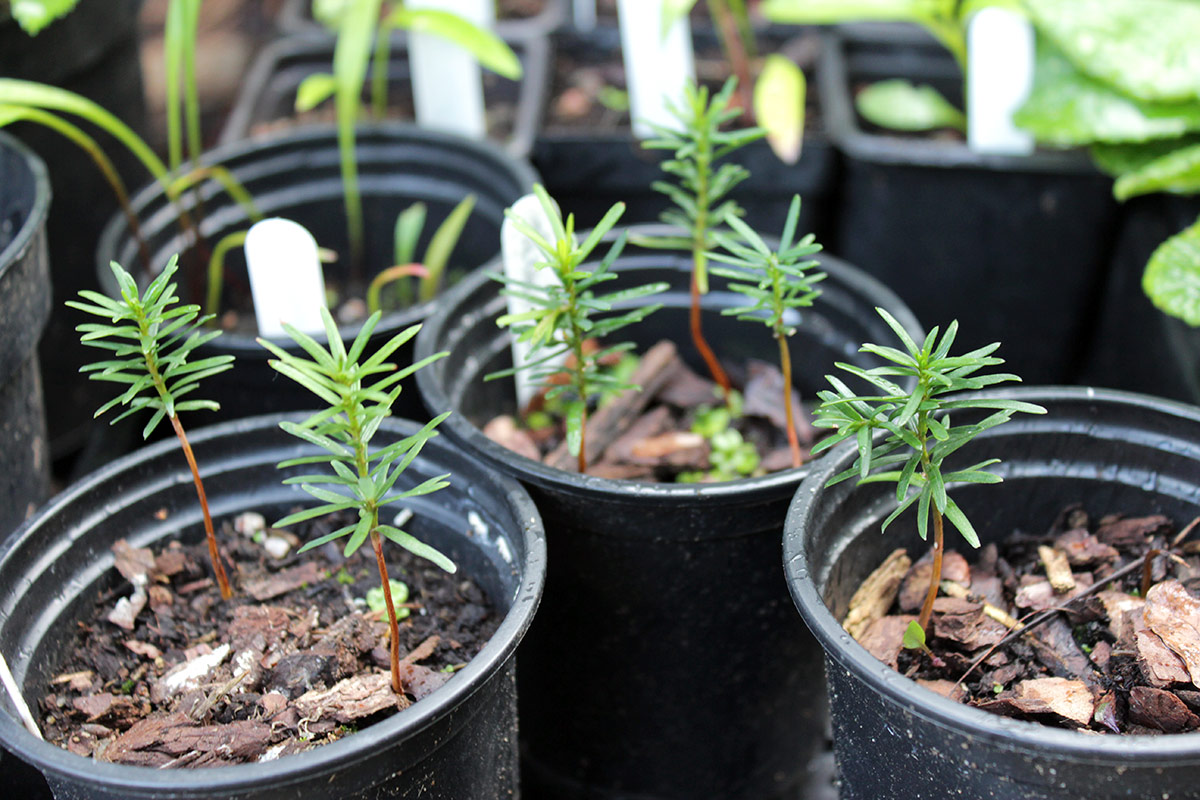 My latest success is these tiny babies. 2 years ago I planted 9 berries from my Taxus baccata 'Fastigiata Robusta', a slim, slow growing yew bush I had in my previous garden. I got the Taxus in 2004 and it grew from a 20cm tiny plant to a 5'5 tall, beautiful column. Some years I had berries, some not. In summer 2013 I planted the berries and hoped it would lead to something. Patience is a virtue! Nothing happened for 2 whole years, but I was kind of prepared for that, tree seeds often need 2 winter's stratification before they germinate. But here they are - 6 seedlings from the 9 berries. There is no rush to find them a home in the garden just yet, it will take MANY years for them to become too big for an ordinary pot. Aren't they cute?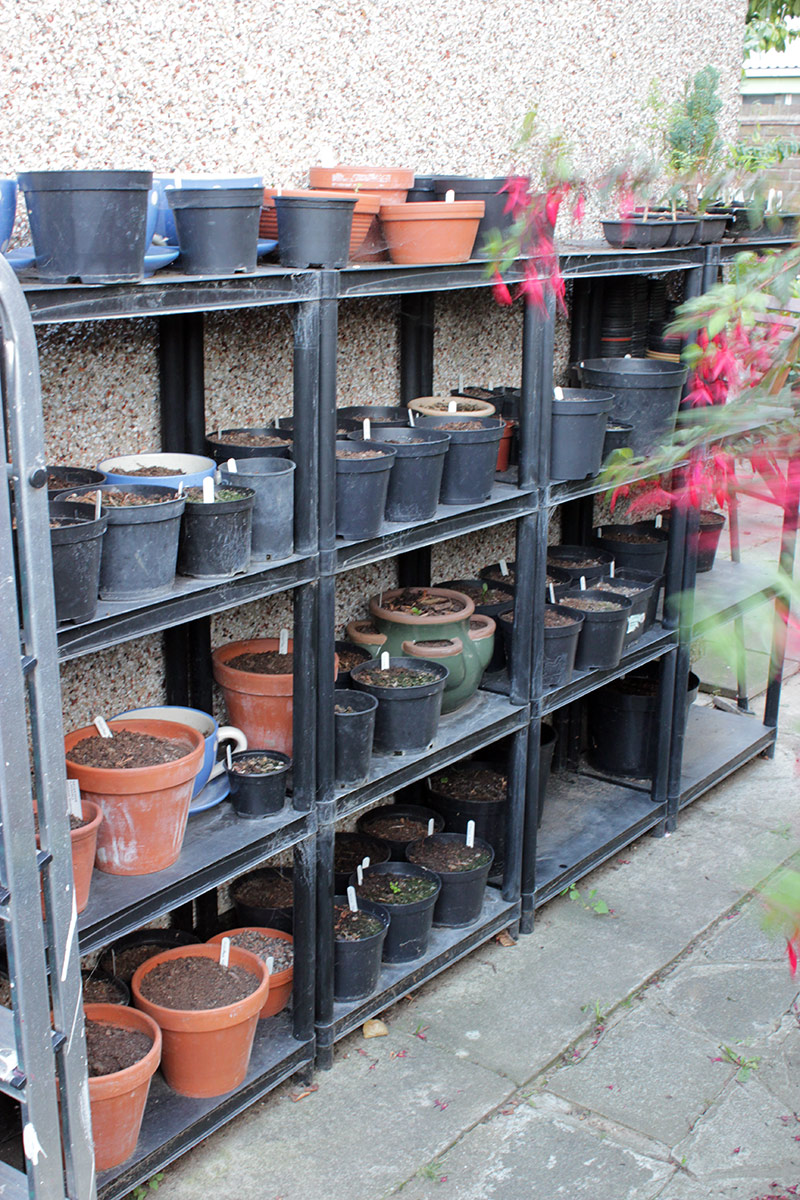 But here on my shelves I have lots longing to get into the ground, my goodness I have a lot of digging in front of me before everything is in the ground! All the pots here are spring bulbs: snowdrops, crocuses, Iris reticulate, hyacinths, mousplants, trilliums and Arisaema and most of them are going in between the plants in the shade garden and on the edge of the shade garden. Sorry about the fuchsia out of focus in the foreground, it was soooo windy when I took this photo it was impossible to get a good shot – at least the shelf stood still while I took the picture!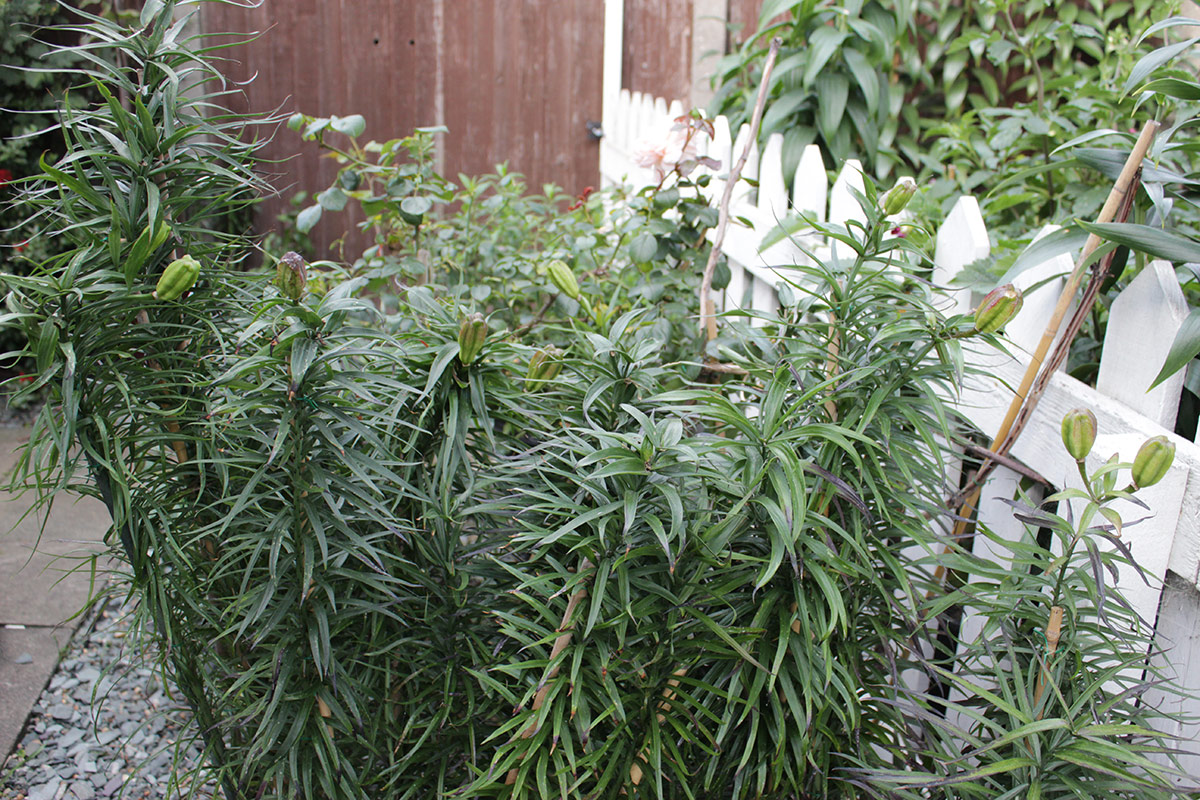 Let me just also show you that I am going to replace the lost lily seedlings – here are nice, fat seedpods only a few weeks from being ready to harvest. All I do is to leave a few of the last lilies every year and they will produce seeds for me. In these 10 pods there are probably thousands of seeds, many more than I am going to plant. If you want any seeds let me know, I am happy to send in the post – but only within UK. The seeds must be sown straight away and left outside for the winter. No need for a greenhouse or taking them indoor, these are hardy seed, you just sow them and leave them (but make sure the seedlings get enough water in the summer!), and 4 years later you have flowering lilies :-)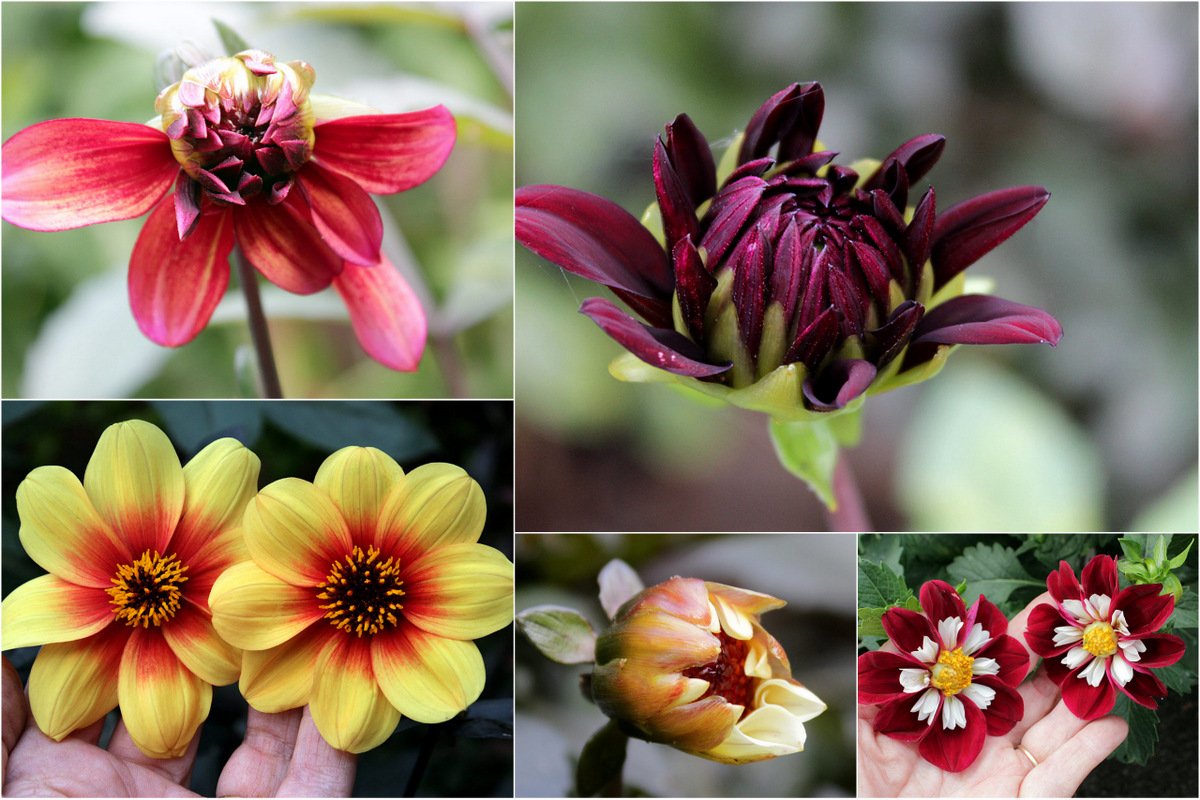 More flowers? I haven't got as many dahlias as I normally have at this time of year, I don't think they are very impressed with life in pots and containers! I get a lot of leaves but not much flowers and I hope that's simply due to overcrowded pots. Next year they will all be able to stretch out in the ground and be happier :-)
My series of Aristo pelargoniums are growing up, if they survive the winter outside they will be much bigger next year – fingers crossed for a mild winter. I have taken cuttings of all 5 of them just in case, but the cuttings will have to stay outside too. My oldest pelargoniums have spent 4 years outside so I am not that worried but they are most vulnerable the first winter.
These pelargoniums are also new this year, I absolutely adore the Appleblossom variety and have taken some cuttings of these too, even though I have 5 of them already. Yes I know, I take too many cuttings, but at least I can give them away. Anyone visiting my house will always leave with a carrier bag of plants :-)
Here is a plant that was given to me just a few weeks ago in a plant swap, it was rather sad after having been growing in a tiny nursery pot since probably early spring. Cardinal Vine has many names, Latin name is Ipomoea sloteri and it can apparently grow to 2m tall and wide. I have given it a container since I don't really know how big it will be in my garden, and it grew from one single tiny stalk and a few leaves to this in a month. The flowers only last for a day, but as long as you have plenty of buds then that's OK. It's just a shame there are no hummingbirds here in UK to come and feed on the flowers, cause that's what they are made for :-)
Out in the front garden it is still the fuchsias that dominates, they love the cooler weather we now have.
I have simply just left them all here and I don't tend to them at all, no deadheading, no fertiliser, all I do is give them water. They look amazingly well on a distance, but they are all sick – all infected with Fuchsia Gall Mite.
You wouldn't think there was anything wrong with this plant? Well, it has the early signs too, only the miniatures are free of Fuchsia Gall Mite damage.
And this is how it looks at first, deformed leaves and flowers and eventually the whole plant will look like this and then the plant will die. I am going to write a separate article about this topic later in the year and tell you all what I intend to do, at the moment I am just keeping an eye on those few that seems to be without infection. Fortunately it doesn't spread to any other plants, Fuchsia Gall Mite only attacks fuchsias.
While we are here in the front garden – here is a corner I haven't showed you before, occupied by a huge pyracantha with entwined blackberries. This is a rather shady corner during the day, with sunshine until around 1pm and shade afterwards. I think it would be a good place to grow raspberries, although I have yet to find a place for my magnolia (standing here in the red container) so perhaps I will have to plant it here, even though it won't be an ideal place for it.
Back in the garden I just want to show you Hibiscus syriacus 'Lady Stanley' – it's been flowering for 2 months and there are still lots of buds.
I think this variety is one of the prettiest, but I know the flowers can be much bigger so I am going to try pruning it and see if I get bigger but fewer flowers next year.
Alstroemeria 'Dandy Candy' is still flowering, I haven't got a sibling for it yet but I hope to get one soon :-)
And another rose, 'Gertrude Jekyll' has been giving me the odd flower lately, it is the first year I have it so I am not expecting too much.
The garden looks so peaceful in the pale sunshine, you can't see how windy it is!!
Finally, I made a vase yesterday of roses and dahlias – rather daring colours with white and zingy pinks, but without the usual supply of sunflowers and much less dahlias than normal I struggled a bit to find flowers to put in a vase that wasn't just roses. But here are: an inherited, unnamed pink rose together with the pristine white 'Susan Williams-Ellis'. The dahlias are 'Darkarin' and 'Mary Eveline' and the greenery is Hosta 'Patriot'. If you look closely you will also find the flower stalks from Heuchera 'Fire Alarm'.
And here is my vase for this post, zingy colours on a blustery autumn day :-)
That's it for this time, next post will be the last day of the month where I hopefully will have another video from the garden for you. Until next time, take care.