It's the last week of the summer and over here in Britain we have Bank Holiday week-end and a Carnival to celebrate what was supposed to be a glorious summer now about to end. Well, here in London we have had an amazing June and first half of July, but August has been a month of contrasts as big as they come. A week ago we had what's called a 'Spanish Plume', really hot air coming up from the continent and giving us a nice week-end of summer weather. I had 34 degrees C on the Saturday and 29 C on the Sunday in my garden. On the Monday the Spanish Plume had gone to pastures new and the temperature was a measly 16 degrees. Cold! All that was a week ago, this week-end is the big carnival do in Notting Hill, people are scantily dressed and dependant on warm, sunny weather. I have been to the Notting Hill Carnival a few times many years ago, these days I prefer my own garden for colour and drama! Sorry to say the weather was typical British Summer for all party goers this week-end, cold and cloudy yesterday, cold and raining pretty much all day today.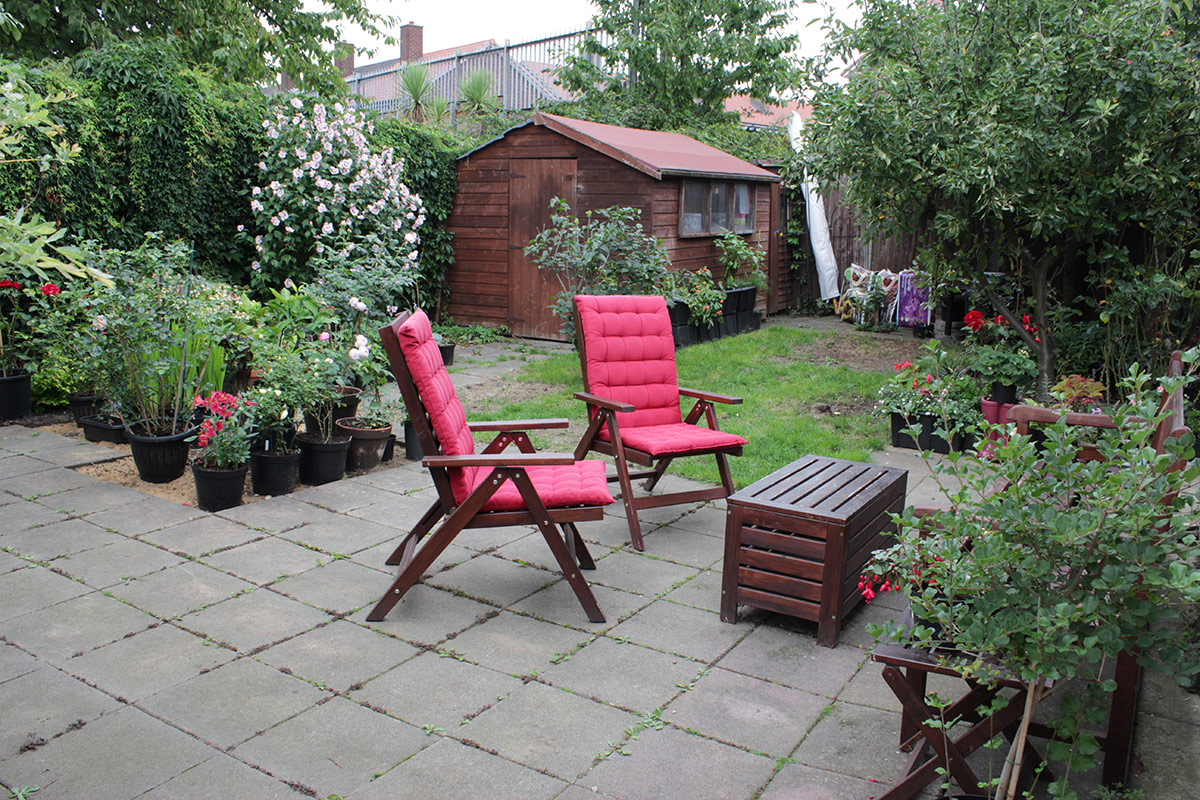 If you look at photos from my garden from a month ago you might get the impression that nothing has been done in a whole month – but it has! I am outside working here as often as I can, it's just that I don't work the same way as most people – things take a lot more time with me. In the garden I try to keep up with watering and taking care of the plants whilst making way for the new layout and the final hard landscaping.
In this corner things have moved on since last month, the Photinia root is out of the ground, some of the paving slabs have been lifted and bark is put down as far as I have managed to get the bed sorted. All the plants are still in pots, and none of these are going to be planted here anyway, these are all my daylilies that are finished flowering and just soaking up sun and nourishment before going dormant for the winter. I haven't yet decided on final plants here, but there will definitely be some Goliath lilies in the corner.
This is the view from my backdoor, I bought a new birdbath and I hope this position under the plumtree will attract the smaller birds flying around here so I can take some nice photos from my backdoor. I foolishly assumed that because the birdbath was tucked under the plumtree, the woodpigeons would not dare to fly in and land in the birdbath – but I was wrong there. The birdbath had only been up and filled for about 30 minutes before one of the woodpigeons flew in and landed right in the bath. He had a good splash about so most of the water ended on the ground and then flew off again. So much for my plan of keeping the birdbath for the songbirds!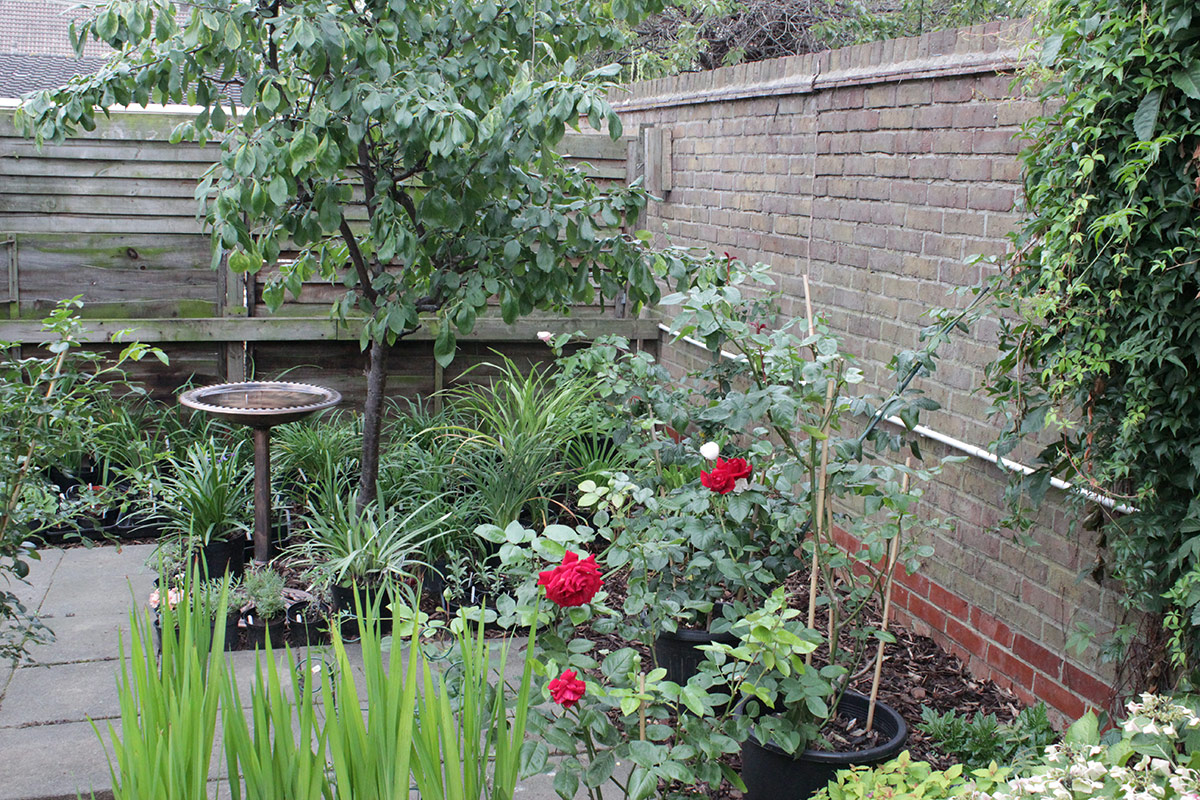 I am so happy I decided to tear off the Virginia Creeper on the wall, I have so many ideas for what to grow up that wall!! And I have decided to remove the rest of the vine, it will be more work than what I have already done as the rest is attached to a trellis – but it will be worth it. The only slight disappointment is that white cable pipe for the electrics to the shed – not much I can do about it as I really appreciate having light and electricity in the shed. But if anyone knows of paint or something similar that will cover a plastic pipe – in a good brick colour – please leave a comment and let me know, I guess anything would be better than the white colour it is now.
The next to do here in the back garden is to sort out the central bed, the paving slabs are lifted, but that's all that's done so far. And in the background you can see the remaining Virginia Creeper – that's a LOT of bags to send to the Council's composting service!
At this end of the garden not much has happened at all, the grass is a bit greener than last time thanks to some really heavy downpours – but there are also big, bare patches because I kept crates on the grass for a long time. Patchy grass is the least of my worries though because I am not going to keep the grass, it's all going as soon as I can afford to pay someone to remove it.
And along the edge here I will have a flowerbed, this is a really sunny part of the garden so I think many of my daylilies will do well here. I need to speed up a bit getting the flowerbeds finished so I can get bark down wherever there isn't paving....
....because I am fed up having a kitchen floor looking like this!
It wasn't so bad earlier this summer, it was dry weather and the garden was parched and my cat didn't leave a mark going in and out. The last few weeks we have had quite a lot of rain and flowerbeds without bark cover is like a magnet to my cat – why go to toilet in a bark filled flowerbed when you can do it in a freshly dug flowerbed with wet, loose, dirty soil that sticks to the paws and where it is sooooo much more fun digging around afterwards?!
This fuchsia was one I inherited, one of the few shrubs I still haven't cut down or removed, but it is very straggly so a pruning would probably do it good. I have snipped a bit on the left side, just so I could manage to walk past it, next spring I might give cut it down by half to make it look better.
When I was taking photos yesterday and filming for today's post, the weather kept changing all the time – from almost nice, although I didn't see the sun properly all day yesterday – to a couple of short downpours. Here is my Rosa 'Scepter'd Isle' just after a short shower.
'Scepter'd Isle' is still one of my favourite roses, it has a scent I like better than any other rose scent I have ever smelled, a heady, spicy, sweet scent – very difficult to describe. But smell is so subjective, many people have for example 'Gertrude Jekyll' as their number one, I just think it smells Turkish Delight and I don't like the smell nor taste of Turkish Delight. Which rose do you think smell the best and why? Let the debate linger in the comments :-)
This 'End of Month Movie' is an invitation to come and have a dance in my garden, not exactly carnival rhythms, but you might be tempted to shake your dance foot a bit anyway. As always, my movies are absolutely best viewed in HD, in full screen – please adjust the settings in the bottom right corner.
The music was Prélude et Mazurka by Léo Delibes from the comic ballet 'Coppélia', a composer perhaps not among the most famous, although some of his work I am certain you have heard – like the Flower Duet. I chose this piece because it reminds me so much of Norwegian music from that period, 19th century. And I thought it would be a nice challenge to make yet another movie with music and pictures perfectly in sync....oh well, perfect was the idea, but I have still not had time to learn Adobe Premier so I am just using the free program Windows Moviemaker to edit the movie pieces and add the music, so it's all done completely manually – trial and error. If one piece is too long for the music I just have to cut off a piece – got too short? Oh, well, import that piece again and start again. That's how editing with Windows Moviemaker is. One day I WILL teach myself Adobe Premier – I will need MUCH more than a day mind you, but you get what I mean. I just need time to do it. In the mean time I am getting very familiar with Windows Moviemaker.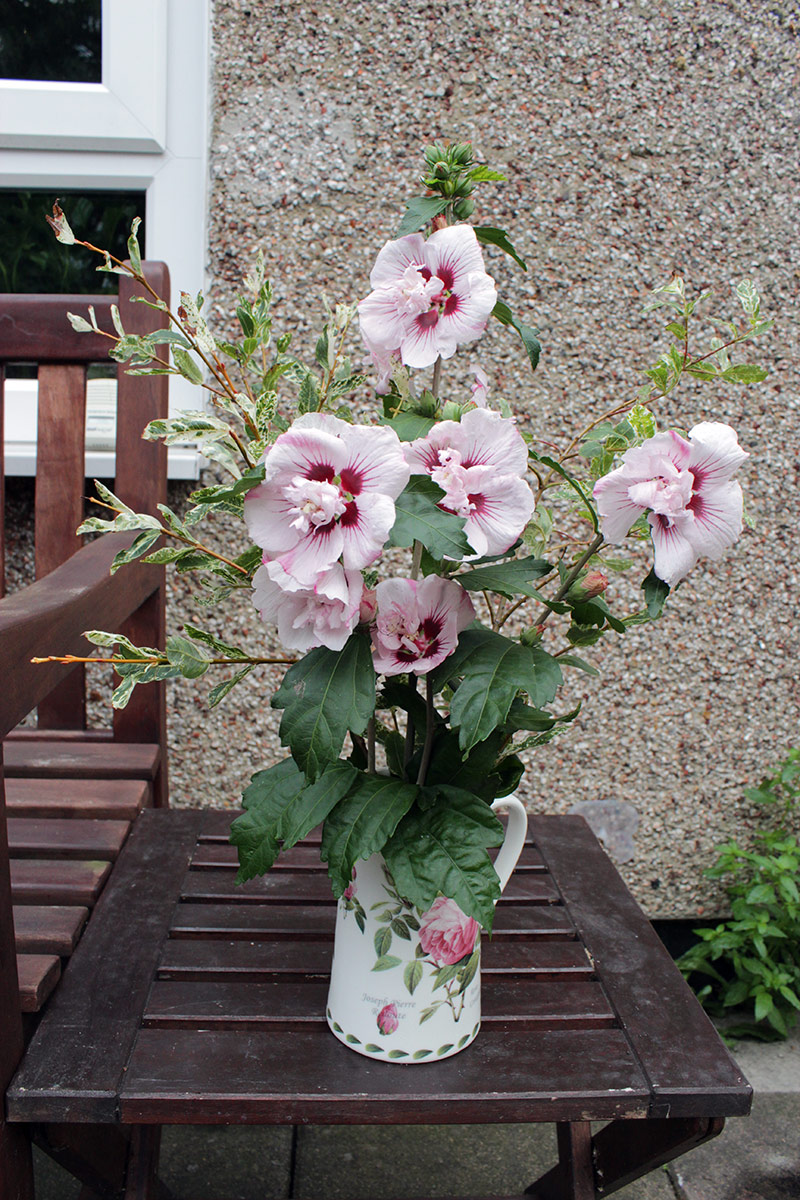 Before I end the post of August it's just time to show you a vase I put together today. I chose my favourite jug with Redoute Rose painting and although this jug looks very sweet with roses, I decided not to fill it with roses yet again, after all I have posted two vases in a row with roses so, time for something else. But my August garden is not really filled with flowers suitable for cutting, and normally I would have loads of sunflowers to choose from at this time of year, but not this year.
It was Hibiscus syriacus 'Lady Stanley' who came to the rescue, helped by some greenery from Salix integra 'Hakuro Nishiki'. A simple vase filled with the two inherited plants I appreciate most in my new garden.
The leaves from Salix integra 'Hakuro Nishiki' are now variegated cream and green, next spring the tips will turn pink again but before then I have dark red stems to look forward to during the winter. 'Hakuro Nishiki' is certainly spreading all year interest :-)
Until next time, take care.