This year seems to have flown away faster than any year – I know I keep saying time flies and that's apparently part and parcel of getting older, but my goodness, someone must have given anabolic steroids or something similar to whatever keeps track of the seasons for us this year as I can't ever remember it going this quickly before. I suppose some of it has to do with me moving house and everything that came with it before, during and after moving, but even so....even so! Only consolation I suppose is that I can hope the winter will pass just as quickly. I'll be fine as long as I can find time to plant my almost 600 potted plants from my previous garden - and....erhm....a few hundred new bulbs that somehow managed to turn up despite that I had promised myself not to buy anything until I had planted everything I already had. Funny how that could happen. But hey, even though winter starts in 4 weeks, the first hellebore will start to flower in 2 months' time in my garden, and it's only 3-4 months till my garden will be filled with snowdrops, crocuses, Iris reticularis and other spring flowers. I know many people use the astronomical calendar to determine seasons, but for the London climate, the meteorological seasons fits better in terms of when spring and summer starts so I use it. This week we have had more of a whiff of summer again than late autumn, with temperatures up to 19-20 degrees C even though it's rather cold at night with 10-12 degrees C.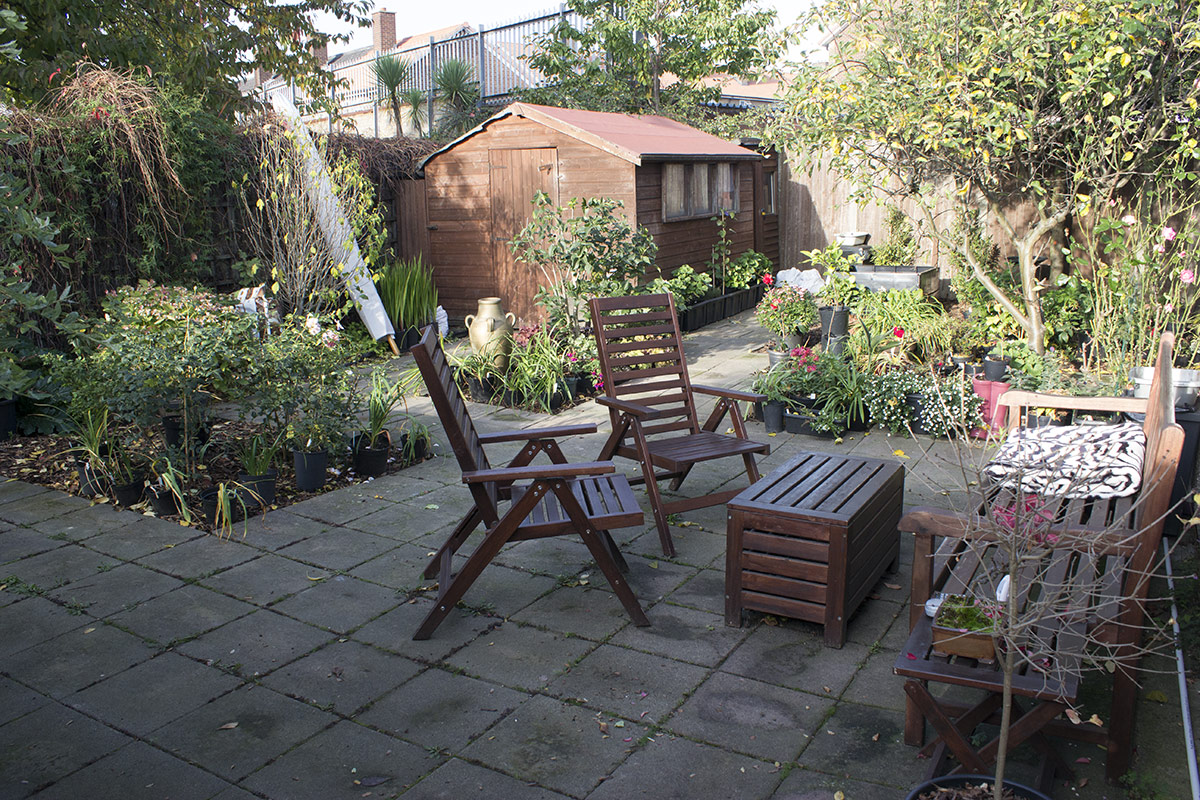 There are leaves everywhere in my garden and in my previous garden I didn't have any deciduous trees so I am not used to having this amount of leaves around.
But the leaves are still mostly on the trees so there are lots to come down yet. I might just leave them for now – if I can manage the look of them everywhere on the ground, my garden is my second living room, I don't like to have it untidy and if you are a frequent visitor you will never have seen my garden with lots of dead leaves lying around, not my previous garden anyway. This garden is different though, here I possibly just have to let things slip a bit. I have swept up some leaves already, but I won't be going around doing that every day.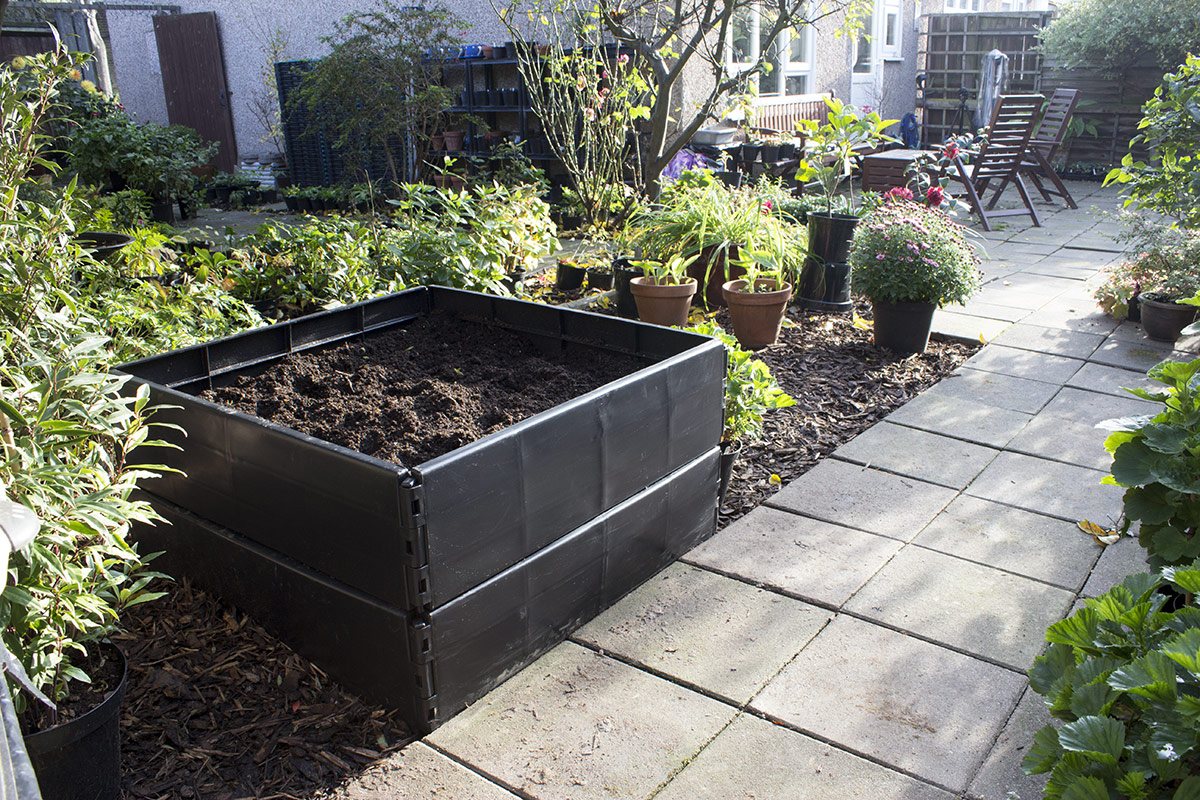 I have been concentrating on this end of the garden since last time, here is my raised bed, isn't it great? It is made completely out of recycled plastic so will last for years to come and for those these things are important to – it is also British made. This is actually 2 beds stacked on top of each other and originally I had intended to have them next to each other with a small path between, but after having tried out how they stacked up I decided I wanted a tall one. This height is so comfortable for me, with a height of 50cm for the two squares it is perfect height to sit next to on my stool. The bed measures 1 m2 and filled it takes 460 litres of soil. You can even get a plastic canopy to fit the bed to protect the plants in early spring and a mesh cloche to protect for example fruits and berries from being eaten by birds.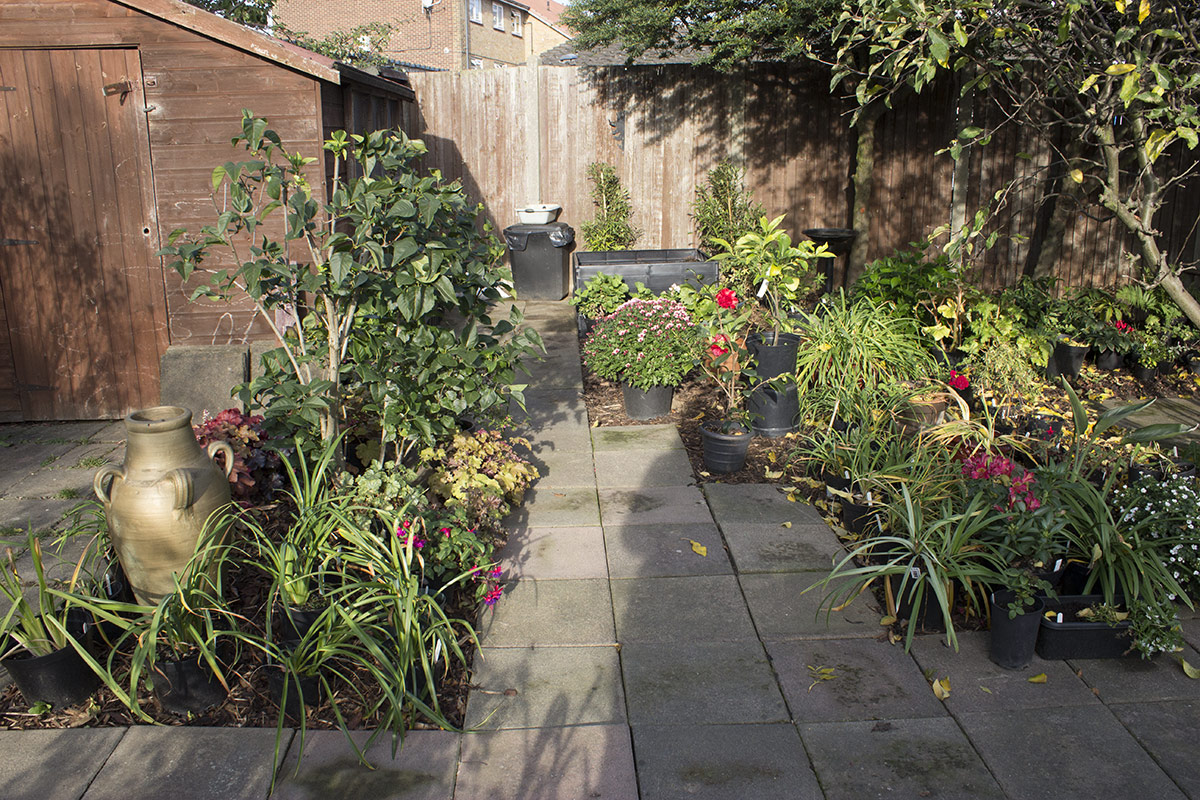 From the seating area the raised bed blends in nicely and I would love to have another one next to it. The soil I have filled this one with is all the soil from removing the lawn and some used compost I had. There is still room for some more soil and as soon as I start planting I will get plenty of spare soil – so much extra that I won't know what to do with it. Every time I dig a hole for a plant I will end up with some extra soil. I think it could be good to have another raised bed to tip the extra soil in :-)
Do you remember from my previous post the fence colour I was thinking about using for my fence and shed? Well, I am still thinking about it, but I have got as far as buying a tester pot and painting a few spare boards that was in the shed. I also took off a panel behind the shed to have one piece with the brown fence paint already on as those I found in the shed were untreated. It turns out that 2 coats of this paint look exactly the same on untreated wood as on the piece with brown painted wood. Phew! I could not see me stripping shed and fences down before painting, and I would certainly not have been sanding it so I guess all I need now is to buy some paint, have lots of patience, time and good weather....there's a lot to paint!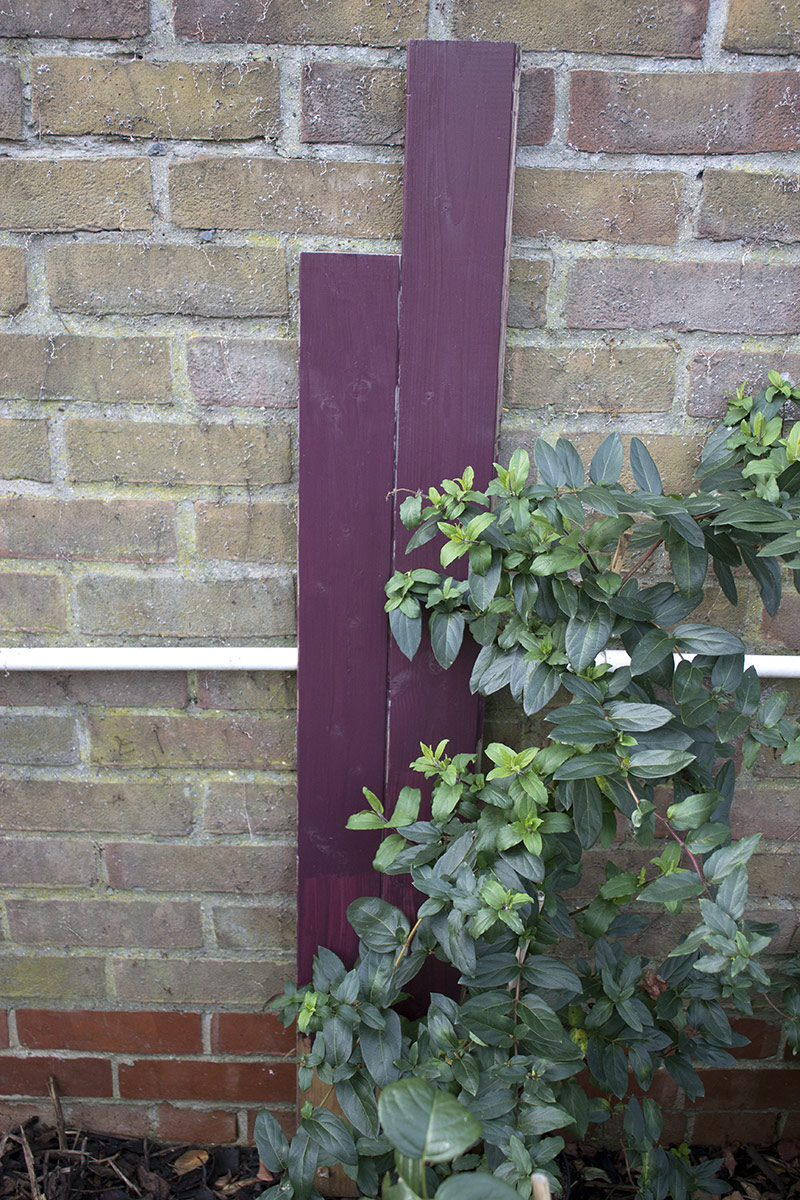 The colour is called 'Summer Damson' and I think it looks great together with green and most flowers in my garden, it even looks good next to the wall in my garden, although possibly not so good against the 3 rows of red bricks at the bottom of the wall. Those red bricks will mostly be covered by plants, and if they end up sticking out like a sore thumb I can always paint the red ones. The wall has a purple/pink tint here and there, and the fence colour actually emphasises this rather nicely – this is no Photoshop colour correction, the wall looks like this, more or less depending on the light.
The view from the back gate is getting better after I have slimmed down and pruned those two ceanothus', since then I have tried to get rid of some of the roots in the ground from the bushes I cut down earlier in the summer. I have been hoping that some of the roots would be nice looking and possible to use for decoration but so far everything I have dug up has been looking rather grim.
Imagine how relieved I was when I got this one cleaned up and realised it actually looks exactly like I was looking for! This is a root from a buddleia – who would have thought they could look like this underground? But before you start digging up your buddleias, this one is possibly 15 years old or more so if you have a young one it might not look anything like this. I hope to find a couple of more and they are all going to end up in the shade garden as part of an idea I am working on.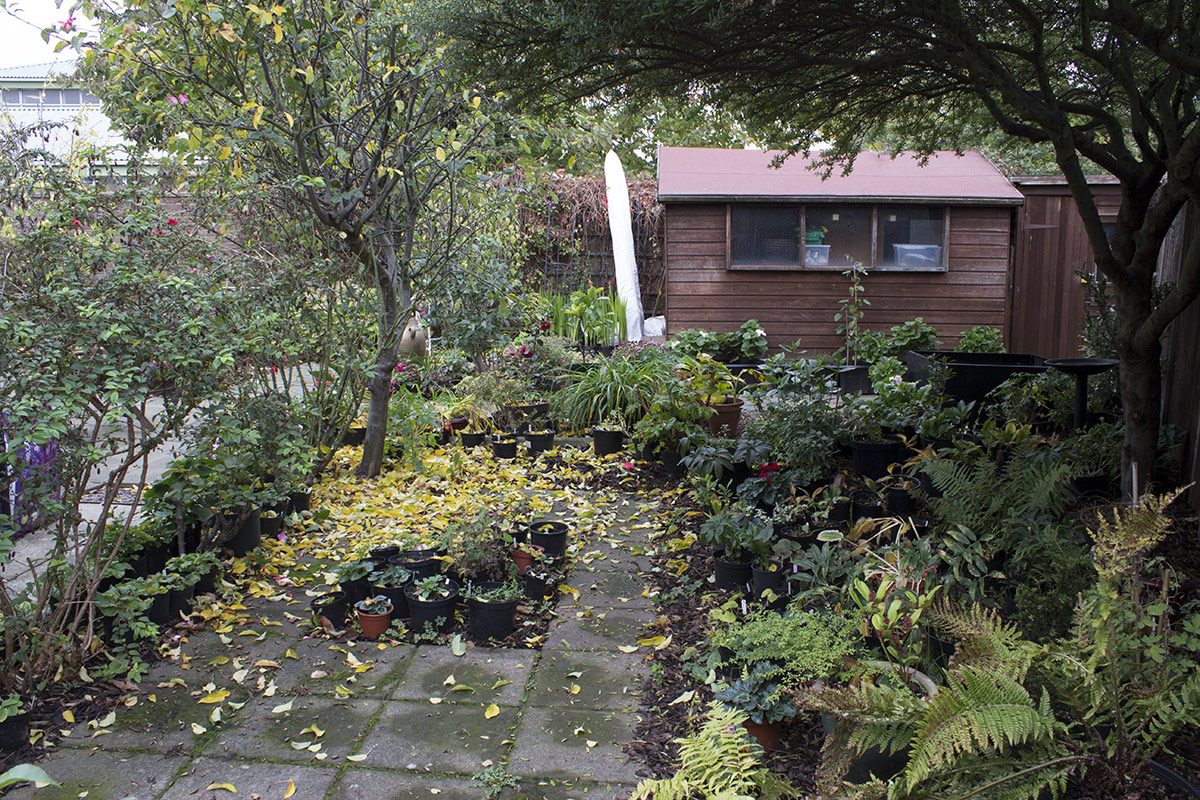 And here is the shade garden, you can hardly see the ground for leaves at the moment, but once it's all gone it will be easier to maintain. I am going to start planting soon, and I have been chewing over what to plant in the square in the middle here, the paving slabs here are cemented so I can't move them unless I break them – I will have to work with this layout. So I have an 80cm square in the middle of this area where I would like to plant something and it would be nice if some of you could come with suggestions. It will be important to me that this square has all year interest and flowers all year round. It needs to work long term so nothing that grows out of the space in just a few years. And it needs to be low growing so I can walk on either side. It's rather shady in spring and summer, much more sun in winter and early spring before the leaves are back. Suggestions are appreciated!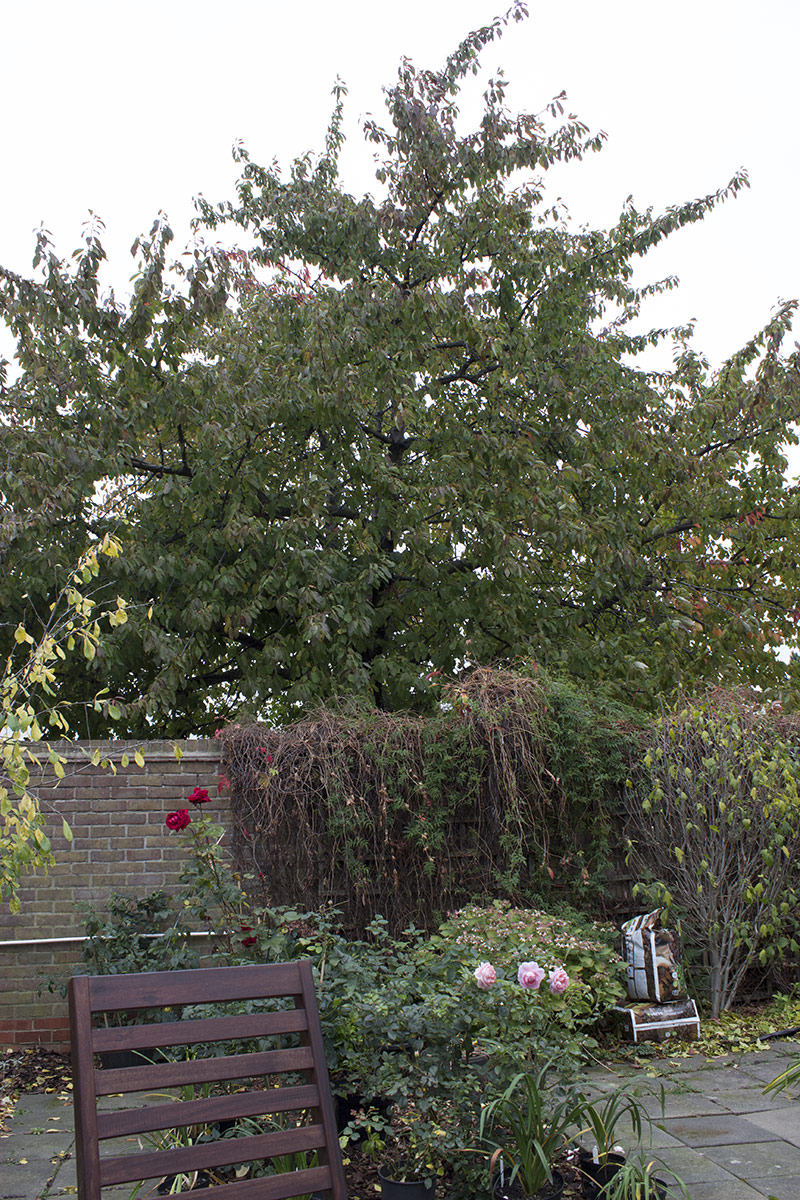 In terms of leaves on the ground, I guess the majority of it is yet to come as the cherry tree has barely started to turn. When this tree starts to drop I am sure at least half of the leaves will end up in my garden even though the tree is growing just outside my garden. I have decided to start making leaf mould and I have already filled one bag. I was never able to do that in my previous garden, there were not enough deciduous plants there and no deciduous trees, and I didn't really have any space to store bags of leaves for 1-2 years either. But here in this garden it will work just fine.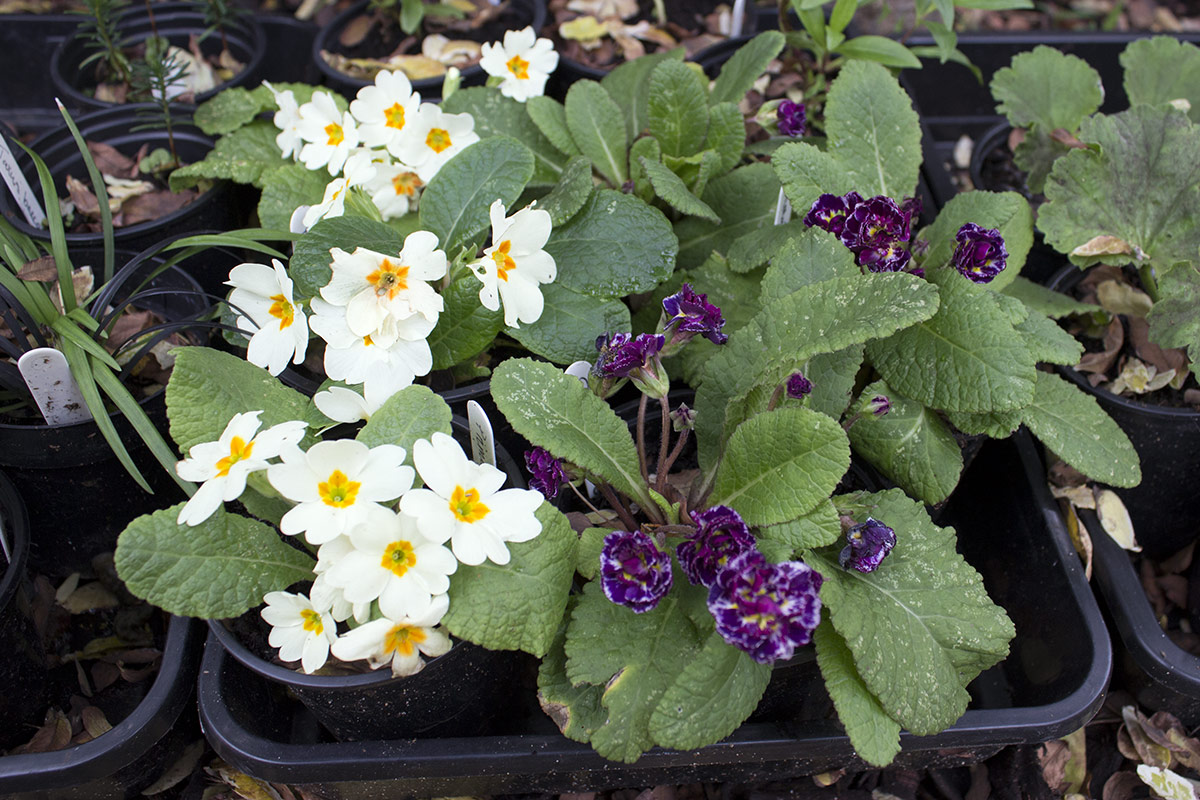 Let me show you some flowers too, on my last post some of you were surprised I have primrose in flower at this time, in my garden that's perfectly normal and I have that every autumn. Primula vulgaris starts to flower in September and goes on until June or so, slowing down a bit if we get really cold weather and then picks it up again as soon as it gets milder. If we have a cool summer they will flower non-stop without taking a break. The longest I have had cream coloured Primula vulgaris in flower with no break was for 34 months.
Alstroemeria 'Dandy Candy' is still flowering.
And as for long flowering, take a look at the rose I inherited. The leaves are riddled with blackspot and most have fallen off, and yet it is flowering. LOTS.
Rosa Wildeve is still flowering too, I think it is pretty happy having been planted in the ground last month.
One plant that is still in a container is Penstemon Pensham 'Amelia Jayne', and this one is a rather large thing to plant, standing in a 30L pot. That's going to be a BIG hole to dig.
And I know I keep banging on about my winter flowering camellia, but it is just gorgeous! Camellia japonica 'Takanini' will go on producing new flowers until May or early June next year.
My only chrysanthemum has a much shorter flowering period, I got it as a birthday present 5 or 6 years ago and it was in flower when I got it. Since then it has only once flowered in time for my birthday on the 9th October, the rest of the years it has started later – like this year, in last week of October.
Chrysanthemums are short flowered compared to camellias, but I like this flush of flowers late in the autumn when other plants are bedding down for the winter.
Tricyrtis 'Empress' is continuing to impress with its flowers, I can't get enough of these amazingly intricate creations.
And here are the last two sweet peppers from my garden, safely harvested and now tucked up in my fridge - although they won't last long there, they will probably be gone by the end of the week :-)
I have a video from my garden for you again, you can either view it here or you can go to my
YouTube Channel, Helene U. Taylor
and watch this video and all the other videos I have made from my garden over the years. I filmed the video today in glorious sunshine and 19 degrees C, we have had nice and sunny weather for quite some time with only a few days of rain here and there. The warm weather today is not a record, Halloween last year was a record for London with 23.6 degrees C. But 19 is not bad for the last day of October :-)




The music was Poème by Secret Garden.
Final two pictures are of my cat who is 14 years old next week. He is a great companion and follows me around everywhere.
Whenever I am in the garden he likes to lie on a throw on the garden bench and just observe and keep track of what's happening, or as you saw in the movie, his new favourite spot – my rubbish bins in the front garden. On top of them he can lie and bake in the sun and see everyone coming and going including all the cats in the area.
Until next time, take care.