Autumn has arrived in London, it is either cold, crisp sunny days or hammering down with rain. The nights are chilly and my garden has started to die down here and there. I can't really believe it's only 2 ½ month left of 2012 – we waited so long for the spring that never really arrived, then we waited forever for the summer too and now it's all over. Well, nothing is really over in my garden, I have plants in flower every month of the year, but the winter is going to feel very long after a spring and summer like we have had this year.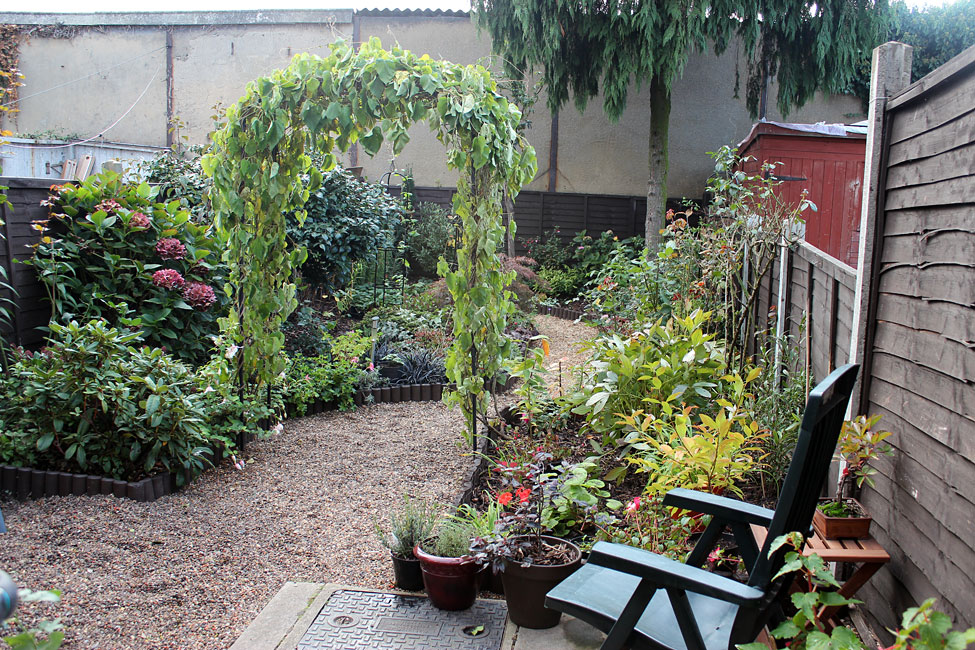 On a distance my garden might look like there isn't much in flower at the moment, but that's just because you have to go a bit closer. The flowers on show at the moment are not the showiest but they are all the more precious just because they flower right now when the days are drawing in and a trip out in the garden is a rather nippy experience. The Dregea sinensis on the arch is about to die down due to the cold weather and looks a bit sad, all the leaves have lost their spring and are hanging down rather depressingly. But I am cheering the process on as it also means getting rid of the unbelievably enormous colony of uninvited milkweed aphids which is happily sapping the life out of layers of leaves and multiplying as if it was a contest. I wrote about these yucky creatures last month, if you missed the post
YOU CAN FIND IT HERE.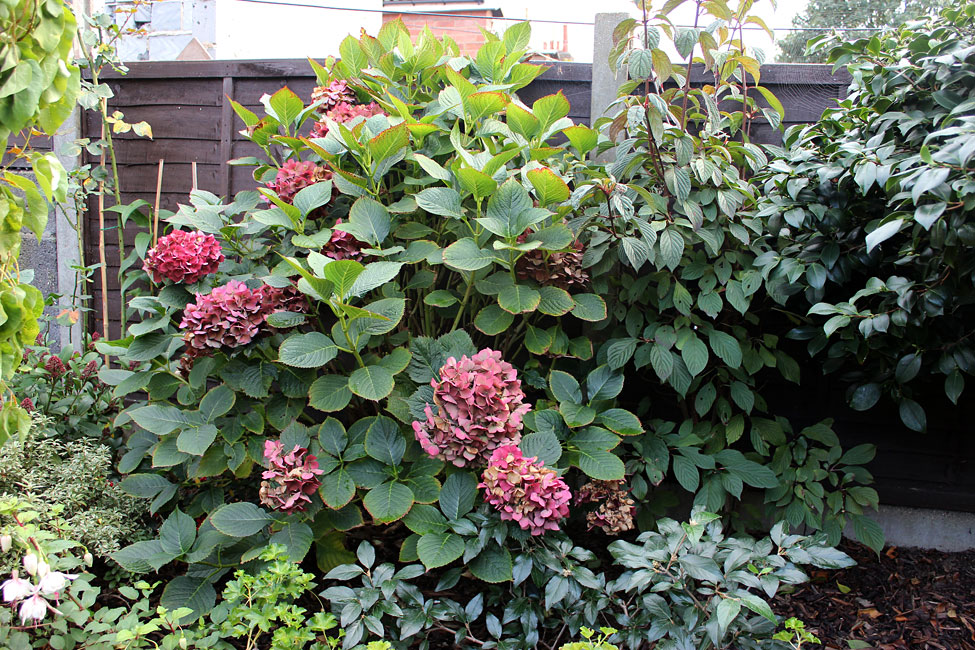 And now to what's flowering in my garden. After all it is Garden Bloggers' Bloom Day, and I have lots of plants in flower, once you get a bit closer. My Hydrangea 'Blue Wave', which incidentally turned out dark pink this year, flowered late due to the late spring, but as all mop-head hydrangeas it keeps its flowers and doesn't drop off the petals. That is such a nice feature I think, no bending over to pick up petals on the ground – I just leave them on all winter and snip them off when the new buds are forming in early spring. The flowers go off to a delicate porcelain look when they age and I think they look beautiful even at this stage.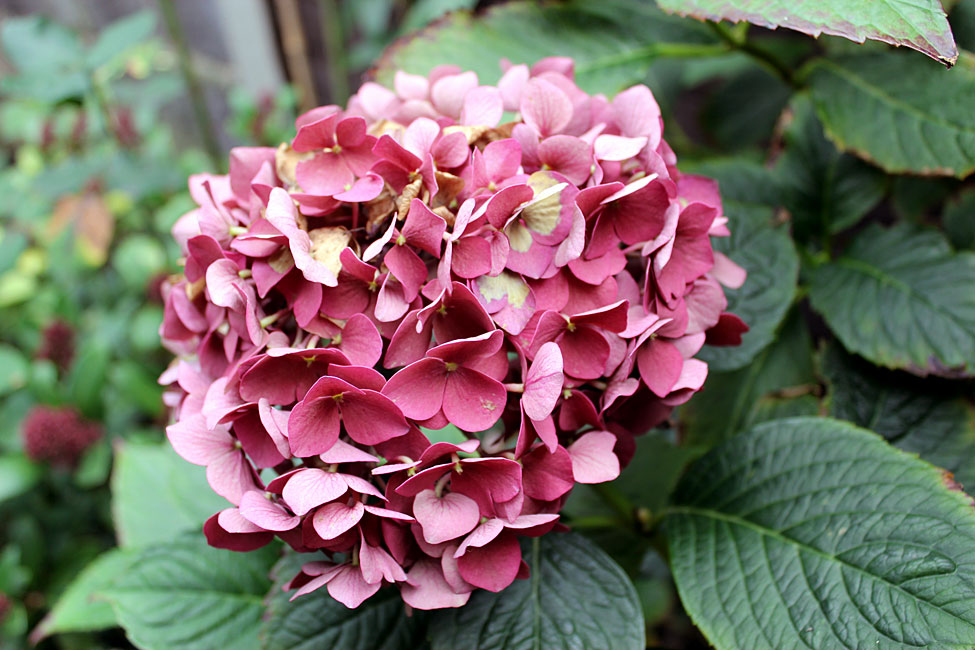 Hydrangea 'Blue Wave'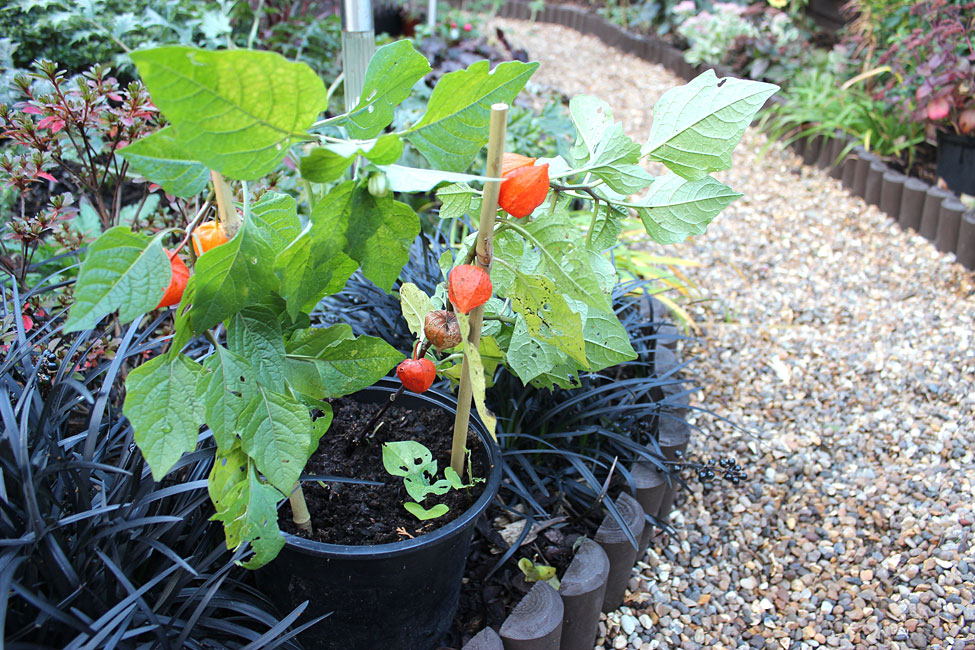 My experiment with Physalis Franchettii, Chinese Lantern almost ended in the compost bin last autumn, as after 2 years without any flowers I nearly gave up the whole thing. Fortunately I decided to give it one more year and lo and behold, it did flower this year. The leaves got badly eaten when I had the caterpillar attach earlier this summer, but it seems like the lanterns were not to the caterpillars taste, thank goodness! This plant is supposed to be a fast grower when it takes off, and a bit invasive, so I intend to give it a large tub next year and not put it in a flower bed. I think it will look great up against the wall in a tub and perhaps give it something to climb on. I am being optimistic now, hoping for a plant at least twice the size next year :-)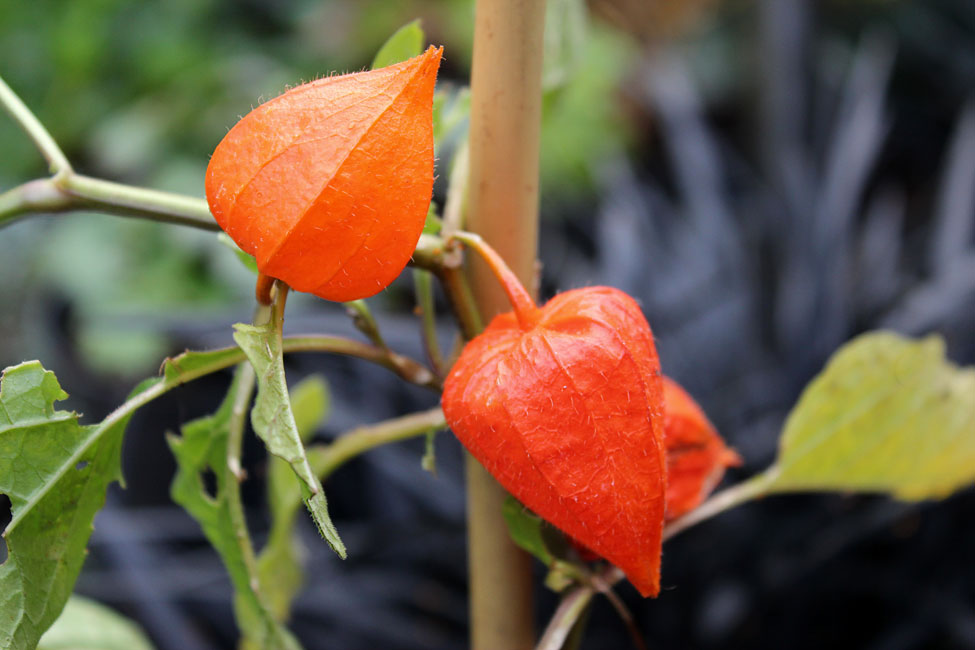 Look at those zingy coloured lanterns!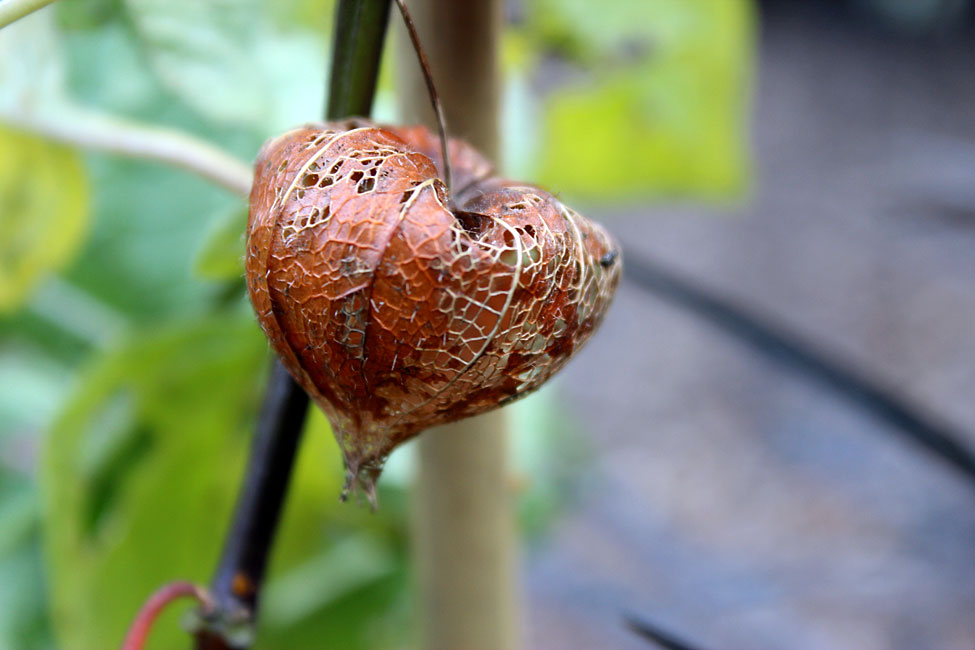 This is how the lanterns develops, slowly turning transparent and eventually revealing the seeds inside. Magical, looks like expensive Christmas decoration :-)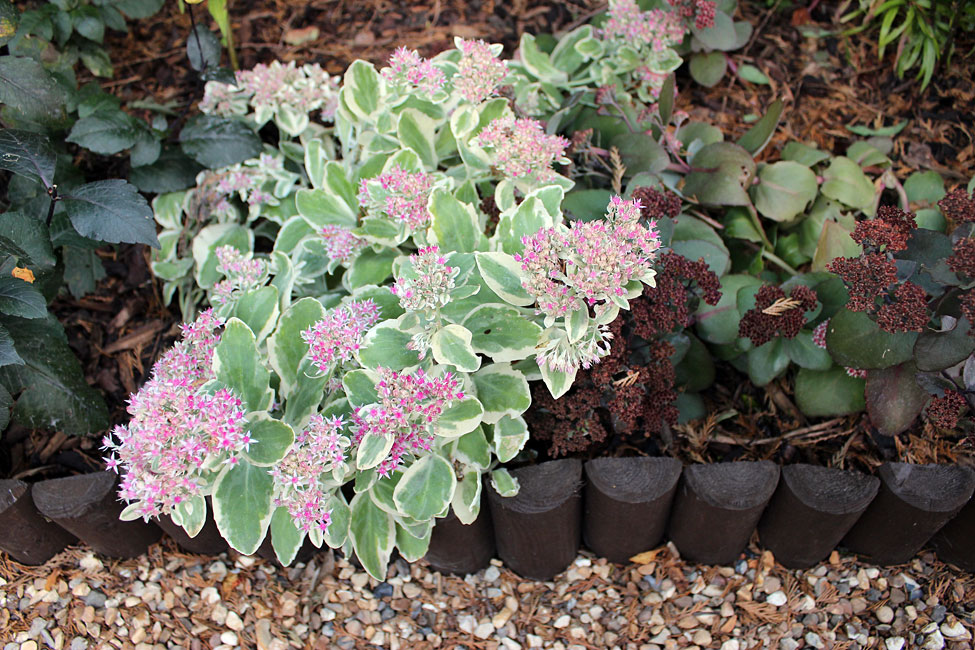 It is sedum time in my garden! This is Sedum erythrosticum 'Frosty Morn' to the left and Sedum Xenox to the right.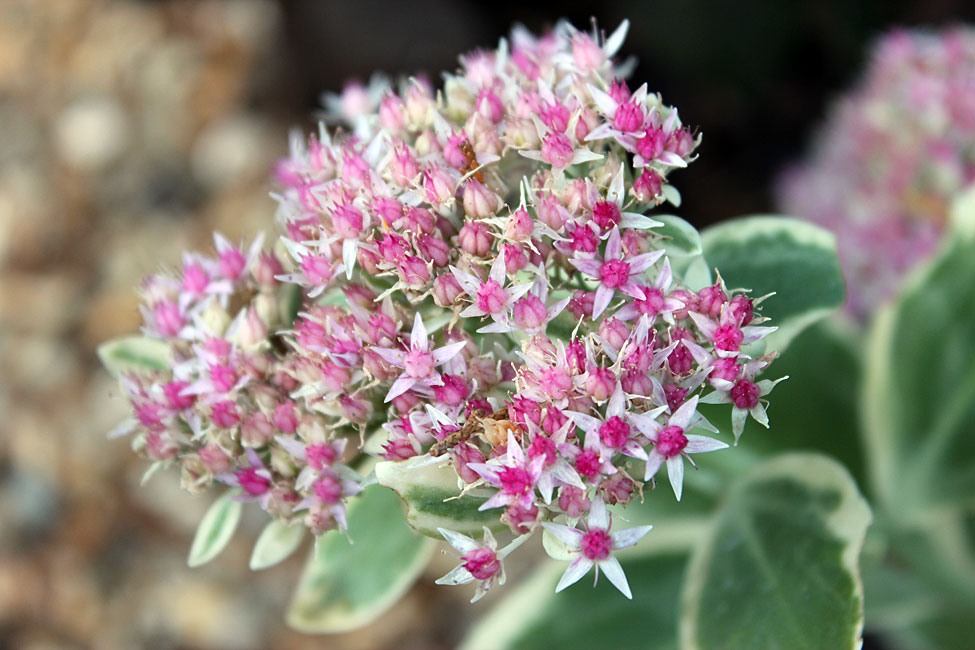 Sedum erythrosticum 'Frosty Morn'.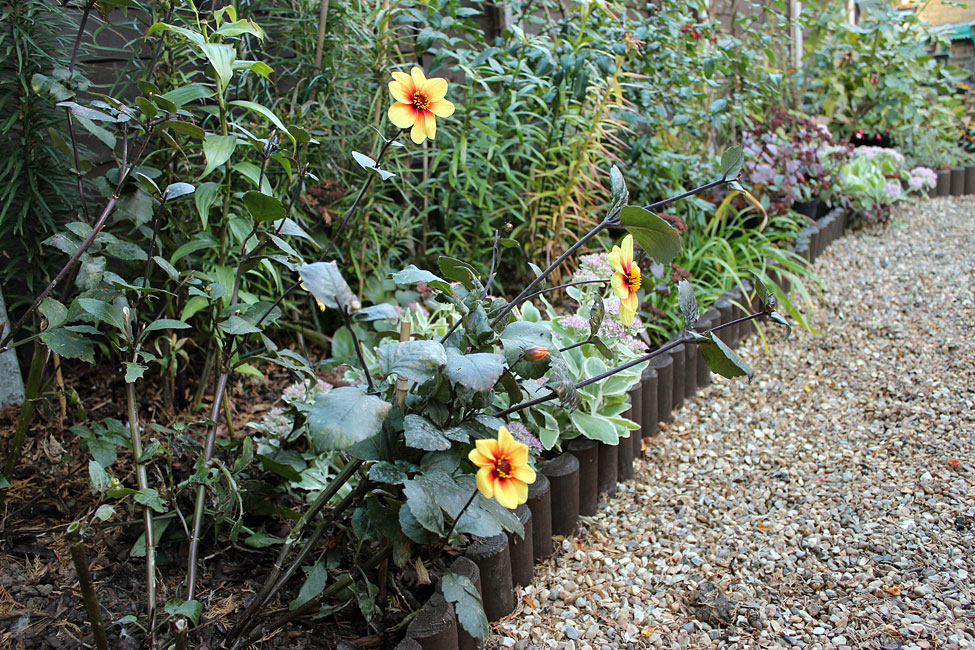 The last of my Dahlia 'Sunshine'.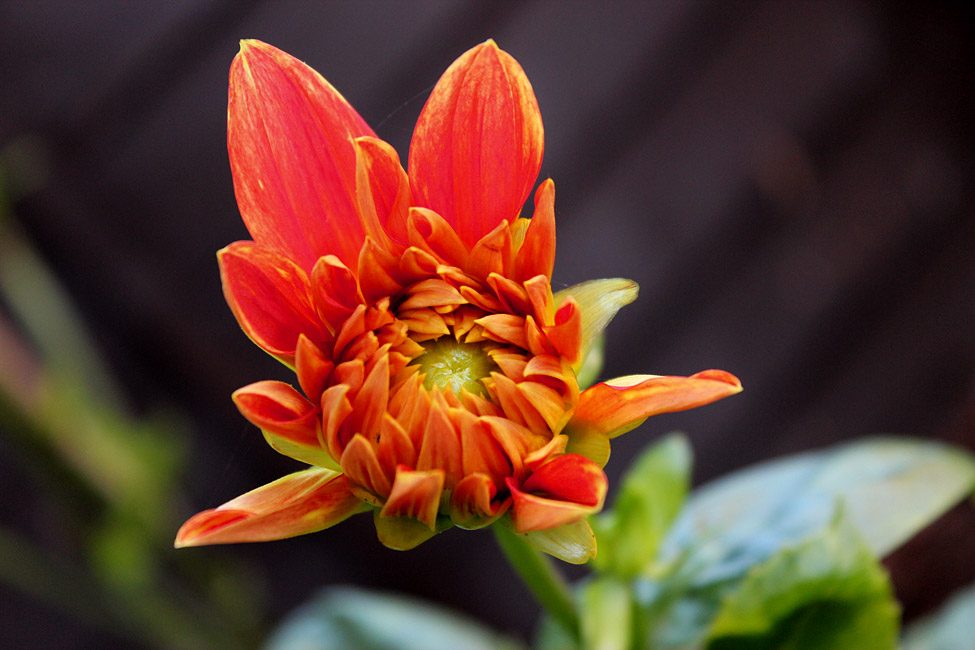 Dahlia 'Striped Vulcan' is still producing new flowers.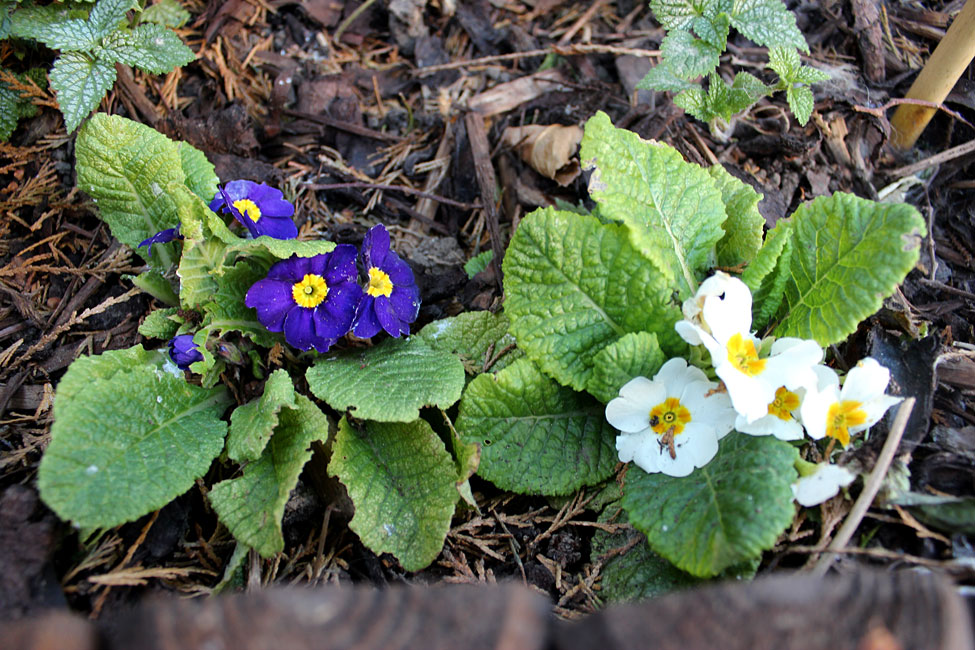 I have 3 old primroses in my garden, but have just got 66 new as plug plants which will be planted around the garden soon. Here are two of the old ones.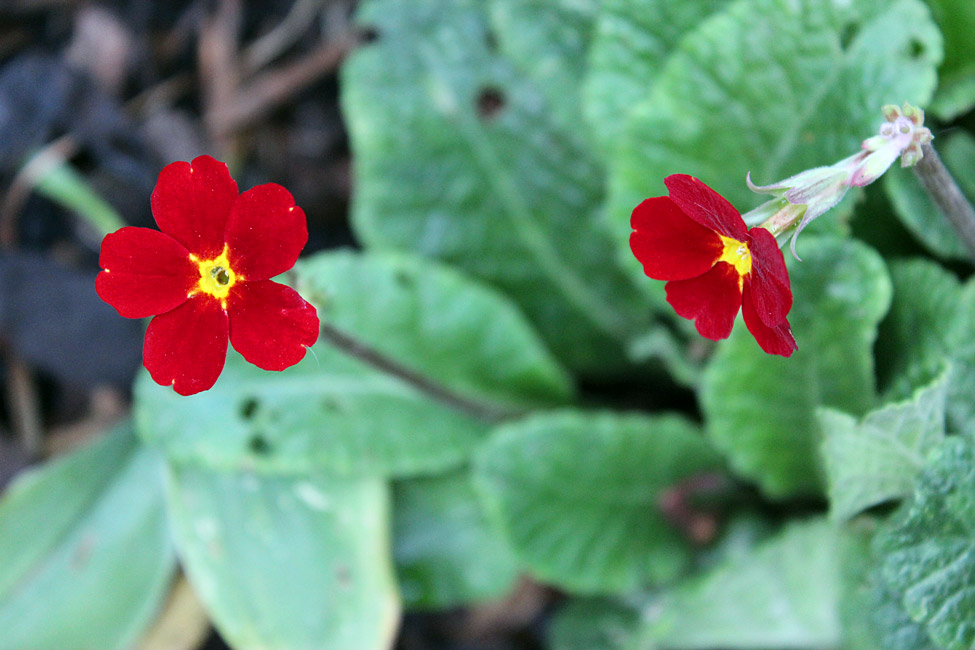 And this is the third one, my favourite, such a rich red colour.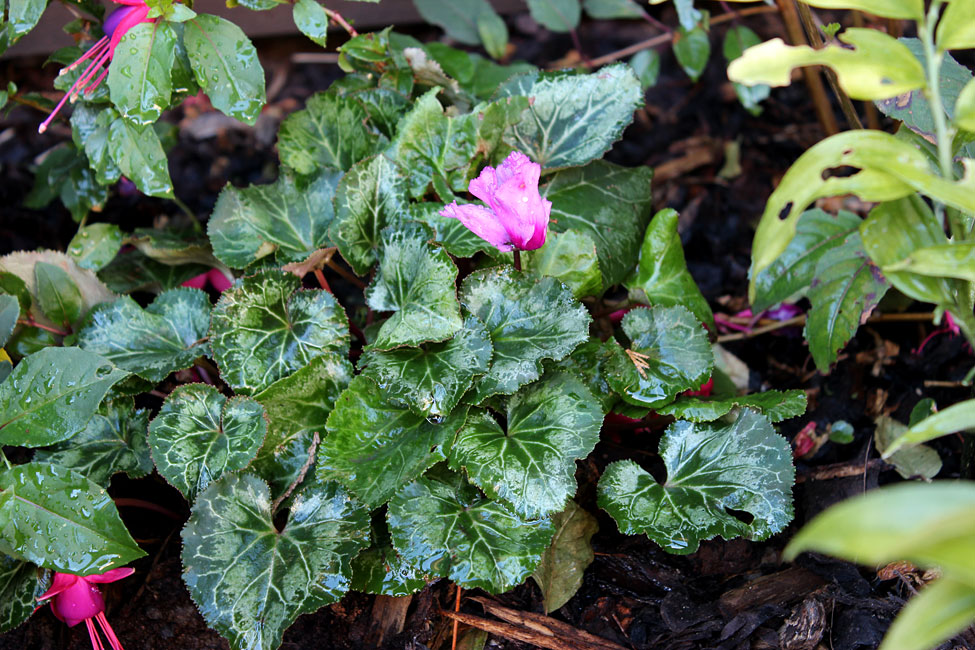 My cyclamens have emerged again, it is always exciting to see how many I get. I let them self-seed and it can take up to 5 years before they flower. This is a self-seeded one that has flowered for many years already. Always the first to flower every autumn.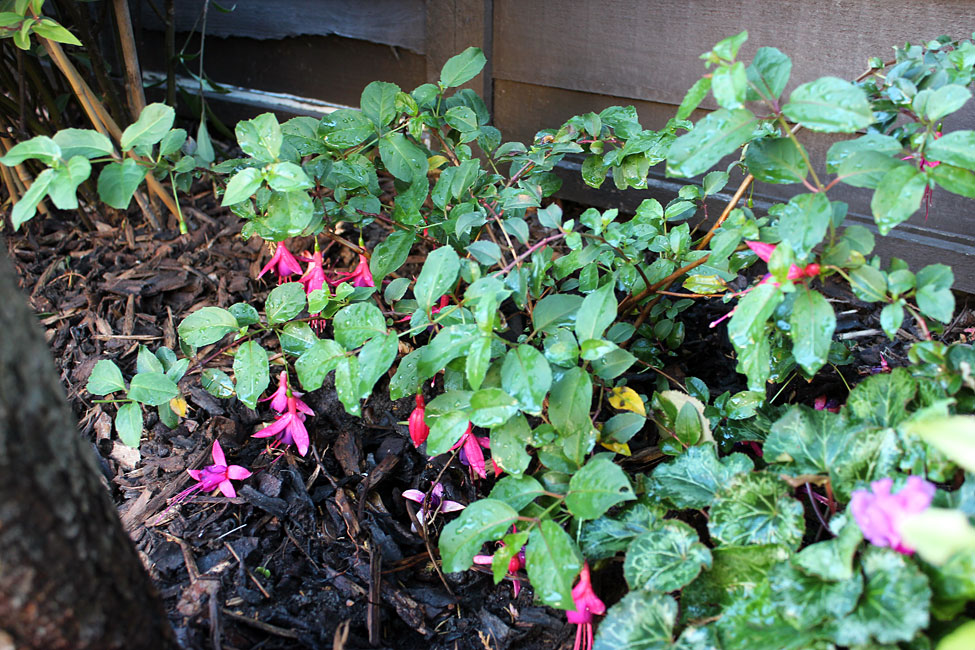 Next to the cyclamen is a new addition to my garden, Fuchsia 'Mrs Popple'. She will in a few years become at least 1m tall and fill in the space behind this tree trunk.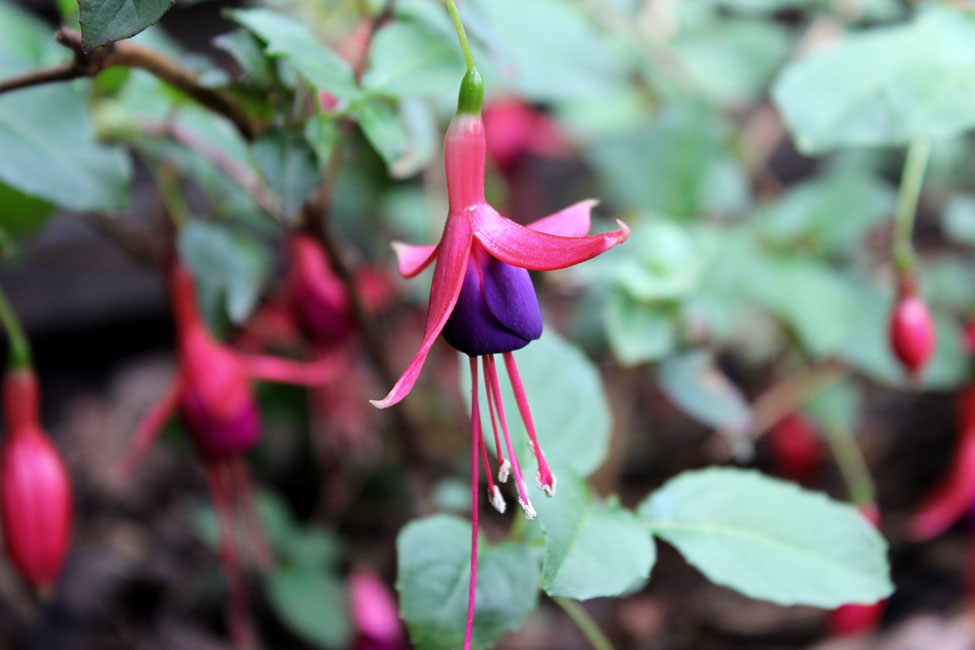 Look at the colours of 'Mrs Popple', you'd be forgiven for thinking I had done a bit of Photoshopping here but this is the true colours of her flowers!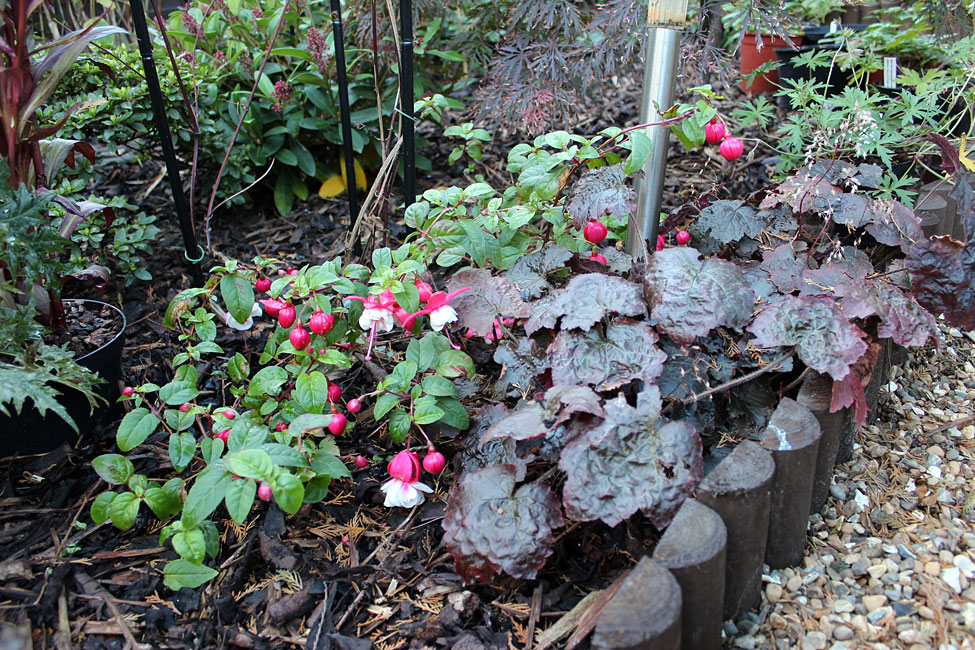 Here is another fuchsia flowering its heart out, Fuchsia, 'Sir Matt Busby'.
I got him in a large pot too. These pots are great to use as fillers when other plants or bulbs have died down.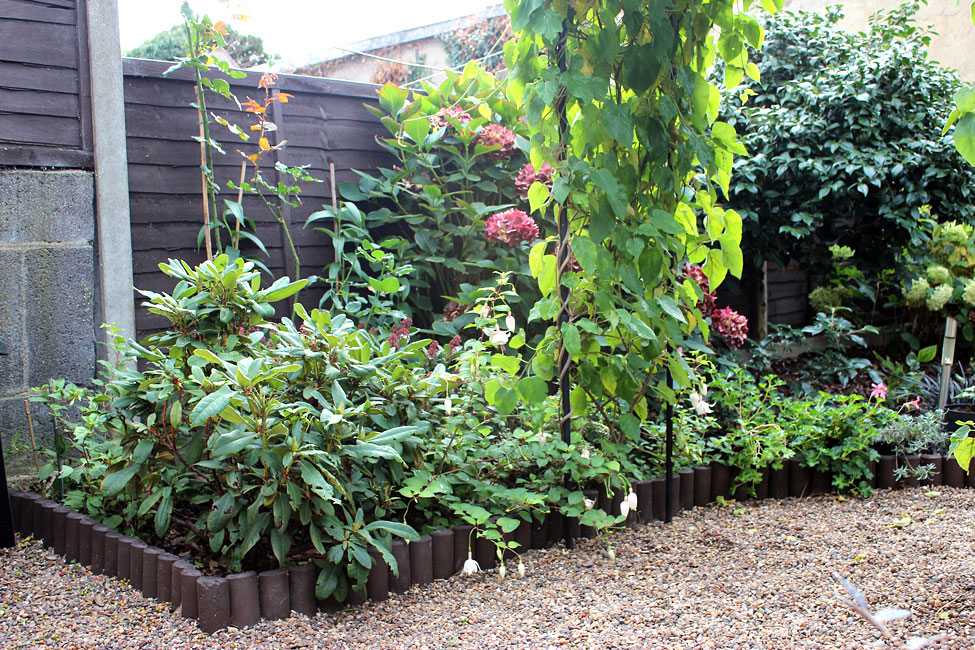 And here are more fuchsias, in the evergreen corner, together with the Rhododendron, Pieris and the Skimmias.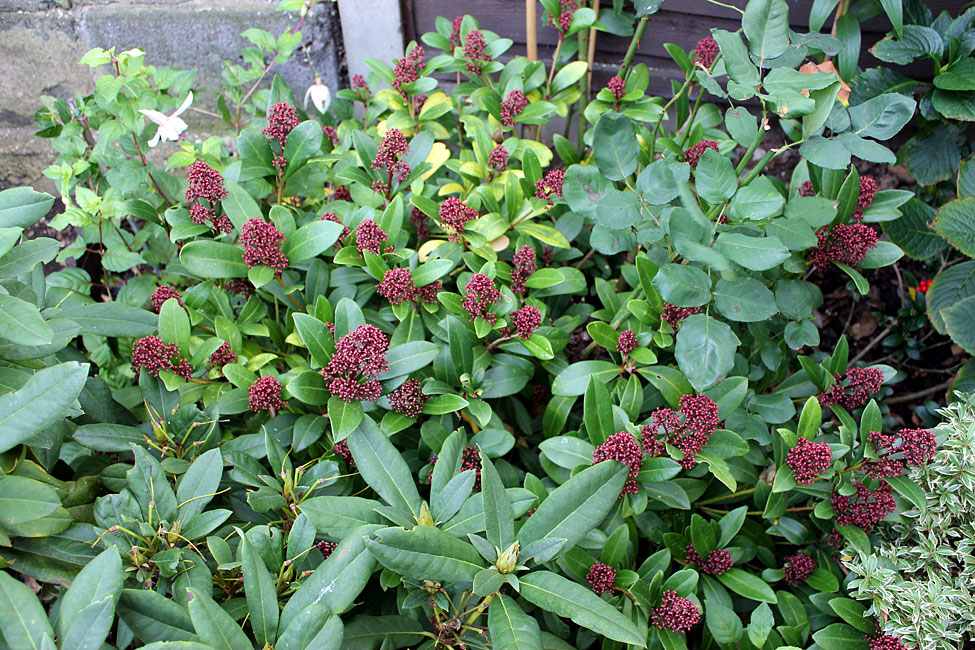 Let me just go a bit closer so you can see the Skimmia japonica 'Rubella', those lovely flower buds are the reason why people buy skimmias, as they stay like this until the spring. The actual flowers are tiny and white and not that interesting, but to have this display of deep red buds for 6 months is quite remarkable.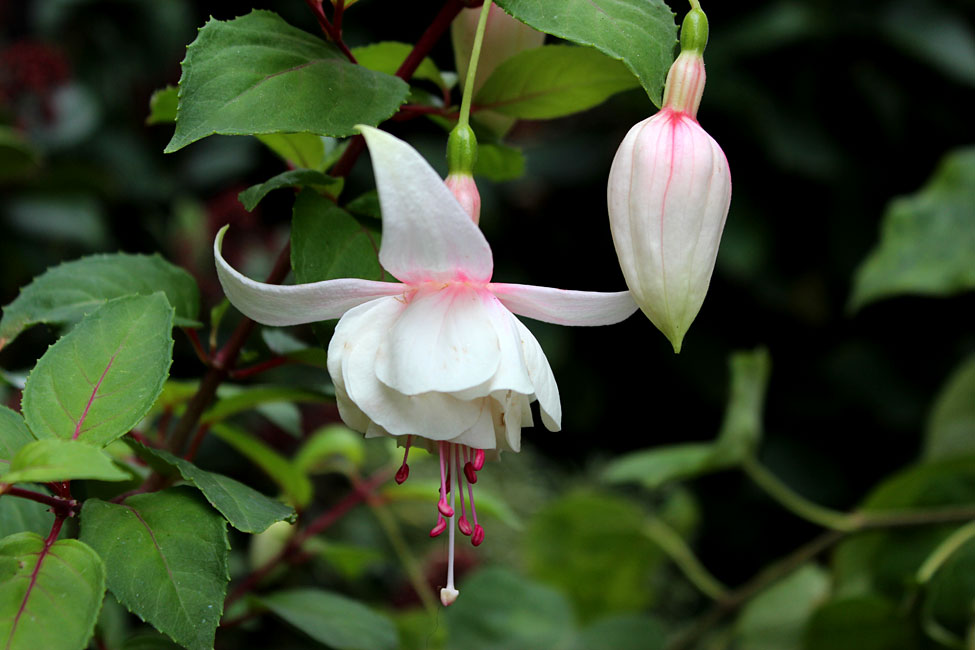 And now back to the fuchsias, this is Fuchsia 'Annabel'.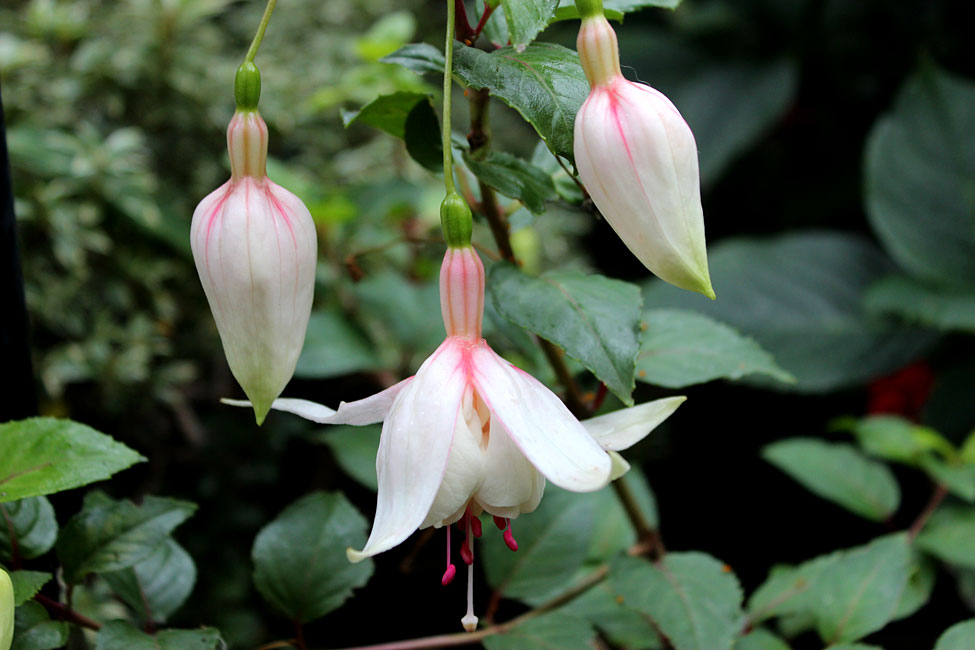 More of Fuchsia 'Annabel'.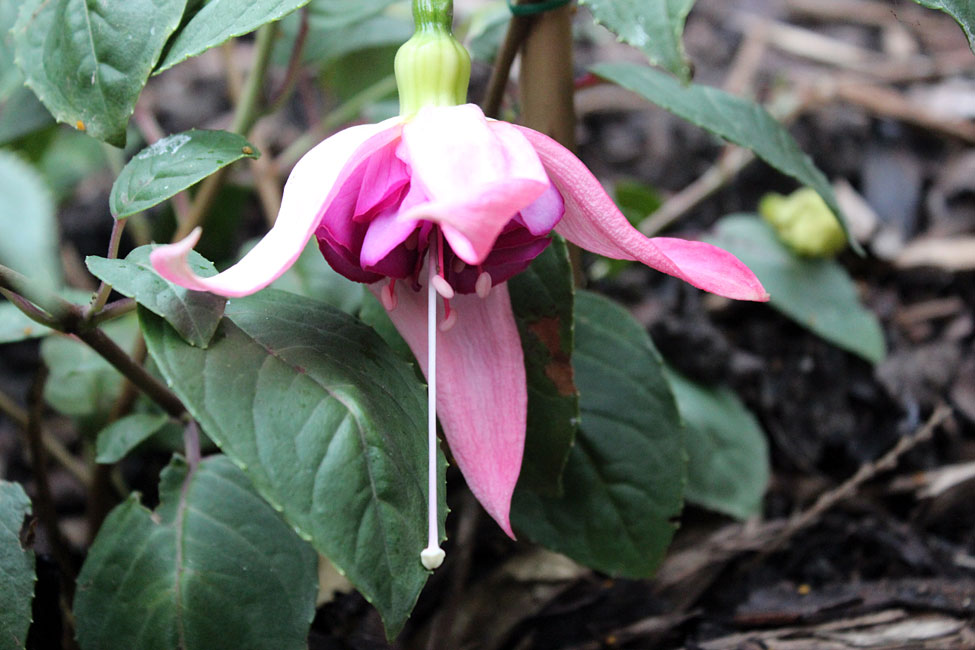 And this is the ballerina in my garden, Fuchsia 'Bella Rosella', with a deep purple tutu just after opening.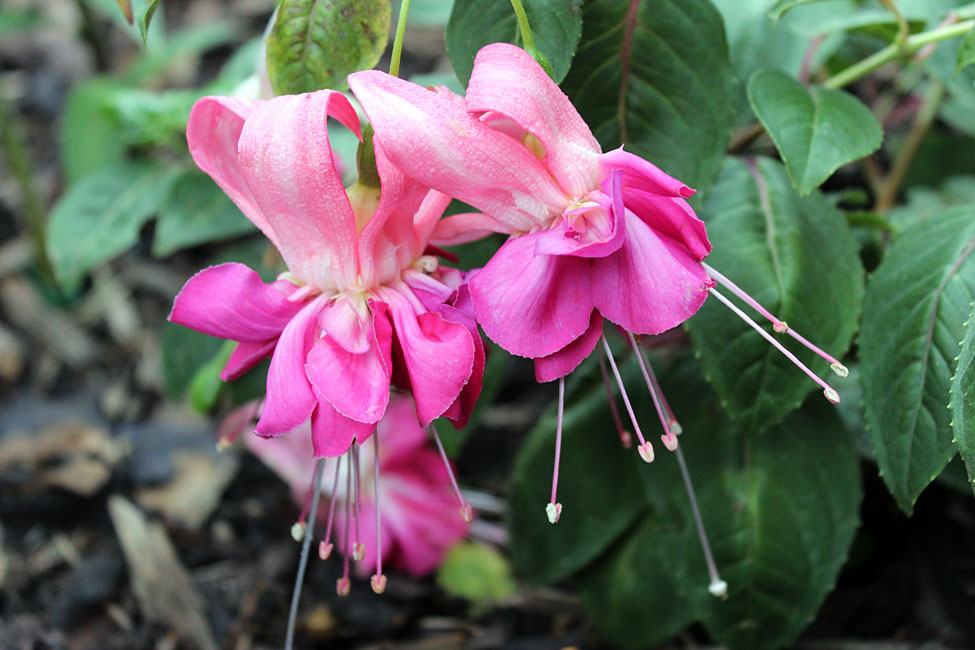 When fully opened, 'Bella Rosella' is more uniform deep pink, and the flowers are as big as the palm of my hand.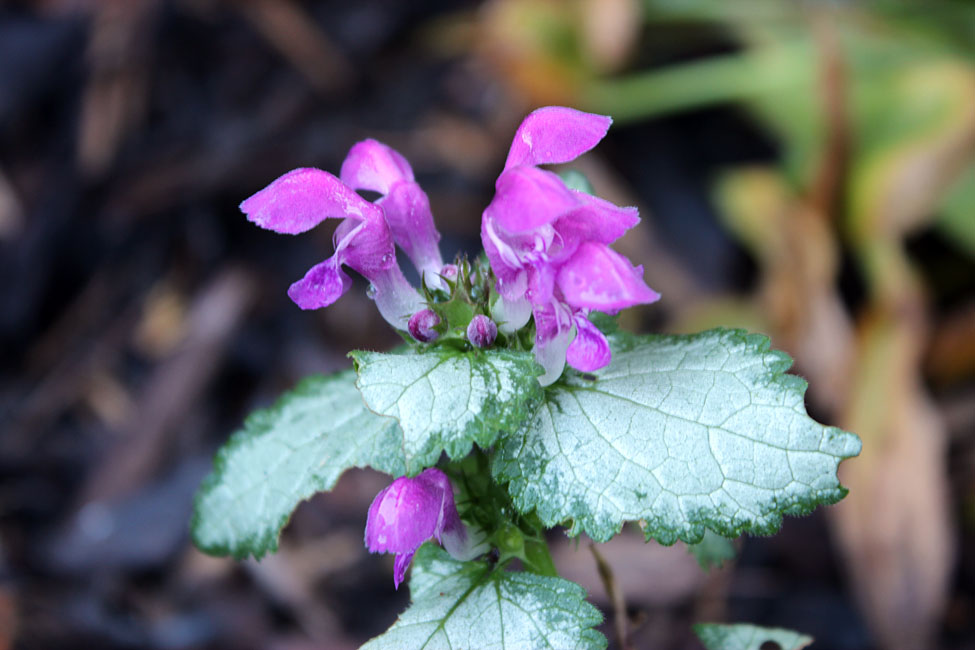 Lamium maculatum 'Beacon Silver' is flowering again, I think it is the fourth time this year, must have enjoyed the dismal weather we have had – great someone is!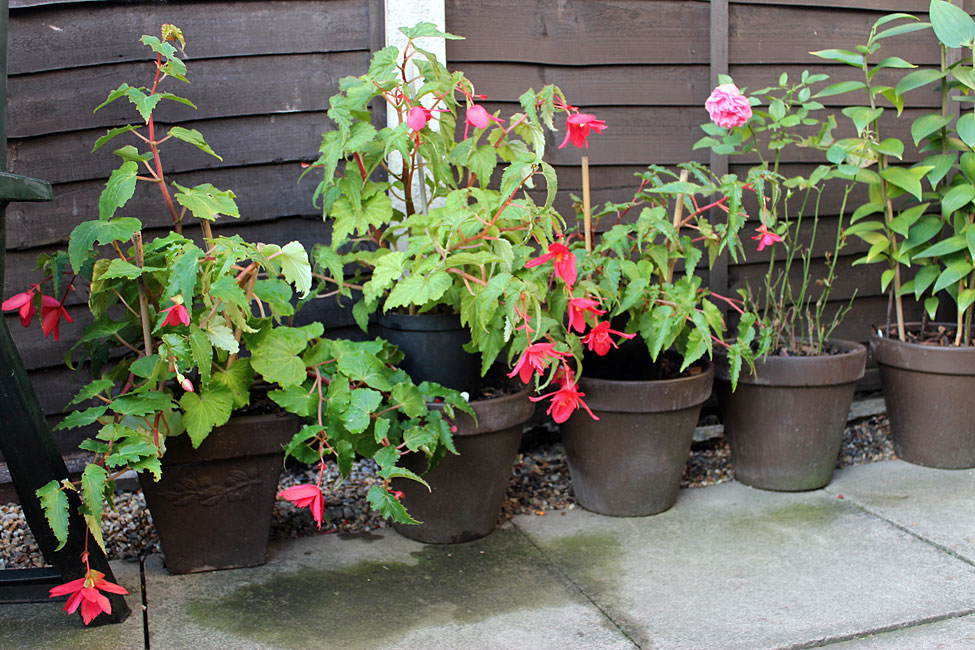 My begonias have not stopped flowering since they started, well, they are called non-stop after all. They will go on flowering until we get frost and overwinter outside. Next to the begonias is the only rose in flower at the moment.
It is my trusty pot rose from Tesco, amazing how these little indoor pot plants can flourish when planted outside.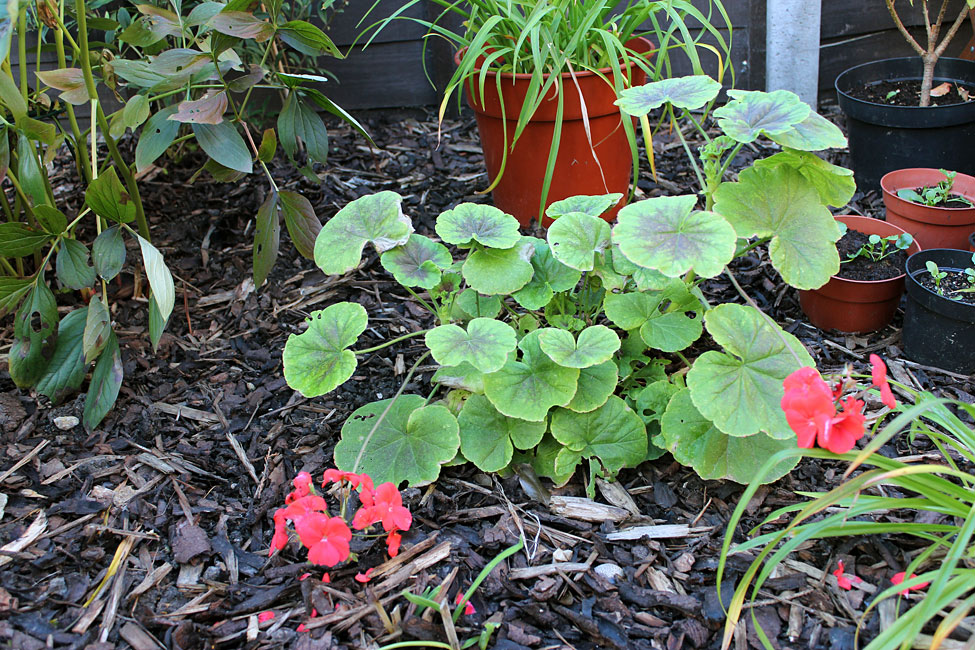 Here is a late bloomer, it was buried under the crocosmia all summer, now that it is gone the geranium has finally started flowering.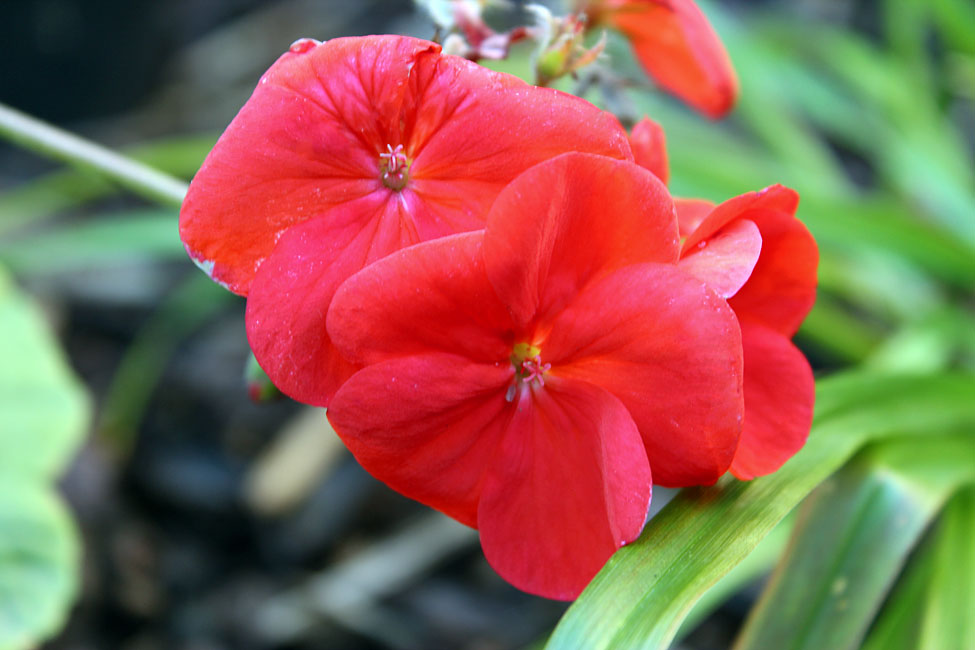 It is called Geranium 'Scarlet' an apt name for this beauty.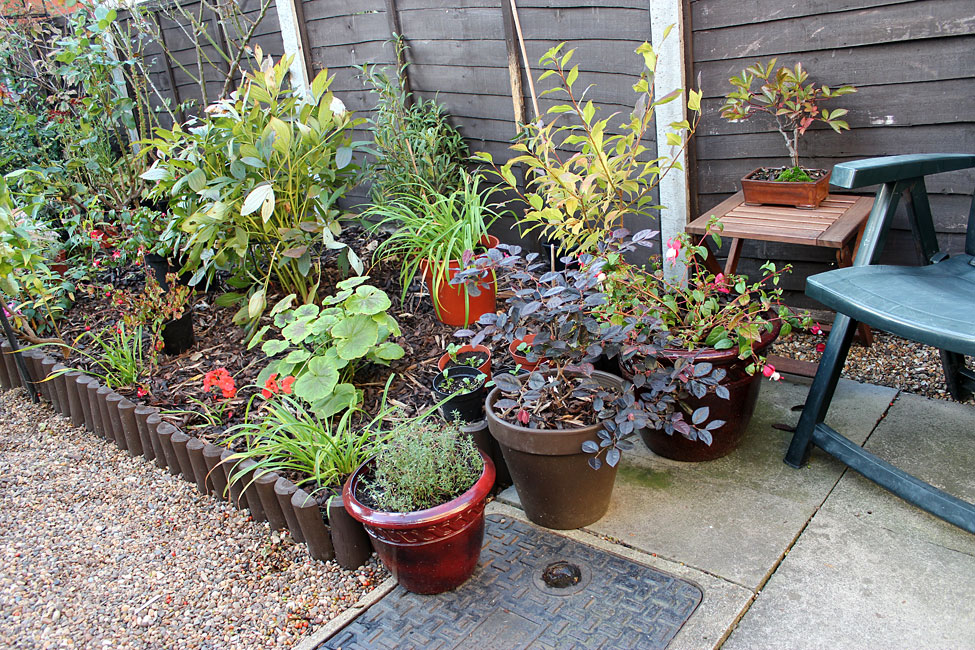 Next to the bed with the geranium are some tubs, one with the only herb that didn't rot due to all the rain we had – a thyme, one tub with yet another Fuchsia, 'Sir Matt Busby' and the tub in the middle is a lovely plant called Loropetalum chinense.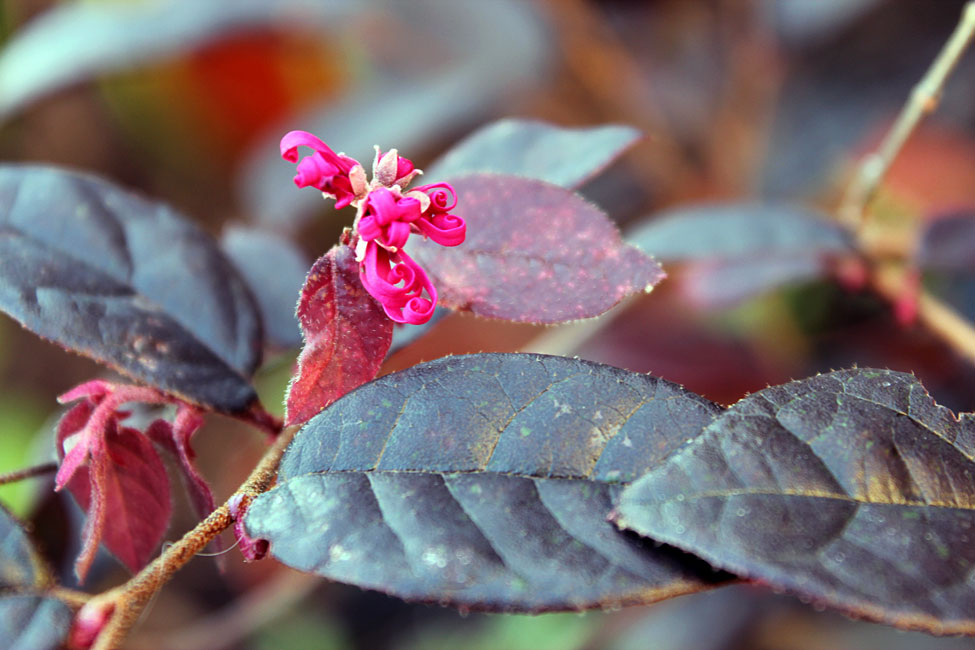 Loropetalum chinense, better known as 'Fringe Flower' has flowered several times this year and is in bud again. Here is the first flower of the autumn.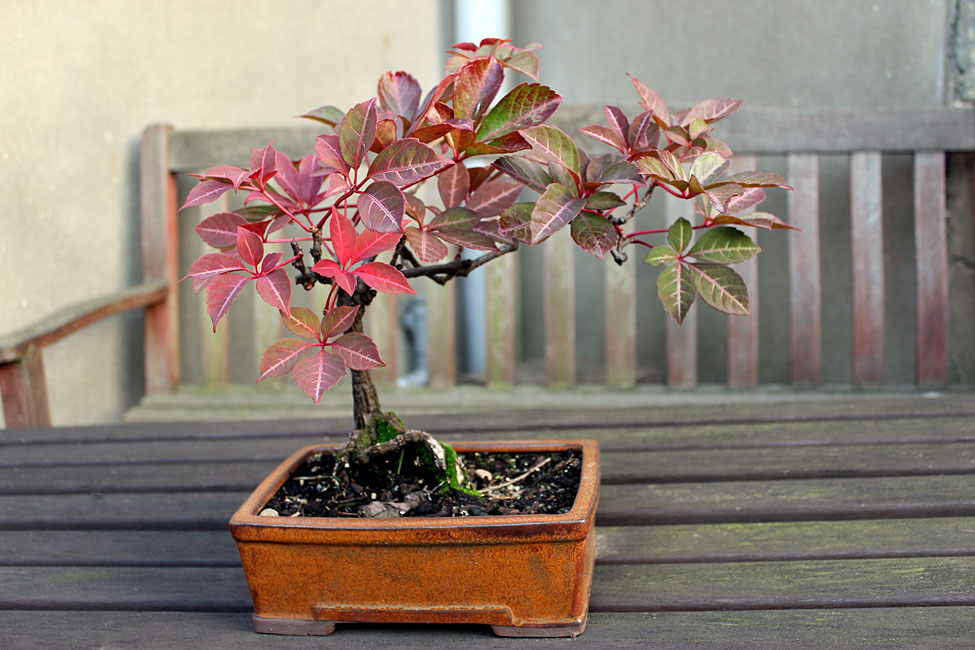 My two Parthenocisus henryana Bonsai trees have started to take on autumn colours. Soon they will be completely red and look absolutely gorgeous. Not exactly in flower, but this variety of Virginia Creeper doesn't produce flowers at all, so I thought I would show it off in its autumn glory instead.
That was a round trip in my October garden, lots of things in flower despite the chilly weather and winter looming around the corner. What do you have in flower right now? The same as me or something completely different? Why don't you head over to
Carol's place at May Dreams Gardens
to see what other gardeners around the world have in flower right now, at this Garden Bloggers' Bloom Day. Until next time, take care.