My apologies for being absent for a whole long week, time just flies away when I am having fun :-) I have been working flat out with my book number 6 and the plan is to send it off to the printer on Monday or Tuesday, just last minute finishing touches and then I am done! But today we had such a nice warm day that I just had to take a stroll in my garden with my camera to see what had happened since last week-end, as I had not been out there the whole week.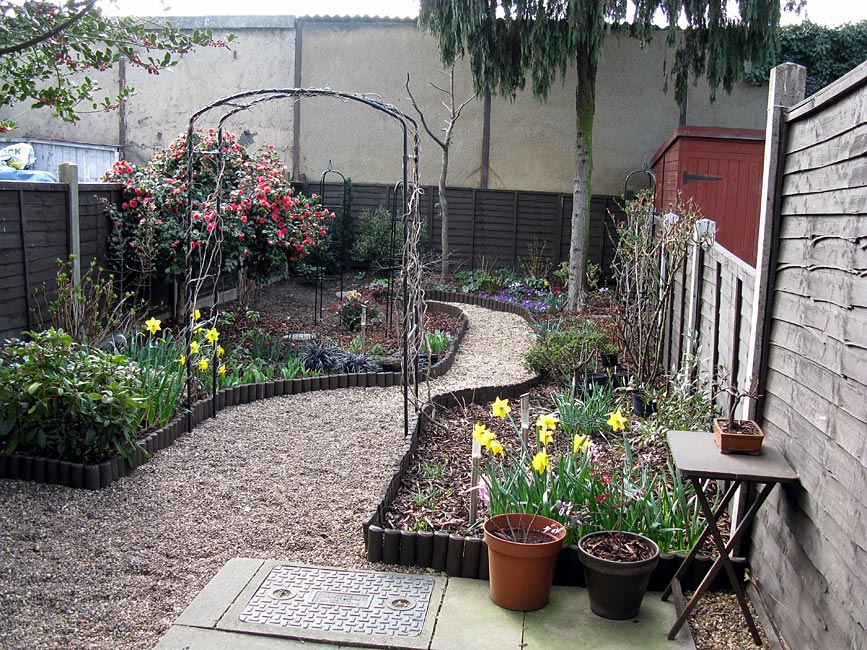 Here is the garden today, with yellow smiling daffodils in the foreground, a blue carpet of crocuses and anemones in my 'woodland corner' and my magnificent camellia in full flower to the left. The camellia was here when I moved in 10 years ago so I have no idea how old it is; one of the few plants that were worth saving when I started clearing up the garden. I would guess it is around 30 years old but it could be much older than that. It produces an abundance of flowers every year and all I do is a light pruning every other year or so.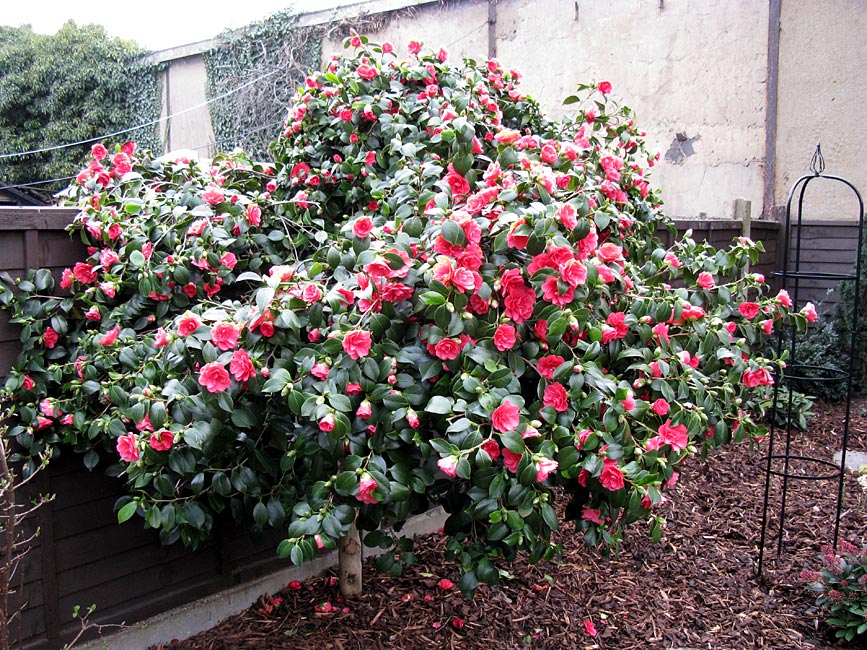 I have pruned the camellia hard a couple of times, just to keep it in shape as it doesn't grow much in height, and it tends to grow much more on the side where it gets sun light, and very little on the almost completely shady side. At one point it seemed to nearly topple over so now I trim it to make it even. As long as it is pruned right after flowering it doesn't affect the flowering next year, in fact it seems to just increase it, as I have much more flowers than the camellia two houses down which seems to never get pruned. I have never given it any fertiliser or any kind of feed, and I don't water it in the summer. Being one of my many evergreens I couldn't have an easier and prettier plant in my garden!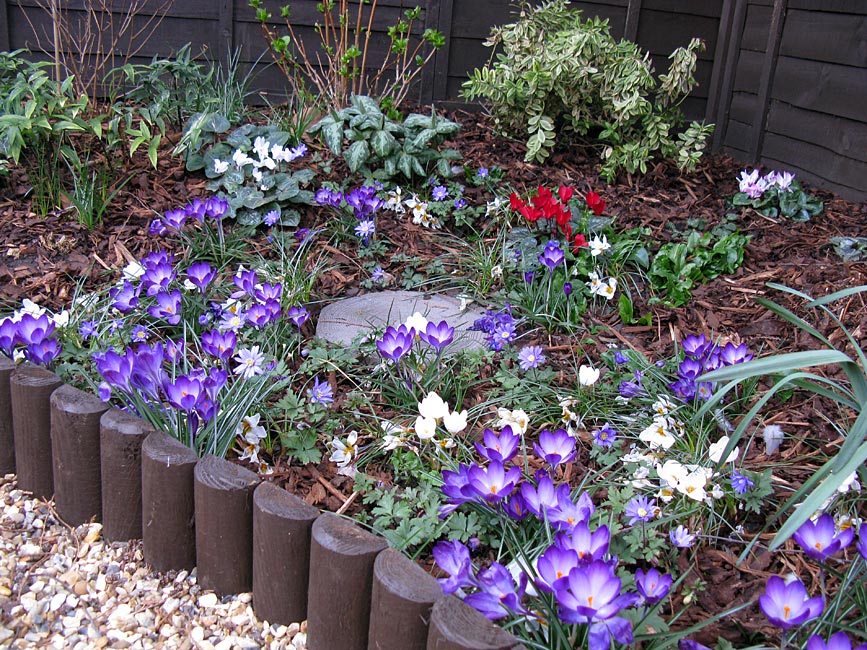 My crocus display has changed colour! It started out as white, then it became a mix of white and blue, and now almost all the white crocuses has died and the blue ones has taken over, and in between there are loads of anemones in different shades of blue. It is so pretty, just how I intended, I am quite chuffed it actually turn out to be like I wanted it! Now I just have to wait and see if all the Arisaema amurense are going to come up too, in between the anemones, not sure if they liked to be transferred from the pot they were growing in, but there should be loads of them too starting to come up in a few weeks time and that will complete this woodland corner of mine :-)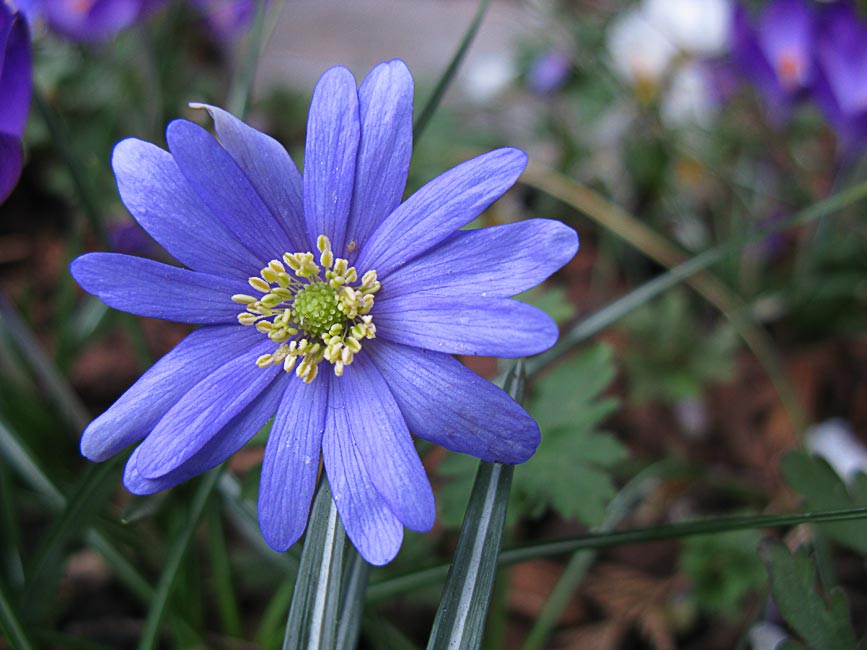 Here is one of the anemones up-close, this is Anemone Blanda Mixed, all in different shades of blue so far but there should be some more towards pink and purple too in this mix. I have never grown anemones before so it is going to be exciting to see how they develop and spread, hopefully they will do well for years to come, as the crocuses can do too. They should have an ideal position here, under the canopy of the tall cedar tree, with bark mulch and dapple sun. It can be a bit too dry in this corner during the summer, but I have to water here anyway because of the larger plants so this area will get a splash of water whenever I have the hose out.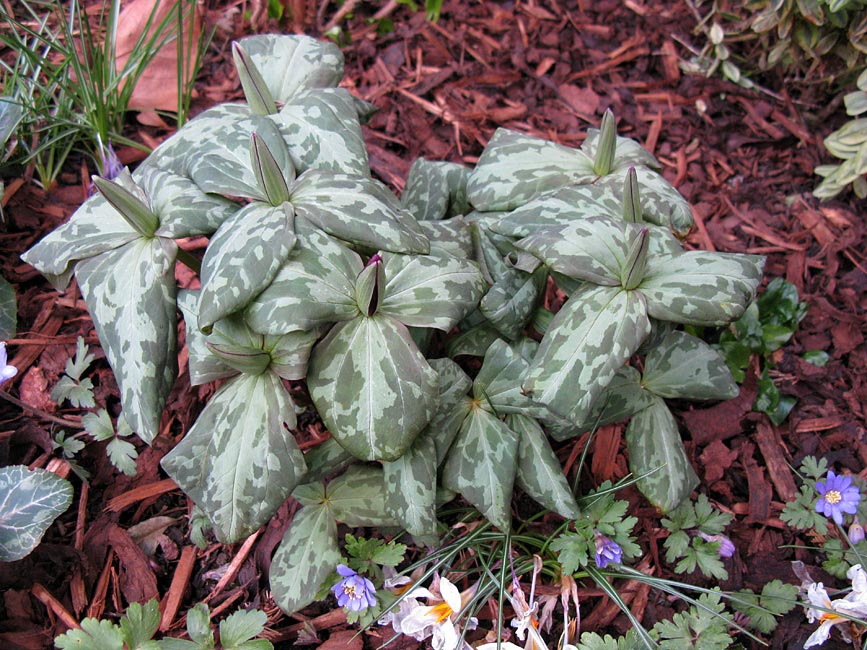 And here is a teaser for next post, which I guess will be the monthly Garden Blogger Bloom Day on the 15th, hopefully my little ballerinas have opened their flowers by then. This is a Trillium sessile, and I started out with just one tiny plant. It has grown to a quite considerably clump which probably should have been lifted and divided, I just didn't get around to do that before it died down last summer. I must make a note of doing it this year, once it dies down it goes very quickly and then it's all gone, and that happens quite early in the summer/autumn. It needs to be lifted and divided before it starts dyeing down, while it is still vigorous, just a few weeks after finishing flowering. I used to have 3 different trilliums, and I love these typical woodland plants, but they didn't love the rather dry area here during summer, and the other two, a Trillium grandiflorum and a Trillium luteum finally gave up and have never come back. I particularly liked the grandiflorum and have thought about buying a new one and become a bit more persistent with the watering until it is fully established, but it's not a plant you can just go and get in Homebase or B&Q, so that means another specialist Internet order I guess. Hopefully you will see these lovely flowers in my next post.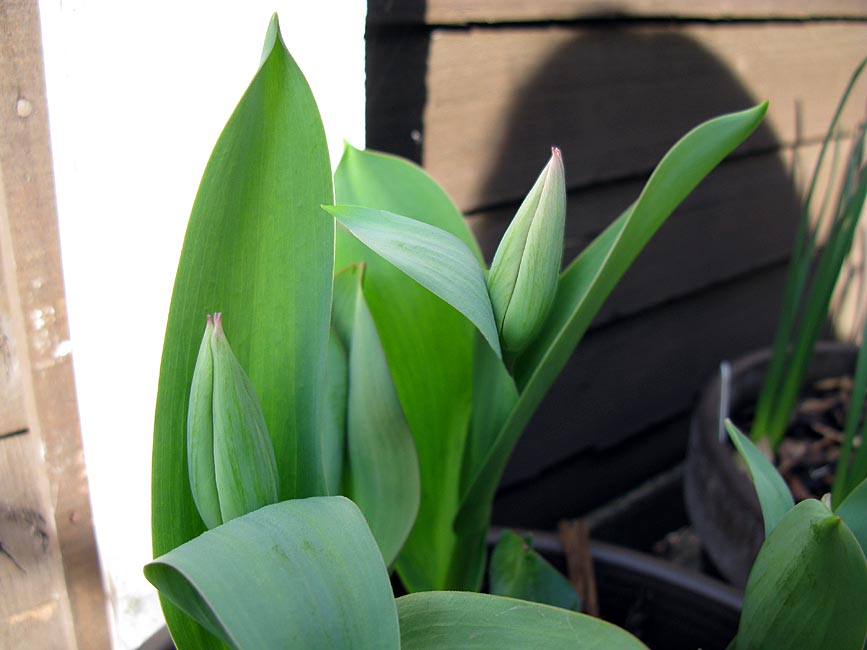 And here is another teaser for you; I had hoped to show you this year's first tulip today, but it is still a few more days before the first one is ready for a cat-walk. We are promised dry, warm weather the whole coming week so who knows, these beauties might have 'pinked' up by Thursday! The tulips here are Tulip 'Albert Heijn' and Tulip 'Purissima', pink and white tulips in a mix. These are Fosteriana Tulips, which were developed from Tulipa fosteriana, a wild species of tulip found in mountainous areas of Central Asia. Fosteriana Tulips look particularly impressive when planted in large beds, and I have read that they might come back year after year. I got mine last autumn so I guess I will just have to wait and see if that's correct....I haven't had much luck with other types of tulips in previous years; lots of flowers the first year, and then subsequent years....leaves yes, but not much flowers. Time will show!
OK, that's it for tonight, I got to get back to my book project. You are now up-to-date with what's going on in my garden, see you again on Garden Blogger Blooms day on the 15th. Until then, take care :-)